Powder Room Wallpaper That Pops!
Powder room wallpaper can be what makes the room special. A powder room is a bathroom that doesn't generally have a bathtub to shower. It is for freshening up, often used by guests who are visiting, but it can be used by anyone in the household.
Because powder rooms are fairly simple, adding the right wallpaper is crucial to the design. Today, we're going to give you some ideas and inspiration, as well as a few choice powder room wallpapers that you can buy today.
Best Powder Room Wallpaper That Makes A Statement
These wallpapers can be bought right now today and most of them have enough square footage to cover your powder room! That's what is so great about powder room wallpaper, you can get it for a great price!
Peel and Stick Powder Room Wallpaper Panel
This powder room wallpaper is retro and fun! The green, white, and orange color scheme is very 70s and it is perfect for any powder room that you want guests to feel comfortable in. It may be loud, but it is somehow inviting as well.
Because of the green base color, adding house plants is a wonderful idea. Keep the decor mid-century modern for best results as that's what this paper is. Just don't forget to add that old futuristic touch!
Cressey Stephanie Corfee Watercolor Mosaic Smooth Peel
Here we have another amazing option that you can buy. The color scheme here is quite alluring. It is soft yet bold at the same time, which is an amazing feat to accomplish. The color diversity ensures it goes well with anything.
So you can't go wrong with wallpaper like this. Though the colors are awesome, the best part is that it looks like it has been painted by hand. Only you don't have to lift a finger save sticking the wallpaper to the wall.
Marta Barragan Camarasa Marble Matte Powder Room Wallpaper
Talk about refined! This wallpaper looks like it was fit for a king! The soft colors of the pink paired with the deep blue marble are absolutely exquisite. Even when looking close everything looks perfect.
You can use it in any room but the powder room is the perfect place for such wallpaper. Because you only need one piece to make a huge statement. Use it on the wall that your sink is on for best results.
Adelio Wrought Studio Peel and Stick Powder Room Wallpaper Panel
If you want a natural, fun, and bold look then look no further. This cheetah powder room wallpaper is just for you. You can use it in any room, of course, but using something this bold in a large area can be a little too much.
But for a powder room, it's perfect. Especially since powder rooms are primarily for guests so they will have something interesting to view in their bathroom. Just beware because they will definitely comment on it.
Peel and Stick Powder Room Wallpaper Panel
If you're not into too much color, then you will love this black and white choice. Because there's nothing more classy than a simple black and white wallpaper in a powder room. Everyone loves this color scheme.
If you have many guests who are easily overhwlemed with colors then this will be just what you need. The simple geometric design is contemporary, mid-century, and modern all at once, which is quite impressive.
Powder Room Wallpaper Ideas To Spark Your Creativity
Don't worry if you haven't found the perfect wallpaper yet. Because you don't really need to find a specific wallpaper made for powder rooms. You can use any wallpaper that you like in your powder room.
Here are a few ideas, inspirations, and tips to get you started in the right direction. You will love that feeling when everything starts to come together and you can really start planning your powder room.
Go Gold, Go Bold, Think Outside The Powder Room Wallpaper Roll
While you don't necessarily need to go with gold accents, picking a metal and sticking to it is a good idea. Here we have a nice look where not only was gold chosen as the primary metal, but the accents go with the wallpaper.
The zebra wallpaper gives one a vibe of Africa as zebras are native to the continent. But what most people don't know is that bamboo isn't just native to Asia, but also Africa where you can find them in similar biomes.
Go Historical, When Powder Room Wallpaper Began To Pop
Pick an era, cinematic design, or general aesthetic that inspires you. Chances are that you can find plenty of decors that fits into that chosen era. This makes it feel like you are stepping into a different when you step into the powder room.
Powder rooms are already historical, so designing yours after your favorite era can work really well. Not to mention, everyone dreams of going back in time every once in a while, and this can help achieve that in a way.
Go 3D!
You don't have to get actual 3D wallpaper with raised areas for the wallpaper to look 3D. You can choose designs that natural look as if you can reach through them or at least feel textures on the top.
Geometric designs are good for that. But they aren't the only ones. If parts of the design have an embroidered look then there's a good chance that the design will look 3D once the powder room wallpaper is applied.
Go Back To Nature!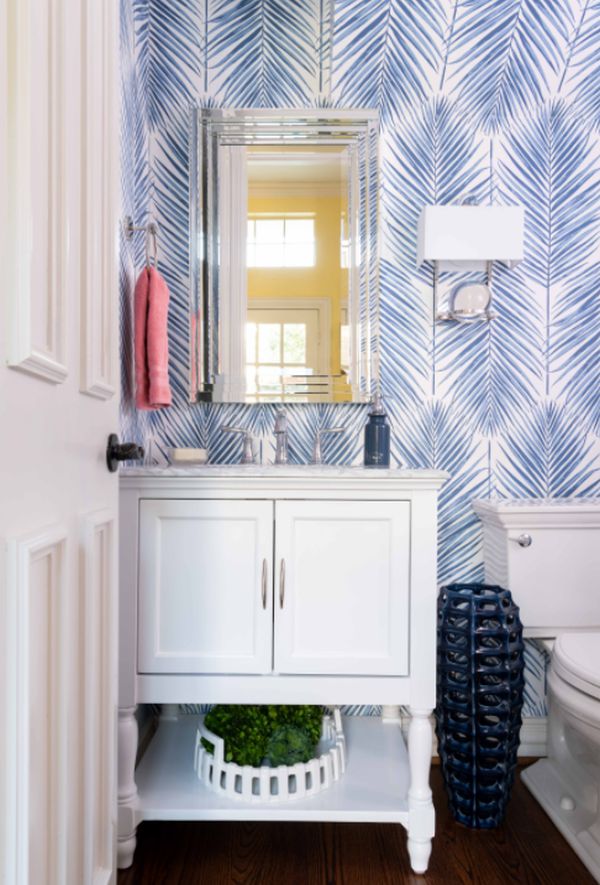 You don't need green powder room wallpaper to keep things looking natural. You can go with nature-inspired wallpaper if you like. It doesn't matter the color as long as there are plants behind the inspiration.
A popular choice is a fern, though palm trees and dandelions are also popular. The plant doesn't matter as much as long as it makes you feel good and connected with nature. Make sure you add a real plant too!
Go With Textures!
Is there anything more precious than stone? From gems to slate, it is all so alluring. You can add almost any type of stone or mineral wallpaper you can imagine to a powder room and it will have a positive effect.
One popular choice is something like agate. This is perfect because that is an easy type of stone to find in other decors. So you can match it any day of the week with all sorts of amazing decor at a great price.
Go With Simple Powder Room Wallpaper
Sometimes, you don't need something bright or loud to impress. You can easily go with neutral colors with very simple designs. This can sometimes have an even bigger impact because you can draw the focus elsewhere.
This way, you can choose special feature pieces. A feature piece is fairly important if you want to make a statement in your powder room. The feature piece stands out much more if the wallpaper is simple.
Entertain With Powder Room Wallpaper
A powder room doesn't need to include only a toilet. It can also be a small room with a sink for freshening up and for some quiet time. You can add reading either way if you are comfortable with it or some other form of entertainment.
Just be sure that you add materials that you can easily disinfect if you add a toilet in the room as well. And don't forget to ensure the new decor and entertainment matches the wallpaper well! Or vice versa!
Go Neutral!
Going neutral may be the best thing you can do. This is just like how using simple wallpaper in your powder room can accent feature pieces. Neutral wallpapers, even if detailed, can have the same effect.
Make it even more impactful by adding wainscoting which will take up half the wall, usually the part that the toilet and sink are covering. This is even better too because the moisture won't reach the wallpaper.
Go Soft And Sweet!
This is generally a safe route to take with powder room wallpaper. Keep things sweet and simple by using soft colors and delicate designs. Because historically, a powder room was made to resemble its name.
Bold colors and designs are great but going softer is a safer choice. Not everyone likes bold designs but everyone feels comfortable with soft rooms and wallpaper. So it is a better choice if your guests are broad.
Go Rustic!
If you have wood accents or furniture, you can really transform a wallpaper. You can take wallpaper that would normally look refined and bring it back down to earth. This is perfect if gaudy wallpaper isn't your thing.
Golds can look natural if you add wood accents. Birds can look natural and peaceful with wood too. Any sort of rustic decor can do the same but wood is the easiest to come by so it's always a good choice.
Go Denim, Genuine Powder Room Wallaper
Have you ever heard of denim wallpaper? Denim decor is so in right now as it should be. You can get all sorts of denim decor, furniture, and wallpaper today. The design fits with any type of design style too.
Adding some sort of cloth texture to your decor works extremely well because it will make the wallpaper look soft and textured. A rope is a good choice because it is cheap and looks great with anything.
Go With Self-Expression: The Powder Room Wallpaper Apex
Most importantly, express yourself! You can use any wallpaper that you are attracted to because you won't be able to pull it off if you don't like it. This is similar to cooking. The more you like the food, the better it will be.
So cook up a fantastic and cohesive powder room by experimenting with powder room wallpaper that suits you. You may be surprised at what it can do to such a tiny space as a half bathroom powder room.