House Front Landscape Ideas For Optimum Curb Appeal
Your house front landscape design should be a priority. Well-designed outdoor spaces provide curb appeal instantly. The spaces are also opportunities to showcase your DIY skills and personality.
Many homeowners believe the front of your house is an accurate reflection of a homeowner.
The first thing you should know is how a beautiful lawn increases your home's curb appeal. If you're a new homeowner or want to redesign your home's style and landscape, we have a few ideas that will inspire and to make you feel comfortable.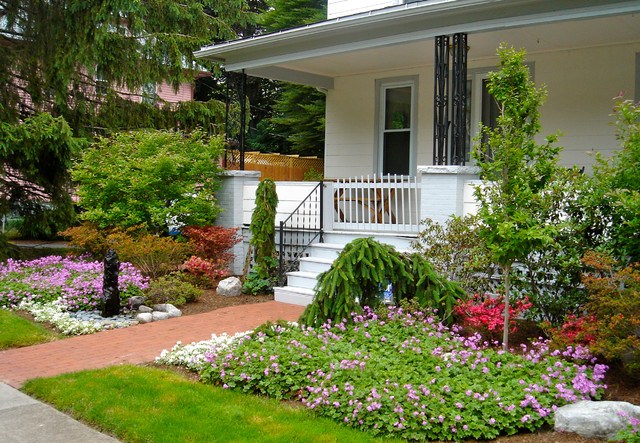 Just because you may have less front yard space than the rolling acreage upon which your dream house sits, doesn't mean your front yard landscape can't be gorgeous.
Front Yard Landscaping Ideas For 2022
Thought, care, and strategic landscaping can transform even the humblest of front yards into showstoppers.
Symmetrical Front Yard Landscaping
At its core, symmetry is about balance. With this example, we see how a modest space can enhance a home above and beyond due to its front yard landscape design. When the elements are balanced, you can achieve a big bang for your landscaping buck. With evergreen bushes as a focal point, a palatial vibe is created.
White Picket Fence
A white picket fence might be the most American thing ever. With this example, instead of a traditional picket fence, we have a white farmhouse fence style. The red brick pathway is a fairly inexpensive landscape feature. And when you create a flower bed around your home, your landscaping design will sparkle.
Landscaping projects can be applied to the smallest front yards. They will look welcoming when you take a well-rounded approach. Create a solid path down the center edges where possible. This would provide visitors with a clear entrance to your home.
Cottage Garden Landscaping Ideas
If you're short on space, turn your front lawn into a flower and plant showcase. Perennials mixed with rock pathways, mulch, and a seating area make this front yard garden landscape inviting. Throw in a few large rocks for good measure and your outdoor area would be complete.
Stone Footpath
Few things are more enjoyable than walking on a pathway flanked with bright, well-kept flowers. If you desire low-maintenance landscaping, the more rocks and stones you use, the less you'll need to worry about green grass.
With a stone walkway, plants lead visitors to the front door, and they continue on to the front of the house as well, providing a continuation of landscape design. Small and subtle lights to this pathway as well, which helps to guide the way at night-time. Many people forget about lighting in their front yard, but it's crucial to create a welcoming entrance to your home.
Riverbottom Landscaping Ideas
Native plants and an all-natural landscape make this front yard stand out. The water features are created equal, but it's important the feature doesn't overpower the yard and vice-versa. This potted feature has a place of prominence but matches the water-saving aura.
Potted Topiaries
Potted topiaries provide your outdoor space with symmetry and orderliness, even amidst a free-flowing flowery front yard. Flank the front door with a pair of well-potted topiaries for curb appeal. You could accent the area with colorful flowers and create a flower bed next to your home.
Wildflower Perennials
Some of the best front yards have the look of a wild flowering meadow. If you go this route, you'll want to consider the full-growth height of your plants. This would allow you to appreciate the blooms.
Landscape Transition
Carry the materials of your home's exterior through to your front yard landscaping for a transition between the two. Brick retaining walls, stone steps, even wood planters – all of these things enhance your home and yard.
Landscape Color Accents
Consider the adjective, "pop." It's bold, it's intentional, it's unmistakable. Choose one color of a plant to be the color theme and then use neutral elements around it. This fuchsia ground cover provides just such an eye-catching element.
You can add bold colors in different ways to your front yard, and it doesn't have to be from flowers. You could find a unique decorative item or add a bold coat of paint to the plant pots in your front yard.
Lawn Sections
Dividing up the small front yard might sound counterintuitive, but it has the potential of making the space appear grander than it is. This is true when each piece of the front yard pie is planted to lead the eye and the visitor to the front door.
Grand Entrance
Wherever visitors are meant to enter your front yard, make their entrance something special. Large potted mums, for example, are a colorful way to announce their entrance into your yard and home.
Simple Xeriscape
The combination of modern architectural details on the home and a desert climate creates the perfect setting for front yard xeriscaping. This landscape design works well with the deliberate lines and planes of the house.
Outside-the-Box Xeriscape
Do you know what xeriscaping means? It's okay because we don't either. Just kidding. Xeriscaping refers to landscape designs aimed at lowering the need for an irrigation system. Those who want to save on water would like a xeriscape front lawn. The question you would need to ask is, what would your neighbors think?
White Picket Fence
With its short white picket fence and bold red front door, this home seems open and inviting and ready to welcome visitors in from the moment they see it. Some well-groomed shrubbery bordering the house itself speaks volumes about the care one would expect to find inside the home.
Edging Landscaping Ideas
A nice way to transition from solid, hard surfaces is to edge the front yard a few feet from the landscaping. Shrubbery, flowers, and even a tree or two would be ideal.
Flower Landscaping Ideas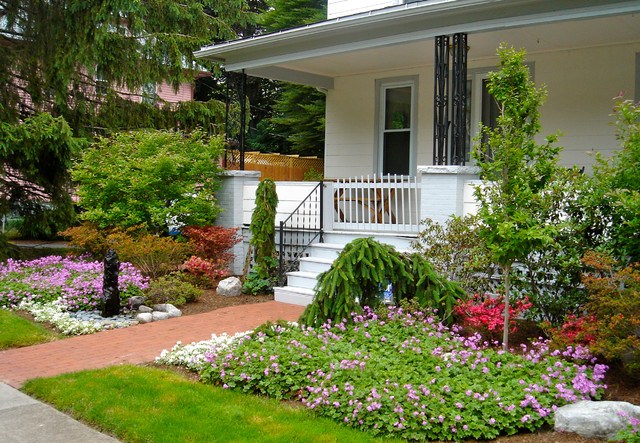 "Stuffed to the brim" might be a better way to put it. In this example, the front lawn is reduced to a few square feet between the sidewalk while the landscaping is overlooked. The vibrant sweeping landscaping leading from the lawn up to the house is the centerpiece of this design.
Various flowers interspersed with shrubs, trees, and even a large rock or two provide a lovely visual feast.
Window Boxes
No matter how beautifully flower-ful your front yard is (or isn't) to begin with, window boxes overflowing with vibrant blooms adds a delightful element to any home's curb appeal. Celebrate the growing season with some gorgeous window boxes!
Window boxes can be added in all shapes and sizes, and they can be tailored to fit the size of your home. You could even have a go at making them yourself if you feel like trying a DIY project for your front yard.
We love adding flowers that dangle over the side of window boxes, as these make a really fun addition to your home.
Vertical Details
A flowering tree and climbing flower in this clean, modest front yard landscaping raise both the visual height of the yard itself but also the classiness of the home overall. Make sure you add a variety of heights in your landscaping for maximum curb appeal.
Asian-Inspired
There is a serenity that comes with Asian-inspired design, and the front yard that follows the thought process will be relaxing and inviting. The yin and yang elements of rock, stone, and vegetation produce a sense of balance, while the windows of the home itself reflect both light and nature itself.
After a busy day at work or school, your family will be welcomed home with this relaxing entryway. The textures and materials used in this front yard evoke a calming feeling that will continue as you head into your home.
Flowering Baskets
Whether hung from the eaves of your house or on a hook out in the front yard landscaping itself, flowering baskets are a beautiful way to offer instant, fresh color, and appeal to your home. Bonus: They can be changed up every year for a fresh new look to your front yard.
Low Maintenance Boxwoods
Boxwood plants are a fantastic component of a modest front yard because they provide year-round greenery, they are manicured and shaped, and the look is stately no matter how big or small.
Front Yard Rose Garden
Roses are one of the most beautiful flowers out there, and adding them to your front yard will completely transform this space. Backyard Garden Lover offers us a full selection of ideas for adding roses to your front yard, which could be as simple as just adding a few bushes or completely transforming your front windows.
If you have a larger front yard, consider adding a rose walkway, which will make a spectacular first impression when you welcome guests to your home this year. Roses come in so many different varieties and colors, so you'll have no issue finding an option that suits the decor and style of your home.
Subtle Window Boxes
If you don't have the space in your home to add a huge window box display as we showcased earlier, you'll love these subtle window boxes from HGTV. They'll show you how to make your window boxes from scratch, and the great news is that they are rot-resistant.
After, you'll be able to fill them with the flowers or plants of your choice. Our top choices for flowers to add to a window box include pansies or petunias, but you could even grow herbs to use for cooking in these boxes.
Raised Flower Bed
Home Sweet Roman shows us how to achieve their front yard transformation, where they created an incredible raised flower bed. You'll add curb appeal with this addition to your home, which is a really sleek and stylish way to upgrade the front of your home.
After you've raised the flower bed, we encourage you to add plenty of colorful flowers and plants to create a welcoming first impression for your home. While this project will take a little bit of work and effort to create, it's well worth it for the transformation of your front yard.
DIY Bicycle Planter
For anyone looking to add more character to their home, consider making a DIY bicycle planter. Our Fairfield Home & Garden shares how they took an old bicycle and transformed it into a beautiful floral decoration for their front yard.
All you'll need is an old bike, two baskets, and some wire to attach them to the bike. From there, you can add decorative moss and a selection of your favorite potted plants.
Waterless Pond
Anyone can add a small water feature to their front yard, which will create a calming welcome to your home. Pretty Purple Door offers us this pondless water feature which will only take a few hours for you to create.
You don't have to be the most experienced DIYer to enjoy adding this to your front yard, and it has a unique design that makes the basin invisible.
When you approach your home, it looks like the water just seeps straight into the ground, and your guests will be intrigued about how this fun water feature works. Water features are one of our favorite ways to transform any garden, and kids and adults alike will love watching the water go round and round.
Any of these simple front yard landscape ideas will completely transform your home and make a great first impression for anyone who visits. Even if you live in a more modest home, you can make the most of a front yard of any size or shape.
Just because you don't have a huge area to work with, you can add flowers, water features, and much more to increase your curb appeal. Mix and match a few of these ideas listed here today for a complete makeover for your front yard this year.
Front Yard DIY Landscaping Projects
There are many styles to choose from, so we thought we'd share a few more.
Outdoor Flower Decor
A stunning landscape design will make your home look beautiful, more like it belongs there, even if it's planting flowers or hanging window boxes. Maintaining a manicured lawn requires maintenance, which many homeowners enjoy. Americans view yard work as a form of exercise, rather than an unnecessary expense that drains their local water supply.
Check out before-and-after transformation from loveoffamilyandhome to see for yourself.
Mailbox Decor
If it could be said the design of your front yard perimeter has a cherry on top, it would be your mailbox. Do not take your mailbox for granted. In this example, the mailbox is an affordable way to make a personal statement.
One thing about a mailbox is how it doesn't have to look like your neighbors' mailboxes. This is where you can shine and stand out among the other homes.
More inspiration can be found on beneathmyheart.
Address Post Decor
You might have an address post and that would make this project easier. If you don't, perhaps now would be a good time to add one. It doesn't have to be anything special but you can make look special by decorating.
How about hanging a planter from it? That will add some color and draw some attention for sure. Check out hellofarmhouse for more details.
Window Boxes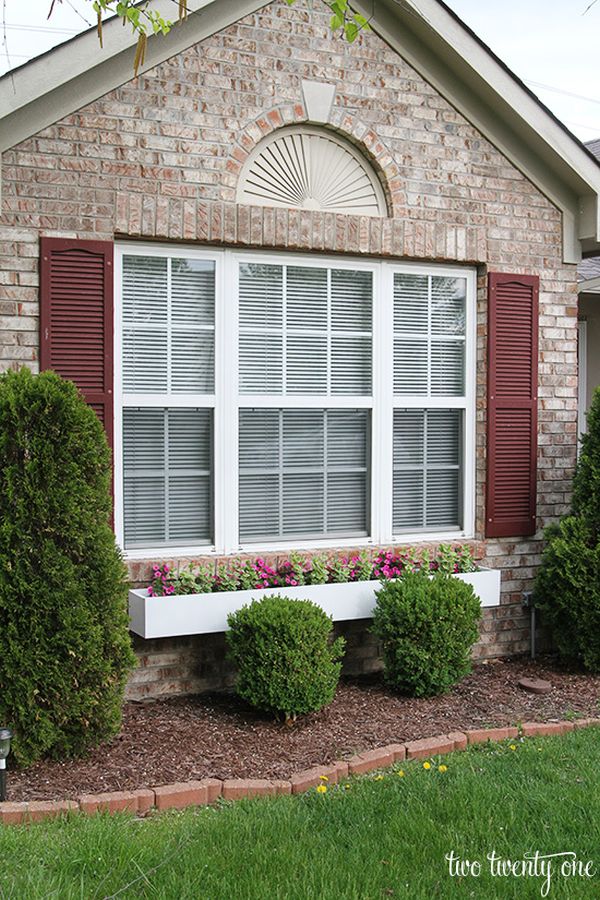 Don't underestimate window boxes. They've been around for ages but for a good reason. Hang some under your windows and the whole house will look more charming and beautiful.
They'll add curb appeal to the house and you'll also be able to admire them from inside as well. Head over to twotwentyone for a tutorial.
Lattice Trellis
Trellises are charming, especially outdoors when covered in vines and flowering plants. As you'll find out from remodelaholic there are also a couple of great uses for them indoors as well.
Home Address Display Ideas
If you want to draw attention to your home try this idea for an address display. The idea is affordable and original. You don't want to spend time and money on big projects and renovations. If you don't like this idea, there are many ways you can display your home's address.
Rather than just putting it up on a wall try putting it on some beautiful flower pots instead. This idea comes from diyshowoff.
Tiered Planter
This project is similar to the previous one but this time the planters are stacked instead of placed next to each other. This creates a tiered planter which takes up less space, has more height, and looks interesting. Check it out on positivelysplendid to find out how it was made.
House Number Box
On the same topic here's another interesting and original idea of displaying your house number. This project is featured on abeautifulmess and involves a few simple supplies like a wooden box and some faux grass.
Chandelier Planter
You don't see chandeliers being used outdoors but what if you were to use them as a decoration instead of an actual light fixture? This vintage chandelier featured on diyshowoff was turned into a magnificent hanging planter.
Monogram Planter
Looking for ways to personalize your entrance? What about a big monogram planter that you could put on one of the walls outside the house?
It will stand out and be visible from a distance and it will look better and better as you get closer and discover all the little details on it. Check out remodelaholic for a tutorial.
Balancing Planters
Another cool decoration for the front yard could be a set of stacked planters that seem to defy gravity, like the ones on weheartthis. The secret here is a metal rod that goes through the middle and keeps these pots balanced. You can stack two, three, or even more to create your own version of this cool display.
Repurposed Old Barrel
An old wine barrel or even just half of it would be enough to make something really cool and original for the front yard, like this planter that we found on goodshomedesign. It's a tiered planter with all these smaller sections of different shapes and sizes which can be filled with different types of plants and flowers.
Raised Flower Bed
If you want to add more depth to the exterior of your house consider raised flower beds. This is a great idea if the house is built on a sloped site because the flower bed can be built to be level with the entrance, at the same height as the ground floor. Check out homesweetroman for inspiration.
Small Landscaping Concepts
There's also the obvious option: landscaping. This is a general term that you can interpret however you want based on how you want your front porch to appear. An idea can be to create flower beds or to add pathways, to play with different types of plants, and to sort of shape the site. Check out twotwentyone for a few ideas regarding this.
Stylish Walkway
Even something as basic as a walkway can change the way your front yard looks and feels. Its role can be mainly a practical one but there's no reason why it can't look great too.
There's a variety of materials that you can use for this. Pavers are very convenient. You can find more details on that on beneathmyheart.
Warm Sitting Area
In addition to making your front yard look beautiful, it could also be nice to have a cozy little spot where you can sit down and admire it all. How about a handmade bench in a corner? It's fairly easy to build and there are ways in which you can add your own touch to its design. You can find a tutorial for this on remodelaholic.
Garden Hose Planter
This wooden planter is a beautiful decoration for the yard but at the same time, act as a storage space for the garden hose. It's also built of pallet wood which is inspiring. Check out diycandy if you want to know how to make one of these for your yard.
Sconce Lighting Makeover
Every front porch needs a light. We hang a sconce outside the front door or on the porch. Being exposed to the elements can start to look dull and dated over time. That's when you can do your magic and give it a makeover. There's an inspiring example on livingrichonless which can give you some ideas in this sense.
Front Door Design
Common sense would tell you that your front door should complement your outdoor space. Also, a front door adds curb appeal. It can make you and everyone else feel welcome.
If it feels like your front door area looks boring, give it a makeover. Perhaps paint or stain it, add some planters and hang a decoration on the door. You can find a few more ideas on meandjilly.
Tree Bench
Preserving trees and vegetation in your front yard is a good idea. This doesn't mean you can't also make this area more inviting and comfortable as well. Here's a cool idea: build a bench around a tree so you can sit down and enjoy the shade. You can find a tutorial for it on addicted2diy.
Frequently Asked Questions (FAQ)
FAQ
How Do I Landscape My Front Yard For Cheap?
With DIY lawn care, there are three cheap ways to make your outdoor space look stunning. Mulch, flowers, and plants are the holy trinity of lawn care.
How To Landscape A Sloping Front Yard?
A few ways to landscape a sloping front yard include building a retaining wall, planting shrubs and trees to help stabilize the slope and using mulch or rocks to prevent soil erosion.
What Are The 7 Elements Of Landscape Design?
The seven principles of DIY landscape design are unity, scale, symmetry, simplicity, variety, emphasis, and order. The seven elements apply to the color, line, form, and texture of your landscape.
What Fertilizer Should I Put On My Yard?
The best DIY lawn care products are low-release fertilizers. Due to their slow-release features, your grass will turn green without the issues that come with fast growth. You should use non-toxic fertilizers.
When implementing a DIY lawn fertilizer program, decide which fertilizer is best for your yard, and perform a soil pH test. It will give you a better idea of what your lawn can handle.
How Often Should I Water My Front Yard?
With DIY natural lawn care, the last thing you want to do is water your lawn daily. Don't be "that guy." The standard among North American homeowners is two to three times weekly. In most climates, twice a week would be sufficient. And the best time to water your lawn would be in the morning right after the sunrise, or in the late afternoon just before the sun went down.
House Front Landscape Conclusion
When you ask, "how can I design my own front yard landscaping?" you shouldn't have to think too hard. With front yard landscape design, the possibilities are almost endless. Some people enjoy front lawn maintenance, and if you're one of them, then don't hold back.
If you're considering a front lawn makeover, you might want to enlist the help of a professional. They'll give you the best lawn care ideas and advice on the best grass seed for front lawn. There's something to be said for beautiful front lawns.