Luxury Living Room Decor Ideas to Create an Enviable Space
Luxury living room ideas are synonymous with opulence. In-home decor, design choices focused on particular styles, color palettes, furniture arrangements, and so on can create a luxurious living room.
Luxury living room ideas may feature rich textures along with unique materials and finishes. As far as interior design is concerned, it's usually easy to distinguish a luxury living room decor from one that's more modest and common.
What Makes A Living Room Luxurious?
The living room is the epicenter of your home. It receives the most visitors and is where you spend most of your time, so getting it right is critical.
1. Color is everything
The best way to make a place appear more opulent is to use tones that complement one another. Choosing two colors and their varying tones will ensure this. For dependable color use, stick to shades of black, white, or gray.
2. Concentrate on the lighting
A living room should be well illuminated. The perfect combination is large windows that bring in lots of natural light and properly positioned lamps and ceiling lighting.
3. Decide on a highlight
The living area should have a cohesive theme, whether it's the color, texture, or shape of furniture. Choose one color to use as a highlight or something to add a graphic punch.
4. Texture is critical
Textiles of superior quality make the difference between a living space feeling luxurious and one that seems cheap. Choose quality throws, cushions, and carpets that complement the room.
What Colors Are Luxurious?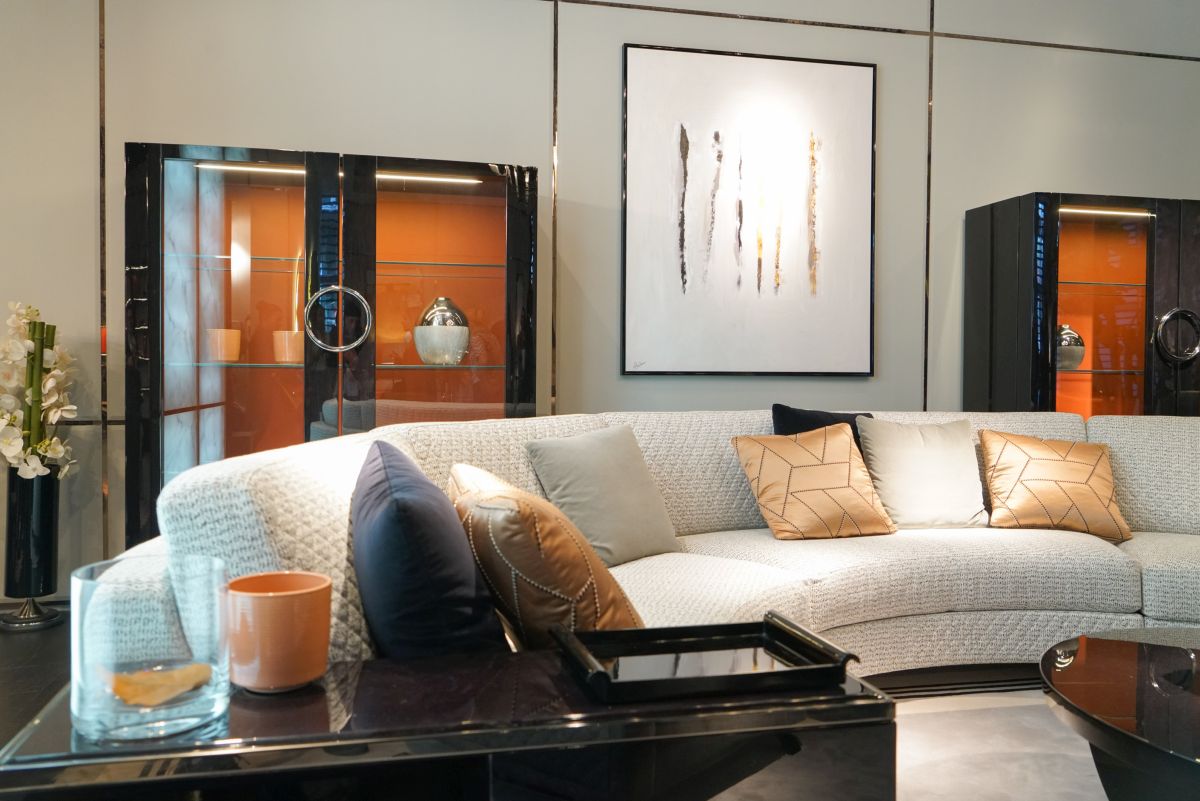 A living room has a meticulously planned interior design that represents your unique taste. Luxury paints allow for combining strong colors for a robust impact.
Black & white — The most preferred combination for a sumptuous living room is black and white. White walls with traces of powder blue and black accents create a grandiose atmosphere.
Grey & gold — Similar to the white and black combination, grey and gold accents can be quite classy and inviting. A contrast between the rug and the draperies can create a clean, bold aesthetic.
Off-white & rouge — Off-white is a timeless color that improves the brightness of a living space. Tangerine and mild red accents can infuse a monotonous living room with a sense of grandeur.
Yellow, orange & citrus — This combination can be a little tough to execute. When combined in the perfect proportions, the hues can give the living room a sense of vitality and luxury.
Orange & gold — Burnt orange with accents of gold can infuse a room with warmth. Often, this color is used with the couch or other furniture to create an airy effect.
Mint & pink — For a subdued palette with a calming effect, pink and mint green are ideal. Florals can also complement this aesthetic.
Luxurious Living Room Accessory Ideas
Giving your living room a premium makeover does not mean purchasing all your furniture pieces from high-end vendors. You can create a truly luxurious interior design on any budget.
Extra-large art
Generally, the bigger the artwork, the better. Large artwork creates an impression of a gallery, which appears to be expensive.
Sizable rugs
A properly sized area rug adds order to a living room. It can highlight furnishings and create the illusion of a larger or more intimate space. It's budget-friendly to use huge rugs made of natural fibers because they are relatively inexpensive.
A rug that fits beneath all main furniture pieces provides the illusion of more space. This is critical for raising the standard in terms of design and elegance.
Intricate window treatments
Select elevated curtains that are broader than your window to achieve a luxurious appearance. However, you don't need to purchase pricey curtains. Just choose inexpensive ones and stack them together.
Glam accessories
You can achieve a designer vibe by incorporating a few high-end objects. They don't have to be expensive either; it's all about material selection and location.
Exquisite pillows, throws
Pillows and throws made of luxurious textiles might be fairly costly, but the ambiance and beauty they offer to space make them worthwhile. Also, don't skimp on pillow inserts. Feather-down inserts give your living room an unmistakably luxurious atmosphere.
Wall mirrors
Mirrors can increase the amount of light and detail in a living room. They are the ultimate accessory for adding light, creating the illusion of space, and imparting a polished vibe.
At least one huge mirror should be hung above a sofa, credenza, or another focal point.
Bold lighting
Add drama to a space with big lampshades, a gorgeous gold lamp base, or a contemporary chandelier. A gleaming finish or a huge size can provide a high-style focus in the room.
Large minimalist accessories
A large decorative element, such as a sculpture or a large vase, will create an intriguing focal point for the area. If can't find a huge piece, putting related pieces together can create the same effect.
Luxury Living Room Design Ideas
Grand piano centerpiece
Sometimes all it takes is a single, well-chosen and well-placed piece to give the room a luxurious look. A piano, for instance, is one of the possibilities.
Luxury wall art
Living room art is one of those luxury living room ideas that make the difference between boring decor and a room that sends a powerful message in terms of style and ambiance.
The right style
The overall choice of style is a very good indication of whether or not it's a luxury living room. Often, such a space has an aristocratic look, with style being untouched by the latest trends and influences. Instead, it focuses on the past rather than the present.
Add some retro
An interior with a retro or vintage vibe is a good candidate for even a small luxury living room. You'd be able to tell by examining the main pieces of furniture as well as the decor, such as the shag rug.
Choose timeless pieces
Frequently, a luxury living room interior is focused on classical and timeless pieces of furniture. It trends toward an aristocratic or royal allure and a certain amount of detail, ideal for smaller rooms.
Luxurious tones, textures
Simplicity can also be a sign of luxury. In this case, the richness of the living room decor comes from the selection of colors, textures and finishes.
Feature feng shui
In some cases, feng shui living room decor can be very luxurious. The placement of certain elements is dictated by a strict set of rules so that they have special significance.
Attention to detail
Attention to detail is key in the case of a luxury living room or another type of space. This implies a certain amount of attention to the purely decorative elements present in the room.
Less is more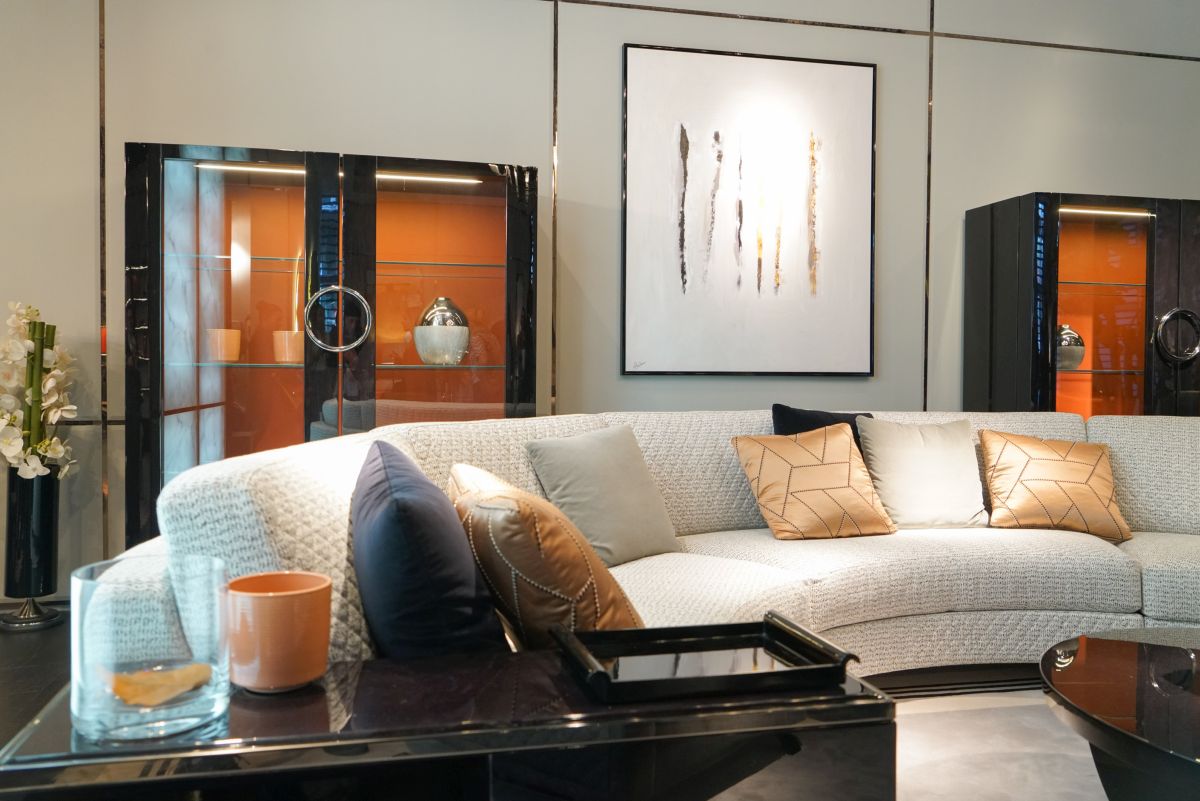 Sometimes, less is more and a luxurious living room is a perfect space for this design strategy. A trained designer can find ways to send a powerful message or to create a focal point using very few elements, especially in a small luxury living room
Elevated decor
In a luxury living room, it may also be possible to spot certain decor elements that are taken to a new level. These spaces often display items in a way that's unexpected or uncommon.
Lighting is key
Designers usually give special attention to the lighting of the space. Instead of a single ceiling light, a luxury living room features a variety of fixtures, each with a special role.
Prevalence of gold
As you may have noticed, luxury living rooms tend to use gold as a color choice for decor. It's a detail meant to suggest the idea of richness, opulence and glamour.
Use gold carefully
Too much gold can be overwhelming and have the opposite effect. There is a fine line between looking kitschy instead of glamorous and refined. Use it with care and in suitable quantities. Of course, the context matters.
White luxury style
In fact, white is also a color commonly used in luxury interior decor. It's one of the least practical colors and also one of the hardest to maintain. Thus, always having a spotless white sofa is a big good achievement.
Use mirrors
Large mirrors and huge windows with panoramic views are two more luxury living room characteristics. They both make spaces seem larger and more open.
Balance color with texture
As already mentioned, texture and color play important roles in a luxury lounge, regardless of style. Ideally, these elements there should have a nice balance with everything related to them.
Have fun with impractical decor
Because a luxury living room is almost always large and spacious, that means there's room for accent pieces that are not necessarily meant to be practical. For example, this glamorous chess table is gorgeous but not a functional necesity.
Ultra-modern flair
In a luxury living room with a contemporary interior, there's usually a pleasant balance. The simplicity of the materials, finishes and colors involved have a special way of highlighting certain accent pieces or fixtures.
Go nuts with seating
Typically, there are few strict space limitations in luxury living rooms. There's a certain liberty in having more than enough room for lounging and relaxation. Go for a large sectional sofa or various types of seating arrangements.
Add a velvet sofa
Velvet and other rich fabrics are common in luxury living rooms where they often highlight strategically-chosen colors. Too much velvet, however, can have a negative effect on the space.
Use eye-catching pieces
More often than not, luxury living room ideas feature eye-catching furniture pieces, particularly a cocktail table with sculptural or unconventional designs. In general, Lighting fixtures are also eye-catching.
Over-sized light fixtures
Speaking of luxury light fixtures, an oversized chandelier is something else that you'll see in a glamorous living room. A tall ceiling allows for exploring a lot of different options.
Accent lighting
Accent lighting is important too, especially in a refined and sophisticated living room. Decorative mirrors or wall art with built-in backlight are just one example.
Focal points
You can also expect a luxury living room to have a dedicated lounge area where the center point is something other than the television. A fireplace or a beautiful coffee table can be great alternative living room ideas.
The right accents
Most luxury living rooms have purely decorative objects. They serve as focal points or as complementary details and are displayed on coffee tables, shelves or fireplace mantels.
Frequently Asked Questions (FAQ)
FAQ
How can I make my living room more luxurious?
There are many ways to do this and they all concentrate on opulence in some form. Large art, luxe textiles and upholstery, glam accessories, plush window treatments and statement lighting are some of the elements that make a living room feel luxurious.
What is a lux living room?
Luxury living room ideas feature rich textures, uncommon materials and finishes and statement elements.
What is luxury decor?
Homes with luxury decor have a particular vibe. It's sophisticated, elegant, detailed, and gives off the feeling that life is easy.
How big is a luxury living room
In general, the basic minimum living room is at least 11 x 15 feet. A comfortable living room is at least 13 x 18  feet. A luxurious one is 15 x 20 feet or more.
What makes a house look tacky?
All it takes to ruin the best luxurious interior and is bad lighting.  Really bright lights will amplify any iffy decor choices and wash everything out. On the other hand, dim lighting can make a room feel like a cave.
Luxury Living Room: Conclusion
Luxury living room ideas abound and there are many ways to make yours feel more opulent. Luxe spaces like the ones we've shown you are a great inspiration. You can find ways to transform your own living room into an opulent space without breaking the bank.