Key Features Of a Luxury Living Room Decor
The idea of luxury is expressed in a lot of different ways, for some this term being synonymous with opulence, for others with certain particular materials or finishes and for some with certain popular brands. In home decor, this translates into a series of design choices focused on certain particular styles, color palettes, furniture arrangements, etc.
A luxury living room may feature a selection of rich textures and a particular set of materials and finishes which are less common than others. As far as style is concerned, it's usually very easy to distinguish a luxury living room decor from one that's more modest and common. The same can be said about luxury bathrooms or luxury kitchens.
Sometimes all it takes is a single, well-chosen and well-placed piece of furniture or decoration to give a space a luxurious look. A piano, for instance, can be one of the possibilities.
The choice of living room art can also make the difference between a very common and boring decor and one that sends a powerful or meaningful message in terms of style and ambiance.
Of course, the overall choice of style is a very good indicative of whether or not you're looking at a luxury living room. A lot of times such a space would have an aristocratic look, the style being untouched by the latest trends and influences and focused on the past rather than the present.
A room interior with a retro or vintage vibe would also be a good candidate for the title of luxury living room. you'd be able to ascertain that by observing the main pieces of furniture as well as the ornaments.
A lot of times, a luxury living room interior would be focused on classical and timeless pieces of furniture and decorations with a predisposition towards something with an aristocratic or royal allure and a certain amount of detailing.
Simplicity can also be a sign of luxury. In this case, the richness of the living room decor would come from the selection of color tones, textures and finishes.
In some cases you might be faced with the idea of a feng shui living room decor where the placement of certain elements would be dictated by a strict set of rules and where certain elements would have special significance.
The attention to detail is key in the case of a luxury living room, bedroom, kitchen or any other type of space. This implies a certain amount of attention being given to the purely decorative elements present in the room.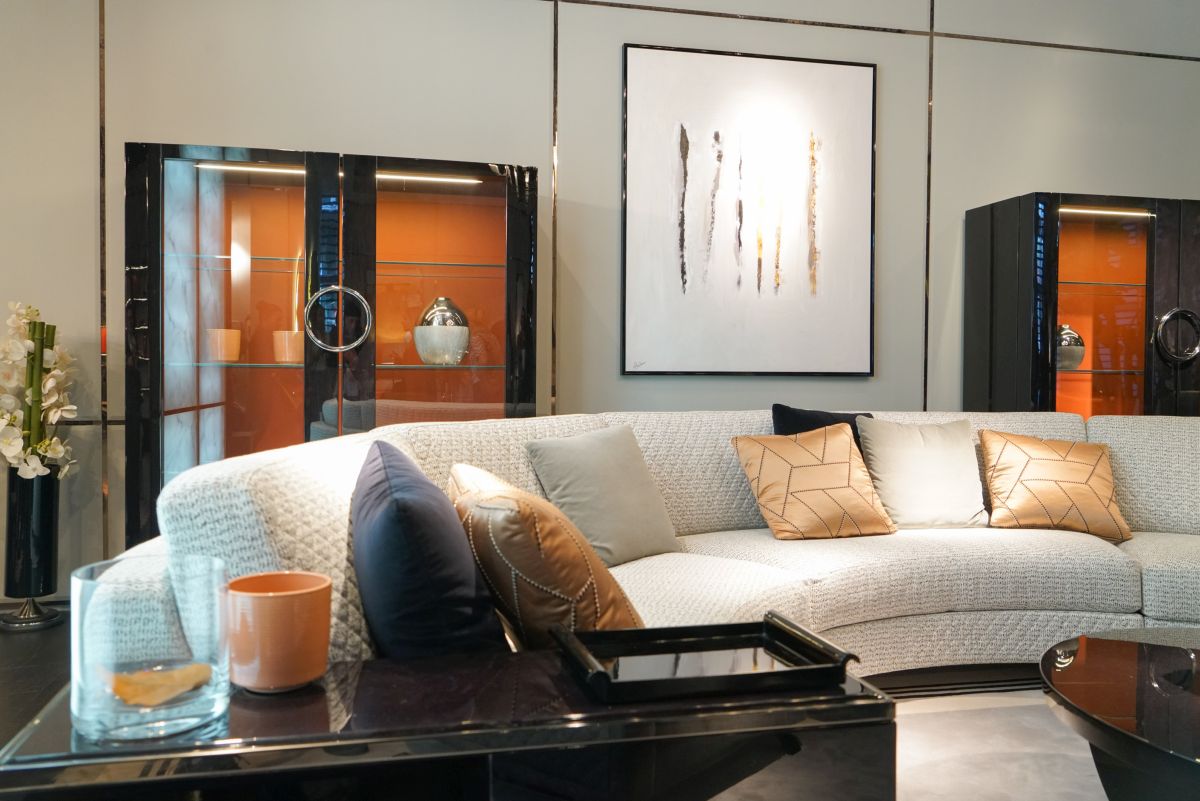 Sometimes less is more and a luxury living room could be one of the perfect spaces for observing this design strategy. A trained designer can find ways to send a powerful message or to create a focal point using very few elements.
In a luxury living room it may also be possible to spot certain decor elements that are taken to a new level or that are displayed in a way that's unexpected or uncommon in a refined and inspiring way.
Special attention is usually given by the designers to the lighting of the space. Instead of a singular ceiling light a luxury living room might feature a variety of fixtures each with a special role.
As you may have noticed yourself, these seems to be a predisposition toward gold as a color choice when decorating luxury living rooms. It's a detail means to suggest the idea of richness, opulence and glamour.
Too much gold can be overwhelming and can have the opposite effect, looking kitschy instead of glamorous or refined. It has to be used with care and in suitable quantities. The context, of course, matters.
White is also a color commonly used in luxury interior decors. It's one of the least practical colors and also one of the hardest to maintain so being able to always have a spotless white sofa is a pretty good achievement.
Large mirrors and full-height windows with panoramic views are another two characteristics of luxury living rooms. They're both used to make the spaces seem larger and more open.
As we've already mentioned, texture and color play important roles in the. context of a luxury living room, regardless of the style. Ideally, there should be a nice balance between these elements and everything related to them.
Because a luxury living room is almost always large and spacious, that means there's room for various accent pieces which are not necessarily meant to be practical, like this glamorous chess table for example.
In a luxury living room with a contemporary interior there's usually a very pleasant balance between the simplicity of the materials, finishes and colors involved and the way in which  they highlight certain accent pieces or fixtures.
Considering that there are no strict limitations of space in the case of most luxury living rooms, there's a certain liberty of having more than enough room for lounging and relaxation. This often implies the presence of a large sectional sofa or various types of seating arrangements.
Velvet and other rich fabrics can also be often seen in luxury living rooms where they sometimes highlight a series of strategically-chosen colors. Too much velvet, however, can have a rather negative effect on the space.
Most often than not a luxury living room would feature eye-catching furniture pieces, in particular coffee tables with sculptural or unconventional designs. The lighting fixtures in the space would also be eye-catching.
Speaking of luxury light fixtures, an oversized chandelier is something else that you might expect to see in a glamorous living room. A tall ceiling allows for a lot of different options to be explored in this sense.
Accent lighting is important too, especially in a refined and sophisticated living room. There are various different strategies which could work in this case. Decorative mirrors or wall art with built-in backlight are just one example.
You can also expect a luxury living room to have a dedicated lounge area where the focal point is something other than the TV. A fireplace or a beautiful coffee table can be great alternatives.
Purely decorative objects make an appearance in most luxury living rooms, serving as focal points or as complementary details and being displayed on coffee tables, shelves or fireplace mantels.