Home Decor Stores To Shop At Today
There are many reasons why you'd be looking for good home decor stores. Perhaps you're buying a new house or redoing your current home. Or maybe you just want to update one piece of home decor.
No matter the reason, we have got you covered. Because after you decide what you are looking for, or even before you have, you need to know where to look for it. So what are the home decor store options of today?
What To Know About Home Decor Stores
There are a few different types of home decor stores. There are furniture stores that sell home decor and then there are stores, like department stores, that sell a small selection of home decor along with other products.
You'll probably find more standard home decor at furniture stores but more unique home decor at department stores. So this is a good way to decide where to start shopping first and what to save for later.
Of course, you'll probably end up shopping at both types of places but if you find what you like at the first place, you may stop shopping. Especially if you have a budget and want to stick with it. Hopefully, this guide can keep you from wasting any more time.
Where To Find Cheap Home Decor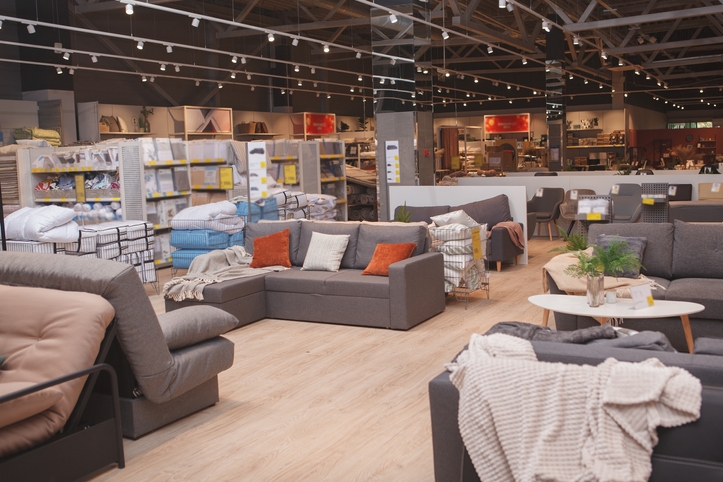 If you're like most people, affordable home decor is a priority for you. So we're going to start off with a quick guide on how to find cheap home decor that is just as nice and high-end home decor and furniture.
Online Auctions
Yes, we do mean eBay. If you're looking for something specific then places like eBay will work out perfectly. But with such a large selection of goods, it's easy to get overwhelmed if you don't have an initial guideline.
The first thing you should do is decide on a color and then set your max price. You can do this in filters on eBay and most other sites like it. If you don't set filters, there will be thousands of results to filter through on your own.
Facebook Marketplace
Facebook Marketplace is an underrated place to buy home decor. You can get almost anything that you like from Facebook Marketplace and you can pick it up near you. So make sure you check the location.
If you live in the city, there's nothing that you can't buy. The rules are the same as buying from somewhere else similar, such as Craigslist. So be very careful when buying locally and only meet at public places.
Flea Markets
Flea markets are known for having an abundance of unique home decor. However, they can be expensive without you even noticing. It really depends on the vendor and the exact home decor you're buying.
Sometimes, you'll get amazing deals on extremely high-end items because they are used. Sometimes, the seller doesn't even know what they are selling and you can get the rare item for a steal because of it.
Garage Sales
Garage sales get a bad name but they really shouldn't. Sure, some yard sales and garage sales are no good. But you can usually tell without even leaving your car if it's worth the look or if it isn't, right from the curbside.
So drive on by and take a look. See something you're interested in? Get out. Look like someone is just cleaning out and trying to get rid of everything? Then keep going and look for another garage sale with a better value.
Seasonal Sales
People often underestimate just how amazing seasonal sales can be. While summer and winter sales can be great, spring and fall sales are usually even better. But for the best deals, check out store specials and holidays.
You see, Black Friday, Memorial Day, and Labor Day are all-around the best days to shop. So if you're shopping all places at once, then you have May, September, and November to check out the sales.
Outlet Stores
Outlet stores are known for having the best deals on furniture, but they also have some amazing home decor too. These often get overlooked because the furniture is often such a good deal that the small things fade to the background.
There is a lot to learn about home decor outlet stores that you should learn before you begin shopping. Don't listen to those who are against them all together but do listen to specific reviews on stores.
Home Decor Websites
When it comes to finding the best home decor stores, the best place to look is online. So that's what we're going to do. There are dozens of amazing stores to choose from so it was difficult to narrow it down.
However, there will always be a few that really stand out. These stores have proven time and again that they are worth the look if you are searching for the best home decor websites with any budget.
If you haven't heard of Blu Dot then you are missing out. This store has some of the best modern furniture that the internet has to offer. Their selection is currently small but they are always worth the look.
If you're looking for rustic furniture then this may not be your best option. But all-around, Blu Dot is very tasteful and unique. So if you want modern furniture, then take a look at some of their high-end choices.
Looking for new and used furniture at every budget in the book? Chairish should be your go-to then. You can find rustic decor, beachy decor, and everything in-between. They have both new and used too!
You can search at the top of their site or look under categories if you're not sure exactly what you're looking for yet. This is a fun place to shop even if you're not really looking for home decor at the moment.
You wouldn't think H&M would be the place to go for home decor. But while they don't really have furniture, you'd be surprised at their selection of home decor. In fact, they're not the only one like it.
Many department stores and clothing stores like it have some of the best unique home decor items you'll find. So when you're out shopping for this season's wardrobe, go ahead and check the home decor section.
This is a little-known store with a whole lot to offer. Serena and Lily is a store with a soft and elegant vibe. They have every type of furniture and home decor item that you could possibly be looking for.
As far as prices go, they are a little high-end, but so is their home decor. So there is nothing wrong with finding a place to splurge on some key pieces, especially if you saved money shopping at cheap home decor stores.
Etsy is a store that should not be taken for granted. They have the largest price range at all and the largest selection as well. Not everyone on Etsy is selling crocheted pumpkins, although they do have those!
Some people are using Etsy as a platform to sell their high-end home decor items for cheap. Name brand items and handmade items alike. So check them out fr sem amazing deals on amazing pieces.
You may have expected to see Bed, Bath, and Beyond on this list but it's with good reason. This store is exceptional when it comes to common home decor items such as towels, rugs, bedding, and more.
They have everything you need and you can actually get all of your home decor items with one visit to their store. Or shop them online which is an even better option this year, so go ahead and look today.
The furniture at Furnishly is very reasonable. You can get the prices you'd expect from a department store but with quality as good as a specialty furniture store. Yep, that's why it is so popular for home decor.
We are talking about some amazing home decor items for under $20. So you can go with a budget and come home (or have it shipped) with money to spare. So start here to make yourself feel good about spending.
The classic furniture and home decor store is still kicking and making an impact in thousands of homes. They have new styles released seasonally and always have something for every design style.
Some people like to shop at places that only have items that they like and that don't distract with other catgirls. Joss and Main can easily do this so go ahead and start there for some tunnel vision.
AllModern is generally all modern with few rustic pieces to choose from. However, their prices are good enough that you can experiment with a few different pieces to see if they work swell in your home.
This is the perfect place to shop if you want affordable home decor items with a modern vibe. Think metals, geometric decor, and sharp lines. Yep, that's what you'll find at a place that is known as AllModern.
Another really fun place to shop with modern vibes is CB2. They often have a cool yet mid-century modern vibe to their home decor. So if this is something that piques your interest, then visit their site.
If not, then you may be able to find a few items that suit you anyway. CB2 is a great store for anyone and their prices are always fair, they have some items on the lower end and others on the lower end.
We really can't speak highly enough of Wayfair. They are such a great store with something to offer everyone. Their price range is extremely vast, so you can work with them with any budget, no matter how high or low.
You can get any type of furniture or home decor there as well. Just don't forget to set filters as they do have quite a large selection. It would be a miracle to not find something you like from Wayfair online.
Looking for Christmas gifts? UncommonGoods has you covered in every category. But since they do have so many categories, you'll have to go ahead and go to the home section to find the best home decor.
When you do, you'll be shocked at the unique selection and amazing prices. UncommonGoods is perfect for smaller items and accent pieces. But they are even better for gifts for that special someone.
When you think of Urban Outfitters, home decor probably isn't your first thought. But Urban Outfitters is a great place for small furniture and home decor. Their prices are amazing considering the type of store they are.
Just search eh home section or you'll be overwhelmed with clothing. You won't be disappointed shopping with them because they often unexpectedly have that item that shoppers have been searching for.
Although there are still dozens of stores that we'd like to add to the list, we have to end things with Amazon. Yes, if you only shop at one place and want to make sure that you are covered, then choose Amazon.
If you have Amazon Prime, then you'll get quick, free shipping too. Not to mention, their seasonal and holiday sales are usually pretty bomb. So don't forget to check them out as a first or last resort for home decor.