Home Decor Stores To Shop At Today
There are many reasons why you'd be looking for good home decor stores. Perhaps you're buying a new house or redoing your current home. Or maybe you just want to update one piece of home decor.
No matter the reason, we have got you covered. Because after you decide what you are looking for, or even before you have, you need to know where to look for it.
What To Know About Home Decor Stores
There are a few different types of home decor stores. There are furniture stores that sell home decor and then there are stores, like department stores, that sell a small selection of home decor along with other products.
What no one tells you is how you'll find more home decor at furniture stores. If you're looking for unique decor items, you should start with your local department stores.
Most will end up shopping at both or until they find what they need.
Where To Find Cheap Home Decor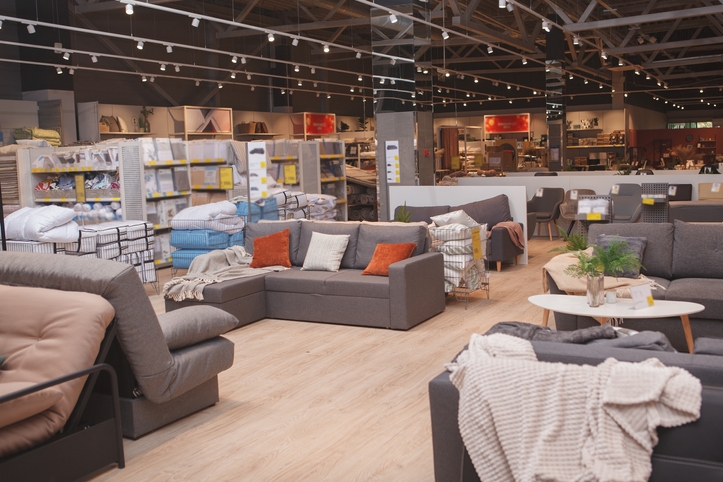 Affordable home decor is a priority. Here, we'll start with how you can find cheap home decor that's just as extravagant and fresh as high-end items.
Online Auctions
If you're looking for something specific, eBay would be your top destination. With such a large selection of valued goods, the platform can be overwhelming.
Choose a color and set a price. The site offer search filters that can help.
Facebook Marketplace
Facebook Marketplace is a refreshing break from the traditional shopping experience. You can find many cheap home décor deals on the platform. Searching for items is easy. If you want something extravagant, elegant, or rustic, you'll find it fast. After you've selected an item, you can pay for it with cash and arrange pick it up from the seller on the same day.
The platform offers safety guidelines for your protection. When you're ready to buy that rare item, feel free to conduct the transaction during daylight hours and in a public setting.
Flea Markets
Flea markets are known for having a superb selection of cheap and unique home decor. Each vendor is different, so make sure you know what you're buying.
You can find amazing deals on high-end items. You might get lucky and find something the seller isn't aware of how valuable it is.
Garage Sales
Garage sales are an adventure. You can spend a nice weekend afternoon hopping from one home to the next. You won't know what you'll find until you find it.
The host of a garage normally accepts cash. You might be able to conduct a transaction via PayPal, which is a fast and reliable method to pay for goods.
Seasonal Sales
Do not underestimate the sensation of an amazing seasonal sale. Summer and winter sales are great, but spring and fall sales are often better. For the best deals, check out store specials.
Black Friday, Memorial Day, and Labor Day are popular shopping days. If you're shopping at all places at once, then you have May, September, and November to check out the sales.
Outlet Stores
Outlets are known for having the best furniture and luggage deals, but you can find home décor items. They're often overlooked because of the furniture deals.
Home Decor Websites
The best home decor deals can be found online. There are dozens of amazing stores to choose from.
We found the super standouts that have proven time and again why they are the best.
The store has the best modern furniture you'll find online. Their selection is quaint and precise.
If you want quality rustic furniture, this is your best option. If you want ultra-modern, then high-end options are available.
Looking for new and preowned furniture, then let Chairish be your destination. They have rustic and beachy decor, and everything in-between. The platform is a fun place to shop or browse.
H&M's home décor inventory is splendid. While they don't sell furniture, their selection of home décor will impress astute shoppers.
Serena and Lily is a diamond in the rough. The store has a soft and elegant vibe. They have furniture and home decor that is out of this world.
Etsy offers fabulous and surprising prices. Their home décor inventory might be largest you'll find worldwide.
Bed, Bath, and Beyond is exceptional. They offer the nicest selection in bathroom décor like towels, rugs, and bedding.
You can find a great deal at Furnishly. They offer the same low prices you as other department stores. If you want amazing home décor deals for under $20, you can find them here.
The classic furniture and home decor store is making an impact in thousands of homes. They have new styles released seasonally and always have something for every design style.
AllModern is magical. Their prices are heavenly allow you to mix and match pieces to see if they work in your home. Shopping here is a positive and hip experience. Think metals, geometric decor, and sharp lines.
Another fun place to shop that has a cool modern vibe is CB2. They offer chic or mid-century home décor and jazzy flare items that can make any room sparkle.
We can't say enough about Wayfair, a superhero among big box retailers. Great prices and fantastic customer service have made this store what it is today.
Every time you shop at UncommonGoods it's an epiphany. After you see their inventory, you'll want to buy a few coveted items to make your home the king of the neighborhood.
Urban Outfitters has hip clothes and cool home décor. Their prices are amazing, which you'll discover after searching through their store.
We must end with Amazon, the pinnacle of online shopping greatness. Amazon Prime offers free shipping. The platform's seasonal and holiday sales are extraordinary. Don't forget to check them out as a first or last resort for home decor.