How To Make Your Home More Interesting With Geometric Wallpaper
When you want to decorate or color the walls without having to repaint or when you want to change the theme and ambiance of a room without turning it into a messy renovation wallpaper is the perfect answer.
There's so many different designs and patterns to choose from, it's easy to install and it's not permanent which is a great advantage if you're renting the place.
How to install wallpaper:
Hanging wallpaper shouldn't be difficult. After all, the whole point here is to avoid making a mess so let's see what it takes to get this done.
Map the room
Before you actually start to worry about the installation process, it's important to map the room so you know how many rolls of wallpaper you're going to need and to plan out where you'll start from and how you'll deal with the corners, doors, windows and so on.
Use a roll of wallpaper as a guide. Start from a corner (the one opposite to the entrance to the room is usually the best choice) and make a pencil mark at the edge of the roll, then slide the roll down to the mark and make another one at the other edge and so on until you figure out where all the seams are going to be.
Prep the walls
Another important step is to prep the walls before installing the wallpaper. That means removing any plate covers, light fixtures and anything else that might prevent you from covering the walls with wallpaper. Also, apply some primer or wall size which is specially designed to reduce the chance of shrinking the paper and to make it easier to remove it.
Apply the paste
At this point you should have enough paper, a clear idea of where you're going to start from and all the necessary tools to do so. You're ready to apply the paste to the first sheet of paper. Use a paint roller for that. It also goes without saying that you should make sure you're using the right paste for your paper. You should find instructions on your wallpaper.
Book the paper
This is a special process that makes it easier and less messy to install the wallpaper. It basically means that you fold the paper in on itself which softens it and helps the paste activate. The idea is to fold it in such a way to get three sections. Place the paper flat on a surface, fold one end towards the middle of the sheet and then the other way the same way so they meet.
Make the first seam
You're most likely starting from a corner of the room and in that case you're about to make the first seam. In order to do it right, the first sheet of wallpaper that you install needs to overlap the adjacent wall about 2" which gives you enough room to get a perfect seam even if the walls are not perfectly straight.
Make sure you smooth out the paper
This is important because if you skip this step the paper can shrink when it dries and that leaves gaps in the seams which looks bad. Once the paper is on the wall use a smoother to over the entire surface but don't push so hard that you squeeze out the paste or stretch the paper.
Roll the seams
The edges of the wallpaper can start to curl if they're not perfectly aligned and smooth. To prevent that, set them with a roller. Again, don't press too hard or the adhesive will start to come out.
Wallpaper Design Ideas With A Geometric Pattern
Monochrome double pattern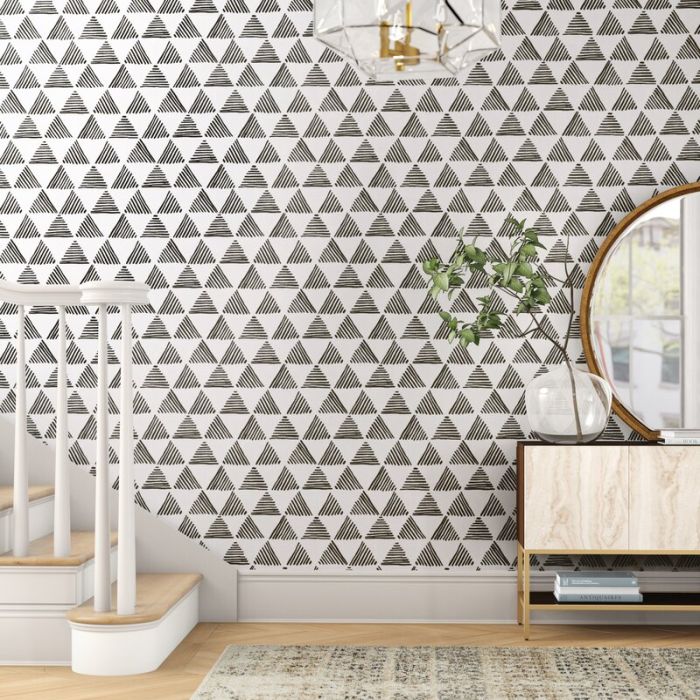 Busy geometric patterns are often monochrome which allows the pattern and design to stand out and also gives them a clean and classic look. The Avianna peel and stick wallpaper features a triangle pattern but each triangle is actually a series of stripes which adds more depth and detail to the design.
A series of geometric links
The interlinking pattern featured by this wallpaper by Zipcode Design is bold but also has an abstract aesthetic and is simple and light enough to not overwhelm the room.
A pop of color
The design of this Risky Business II wallpaper seems quite random, features an angular pattern with lines that intersect and occasionally form small triangles where color is introduced. It's an interesting way to add smaller focal points within the pattern itself.
Simple and versatile
Quite often it's the simple designs that are the most versatile and that also applies to the Hartley Geometric Triangle wallpaper. Its design is based on a series of small triangles in different colors which give it a dynamic and balanced look.
A contemporary design
The Tidore Structures Geo Wallpaper features a design which we immediately associate with contemporary interior decors. It's a quite busy and colorful pattern and yet it doesn't have such a heavy impact on the decor as one might anticipate. That only helps to show how well-balanced geometric patterns can sometimes be.
An eye-catching staircase wall
Wallpaper is extremely versatile and there's lots of spaces inside a house that could greatly benefit from decorated this way. One of them is the staircase wall which we often struggle to decorate. A geometric print like the one chosen here by studio Fry Homes can do wonders.
Multicolored, fun and cheerful
Color and pattern go hand in hand and this is a beautiful expression of that. This geometric multicolored wallpaper looks absolutely perfect in this contemporary kids' bedroom by Jaffa Group Design Build.
Related: How To Use A Calm Wallpaper To Create A Serene and Relaxing Room Decor
A cool way to spruce up a boring room
Let's be honest with ourselves, some areas of the house are just plain and boring. That's actually where a geometric wallpaper would look best. A lovely example is this laundry room designed by studio Refined LLC. The color palette is very simple but it also looks so good here.
An unexpected but welcomed application
You wouldn't really expect wallpaper to be used as a backdrop for a series of wall shelves but it actually look great here. That makes this bar area designed by Lenton Company so inspiring in the first place.
A warm touch of color
Geometric wallpaper is obviously great if you want to play with some interesting and fun patterns but also if you want to add a bit of color to a space. Take this home office designed by Lowcountry Premier Custom Homes for example. The wallpaper adds a bit of orange into the room which balances out the decor.
The accent wall strategy
This blue geometric wallpaper was used to create an accent wall and to add a bold focal point to this open-space living area. Blue is a soothing and relaxing color and it's paired here with a geometric pattern which adds a certain dynamic to the decor.
A sophisticated dining room idea
Wallpaper and dining rooms are highly compatible, as you can see in this elegant interior by studio Sally Wheat Interiors. The geometric pattern is quite bold but the repetitive nature of the design doesn't make it too busy.
An eclectic approach
With geometric wallpaper, it's quite easy to make a design look eclectic. You can complement it with some colorful accent furniture like a chair casually sitting in a corner and with a bunch of other details like artwork, pillows, area rugs and so on.
Subtle and elegant
Not all geometric wallpaper has to be very bold. This particular design for instance is quite subtle and doesn't stand out as much and that's because of the colors used. Instead of a black and white combo a series of gray tones were used. The wallpaper definitely adds a lot to this open-space living area by studio Bhavin Taylor Design.
A statement wall
It also goes without saying that geometric wallpaper is also great if you want to create a statement wall or a backdrop. In that sense, the wall behind the bed would be great for that. For added effect you should avoid covering the wall with lots of furniture.
Golden accents
Adding a few metallic accents to a room's decor gives it a very chic look and feel. That strategy has been beautifully applied in this bedroom by studio Robert's 21st Century Design. It helps this small room pop and the actual design is abstract which suits the modern aesthetic of the space.
A design that blends in
Although you don't actually see the wall behind the bed when you're sitting down, relaxing and trying to go to sleep and you can technically make it bold and colorful, opting for something subtle and soothing helps with the overall dynamic of the room. This bedroom by studio Oliver Simon Design is a magnificent example.
A multicolored display
Isn't this multicolored geometric wallpaper simply perfect for a kid's room? It gives a super fun and cheerful vibe to the whole space and it doesn't have a very specific design that follows a trend or a particular theme. That gives it more weight and timelessness. This room was designed by studio LEIVARS.
Funky stripes
Stripes never go out of style and that doesn't mean they can't look fresh and interesting in a modern or a contemporary interior design. Check out these oversized wallpaper stripes used here by Giulia Verna to make this bedroom stand out. The stripe pattern is also loosely reintroduced on the curtain which have this multicolored wavy design.
Bold and powerful
Usually, you wouldn't pair a busy geometric wallpaper pattern with a bold and powerful color such as red but that actually works out well for this contemporary living room designed by Sterling Development Corp. This is a type of design that makes a statement and the idea was to create a decor that fills your with energy and promotes interactivity.
A little bit of symmetry
If you're worried that installing geometric wallpaper on all the walls would make the room look too busy, try opposite walls instead. This is also a way in which you can create asymmetrical design. Our minds are designed to notice patterns and to organize everything it sees and studio Bhavin Taylor Design used that here to their advantage.
Related: Powder Room Wallpaper That Pops!
Matching colors
Another strategy that can be used in interior design is to use matching colors for different elements like the wallpaper, the furniture and some of the decorations. This can add cohesion to a design and is also a way to use bold colors in a way that makes sense.
The perfect neutral backdrop
Use geometric wallpaper if you want to create an accent wall or a focal point that's both neutral and eye-catching. Take this living room by studio Cream & Black Interior Design for instance. It's so well-balanced and that's partially thanks to the wallpaper and partially thanks to the cheerful pops of yellow.