20 Things That Give The Family Room Its Cozy Character
The family room should be the place where people gather to chat, relax and spend time with each other or, in other words, where they go to be a family. Yet sometimes the name is the only thing that remains constant over the years. Don't allow your family room to lose its charm and character. Here are 10 things you can do to keep it cozy and homey.
Bring in rustic accents.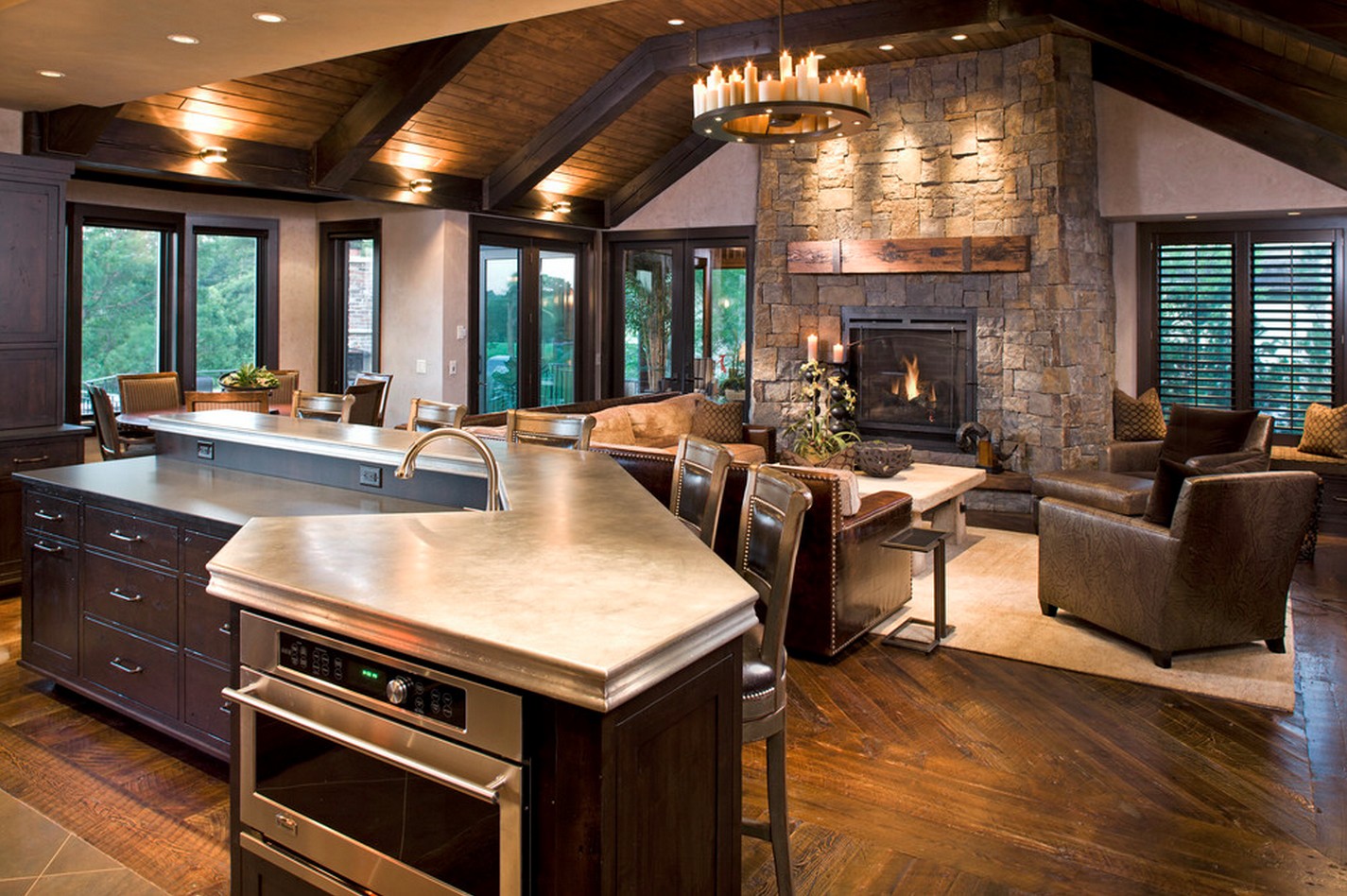 First of all, style is important. A family room with a rustic, vintage or even traditional design is more likely to look warm and inviting than one with a contemporary and minimalist interior. You can ensure that the cozy atmosphere everyone is talking about by using lots of wood as well as stone and comfy textiles.
Get rid of the TV ?
To truly encourage everyone to interact and enjoy each other's company, you should get rid of the TV. After all, the family room is more of a place where people chat and chill out. Instead of a TV, you can have a fireplace to cozy up in front of or a huge window with beautiful views everyone can admire.
Offer a variety of seating options.
Give your guests and family members the chance to choose whether they want to sit on the sofa, on an armchair or on a pouf. By offering a variety of options you can make sure that everyone is comfortable in their own spot.
Be casual.
One of the things that differentiate the family room from the typical living room is the fact that the first one is more casual and comfy as opposed to a more formal approach used for the latter. Comfort is given by a variety of elements such as the throw pillows, cushions, textures, colors, fabrics or simply the way everything is organized.
Tie the spaces together.
If you have an open floor plan that also includes the kitchen for example, tie all the spaces together for a more inviting and welcoming feel. For example, pick an accent piece of furniture to connect two spaces, like the armchairs do here.
Don't overthink the décor.
The family room is not a place where you have to worry about every little thing. Don't overthink the décor. Instead of searching for fancy paintings to display on the walls, go instead with the old family photos. Instead of getting the latest trends in furniture applied to the room, settle for the bulky but very cozy couch and armchairs you already have.
Fill the room with warm lighting.
One of the things that make a room look and feel welcoming, warm and cozy is the lighting. The family room can feature a variety of lighting options such as a chandelier at the center complemented by floor lamps, and sconces. In an open floor plan, the lighting used for the rest of the spaces also plays an important role.
Let the fresh breeze in.
If possible, connect the family room and the adjacent outdoor spaces. Although they remain separate, they communicate with each other and this way you can also plan for separate activities. Someone might enjoy sitting outside and enjoy the sun while the others interact inside the house.
Personalize the shelves.
Perhaps you haven't really given much thought to this, but the way you decorate the shelves in a room says a lot about that room's function and ambiance. Decorate the family room shelves with personal items such as family photos, personal collections, artwork, etc.
Define the space with an area rug.
In some cases, it can be helpful to use an area rug to define the different spaces that form an open floor plan. The rug is an especially nice feature for a family room because it makes it look cozy. It can be small and purely symbolic as long as it does its job.
Bring a fireplace in.
Fireplaces make excellent focal points and they're great at making rooms feel really warm and cozy. That's true for all the different styles, including the modern fireplaces which are a lot easier to install and practically maintenance-free. This living room by Charlie & Co. Design is a nice example.
Create an intimate conversation area.
Separate a large or an open-concept living room into several smaller sections in order to make it feel more comfortable and cozy. This home designed by Swatt | Miers Architects has an intimate conversation area with large windows on two adjacent walls, a small sectional and a media wall.
Invite the outdoors in.
It's always beautiful to see homes that take full advantage of their location, especially when the views are as beautiful as this. This family home designed by Dovetail General Contractors has these floor-to-ceiling windows that expose the living room to the magnificent forest and create a wonderful feeling of immersion into nature.
Add a window nook.
If the layout and the design of the living room allow it, it's always great to create a little window nook with a bench and some cushions where one can unwind, enjoy the view and the sunlight and relax with a good book. Bay windows are usually excellent for that. Check out this cozy family room designed by Streeter Custom Builder if you want a bit of inspiration.
Use wood in creative ways.
You can always rely on wood if you want to make a room feel warmer and inviting and there are a lot of different ways to introduce this material into the décor. Here for example we have a wood-paneled backdrop for the fireplace and the TV placed right above it. It's an accent wall but in a different form than we're used to. This lovely beach house was designed by studio McKee & Company.
Play with beige and other neutrals.
Although beige, cream, ivory and other neutrals can seem very bland and boring, there are cases where they simply fit the context. They're really great and versatile colors for interior designs and decors in general. You can use them to make a space feel bright and open but also warm and cozy at the same time and to avoid monotony you can play with different shades and various types of finishes, materials and patterns to add diversity to the design.
Open up the room with sliding doors.
If having the living room open onto a deck, a garden or the backyard is a possibility, definitely go for it. This modern house designed by Seaside Builders shows how a series of sliding glass doors can completely transform a space.
Install beadboard on the walls.
Whether you do with a more traditional look where the beadboard or wainscoting covers the lower section of the walls or you prefer a more clean and simple look with walls that look the same from top to bottom, this a lovely way to make a room look and feel more welcoming and ultimately really cozy.
Add texture through window treatments.
There's a few things can instantly change the look and feel of a room. Curtains and window treatments, in general, are among them. As soon as you add them the perspective and the ambiance change. The same thing can be said about rugs and also about lamps and lighting fixtures in general. This cozy living room designed by Kathy Corbet Interiors has it all.
Use warm colors, materials and textures.
This goes without saying but some materials like wood or textiles for example are better at making spaces feel warm and inviting compared to raw concrete or marble for example. The same thing goes for certain textures and finishes. Keep that in mind when decorating. Let this small and cozy room designed by Renovation Design Group serve as a source of inspiration.