Family Room Vs. Living Room – What Is The Main Difference Between
Have you wondered what's the main difference between the family Room vs. living room? Well, both the living room and the family room are two important areas in a house. Sometimes people get confused and, as a result, the terms become interchangeable.
However, the fact is that the living room is far from being the same thing as the family room and there are some remarkable differences between the two.
Family Room vs Living Room – Design and Décor Ideas and Tips
While both living rooms and family rooms have similarities, there are ways to distinguish the two. When choosing furniture and arranging decor, you can create the subtle difference to reflect which you like most.
Make the room welcoming
Whether you're opting for a family room vs a classic living room, the design in both cases should be welcoming and as comfortable as possible. A nice example is this casual space from Dwell Interiors. It features a light and neutral color palette, a wooden floor and a beautiful stone fireplace. It's a family room with a modern feel and a rustic vibe.
Open plan living spaces
Currently, a lot of homes have an open concept social area which typically includes the kitchen and living room. That already sets a casual atmosphere and allows both these spaces to look and feel bigger and airier than they would as individual separate rooms. This is an example by Le Belle Maison Interiors of how such a setup could look like when paired with a traditional design.
Focus on a fireplace
A fireplace is a great addition to a living room or a family room and there are lots of nice ways to integrate one into such a space. This one has a wood surround that really suits the style of the room. Also, there's no TV in here. Check out studio SIR Development for more info on creating these styles of family rooms.
Media wall
In comparison, this family room has a wall-mounted TV but no fireplace. The media wall is thus one of the possible focal points. However, it can also go unnoticed if the space is used for other types of activities. This lovely design was done by studio Leslie Cotter Interiors.
Beach style family room
This family room designed by Element Home Builders has a beach-style décor which helps to make it look and feel bright and airy even though it's not particularly large. An area like this is a great place to spend time in with the family. It is, however, a part of an open floor plan area and the sofa table acts as a divider. The fireplace is one of the focal points along with the TV mounted just above it. This combo allows for more flexibility and versatility in family rooms.
Cozy family room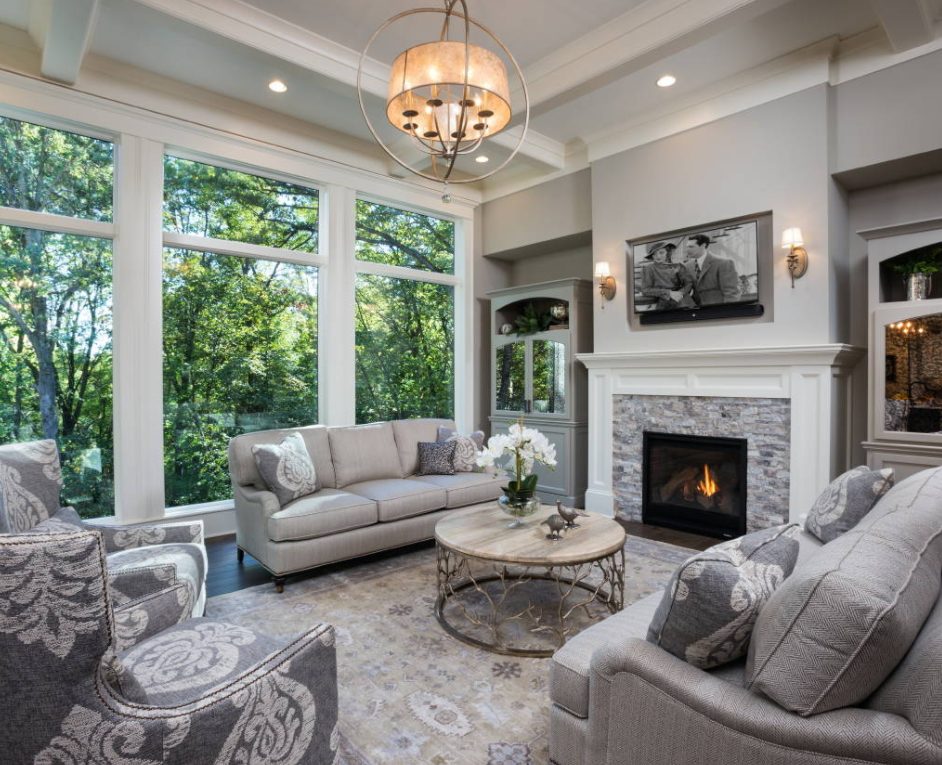 A similar fireplace and TV combo can also be seen in this elegant living room by studio Royal Oaks Design. The room is arranged around the fireplace and the two facing sofas. As you can see, this room also has large windows and a really nice view of the trees and the greenery outside. As such, it's a relaxing space with lots of natural light and a very cozy place to be in.
Contemporary open-plan space
This wonderfully spacious living room floor plan is for casual and friendly meetings and entertaining guests. It has a big L-shaped sectional and more seating in the form of stools and armchairs. It's one of those living rooms where everyone can sit down, be comfortable and enjoy each other's company without distractions. This is part of a home by Charles Todd Helton Architect.
Bay window accent
Although there is no fireplace in this living room, the TV wall does have a beautiful stone texture on it and that contributes to creating a warm and cozy ambiance. You can settle in and watch television. Or, you can sit and admire the view from the sitting nook by the bay windows. Check out chas architects for more inspiration and inspiring projects.
High-ceiling living room
A high ceiling is usually desirable, especially for a living room. It helps to bring in more light and to create an airy and spacious interior. They are also great for formal occasions when you're entertaining. Adapting the interior design to take advantage of this architectural feature can be challenging. Including a fireplace and putting an emphasis on that particular wall is often a good strategy, as shown here by RKD Architects.
Elegant living room
Different types of interesting architectural features that can make a living room or family room stand out include arched windows and doorways. You can see them in this elegant space designed by Orren Pickell Building Group.
Together with the traditional fireplace, they add a refined touch and help the grand living room make a statement. A living room is also the location where many people choose to highlight family heirlooms, especially furniture.
Artful family room
If you choose to not have a TV in the family room, there are other ways to add interest to the room. For example, you can have the walls decorated with fine art or framed pictures. Also, some of the furniture pieces can serve as focal points, like this sculptural coffee table included in this charming space by studio Coats Homes.
Airy, open living room
If at all possible, allowing the living room to have a connection to the outdoors is always beneficial. This beautiful interior design from studio Christian Dean Architecture feels very fresh, airy and open. That's partially thanks to the big windows and the glass door that connect it to the garden. This space is more of a formal room than many family rooms.
The location
One of the key differences of a family room vs. a living room is in the portion of the house where they're located. The living room is the most spacious room of the house and is usually at the front of the home. Some people call it a front room. Often these formal living spaces are connected to dining rooms.
Generally, the family room is adjacent to the kitchen and, in some cases, it becomes a part of the kitchen itself. Also, family rooms tend to feature a door that leads directly into the garden or courtyard, terrace, etc. These spaces tend to be high-traffic areas for families. Sometimes, homeowners will turn a bonus room into a family room if there isn't such a space already.
Function
Another key difference between the two spaces is the level of formality. The living room has a specific purpose. It is the area where we entertain guests and welcome close friends and relatives.
It's a comfortable but also somewhat formal area, which is definitely the main difference between rooms. While formal living rooms were not so common anymore, they are having a bit of a renaissance. People like to have a space to use just for special occasions, especially in larger homes.
A family room is more informal and often serves as a multipurpose space on a daily basis. People often use it as a home office whenever they need to take care of some work-related issues. Because it's generally kid-friendly, a family room can also be a rec room. Also, family rooms tend to be the place for installing entertainment systems meant for watching TV.
Design
In terms of design, it's well-known that living rooms sometimes include an entertainment center, TV, maybe even a computer. But they also have plenty of storage and a more or less classical layout.
On the other hand, family rooms serve different purposes so they have to be flexible and versatile. They're spaces where family members and guests gather to chat, listen to music, play games and enjoy all sorts of other activities. Because of their informal look, they often seem more comfortable. Couches and recliners are must-have items.
Living room décor usually focuses more on design and style and less on function. This is especially true for a formal living room. As for the accent details, they are often artwork and other less-personalized elements.
In most homes, it's customary to see framed family portraits, heirlooms and photos in the family room.
Frequently Asked Questions (FAQ)
FAQ
What is the difference between a living room and a family room?
When it comes to the floor plan, there's really no difference between a living room and a family room. But, when it comes to style and function, that's where the two diverge. A living room is typically more formal and used primarily for entertaining guests. A family room is where everyone can kick back and relax in a more casual way. 
Why is it called a family room?
The term "family room"  means an informal, all-purpose space, rather than a formal entertaining space. A 1945 book  "Tomorrow's House" defined it, expressing the need for a house to have a room that serves "the social and recreational needs of the entire family." The authors meant it to have sturdier furniture and be easier to clean. Hence, the beginning of this family-friendly space.
Can you have a family room without a living room?
Yes, of course you can have a family room without a living room. Today's preferences for more casual living and entertaining make this a popular choice. In fact, open-plan living spaces have pushed aside the formal living room concept. Homeowners want to make th most of the space they have and that means having spaces that are well-used.
What do you put in a family room?
Comfort is king when you decide what to put in a family room. This casual space should definitely have a large, comfy sofa along with chairs and ottomans. Lots of pillows will help make it even cozier. The floor should have a rug so that people can lounge or play on the floor. A TV and/or entertainment system is a must as is a play area if you have kids.
What is the average size of a family room?
In general, the basic family room is about 12 feet by 18 feet. This is a good space for six to 10 people, depending on the kind of furniture you have. The best size also depends on whether you have children to accommodate and the specifics of your home. 
How to design a family room layout
Before you actually design a family room layout, define the focal point if you have one. If there's a big fireplace and/or TV wall, you'll want to design around that. Arrange comfortable seating in a way that allows you to face the TV at the best angles. Side tables and other pieces should be arranged for convenience and traffic flow.
You'll also want to consider any great view you want to highlight. Finally, if this is an open-plan living space, use furnishings to create defined areas for conversations, play or tv watching.
Conclusion
Overall, you can start to see the difference between a living room and a family room. It comes down to how much space you actually have and what your lifestyle is. If you have the pace, by all means, create separate a living room and family room. If not choose the options that fits your lifestyle best — casual or formal.