DIY Decor for a Fall Baby Shower
Baby showers have a bad rap for being pink and blue affairs with cliche party games and finger sandwiches. But in recent years, with the rise of styled events, themed baby showers are a thing to be anticipated. A theme doesn't have to be complicated though. If you're putting together a baby shower this season, consider making Fall your theme. With the bright colors and rustic notes, it would make a lovely shower for any mama to be. Here are 10 pieces of DIY decor that will help you put together your Fall baby shower.
There are plenty of flowers in Fall colors. Cover a few ball jars in chalk paint and fill them with Autumn colored blooms to serve as centerpieces for your Fall affair. (via Midwestern Moms)
Candy corn is a food people like or don't. But even if you don't care for it, buy a bag to use in your decorating for your baby shower. Fill the bottom of utensil jars or the inside of vases or glue them to a wreath. Any number of things where you don't have to eat them.
It isn't a baby shower without a couple balloons, am I right? Let your kids line the strings with leaves for an easy way to plump up your balloon decor. If you do this to enough, it would make a find photoshoot background. (via A Joyful Riot)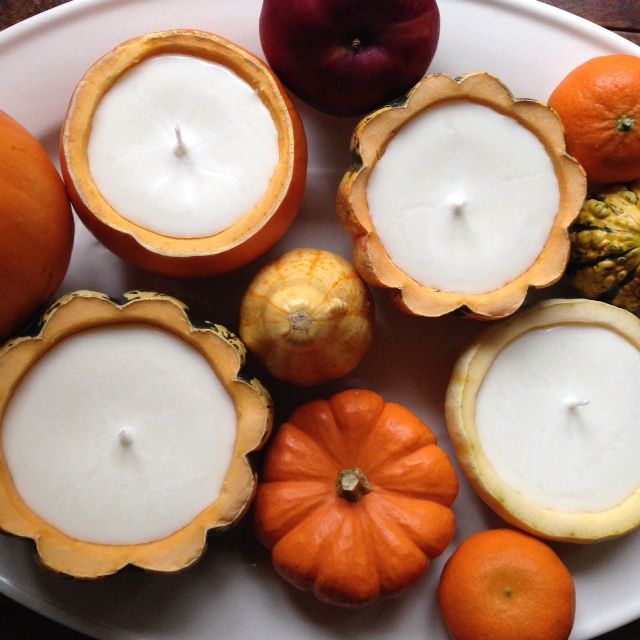 It isn't an Autumn party without pumpkins! Use some hand poured candles in pumpkins and gourds throughout your shower centerpieces. If you want to be really on top of things, let the guests at the shower make one to take home. (via Habitat At Home)
It's amazing what a garland can do for a blank wall. Utilize all your scraps of burlap and lace and patterned fabric in Autumn shades to create this pretty scrap garland. I would guess the mama to be will ask to have this for baby's room. (via Typically Simple)
Fall decor is all about bringing the outdoors in. So start collecting wood slices for your shower and scatter them around the food table and your seating. They can hold candles and favors and frames of the baby bump. (via One Charming Party)
These might just be the cutest pumpkins I've ever seen. This would make a fun DIY to greet your guests on the front porch. Even better if mama to be is having twins! (via Who Arted)
Party hats are simple to make from patterned paper. If your shower has some Halloween vibes going on, add some pointy party hats to various decor around your house. (via 100 Layer Cake)
For this project, you need leaves, string and a sharpie. While this banner says "Give Thanks" you can have yours say "Welcome Baby" or display the baby's name or any number of baby related phrases. (via Classic in Gray)
Sometimes parties have to be planned in a pinch. Either your budget is low or your friend surprised you with a baby shower date for next Saturday. Either way, painting a few pumpkins in pink or blue is a great way to bring the Fall season to your shower decor without busting your wallet. (via Colin Cowie Weddings)