20 Ideas to DIY Your Own Fireplace Screen
Whenever you walk into a room with a fireplace, you find that no matter what else the room holds, the fireplace just commands your attention. So you really need a fireplace screen to make the focal point beautiful even in summer when you don't have a roaring fire going.
There are some gorgeous fireplace screens out there to beautify that space, but not all of them accommodate the smaller budgets. Thankfully, there are lots of DIY fireplace screen options that you can make yourself, and no one would even suspect you didn't purchase it from a retailer. Take a look at these 10 ideas to DIY your own fireplace screen.
Easy DIY Fireplace Screens to Transform Your Living Room
1. Large Fireplace Screen with a Gilded Frame
If you DIY, you are probably aware of all the possibilities an empty frame can hold. Let's add one more to the list and create a lovely fireplace screen with a large gilded frame. Or whatever frame fits your decor best. (via Edith and Evelyn)
2. Fireplace Screen Using a Window Sash
You gotta love an old window in all its chippy paint glory. Turn that old sash into your fireplace's best wear by sprucing up the chipping paint and adding some mirrored spray paint in the glass to help hide the dark fireplace hole. (via In My Own Style)
3. Wallpaper and Scrap Wood Fireplace Screen
For some of us serious budget decorators, we prefer DIYs that use things we already have. So when you discover that you can make this screen from wallpaper and scrap wood or even cardboard, we can dance for joy together. (via Popsugar)
Related: 30 Fireplace Design Ideas And How To Build Amazing Spaces Around Them
4. Shutter DIY Fireplace Screen
When you live in a country decorated home, it's pretty easy to find decor to fit your style. Namely, shutters. Because it's amazing how many things you can use an old window shutter for besides updating the look of your house. That includes a fireplace screen. (via My Repurposed Life)
5. DIY Fireplace Screen with Modern Lines
Take a look at this modern beauty! With that scrap wood in your garage and a patterned radiator cover, you can have this on your hearth in a day, strutting its stuff in front of your fireplace. (via Zest It Up)
6. Barn Door Fireplace Screen
If you're thinking that this barn door style fireplace screen looks like time and effort, you'd be right. But when you see the finished product, how can you pass it up? It is a great way to have a country and industrial vibe at the same time. (via Designer Trapped)
7. Fireplace Screen with Old Stained Glass Windows
Old stained glass windows are quite beautiful; however, it can be hard to know how to decorate with one in your home. By screwing some hardware into the bottom edges, you can have it stand in front of your fireplace and continue making its beautiful statement all summer long. (via Hometalk)
8. DIY Fence Picket Fireplace Screen
When you want to keep something out or something in, you put up a fence around it. The same idea goes for this picket fence fireplace screen. With rustic wood and hardware, you can help keep the draft out and keep the style in, all at the same time. (via The Jenna Juice)
9. Faux Log Stack Fireplace Screen
You've probably seen the stacked logs in a fireplace trend on Pinterest. Now is your chance to jump on that bandwagon. Glue slices of logs in different sizes onto a black painted board the size of your fireplace opening and voila! (via Pepper)
10. Spray Paint a Brass Fireplace Screen
Are you lamenting your dated fireplace but really don't have the funds or time to replace your screen? Use a few hours to cover your current brass fireplace screen with black spray paint for a brand new look instantly. (via Bright Green Door)
Related: 10 Great TV Consoles With Built-in Electric Fireplaces
11. DIY Faux Wood Fireplace Screen
Duke Manor Farm shows us how to make this DIY faux wood fireplace screen that looks just like a stack of real logs. It transforms a black hole of space into the centerpiece of your living room, yet it is so quick and easy to create. The best thing about this DIY project is that it's so quick and easy to make and is perfect for first-time DIYers. All you'll need is wood, fabric, a stapler, and scissors. The fabric looks exactly like chopped logs and makes a fun and rustic addition to your home.
12. A Budget-Friendly DIY Fireplace Screen
Less Than Perfect Life of Bliss shares this DIY project that costs under $30 to create. If you are just looking for a simple addition to your living room, this is the ideal solution for you. If you were to purchase a fireplace screen like this in a store, it would set you back hundreds of dollars, so this is a great solution for anyone looking to decorate on a budget. The project revolves around a metal wall hanging, which is easily transformed into your new screen. You'll spray paint a few brackets, which are then attached to make the wall hanging stand up, and you'll be ready to use your new fireplace screen in no time at all.
13. DIY Stacked Log Fireplace Screen
Enjoy a slight twist on some of the other popular log fireplace screen options on our list with this DIY project. A House Wren offers us a fireplace screen that will soon become one of your favorite parts of your living room, and it looks just like stacked wood logs. A wooden fireplace screen is used as the base of the project, and you can paint this with layered chalkboard paint, which will give it an aged look to add to the overall rustic aesthetic of this project.
14. Simple Yet Decorative Fireplace Screen
A fireplace screen offers so many benefits to your home, but it doesn't have to look boring to serve its function. This simple and pretty fireplace screen from Vone Inspired will help to block out drafts yet still makes an attractive addition to any home. This project uses a PAR pine frame, mesh fabric, and then some fun decorations to create a floral pattern. To add the twigs to create the floral pattern, you'll just use a hot glue gun to attach them directly to the front of the fabric.
Related: The Key To A Cozy Living Is To Achieve An Entertainment Center with Fireplace
15. Paint Your Brass Fireplace Screen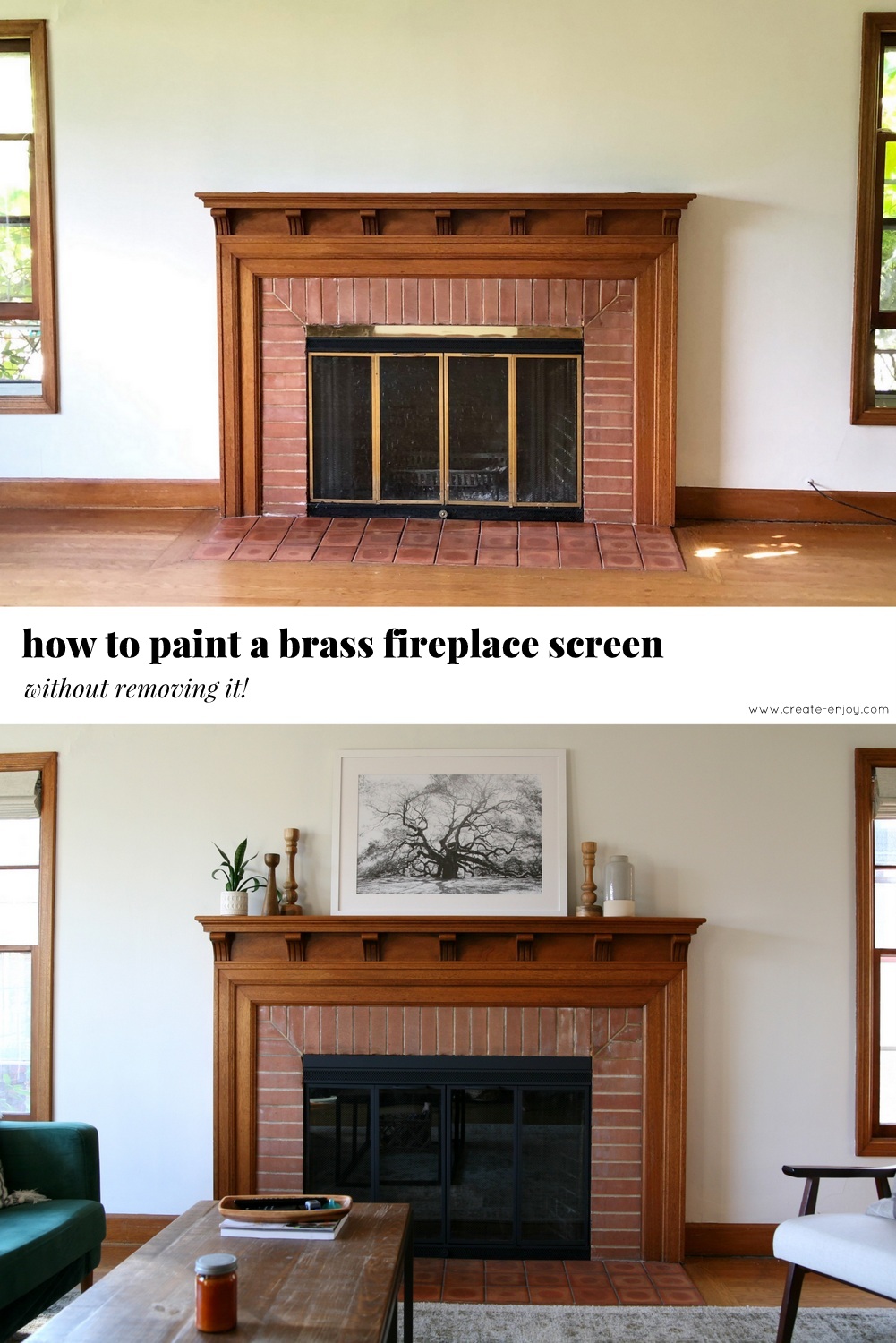 If you already have a brass fireplace screen attached to your fireplace, you may want to just consider transforming it by giving it a coat of paint in a vibrant color. Create Enjoy shows us how to make this project that's great for anyone who can't remove their screen due to babies or pets. You'll use spray paint for this project, but it's best to find one that is resistant to high temperatures. The instructions recommend doing multiple light coats to avoid dripping. For the safest experience, make sure you open doors and windows in your home to get the air circulating while you are spraying the screen.
16. Birch Log Fireplace Screen
Refresh Living has created this stunning birch log fireplace screen, which is both functional and decorative. It's sturdy enough to stop cold air from entering your room in the winter and hot air from warming up your space in the summer months. This is a great option for anyone who's looking to avoid an ugly fireplace screen and adds some warmth and a rustic touch to your living room.
17. DIY Painted Fireplace Screen
This project completely transforms a dark and dull fireplace screen into something lighter and brighter that you'll surely enjoy displaying in your living room. It only takes one or two lighter accessories in a room to completely transform a space into a light and airy room. On The Upcycle encourages us to reuse and recycle what we currently have by transforming the color of your fireplace screen with heat-resistant spray paint.
18. Paper Snowflake Fireplace Screen
If you are looking to add a touch of holiday magic to your fireplace, try out this simple DIY project from We Can Make Anything. Kids can get involved with the fun, and you can spend a cold afternoon indoors creating paper snowflakes of all shapes and sizes. Try to make quite large snowflakes, especially if you have a large hole to fill in your fireplace. Once they are made, tape your snowflakes onto an invisible thread in a vertical line, and then tie a small bead to the bottom of each string to keep it weighed down. It will look great when your kids hang their Christmas stockings up here this year.
19. A Painted Metal Fireplace Screen
If you have an old metal screen in your home, you can easily transform it to fit your home decor with some spray paint and a little decorative wreath. The EBTH blog shares this easy project which can transform a cheap or unused fireplace screen to match any home. It won't cost much to create but will serve the function it's designed for while also adding a personalized touch to your living room.
20. Wood Fireplace Screen
Dirty Diaper Laundry shows us how to make this DIY wood fireplace screen that will take a bit of time and effort but is well worth it. If you don't want to leave a stack of logs in your fireplace, this is a great way to recreate the look. It will add a warm and rustic touch to your fireplace and will look great in almost any living room.
All of these DIY fireplace screens will serve both decorative and functional purposes in your home. They'll transform an empty dark hole in your living room into a space you will admire every day when you are relaxing in the room.