DIY Tassel Christmas Stocking
Quickly update your stockings with this fun tassel stocking DIY! I love the look of simple stockings but I wanted to add some pizzazz to mine this year without having to spend more money on buying new stockings.
Making a couple of tassels and sewing them onto my stockings did just the trick! You can easily customize your tassel stocking by using different colors and styles of yarn. I went with classic Christmas colors and added some gold yarn into the mix for a bit of shine! You can also customize your stockings by sewing on the tassels in different places, as you can see I sewed the tassels onto my stockings in different ways to create more unique stockings.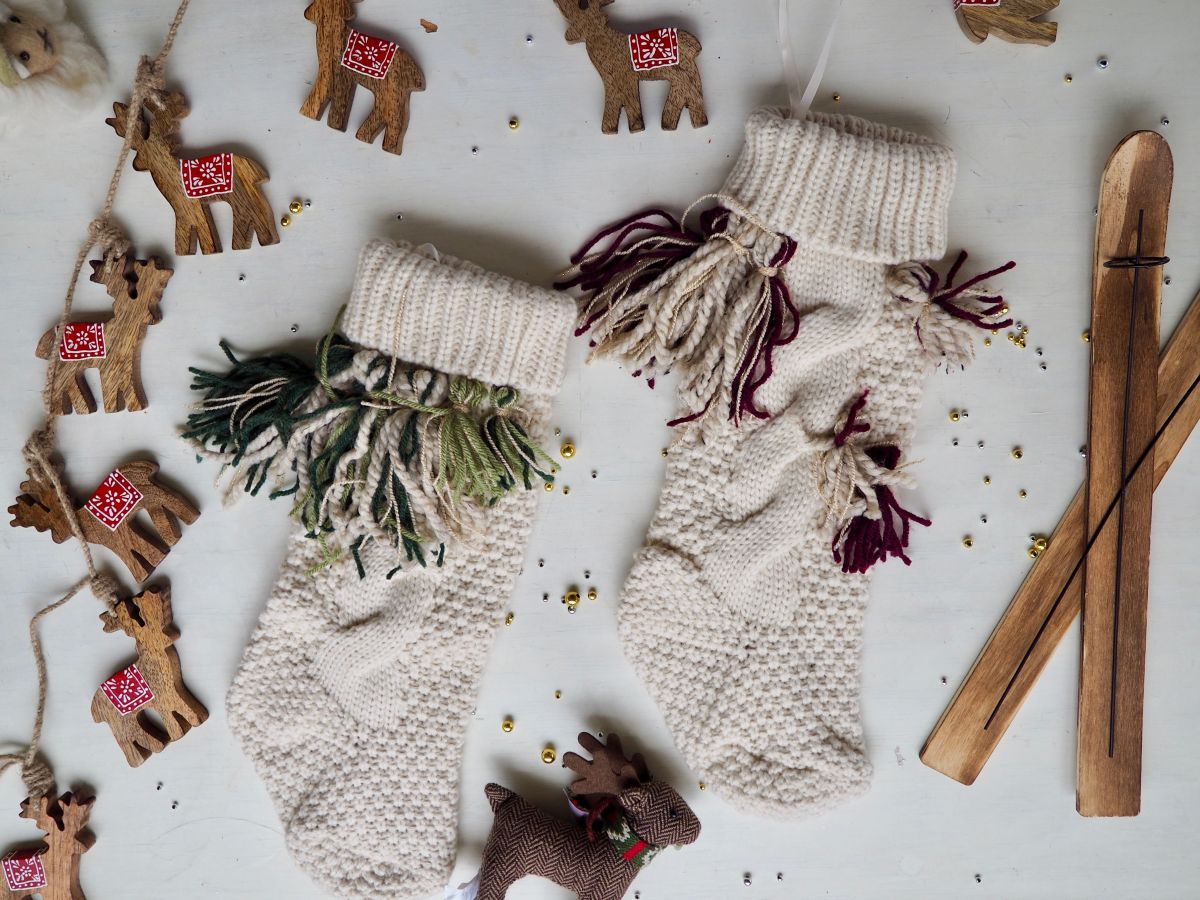 Materials you'll need for the Tassel Christmas Stocking:
Plain stocking
Yarn
Needle
Scissors
How to make this tassel stocking:
Step 1: How to make tassels
Start by making some tassels. To do this you will wrap your yarn around either your fingers or a book about a dozen times (note: wrapping more will create thicker tassels). Once you are happy with the amount of yarn that you have you can go ahead and take the tassel off your fingers or book. Cut off a small piece of yarn and tie it around the top 1/4th of your tassel. Double knot it for extra security. Cut off through the bottom loops of tassel.
Step 2: different lengths
Create more tassels to fill up your stocking. You can do different lengths and thicknesses to create different look tassels. You can also wrap two or three colors at once to create tassels with more than one color.
Step 3: How to thread tassels
Once all of your tassels are made you can go ahead and sew them onto your stocking. I would suggest laying them down on top of the stocking to find good placement for each of the tassels. Once you are satisfied with where your tassels will hang, go ahead and thread a needle.
Step 4: Thread needle process
Place your threaded needle inside of your stocking and bring it to the outside of the stocking where your first tassel is.
Step 5: Continue to the tassel
Thread your needle through the tassel and bring the needle back through to the inside of the stocking. Continue to do this with all of your tassels. Once all of your tassels are sewed in place go ahead and tie a knot in your thread and cut off any excess string.
There you have it! A quick update to a plain stocking!