Simple Wall Paper Christmas Tree Art On A Wood Pallet
Piece together patterned paper to create beautiful Christmas wall art! Funky triangles in holiday patterned paper come together to create beautiful geometric wall art that's perfect for Christmas decorating.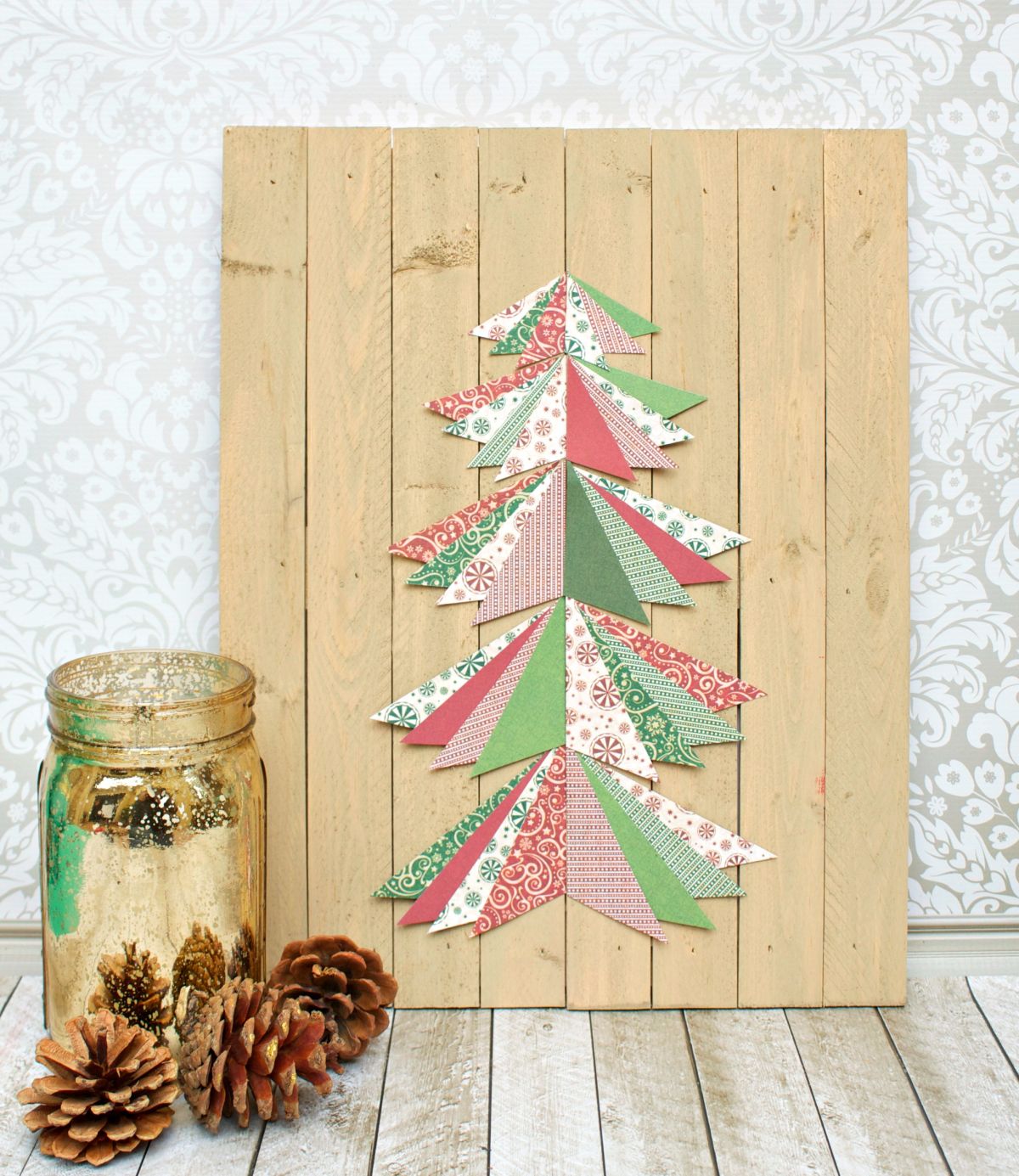 Supplies Used to Make this Christmas Tree Wall Art:
Unfinished Wood Pallet Art Board
Patterned paper in holiday colors
Hot glue gun
Tan Milk Paint
How to craft a paper Christmas tree for the wall:
Step one: Cleaning and painting
Paint the unfinished wood pallet board with a light colored paint. I wanted the wood finish to show through to maintain a rustic vibe, so I used a light tan colored milk paint. I only applied one thin layer of paint so the wood grain would still show in places.
Step two: Create a template for the tree.
Cut squares of paper in the following sizes: 2″, 2.5″, 3″, 3.5″, 4″.
Fold each square in half diagonally.
Cut a diagonal line slightly above the mid point of the triangle.
Open the cut piece and cut on the fold.
Step three: Triangle
The 5 triangles created in step two are now the templates for the tree design. Line them up on the board to make sure that you are happy with the sizes and shapes. Number the triangles 1-5.
Step four: Stick them
Cut the triangles out from various colors of holiday patterned paper. It's best to stick with small repetitive designs like dots and stripes. Cut six triangles from the smallest shape, and eight each from the other four shapes. Arrange the shapes on the board as pictured.
Step five: Attaching process
Begin attaching the paper pieces to the board, starting from the bottom layer of the tree. Start with the center piece, as pictured. Use a dot of hot glue near the center of the triangle to attach it to the board. Slide the next piece in under the one you just glued, and hold it in place with a dot of glue. Continue until the bottom layer is done.
Step six: repeating process
Repeat step five with the next smaller triangles. Continue gluing the triangles in place until the tree is complete.
Once all the triangles are in place you can use more glue to attach them more securely if needed. This pretty paper pieced project is fun to look at. I love the unexpected geometric design, and it adds a pop of color to my rustic holiday decor!