Trend Spotter: Decorating with Dusty Pink
You might have noticed it because it's taking over Pinterest. People are putting away the blues and the greens, opting for dusty pink in their place. Whether it's a super big change like painting a room or subtle pink touches, it's definitely a trend pink lovers like myself approve of. If you need some convincing, take a look at these 15 ways you can incorporate dusty pink into your home.
I have to say I've been seriously considering this big change. Dusty pink painted rooms are so chic and feminine. The soft shade just invites you to play with colors and get away from the matchy matchy. Grays are a good pair but just about any other soft shades will do.
Without a doubt, curtains just make a room. So when your walls are white or cream, adding those soft pink curtains is a great way to add color without being too noisy. They look even better when they're long enough to puddle a bit on the floor. So very French Rustic in style. (via Vtwonen)
Take the pink into the bedroom and swap your current duvet for a simple dusty pink linen one. It will add a soft feel to the room and is neutral enough to keep open your throw pillow possibilities. How can you say no to that? (via Inside Out)
Can I just say that I love this room? It looks like it should be in a French cottage and that dusty pink linen closet only adds to the effect. Do you have a piece of furniture you've been meaning to paint? Consider painting it that soft pink for a feminine touch without going overboard. (via House)
Kitchens can be a hard place to change colors, but here's an easy suggestion. Find yourself some dusty pink dishes to eat off of every day. They'll look great among the other colors on your open shelving and you'll be surprised how much of a difference they will make. (via Decor8)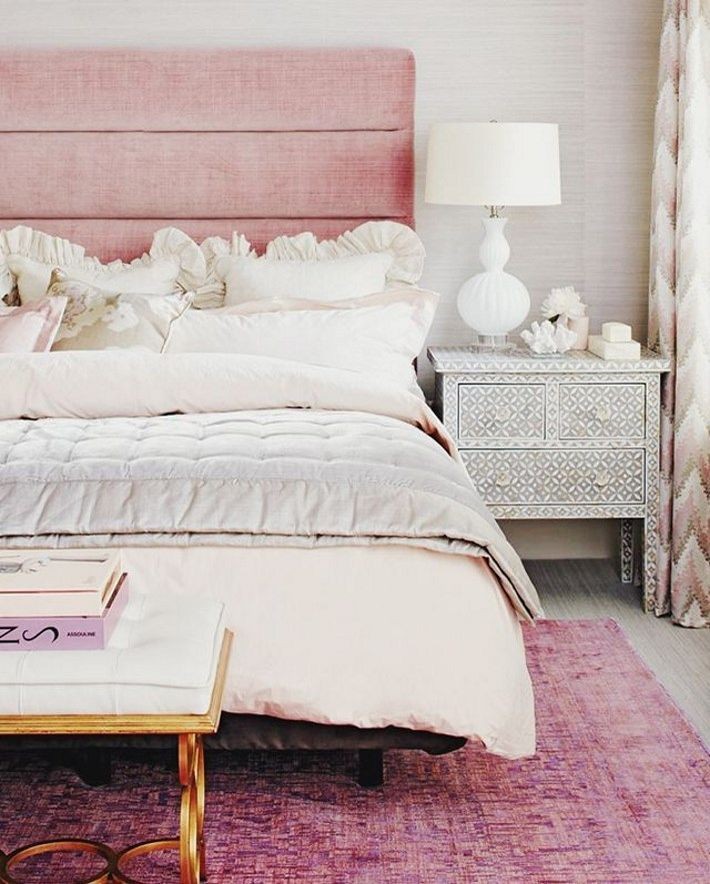 Fancy headboards are a must nowadays, so whether you paint it, reupholster it or completely buy a new one, think pink! Just like the duvet, it won't inhibit your decorating abilities like you might think. In fact it will add another dimension to your bedroom altogether. (via Honestly WTF)
Are you still a little wary about the whole dusty pink thing? Try adding a piece of art or two that shows off the color. You can incorporate it into your gallery wall or fill a blank space. Then when you've officially fallen in love, you can think about adding more pink to your decor. (via Pink Tufted Chair)
Everyone says that when you buy a new couch, buy one you love in a neutral color. But I say that dusty pink is the new neutral so if you love a pink couch, then you go ahead and buy a pink couch! I promise you can still use whatever color pillows you already own. (via Design Opium)
While I'm still obsessing about the dusty pink duvet, have you thought about dusty pink sheets? They'll give your bedroom a secret hint of luxury under the duvet you already have. Make sure you get a good thread count so the color matches the feel. (via Oliver Gustav)
Did you know that Le Creuset came in dusty pink? Yeah, that totally just went on my wist list. And buying enough of these little crocks so everyone can have a little bit of pink at dinner is a brilliant idea. They'll match any other dishes you have. (via Flickr)
We can't leave your vanity out of the dusty pink picture. Buy or make a pretty little pink ring dish that will hold all your treasured jewelry and bring that hint of womanly tenderness to your mornings. (via Decor8)
Don't forget the bathroom! Dusty pink goes perfectly with marble, don't you think? Add some gray towels and a vaseful of peonies and you have yourself a spa-like bathroom that you'll never want to leave. I hope you have a bathtub for soaking in there. (via Lovely Life)
For some people, when it comes to pink, it's all about the accents. A pink print here, a pink chair there, a pink accent wall where you wouldn't expect it. Embrace the soft shade and find the places that make it work for you without making your home look too vintage.
Everybody knows that dusty shades go better together. Liven up your dusty pink accents with some dusty purple, dusty blue and a pale gray. Everyone will wonder why they didn't think of it first. Don't forget your pops of metallic for that sparkle and shine! (via Style Me Pretty)
A dusty pink building? Why not! If you can upgrade the exterior of your home, consider adding some of our favorite color. Whether it's painting the entire thing like this one, or just adding some dusty pink shutters, it will go over well in the neighborhood. (via Flickr)