42 Laundry Room Design Ideas To Inspire You
Having an entire room dedicated to laundry is not something everyone is accustomed with but it's actually a very practical idea. Still, managing to fit everything you need in a small laundry room is not easy. Aside from the washing machine and the dryer, there are tons of other aspects you need to take into consideration.
DIY project ideas for the laundry room
Having a laundry room or a space where you can store all the laundry-related items is very practical. It only really works if you actually make the most of this space. A nice little accessory that can help you out is a hanger for the ironing board. You can make one yourself quite easily out of a piece of wood and some hooks. It's all explained on theinspiredhive.
The hamper is of course a must-have in any home and there's plenty of options out there with lots of different designs, shapes and sizes. If none of those suit you and your home, you can also take another approach and make your own hamper from scratch. You can repurpose a cardboard box or make one in the size and shape that you want and then you can wrap it all in rope and add a cover inside. It would be sturdy and it would look lovely too, especially with this beautiful ombre design featured on one-o on it.
If you enjoy sewing every once in a while, you're probably making use of your ironing board quite a lot as well. With that in mind, it could very helpful to combine these and to have a little organizer for things like scissors, needles, rulers and so on which you can attach to your ironing board so it doesn't end up being messy. It's a lovely idea that we found on flamingotoes.
Not impressed with the cardboard and rope hamper we mentioned earlier? Perhaps you'd prefer something a bit more…industrial-looking. This right here is a wire hamper and it's super easy to put together. You need a wood round for the bottom, welded wire, screws, washers, caster wheels so you can easily move it around, a bunch of 10 gauge wire and also a laundry bag or a cover to put inside. More details can be found on themerrythought.
Laundry baskets are not exactly pretty to look at or easy to store for that matter so we usually just try to hide them. However, a more practical and aesthetically-pleasing option if you have a laundry room would be to make a custom little storage unit similar to a dresser for them. This one holds three laundry baskets which can easily slide in lengthwise. It's very simple and made out of plywood and it has caters on the bottom for mobility. Check out infarrantlycreative for more details.
It also goes without saying that it's great to have a proper storage system in place for all the different items that you use in the laundry room like detergents, sponges and so on. Whether you choose to hide everything in a cupboard or to keep it all on display on open shelves, using trays, boxes and baskets to organize everything into categories is always helpful. Have a look at these cute ideas from justagirlblog and let them inspire you.
Speaking of organized laundry rooms, if you don't have a lot of space in here you can start considering some less common, space-saving solutions such as hanging an organizer on the inside of your laundry room door. It can hold all the detergents and cleaning products, paper towels and various other things, all within reach and easy to grab whenever you need them. The idea comes from mysweetsavannahblog.
Adding more shelves to the laundry room can also solve a lot of storage and organization issues. Floating shelves are easy to install and can even be made from scratch in case you want to go with a built-in look. Make them out of plywood to keep the cost low and customize them with your choice of paint so they match the room. Check out fourgenerationsoneroof for the instructions.
One of these DIY drying racks can also come in very handy in the laundry room, for all the small pieces of clothing and various accessories and items that you can't put in the dryer. You can make one of these yourself from scratch and you can even customize its size and shape so it fits your space. All the instructions and the details about this project can be found on centsationalstyle.
Laundry Room Design Ideas
You can organize everything more easily. You get to wash the clothes and you get to iron them and to put them back where they belong and you don't have to let anyone else see the process because it's all there in the laundry room. But how should a laundry room look like? Well, it depends on each person's needs and preferences. If you have the space necessary, you have a washer a dryer in there as well as an ironing table and a large closet.
First things first.
Think of all the basic elements you need to include in your laundry room. For example, you should consider task lighting such as under-cabinet strips, sconces and lamps, plus, of course, the ceiling fixture to brighten the whole room.
Make the most of your cabinets.
You can hide your ironing board in there as well as tons of other things. Pull-out hampers are also a great ideas and wonderful for presorting dirty clothes and organizing them.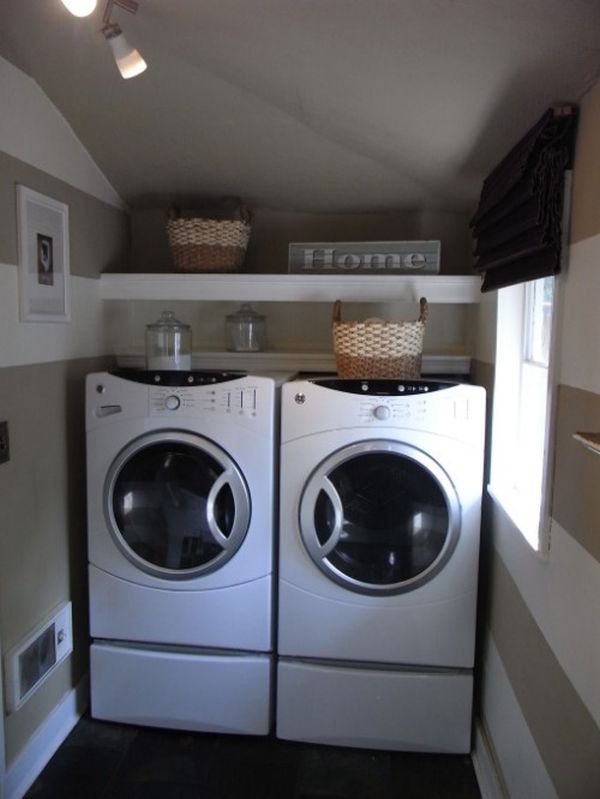 Organize all your cleaning supplies in one place.
Open shelves are excellent and very practical and you should use them for the items you use on a regular basis. The extras should go in drawers and behind closet doors or on the top shelf.
Small laundry rooms usually lack hanging space.
To solve the problem, go vertical. Install retractable clotheslines or freestanding drying racks. You can also mount them on the walls to save floor space.
To also save space in a small laundry room, consider stacking the washer and dryer one on top of the other. This way you can squeeze them both into a narrow passage, maybe even hide them behind closet doors and still have plenty of room for storage.
Use bins and baskets to sort and organize your cleaning supplies and small items. They allow you to use open shelves to their full potential and they're also very practical. Just pull out the container and take it with you wherever you need it.
It's important to have plenty of storage in the laundry room. You need for all sorts of things. You have to store somewhere the detergents and the other supplies but you also need the storage space for all the clothes. Lots of people like to also use this room as a sort of closet. But it's not imperative to do so.