50 Christmas Fireplace Mantel Decoration Ideas
You can't really say you're ready to celebrate Christmas until you've decorated the fireplace mantel. It's a tradition to turn the mantel into a focal point for a special holiday.
This Christmas you can try a few different ideas. Take a look at these and pick your favorite.
The history of the Christmas fireplace mantel décor
A common Christmas custom is to decorate the fireplace mantel with things like garlands, wreaths or stockings. Hanging stockings from the fireplace mantel, bedposts, windowsills and all sorts of other places is a very old traditional which has to do with the legend of St. Nicholas.
The legend of St. Nicholas is believed to be the source of inspiration for Santa Claus and in some parts of the world it led to different traditions such as leaving out shoes at night for St. Nicholas to fill with sweets and treats or hanging stockings for the same reason.
But where does the whole stocking tradition come from more exactly? Well, in one of the legends St. Nicholas was traveling through a small village where he learned about a merchant that had fallen on difficult times. The merchant had 3 daughters and no money to afford dowries which meant they couldn't get married.
Upon learning about the merchant's daughters and their problems, St. Nicholas decided to secretly help the merchant. He tosses three bags of gold down the chimney. The bags were caught in the girls' stocking which were hanging from the mantel to dry. The merchant's daughter discovered the gold in the morning.
Today in some parts of the world children leave their shoes out or hang stockings from the fireplace mantel which are secretly filled with candy, sweets and all sorts of goodies for them during the night and discovered in the morning.
By extension, the custom of hanging stockings from the mantel also became a purely decorative tradition over time.
Fireplace mantel types and styles
The fireplace mantel by definition has a decorative role. It's a frame surrounding the fireplace and it first appeared in American in the Colonial period. It's been a staple of interior design ever since becoming a timeless décor element.
From a structural point of view, fireplace mantels are of two main types:
The mantel surround
This is a type of mantel which completely frames the fireplace. It's best suited for large rooms and it has a big visual impact on the room as whole. Mantel surrounds often become focal points for the rooms that they're a part of
The mantel shelf
In contrast with the surround, the mantel shelf simply tops the fireplace. This leaves plenty of room on either side of the fireplace and makes mantel shelves ideal for small rooms. These are also perfect for minimalist interiors and they're less expensive as well.
Based on style we can identify a variety of different mantel types. These are meant to match certain specific interior design styles.
Modern fireplace mantel
simple and clean, lacking unnecessary adornments
typically in simple and neutral colors
doesn't stand out as much as other styles
Beach-style mantel
usually made out of wood with a light-colored stained finish
often with a grey undertone that mimics driftwood
paired with other beach-inspired interior design details
Traditional mantel
straight and simple lines
more ornate compared to a modern mantel
commonly decorated with carved details
Rustic mantel
made of reclaimed wood
has a distressed finish
fairly large and bulky and with rough edges
Industrial mantel
simple, sometimes not as refined as other types
made of metal or dark wood
with dark-colored finishes
Fireplace Mantel Materials
The material from which a fireplace mantel is made also dictates how it looks. There's quite a few common materials that a lot of mantels are made of as well as some unexpected ones:
Wood – quite possibly the most common material for fireplace mantels. It's a very versatile material that suits a variety of different styles and it's also a very accessible material. Wood is also easy to work with including when you want a design with carved out details and all sorts of other decorations.
Metal – a very distinctive material one which either gives the mantel a historic and retro appearance or a modern-industrial aesthetic. Because metal fireplace mantel are quite uncommon this makes them particularly eye-catching and interesting.
Stone – a popular material for fireplaces and mantels designed in a traditional or rustic style. Stone-clad fireplaces are iconic and mantels carved out of stone look magnificent. Cast stone mantels are the more affordable type of the bunch but they too require special maintenance, just like the carved stone ones.
Marble – a timeless and elegant material which in the form of a fireplace can make a room look super sophisticated. However, because marble mantels are quite unusual and extravagant, they're best suited for large rooms and mansions and they tend to have a formal aesthetic. Marble mantels can be very expensive.
Limestone – not as extravagant or as expensive as marble mantels but still very elegant. Limestone has a warm and subtle appearance and is well-suited for a modern fireplace mantel and modern interiors in general but can also easily fit in a more traditional or rustic setting.
Instagram Christmas Fireplace Design Inspiration Ideas
Something simple and monochromatic
Something simple like this can suit a modern interior and goes really well with Scandinavian-inspired interiors as well. The white candles blend in but still add a lovely touch to the mantel along with the stockings and the garland. Check out @loveresideshere for more inspiration.
Elegant and classic
For a more elegant touch you can take advantage of other existing décor elements. For instance there's a big beautiful mirror above this mantel with a magnificent golden frame and it adds a lot to the décor. The Christmas garland is placed just below it, filling the gap between the frame and the mantel. Check out @therealmlandreth59 for more ideas.
A mantel décor with lots of little details
You can also surround the mantel with lots of other beautiful Christmas decorations, including the actual tree. In this case the mantel with the lovely wreath framed above it, the stockings and the candle holders provide a background image for the larger decorations placed on either side of the fireplace. Check out this design by @jodie.thedesigntwins for inspiration.
Red and green look Christmassy together
Certain combinations of colors have become classics for Christmas ornaments and decors. The red and green go well together in this sort of context and here you can see them being used as accent colors for a cozy-looking fireplace surround shared by @fiddleleafinteriors.
Cute little details for a customized look
You can add all sorts of cute decorations and details to your mantel, like these stylish tags made out of wooden discs. They're nice and simple and add a touch of customization to the stockings. There's also a little Ho,Ho,Ho sign also made from a slightly bigger wooden disc tag. Follow @flynn_dot for more lovely ideas.
A big mantel with plenty of space for Christmas decorations
A big mantel gives plenty of space for decorations. Here you can see a symmetrical design with quite a bit of details to it. There's enough space for two tall and slender lamps on the sides, some wall art at the center and garlands, stockings, candles and miniature houses taking up the rest of the space. The gingerbread houses are a lovely touch. Check out @haverstrawhill for details.
Multiple garlands for a layered look
Why hang one garland when you can have several beautifully displayed below the mantel? We're feeling very inspired by this pink-themed Christmas décor shared by @myhoustonhouse. There's a bunch of miniature trees grouped up on one side, some greenery on the other and even more pink trees at the base of the fireplace.
Chalkboard sign for a personalized Christmas mantel
Another cute idea is to hang a chalkboard sign above the mantel. That way you can display a lovely message along with a bunch of other decorations like the more common garland, candles and stockings. What a cozy fireplace décor shared by @pinedaisyhouse! It has all these elements we just mentioned and more.
Fireplace mantel decorated with paper ornaments
Paper decorations are quite fun and a lot of them are easy to make as well. But whether you craft these yourself or you get them from the store, consider using a few to decorate your fireplace mantel this year. Here you can see these oversized paper ornaments playing with size and perception and a beautiful and full eucalyptus garland that takes over the whole mantel. Check out @lovepropertyuk for more details and inspiration.
A simple design that lets the mantel show through
It can also be nice to let some of the mantel itself remain visible. Instead of covering it all up with garlands and decorations you could concentrate the ornaments at the center and leave the sides open. We really love how simple and elegant this fireplace décor shared by @abbys_homereno looks.
The classic green garland and stockings combo
You don't need to go overboard with the decorations in order to make an area look festive. For the mantel it's enough to put up a green garland and hang some stockings in addition or perhaps in place of your usual decorations. It could also be nice to casually display a few things down below, to sort of frame the fireplace. Use this design by @threetimesahome as a source of inspiration.
Fairy lights dangling from the mantel
Candles and mantles go hand in hand and not just as Christmas decorations. Check out how nice these ones look together with the fairy lights on the green garland, the miniature Christmas tree at the bottom and the mirror which actually adds a lot of depth to the décor and serves as a backdrop for the candles. This is a mantel design shared by @chasinglittlebirons.
A faux fireplace that you bring out just for Christmas
Not all fireplaces have to be functional. This one for instance is a faux fireplace and it's only meant to serve a decorative role. Whether it's a permanent feature for your home or something that you only bring out around Christmas, This one is white so it blends in with the wall and it's decorated with adorable little bottlebrush trees, tiny houses and a wreath centered just above. Check out @ivy.amelia for more details.
Simple colors paired with texture and pattern
Decorate your mantel in a way that suits its design and the style of the fireplace. Take this one shared by @bohofarmhouseliving for example. It's white but textured and patterned and the wooden mantel stands out. It's decorated with simple ornaments that add touched of green and red to it without overcomplicating the design.
Adding greenery to the fireplace mantel
Add some greenery to the mantel as a way to bring some of the outdoors in for Christmas. The garland highlights the mantel and the mirror that sits on top adds a lot of depth to the décor. The mirror actually looks like a couple of arched windows. Check out @jk_farmhouselove for more details.
Garlands and a mantel that blends into the wall
Here's another well-balanced design, this time shared by @kelsieemm. The mantel actually blends in since it's the same color as the wall behind it and very thin and that makes it look as if the green garland is floating. The big wreath hanging above it fills the wall in a simple but effective way.
A Christmas mantel that stands out at night
If you want to make your mantle more visible at night, you can decorate it with a bunch of string lights and candles. There's a bunch of different ways to make that happen. A lot of garlands have string lights on them and you can add more along with more ornaments to create a full and eye-catching design. Check out @supernovaathome for additional details and inspiration.
A Christmas fireplace mantel that matches the tree
Of course, it might be that you don't want the fireplace mantel to be the main focal point of the room, especially if the Christmas tree is also here. You can go ahead and decorate it in a style similar to that of the tree with a bit of uniqueness to it and that way you'll get a cohesive décor. Check out @christmaslove365 for more interesting ideas.
Personalized mantel stocking and matching gift bags
Here you can see the stocking hanging from the mantel matching the gift bag under the tree. They add color to the whole room and stand out while most of the other decorations are more toned down and neutral in comparison. It's a décor shared by @ldhomeinterior.
Christmas Personalized décor.
Try a nostalgic approach and invite everyone to reminisce about the old days. Display some old framed photos on the mantel and some of your old toys if you still have any. In fact, anything significant would do.
Cozy fireplace décor in shades of red
Surround the fireplace with cute decorations
A rustic mantel with festive lights
Retro candles and classic Christmas mantel ornaments
Christmas Themed décor.
If you're in the mood for something special. Try a themed mantel décor. For example, try something traditional like "the gifts of the magi" or something a little more unusual inspired by your favorite movies, books, etc.
A nature-inspired Christmas mantel décor
Traditional mantel décor with symmetrical designs
Simple mantel designs with Scandinavian charm
Play with colors and shapes.
Turn the fireplace mantel into a focal point using color. You can hang different-colored stocking or you can display an array of floral ornaments, also featuring a rainbow of colors. You can even borrow a few ornaments from your Christmas tree and display them on the mantel in a creative way.
Fresh colors mixed with white mantle backdrops
The traditional Christmas mantel color scheme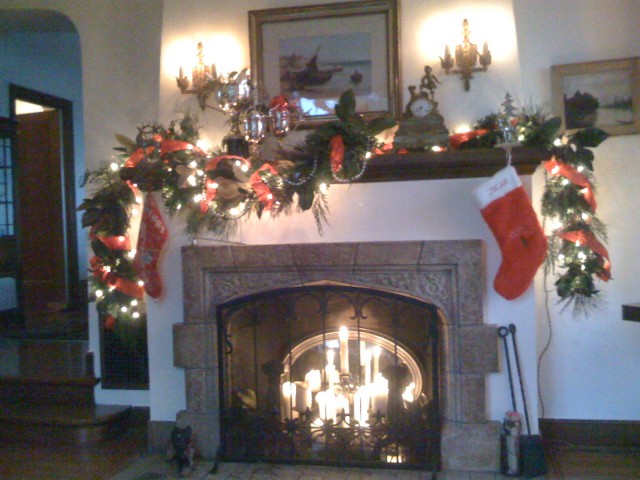 A diversity of geometric shapes that balance each other out
Decorate with candles.
You can use candles to decorate the mantel and make it glow. Use candles of different shapes and sizes and votives and arrange them as you find it fit. You can also use a few other things in between, like pine cones, Christmas tree branches, tree ornaments, etc.
Candles go with any Christmas mantel décor
Light the candles for a cozy Christmassy look
Mix and match the candles on your Christmas mantel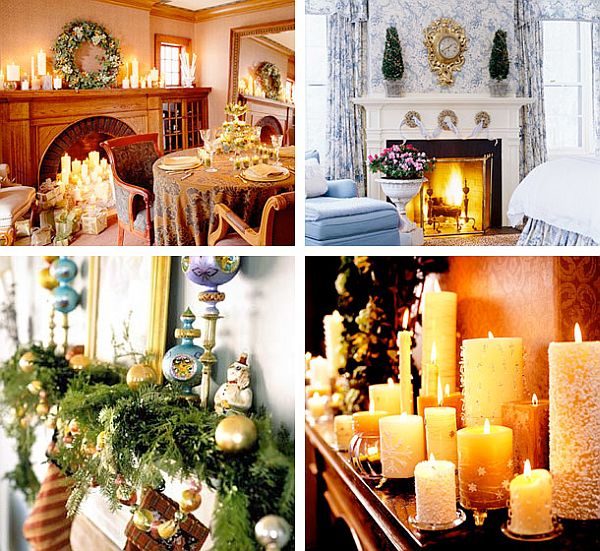 White candles blend into the Christmas mantel décor
Find a mantel décor that matches your tree and your style
Hang a wreath.
You can also decorate the fireplace mantel with wreaths. Either hang a wreath above the mantel or actually, let it rest on it. The wreath can be decorated the same way as your Christmas tree so the two can match or you can make it stand out.