125 Living Room Design Ideas: Focusing On Styles And Interior Décor Details
The history of houses as we know them today began back in prehistoric days. Back then people used to live in trees. They then moved into caves and later they started building shelters. With time, they began to create more elaborate designs and to make larger and stronger houses for their families. By the 1500s we already had houses that were 3 or 4-stories high.
But the structure of the interior didn't change that much. When the first complex structures began to appear, the internal organization as we know it today also began to take shape. The living room has been present ever since and is still considered to be the most important room of the house. But styles have diversified with time and, even though the basics are the same, the design of the living room can take many forms.
Modern living rooms.
As the current dictates, a modern living room is characterized by simplicity and minimalism. The furniture has clean lines and there are no unnecessary details or decorations. The accent falls on practicality, functionality and the ability to save space and create an airy and spacious décor. Of course, they can also feature accent elements that are characteristic to other styles. In this case they are used as focal point and they don't define the living room as a whole.
The color palette for this living room is based on soft, warm colors such as beige and brown. The light is subtle and the accent wall featuring a rustic exposed brick structure further adds warmth to the décor and makes the atmosphere feel inviting and comfortable.
Another element that characterizes most modern homes is represented by the large windows. In this case they let in plenty of natural sunlight and they also allow views of the beautiful outdoor areas.
For those that prioritize privacy, this type of windows is a wonderful alternative. They provide just as much natural light as any other type of windows and they don't create the same connection with the outdoors.
You can maintain the simplicity of your living room and still find a way to add color by introducing accent pieces. They can take the form of furniture or decorations such as the pillows or the rug.
Another very popular element in most modern living rooms is modular furniture. It allows you to have a flexible interior and to reorganize the décor according to your needs and preferences. It's also practical and versatile.
Sometimes the contrast between old and new can also be used as a focal point. This living room, for example, has a predominant contemporary décor but also features a few rustic elements and antique touches that make it more charming.
This living room features an extensive wall unit that provides more than enough storage space. It's a functional choice that solves the storage problem and also maintains the décor clean and airy. For the rest of the room, the accent falls on texture and the colors are kept neutral for the same reasons.
Symmetry is not an element that characterizes modern interiors but, in this case, it has a comforting effect. Notice that the two sofas are facing each other and that there's an identical pendant lamp above each one. Also, the two windows are placed symmetrically on each side of the fireplace.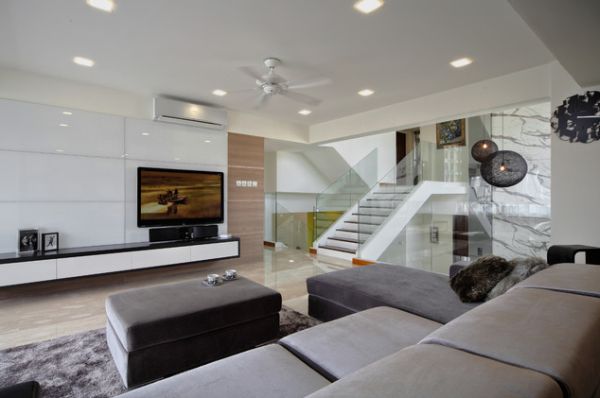 Glass in a common material to be used in modern interiors. Its transparency makes it versatile and stylish and it's also a detail that can be coordinated with minimalist decors. A glossy finish for the furniture would enhance that effect and would also make it look chic and stylish.
When the interior needs to be simple, clean and airy, many designers use contrasts to create focal points. For example, this living room features a combination of light and dark shades, beiges and dark brown or even black.
In this case, the views are the most important element and they became a defining element for the décor. Then there's also the extensive wall unit and the industrial details such as the exposed brickwork and the ceiling.
The size of a room doesn't always define it. For example, this living room is quite small and narrow but, by using bright colors, simple forms and delicate accessories, it became spacious and airy. The chandelier is very beautiful indeed.
This is another rather small living room with an interior based on strong and striking contrasts. Pattern also plays an important role in this case and was used to create focal points throughout the room. The wooden staircase adds color but it also maintains the simplicity of the décor with the glass handrail.
When the location allows you to, it's important to take advantage of the views. A series of expansive, floor-to-ceiling glass walls can allow you to do and can allow bring the outdoors in and make it a part of the décor.
Sometimes the best way to keep something simple is by choosing a monochromatic theme. In the case of a modern living room, the easiest choice would be white, thanks to its clean, crisp look and ability to create a spacious and airy look.
Here we have a multitude of contrasts, from the white and black juxtaposition to the contrast of textures, shades and type of color. The fireplace unit starts of contrast of brown shades and delimitates the cold vs. warm colors used for the artwork.
Picture sources: 1, 2, 3, 4, 5, 6, 7, 8, 9, 10, 11, 12, 13, 14, 15, 16.