Wood Dining Chairs With An Elegant Grip On Simplicity
What is your opinion on wood dining chairs? They're very common and popular for one…but they're obviously not the only option. Sure, it's a matter of style and preference but, even so, the versatility of wood dining chairs allows them to be a suitable and even trendy and stylish choice for pretty much any type of setting or decor. You just can't beat the warmth of wood, its elegance and comforting texture whatever the style may be.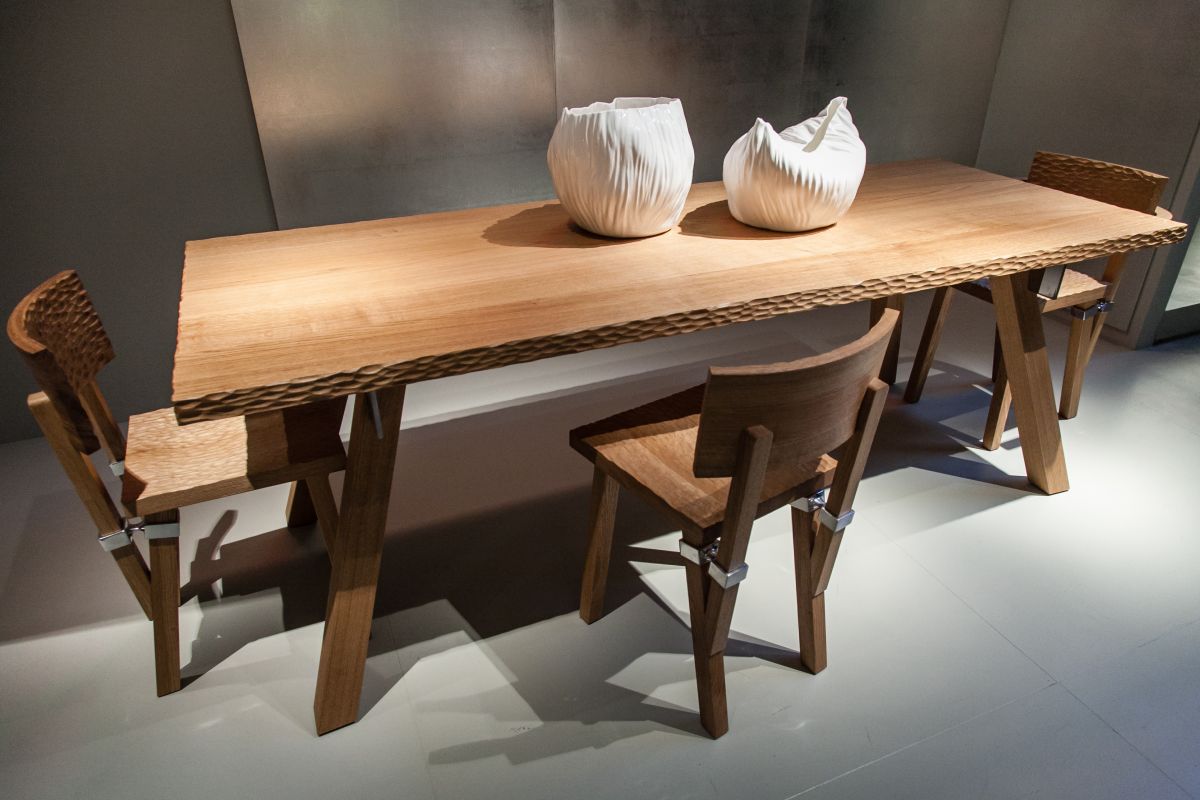 The wood dining chairs designed by Philippe Starck are inspired by the classic form of this furniture piece. They're simple but not bland or without character. You can find them in various finish versions and even slightly different designs and they're designed for indoor use only. They look exquisite when paired with a similarly simple table.
This is another beautiful and elegant of the classic wood dining chair. Its design is focused on basic forms and elements. This is a chair with four legs, a seat and a backrest so there's nothing special about that. The beauty of the Primo chair comes from the simplicity and the attention to details like the fact that the seat is soft and comfortable while giving the chair an elegant allure and a slight contrast of colors and textures.
It looks very simple, almost as if something is missing (hint: the armrests) but that doesn't stop it from being very practical, comfortable and functional. Kali is a versatile chair which works great not only in dining rooms but also in offices, when paired with makeup vanities, desks or when simply used as accent chairs.
Zanotta Design offers a variate selection of chairs, including this sleek and simple one. It has slender steel legs which can be painted black or white and a seat made of nylon and reinforced with glass fibers. The polyurethane form upholstery makes this a cozy choice for dining rooms as well as for a variety of other settings. The seat has a removable cover which is available in fabric and leather.
Although you might not be able to tell at first glance, Penne is a very innovative chair. It's the world's first chair with legs made of laminated wooden tubes. It was designed as a modern-industrial piece of furniture meant to become an iconic product.
Featuring a linear profile and a design that's been reduced to its essentials, the Karnak chair designed by Ferdinand Kramer in 1925 is still a very popular piece. Its gently curved backrest, straight and solid legs and hand-woven seat are combined into a very beautiful and also very simple configuration able to complement almost any dining room decor.
Inspired by classic Scandinavian design, the Nerd chair is a modern expression of this simplistic style and at the same time an interpretation of the all-wood chair. What's particularly beautiful about it is the connection between the seat and the back.
The Nonoto chair was designed by 2015 by Läufer + Keichel. It's a solid wood chair with a simple design reduced to the basics. However, this simplicity doesn't take away its personal appeal and custom look. This is a chair that can suit a wide variety of spaces and purposes, from dining rooms to offices, from modern to traditional.
Øresund is a furniture collection designed by Børge Mogensen. The production began in 1955 and it never stopped. The chairs are particularly beautiful, featuring a simple design and a variety of possible combinations. They're made of oak wood and can have a lacquered, oiled or stained finish and their seats can be covered in seagrass, fabric or leather.
Few chairs have designs simpler than this. The Workshop Chair by Cecilie Manz is an incredibly simple piece. It has the typical classic construction and the only detail that makes it stand out from other chairs is the backrest which has rounded edges and a soft and attractive look.
The Blue chair was designed by Francesco Faccin and, like all the other ones mentioned so far, it has a very simple look. But, as before, there's something about it that makes it special and unlike any other chair. It's not a single detail but a collection of small features which combined give this unique geometry.
The design of the Marcel chair is not all that straightforward, although it is nevertheless very simple. The chair was designed by Shinsaku Miyamoto through a process that requires a deep understanding of wood and its unique characteristics. The designer wanted to preserve the natural feel and the warmth of the material and to allow the chair to transfer these elements onto its surroundings.
After extensive research and experiments meant to test the qualities or curved veneer, the Julie chair was created. It has a slender and at the same time solid structure with a curved backrest that wraps around three sides of the seat and with sides that double as armrests.
Konstantin Grcic is the name behind the design of the Monza Bistro chair, an elegant and stylish piece of furniture for dining rooms of all kinds. The chair is made of beech wood with a lacquered or black stained finish. It has a circular seat and a backrest that curves and becomes thinner towards the ends giving the chair its unique look.
The Monza Armchair is also designed by Konstantin Grcic and it has the same slender and elegant silhouette as the bistro chair. Another great feature is the fact that the chairs are stackable and they can be easily stored when not needed. This is a handy thing to do when you have a small dining area or a multifunctional interior design.
This is the outdoor version of the Monza Armchair, created by the same designer. It looks very similar to the indoor version with the exception of the seat which has been adapted to suit a new environment.
Remo also comes from the same designer. Its design, however, is quite different and unusual. This is a plywood chair with a T-shaped backrest. It looks very slender and it's stackable which makes it very practical. You can get this chair a several different colors, including black, grey, walnut and chalk.
If this chair looks familiar, it's because it has a popular design. This particular version is called Donzella. It has a delicate and elegant wooden frame and a woven seat which perfectly fits inside. The continuous nature of the frame and the contrast between it and the seat give the chair a wonderfully stylish look.
The design of the Mera armchair also has this continuous and linear look which gives it a simple and elegant allure but, at the same time, there are details which make the chair stand out, details like the dark leg tips or the way the seat upholstery fold down providing a surprisingly cozy and comfortable feel.
Tora is an armchair designed to suit a variety of spaces and environments, both indoor and outdoor. It has an open back with a sleek backrest that curves and forms the armrests. The seat is soft and comfortable without looking bulky.
L'abbate Italia offers a beautiful range of elegant dining chairs with variate but equally simple and stylish designs such as the Stube or Tivoli. They're featured here in various colors and finishes.