Use Splashes of Red to Creative a Festive Home for the Holidays
No matter the trending holiday color palette, it's the quintessential Christmas hue: Bright red.  In combination with the green of the tree or the white in Santa's beard, it's a cheery color that evokes happiness and warmth. Even if the green and red combo feels too cliched, there are still ways to use splashes of red to liven up holiday decor.
In fact, it wasn't until 1931 that red became associated with Christmas, and we have Coca-Cola to thank for it. According to NPR, Santa was previously shown in a blue, green or red outfit. That was the year Coke hired an artist who created the fat, jolly guy we know as Santa Claus, wearing a suit the color of the Coca-Cola brand. It may also have stuck as a holiday color because it is already associated with the red of the holly berries and poinsettias typical of the holiday season. Whatever it signifies, red is a grand color for decorating. We've rounded up some ways that you can add red to the decor for your Christmas holiday season.
Big Bows
Bows are one of the easiest ways to add a dash of red to absolutely any space or place in the house. They are also an easy DIY project. With just a spool of wide wired ribbon, it's simple to make a spectacular bow like this to adorn the top of the tree, a wreath, fencepost, doorway or stairway railing. Aside from the red color, big bows are festive because they conjure up thoughts of presents and the surprises inside all the holiday boxes.
Red Birds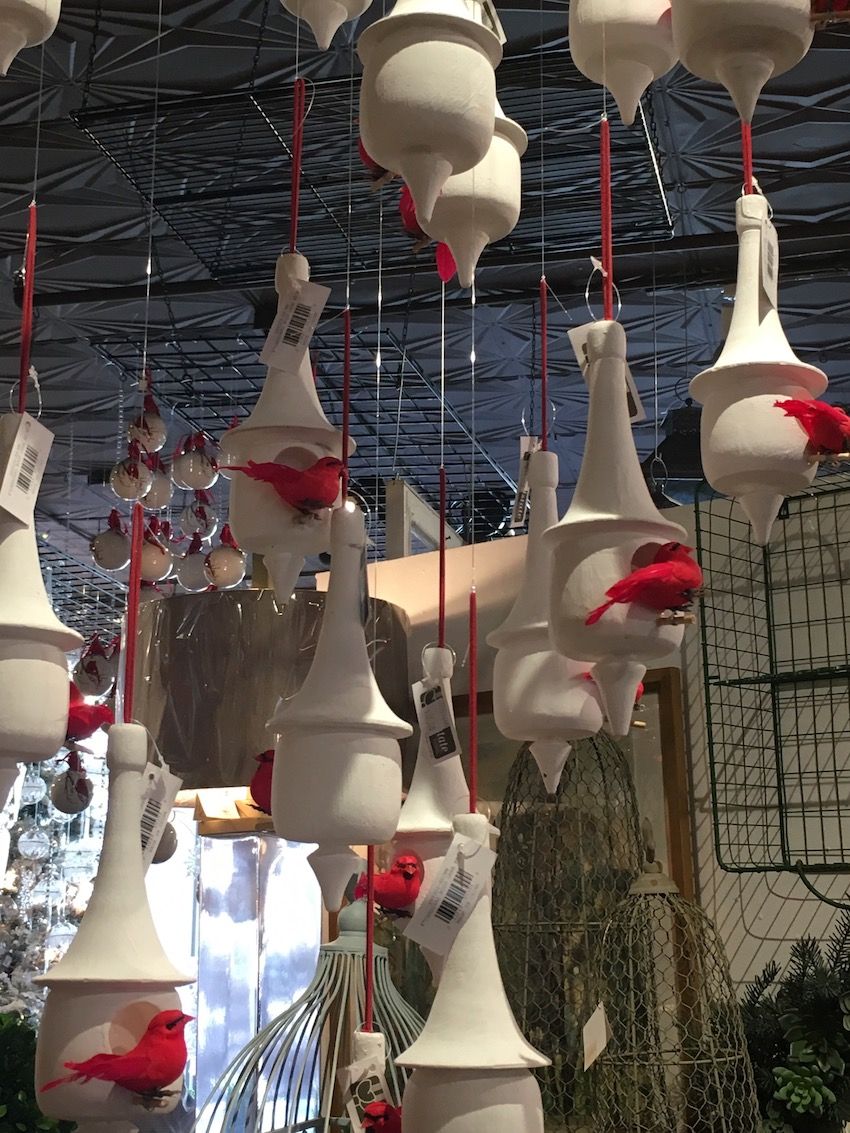 Red birds — known as cardinals — are a common decor motif at Christmas and are found on Christmas cards and ornaments alike.  In the northern areas of the United States, these are one of the birds that don't migrate and can be seen all throughout winter, which is why they may be associated with the holiday season. There are other reasons too: According to the Houston Chronicle, the bird's color is said to remind Christians of the blood of Christ or the robes and capes worn by cardinals of the Roman Catholic Church. No one knows for sure, but these birds endure as popular holiday decorations.
While cardinals would obviously go well on a Christmas tree, try pairing them with all white decor pieces like these hanging clay birdhouses.  The contrast of colors is much like the red birds out in the snows of winter. The would also be ideal on a white tree filled with red ornaments.
Festive Candleholders
Candles have always played an important role in Christmas celebrations so even those who don't use candles all year round frequently use them in Christmas decor. From the candles in an advent wreath to those that were traditionally used to decorate Christmas trees, the glow of candles is part and parcel of the cozy Christmas atmosphere. There's nothing like some shiny red pillars to display those glowing candles during the holidays, whether you use them on the dinner table or in a decorative display. The shiny red finish will reflect the light in a really special way too.
Wreaths
Red and green is the traditional color combinations so it's a natural choice for a wreath. Not only do the red accents add a pop of color, they will make a pine bough wreath more noticeable from a distance, enhancing its impact. The Christmas associations of red pair well with the old pagan rituals of bringing a bit of outdoor greenery inside for the cold winter months. Essentially, this is where our wreath and pine bough decoration traditions originate.
A Red and White Tree
Have a white Christmas tree?  Then red decorations are the perfect color option. The stark contrast really highlights the ornaments and gives life to the flocked tree that looks like a snow-covered wonder. Red ornaments come in all shapes and sizes as well as styles. This white tree could be just as easily adorned with rustic red ornaments to give it a totally different look from the shiny and bright version shown here. Did you notice that some of the ornaments have a cardinal motif?
A Traditional Tree
Red ornaments on a green tree — it doesn't get any more basic than this. Of course, there are so many options for the types of red ornaments that it's likely no two red and green trees will look the same or have the same decor feel. Depending on the shape and material used to make them, red ornaments can be rustic, glitzy and everything in between.  On this tree, round balls are paired with holiday shapes like skates, candies, snowmen and more.
Big Red Statement Decorations
Sometimes you need a big splash of red, and oversize statement ornaments are an ideal way to get it.  No, snowflakes are typically not red, but this is fun decor and anything goes. This slightly rustic, super-sized snowflake can hang on a wall, from a high ceiling or above the door on the front porch. It's all you need for a big dose of holiday spirit in any space. Multiples of these could even be used to decorate a large outdoor pine tree in the yard.
Unexpected Items Painted Red
Hardly anyone would look at a big wooden spindle and call it Christmas decor, but these big red ones are exactly that. Covered with a coat of shiny red paint, these spindles turn into unconventional holiday decor and have a major impact when suspended from the ceiling at staggered heights. Besides being a dramatic decor installation, they will also serve as a conversation starter because they are so unusual. With a little imagination — and some red paint — ordinary items can be repurposed into holiday decor.
Holiday Tableware
Red tableware, whether designed specifically for the holidays or not, can make a table instantly festive. Adding a red salad plate, like these buffalo check plates, to a place setting can turn everyday china into a holiday-worthy set. If the tableware does not have a specific holiday theme, it can be used throughout the winter season as a cozy upgrade for your table. Basic red pieces can also be used for other holidays and occasions throughout the year. Tableware can also be used for a holiday display with the addition of candles and other elements, like this poinsettia votive holder.
Or, try pulling several pieces of red serving dishes and other items to create a holiday display. This type of arrangement using dishes could gussy up a kitchen shelf, dining room sideboard or other area. Using items already in the cupboards create a holiday arrangement means that not many additional things need to be purchased if any at all. After Christmas, the red pieces can go back to their previous purpose and the greenery is tossed or stored, depending on if it is real or artificial.
Homespun Toys
Especially if the decor theme is rustic, adding some old-fashioned toys that are red adds a homespun feeling to a space. Children will really appreciate this type of decor as it has a casual appeal that is comfortable and cozy yet still festive. Whether or not the decor arrangement has lots of red elements — like this one — red toys will stand out.
Pillows, Throws and Textiles
One way to add red to a living room without switching up the entire decor palette is to add festive pillows and throws. These are easy switched in for the usual pillows used year-round and then packed away after the holiday season. Often, it's just enough red to add a pop and enliven the room with some coziness and seasonal spirit. The same can be done with throws and other items like table runners.
So even of the traditional red and green decor is not your thing, give your space some splashes of red and watch as it amps up the holiday feeling.  The holiday season is short and will soon be over so enjoy the coziness that red can bring to a room.