Modern Tiny Homes Redefine Compact Living
The popularity of tiny homes is an interesting commentary on social life which shows that many people are beginning to understand what are the most important things in life.
Rather than believing that bigger is always better, some people want to live with just the essentials and a deeper connection to other people and nature.
A tiny house is the perfect way to live in a more simple way. Just because a house is tiny doesn't mean it lacks character or style. Sometimes less is more.
A Tiny Home: What is it?
Tiny homes are characterized by their small square footage. While there is no hard and fast rule regarding how small, most of these small homes are built with 600 square feet or less.
The tiny house movement is known for its environmentally-friendly and sustainable construction. Many are stand-alone structures, and some are built-in tiny home communities.
Tiny Home Pros and Cons
While this style of living is not for everyone, it does have some interesting benefits to consider.
Pros
The most obvious benefit is that it is less expensive to build, in upkeep, and in utility use than a standard house.
There is greater freedom of movement. If your home is on wheels, you can move it anywhere.
You can have a greater connection with nature and a simpler life as your home can be in remote locations.
Cons
It is not called a tiny home for anything. These homes are small and this makes living, entertaining friends, and storing things challenging.
Financing for tiny houses can be difficult.
Zoning regulations are not straightforward.
Types of Tiny Houses
Tiny house on wheels – In legal terms, a tiny house on wheels is considered a recreational vehicle (RV) and needs to be registered with the state as such. This will allow you to get a license plate and travel to other states and park in places for RVs.
Tiny house on a foundation – Building tiny houses on a foundation is more complicated as regards building codes and zoning restrictions. Some people get around this by building in a tiny home community or in their own backyard.
Tiny Houses and Zoning Regulations
Some states have restrictive construction codes and zoning regulations making it prohibitive to build a tiny home on a piece of property. The process is not simple and straightforward. Therefore, anyone considering taking on such a project should first familiarize themselves with the zoning regulations of their state.
However, certain states like California, Florida, Colorado, Massachusetts, Michigan, New York, Oregon, and Texas have more progressive regulations or are working toward them.
To Buy or Build a Tiny House
With tiny homes, many potential homeowners wonder whether they should buy a pre-built structure or if should build one from scratch.
To Build It Yourself
For most people, building a tiny home is cheaper than buying one with some exceptions including custom tiny homes with luxury materials. Building a tiny house can cost on average anywhere from $30,000 to $60,000 depending on the location and cost of materials.
However, if you use less expensive materials, you can build one for as low as $8,000. Consider different tiny home floor plans to decide what you like and which are the most cost-effective.
Tiny Homes For Sale
If you would rather purchase a tiny house that has been built or use outsides builders, you can find one for as low as $30,000. The tiny home cost for those on wheels tend to be cheaper than stationary tiny homes.
Prefab Tiny House
If you want a brand new tiny home, consider a prefabricated option. Many builders offer free shipping and the houses can be customized in different ways. Many builders offer prefab options: Home Depot tiny homes, an IKEA tiny home option, Timbercraft tiny homes, and tiny home kits.
Inspirational Tiny Homes to Make You Reconsider Your Way of Living
We know that tiny houses aren't for everyone, but we all can appreciate the ingenuity and style of tiny home designs. Take a look at some of these tiny home ideas and see if you don't agree.
Modern Tiny Living Space
The Lost Whiskey Cabin takes advantage of the beautiful and peaceful Virginia woods to provide a refuge. This is a secluded and minimalist retreat where guests can go to unplug and unwind. The cabin was designed and built by the GreenSpur team. It is an off-the-grid concrete structure measuring 160 square feet across. It is a tiny house for rent as a weekend getaway on Airbnb.
From an aesthetic point of view, the cabin combines elements of Scandinavian minimalism with influences of the local country. Therefore, the interior design is spare but not spartan. Further, it has a front porch with a hot tub and outdoor fireplace.
Tiny Heirloom
This tiny home is not linked to any particular location because it's meant to travel with its owner. Designed by Häuslein Tiny House Co, the Sojourner is a 307 square foot house on wheels with a compact design and the ability to expand once it is on location. It has a style reminiscent of classic country houses with details like pitched roofs and square windows.
The designers have built a well-insulated house featuring a timber frame clad in matte steel and cedar wood siding. This combination gives it strength and durability. When the house is anchored to the ground, a slide-out lounge area expands the living room, adding extra floor space and ensuring a connection between the indoor spaces and the outdoors.
The Ark Shelter
This cool-looking but also tiny home is the new Ark Shelter, a version which the company named the "Into the wild". It has a modern, all-black, geometric form with asymmetrical lines and angles. The architects designed this cabin to allow people to spend more time in the middle of nature without giving up comfort or basic commodities.
Ark Shelter Studio designed this module to function off-grid. This makes it perfect for anyone who enjoys adventuring to the hills and enjoying gorgeous views. Clad in black corrugated steel, the shelter looks impressive on the outside with tailored detail on the inside like natural wood and large windows. This allows ample natural light in the home so that it doesn't feel cramped.
Tiny Home Trailer
This tiny home measures 183 square feet so it is tiny by many standards. Build Tiny designed this 24′ by 8′ structure which has a steel frame and a single-pitch roof. This maximizes the amount of sunlight entering the house as well as the total usable space inside.
Inside there's enough room for a breakfast nook, an upstairs bedroom with a sleeping loft, a lounge area, and plenty of storage. Further, there's even a built-in desk which can be accessed via a custom wall-mounted ladder and a hanging chair. A legless chair accompanies the desk. This allows the user to rest their feet on the top kitchen shelf.
Wanderer On Wheels
Oliver Stankiewicz and Cera Bollo of Summit Tiny Homes designed and built the Wanderer. It's a 22 foot long tiny home with a simple but quirky look. However, they meant the Wanderer to not just be stylish but also offer its owner mobility and the opportunity to explore the world.
Its stained wood exterior gives it a natural appearance that blends with the amazing views. However, for the interior, the designers chose a bright white color palette with classic geometric patterns interspersed. It uses brushed gold, burnished leather, and greenery to provide colorful pops throughout the space.
The CABN Tiny Home
CABN designed and built this tiny home. They intended this tiny home to serve as a compact and mobile retreat for anyone who wants to get away from the city and to enjoy some quiet and peaceful moments.
Therefore, they have equipped this little house with all the basic necessities such as a shower, a composting toilet, a kitchen, and solar panels on the roof which provide electricity.
The inside this mobile cabin is open and spacious. A large window allows ample sunlight through and also exposes the interior space to the surrounding views. Further, this tiny home is built using local materials and is self-sustaining.
Roost 18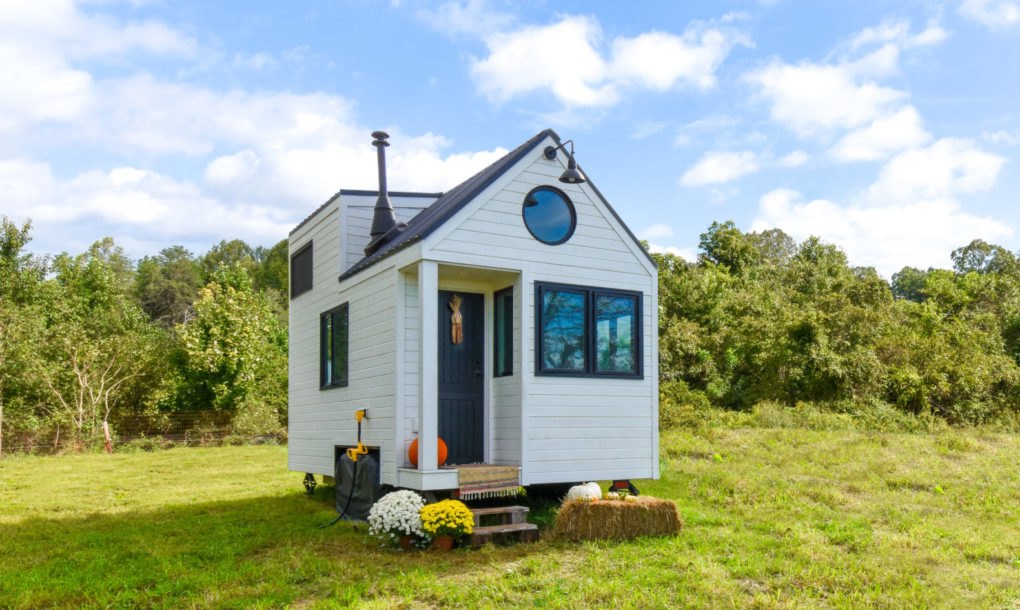 You can find this tiny guest house outside of Winston-Salem in North Carolina. To blend with its surroundings, the builders designed it in the farmhouse style. The Roost 18 is a sustainable home with well-insulated walls, energy-efficient kitchen appliances, and a composting toilet.
Also, guests will enjoy a cozy and welcoming interior with a small wood-burning stove, a small but well-equipped kitchen, a bathroom with a soaking tub, and a loft bed. You can rent this charming little home via Airbnb.
The Tiny Adventure Home
The Tiny Adventure Home is more than another little cabin on wheels. It's a compact retreat that allows you to climb up its walls whenever you want to stretch out a bit or to have some competitive fun. It was custom-built for a couple with a common hobby: rock climbing.
In order to give this tiny home rock-climbing walls, the designers fitted the front facade with Rockwerx modular climbing panels. The owners can reconfigure the handholds so the climbing route isn't always the same.
Of course, there's more to this cabin than a climbing wall. A large glazed door and a window provide panoramic views of the surroundings for a seamless connection with the outdoors. Studio Tiny Heirloom designed this project.
Tiny Home In A Grain Silo
As unusual as it sounds, architects refashioned this tiny home from an old silo in Phoenix, Arizona.
The interior of this silo home is bright, open, and spacious. The circular floor plan and curving walls were a challenge for studio Kaiserworks. However, custom furniture and adapted design solutions saved the day. For example, notice the curving stairs, furniture, and cabinetry. These allowed the architects to use all the available space in the round structure.
The Artist Bothy
Artist Bobby Niven and architect Iain MacLeod launched the Bothy Project in 2011. Their dream was to give creatives an experience living in a remote area in the Scottish Highlands. Thus, they designed the Artist Bothy. They designed the prefabricated, multipurpose hut to reconnect private owners with nature.
The architects designed this tiny home using sustainable materials. When it is installed on site it takes less than a day and can be used off-grid. However, the owner can also connect it to water and electricity if desired.
Inside there's a kitchenette, a wood-burning stove, a loft bed, tables, a bench, and shelving units. The builders customize each cabin according to each client's needs and requirements.
Luxury Tiny Home
Just because you are opting to live in a tiny home, doesn't mean you have to sacrifice your comfort. This tiny home from Tiny Houses has a combination bathtub and shower. This is unusual in tiny home design.
The fittings throughout this tiny home are stunning. So much care and attention to detail are evident everywhere you look.
Hawaiian Tiny House
From Tiny House Talk comes this Hawaiian tiny house which features some of the most beautiful décor we have seen in a tiny house. Once again, one of our favorite features is the bathroom. It has beautiful tile to create a modern aesthetic, and the colorful interior fits well with the Hawaiian style.
The other thing we love about this tiny home is the huge window in the living space. With all of the beautiful scenery in Hawaii, you could place this tiny home anywhere and enjoy stunning views. With this large window, the living space does not feel cramped but rather open and spacious. These unique windows make the tiny house design stand out for its lovely design.
Frequently Asked Questions (FAQ)
FAQ
How much do tiny homes cost?
The cost of a tiny home can be range from $8,000 up to $150,000. The cost is dependent on the type of materials you use and how much of the work you do yourself.
Where can I find tiny home builders?
There are many tiny homes builders both for custom homes and for prefab homes. Some of the best are Minimaliste, Rocky Mountain Tiny Homes, Tiny Heirloom, and New Frontier Tiny Homes. However, before you commit to a builder, read extensive reviews. Also, talk with people either in person or online who have used specific tiny house builders. Get their honest opinion about their experience.
Do tiny homes ever have two bedrooms?
While most tiny homes, have one bedroom, some have two bedrooms and more. They do this by utilizing a sleeping loft and Murphy beds. These larger tiny homes fit a family better than one bedroom.
What states allow tiny homes?
Tiny houses are not illegal in any state, but many of them discourage their construction. States like California, Florida, North Carolina, Oregon, and Texas have the best reputation as places with zoning rules favoring tiny houses.
Where can I find tiny homes for rent?
There are multiple sites to find tiny homes for rent in your area. Some of the largest are Airbnb, Glamping Hub, and nature.house.
Where can I find used tiny homes for sale near me?
One of the largest sites to find tiny homes for sale and for rent is Tiny House Listings and Tiny Home Builders.
Where can I buy tiny home plans?
Tiny house plans are everywhere. In fact, you can even find them for free. If you are interested in a free option, look at Quartz Tiny House for a free plan from Ana White or at Tiny House Design for the Homesteader's Cabin. Look at Tiny Home Builders and The Small House Catalog for options for custom tiny homes plans.
Are tiny houses a trend of the past?
This trend is far from over. In fact, since the coronavirus pandemic and the rise in real estate prices, tiny home interest has boomed.
What is the best tiny house decor?
There are endless options when it comes to tiny house design. Many people prefer a spare aesthetic design like Scandi or minimalist. Other like a cozy look using vintage items and bright colors. However, the most important thing is to buy what you need but nothing extra. These extra items create clutter which is a major problem in tiny houses as they can fill up in a flash.
Are tiny houses a fire hazard?
Tiny houses are a potential fire hazard because they use combustible material and they are small. However, if you choose to heat your home with electricity rather than gas, this will cut down on the potential for fire.
Can I finance a tiny house?
Financing for tiny houses can be difficult. Many lenders have a minimum of $50,000 per loan and require a foundation for the home. However, if you have an existing home loan, some lenders allow you to add in the cost of a tiny house.
What kind of toilets do people install in tiny houses?
This is the unglamorous but necessary side of a tiny house. Most tiny houses have composting toilets or RV style toilets with waste tanks attached.
Tiny Homes: Conclusion
The popularity of the tiny house movement is understandable when you consider the stress of modern life. Many people who adopt this way of life have found that living with less "stuff" leads to a better quality of life and a greater connection to other people and to the natural worlds.
Therefore, modern tiny living is about more not less. While this way of living is not for everyone, it can teach all of us about what are the most important things in life and find our own way of making these things our priority.