15 Modern Tiny Homes Redefine Compact Living
Just because a house is tiny doesn't mean it lacks character or style. In fact, some of the most interesting houses we know actually have tiny footprints and that doesn't stop them from looking amazing or from including all sorts of cool features. Their designs are ingenious and a lot of the ideas you'll in the following examples can be adapted to suit other types of structures.
The Lost Whiskey Cabin
This little cabin takes advantage of the beautiful and peaceful Virginia countryside to provide a refuge point, a secluded and minimalist retreat where guests can go to unplug and unwind, to get away from their crazy everyday lives and to spend time away from the busy city lifestyle. The cabin was designed and built by the GreenSpur team.
From an aesthetic point of view, the cabin combines elements reminiscent of Scandinavian minimalism and with influences of local countryside charm. It's an off-the-grid structure measuring only 160 square feet across and it's meant to take us back to our roots, to reconnect people with nature and everything that's pure and simple.
The Sojourner mobile home
This tiny home is not linked to any particular location because it's meant to travel with its owner. Designed by Häuslein Tiny House Co, the Sojourner is a 307 square foot house on wheels with a compact design and the ability to expand once a location has been picked. It has a cute form reminiscent of classic countryside houses with pitched roofs and square windows.
The house is well insulated, featuring a timber frame clad in matte steel and cedar wood. This combination gives it strength and durability and also helps the house look and feel warm and cozy. When the house is anchored to the ground, a slide-out lounge area expands the living room, adding extra floor space and ensuring a strong bond between the indoor spaces and the outdoors.
The Ark Shelter
This cool-looking but also tiny home is the new Ark Shelter, a version which the company named the "Into the wild cabin". It has a modern, all-black, geometric form with asymmetrical lines and angles and was designed to allow people to spend more time in the middle of nature without giving up comfort or basic commodities.
Ark Shelter Studio designed this module to function completely off-grid and that makes it perfect for anyone who enjoys adventuring to remote areas, enjoying gorgeous views or taking vacations away from everything and everyone. Clad in black corrugated steel, the shelter looks impressive on the outside and very charming on the inside.
The Millennial Tiny House
Although this tiny home only measures 183 square foot it packs a lot of features thanks to the clever storage solutions implemented by the company Build Tiny in its design. This 24′ by 8′ structure has a steel frame and a single=pitch roof which maximizes the amount of sunlight entering the house as well as the total usable space inside.
Inside there's enough room for a small kitchen, a loft bed, a cozy lounge area and plenty of storage. There's even a built-in desk which can be accessed via a custom wall-mounted ladder and a hanging chair. A legless chair accompanies the custom desk and allows the user to rest their feet on the top kitchen shelf. It's quite the ingenious combo.
The Wanderer
The Wandered was designed and built by Oliver Stankiewicz and Cera Bollo of Summit Tiny Homes. It's a 22 foot long tiny home with a simple and quirky look. Its stained wood exterior gives it a very cozy appearance. For the interior, however, the designers chose a more luminous color palette, settling on white as the main nuance for the walls and relying on classic geometric patterns to break the monotony of the decor.
The floor and ceiling are clad in wood which gives this tiny house a very welcoming and familiar look and really helps it feel like a home. The Wandered is not meant to only be cute and stylish but also to offer its owner mobility and the opportunity to explore the world and go on exciting adventures without compromising on comfort or looks.
The CABN tiny home
This tiny home is designed and built by CABN and is meant to serve as a compact and mobile little retreat for anyone who wants to get away from the city for a while and to enjoy some quiet and peaceful moments in a remote, off-the-grid location. This little house is perfect for that, being equipped with all the basic necessities such as a shower, a composting toilet, a kitchen and solar panels on the roof which provide electricity.
Inside this little mobile cabin is quite open and spacious. A large window allows lots of sunlight to come in plus it exposes the interior space to the surroundings and the views. Another cool thing about this is the fact that this tiny home is built using local materials and is self-sustaining.
The Roost 18
Doesn't this tiny home look absolutely charming? You can find it outside of Winston-Salem in North Carolina and a lot of charm comes from the fact that it was designed in the farmhouse style. This, combined with the tiny footprint makes this structure look like a miniature version or a countryside home. The Roost 18 is a sustainable little home with well-insulated walls, energy-efficient kitchen appliances and a composting toilet.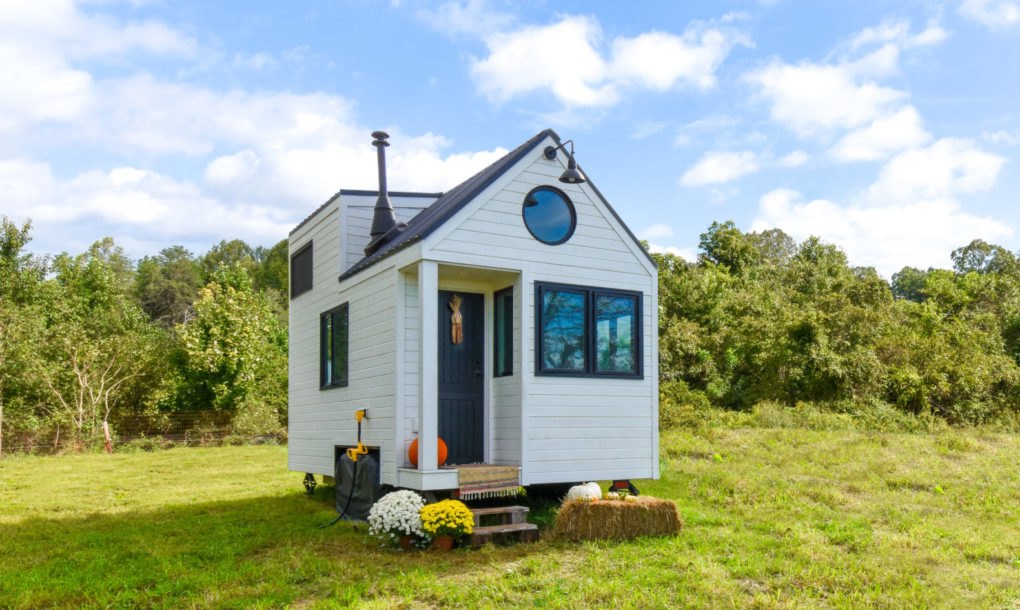 You can rent this cozy little home via Airbnb. It's perfect if you're planning to spend a few days in the countryside and enjoy a simpler life away from the busy city, in a picturesque location and surrounded by nature. Guests can enjoy a cozy and welcoming interior with a small wood-burning stove, a small but well-equipped kitchen, a bathroom with a soaking tub and a loft bed. Check out inhabitat for more details.
The Etno Hut
A lot of the micro homes on our list are not just adorably small but also sustainable and showing great respect to the environment and their surroundings. A good example is the Etno Hut designed by Ema Butrimaviciute of studio Utopium. This little off-grid cabin can be found in a remote forest area in Lithuania, surrounded by trees and great views.
The Etno Hut was carefully built with minimal impact to the landscape. It's meant to serve as a remote little retreat which allows guests to get in touch with nature and it's a perfect weekend getaway destination. Here, everything is quiet and you can really hear the rustling of leaves in the trees or the song of the birds.
The Tiny Adventure Home
The Tiny Adventure Home, as the name suggests, is more than just another little cabin on wheels. It's a compact and fun little retreat which lets you climb up its walls whenever you want to stretch out a bit or to have a bit of competitive fun. It was custom-built for a couple with a common hobby: bouldering.
In order to give this tiny home rock-climbing walls, the front facade was fitted with Rockwerx modular climbing panels. The handholds can be reconfigured so the climbing route doesn't get boring and predictable. Of course, there's more to this little cabin than just that. A large glazed door and a window provide panoramic views of the surroundings and can open up the tiny home for a strong and seamless connection with the outdoors. This was a project completed by studio Tiny Heirloom.
The A45 cabin
The A45 cabin is a modern interpretation of the classic A-frame cabin but with increased floor space. That was made possible by rotating the structure 45 degrees (hence the name). The result was a square-shaped base and roof twisted 45 degrees which ultimately gives the cabin a crystal-like shape. Depending on the viewing angle, the cabin can either look like a cube or like a pyramid.
This faceted and eye-catching cabin was designed and built by Bjarke Ingels Group (BIG) in collaboration with Klein. You can find this unusual tiny home in Hudson Valley, New York. It has a matte black exterior with glazed sections and a minimal but welcoming interior with exposed pine surfaces and natural cork walls.
The Cornelia Tiny House
This is a very special little house designed and built by New Frontier Tiny Homes. Its story starts when children's author Cornelia Funke got in touch with the company looking to buy a picturesque beachfront property, planning to then build an off-grid tiny home to serve as a writing studio and guest house.
Once the property was found (an old avocado farm near Zuma Beach in Malibu) this charming tiny home was built and then transported to the site. It was such a big success that now anyone can order it. It's called the Cornelia Tiny House and it can be customized in all sorts of different ways. A larger version is also available and that one includes an extra bed and larger kitchen and bathroom spaces.
Tiny student apartment
Not all tiny homes sit on wheels or come as freestanding, autonomous structures. This, for example, is a tiny apartment. It's part of a bigger project which aimed to convert an office building in Rotterdam into a set of 218 student apartments for the Erasmus University. The units are small but packed with all sorts of features and clever and ingenious storage solutions.
Each tiny apartment includes the following basic features: a desk, a dining table, a couch, a queen-size bed, a bathroom with a shower and vanity and also plenty of storage space throughout. In order to make that possible, Standard Studio gave the apartments custom, multifunctional furniture and also made sure to use the height of each room to their advantage.
Tiny home in a grain silo
Living in an old silo sounds like a pretty unusual thing to do but, when you think about it, it's also quite exciting. Of course, the idea here is to completely remodel the silo and to basically transform it into a tiny and very cozy home. As it turns out, that's entirely possible, as demonstrated by this 340 square foot desert oasis from Phoenix, Arizona.
Surprisingly, the interior of this silo home is very bright, open and spacious. The circular floor plan and curving walls were definitely a challenge for studio Kaiserworks but custom furniture and cleverly adapted design solutions saved the day. Now, after the transformation, this is one of the most intriguing tiny homes we've ever seen and also one of the most successful conversion projects.
The Dor Holiday Bungalows
Designed by Ron Shenkin Architecture this timber cabins are located on the northern coast on Israel and serve as holiday retreats to those seeking to enjoy a few days in a beautiful and tranquil environment, away from their busy everyday lifestyle. The bungalows were built with horizontal timber slats and each features a lovely small pergola sheltered inside the frame.
Large front openings ensure a smooth connection between the open decks and the interior spaces and also allow sunlight and views of the gardens to complement the modern and welcoming interior decor. Inside, each cabin has a living area, a kitchen, a bathroom with a hot tub and, of course, a comfortable bed.
The Artist Bothy
The Bothy Project was launched in 2011 by artist Bobby Niven and architect Iain MacLeod. It was meant to allow creatives to experience living in a remote area in the Scottish Highlands inside an off-grid cabin. Recently a new version of that was created: the Artist Bothy. It's a prefabricated, multipurpose hut designed to reconnect private owners with nature.
The tiny home is built using sustainable materials and installation on site takes less a day. It can be used off-grid and can also be connected to water and electricity. Inside there's a kitchenette, a wood-burning stove, a loft bed, tables, a bench and shelving units, most of these elements being optional. Each cabin can be customized according to each client's needs and requirements.