How to Make a Bathroom Drawer Organizer for Clutter-Free Storage
A bathroom drawer organizer provides a great way to keep beauty products, hair ties, shaving kits, and even cleaning supplies out of sight.
In this guide, you'll learn how to create not just one, but two easy DIY bathroom drawer organizers to keep your bathroom tidy.
Two DIY Drawer Organizer Ideas for Beginners
Materials and Tools Needed for a DIY Drawer Organizer:
Craft board (The example below uses three 2" x 36" pieces for two drawers.)
Wood glue
Measuring tape & saw
Pro Tip: Create a plan layout of your organizer design first
Roughly map out your dream drawer plan. This can (and will likely) change as you're going, but it's helpful to figure out the basic layout of your drawers.
Bathroom Drawer Organizer #1: Mouth Care
Keep your toothbrush and toothpaste organizing in check with this DIY bathroom drawer organizer.
Step 1. Cut your wood
Cut your first board.
Choose a single piece that will span the length (or depth) of your drawer, and use this as your foundation to "build" off of. Simply set it into the drawer for now.
I used a miter saw for fast and easy cutting. You could hand-saw these if you don't have access to a similar chop saw, and although that will add to the time of your project, it'll still get the job done.
Measure and cut your next piece. Measure the depth for specific objects, like toothpaste or toothbrushes. Knowing what you'll store in the organizer will help you create a custom design that fits.
Step 2. Assemble the drawer dividers
Build your deep drawers design piece by piece, keeping each separate.
It's most effective to work from the longest pieces to the shortest in your layout, cutting the primary pieces first before moving on to the smaller ones. Make sure to define the location for each piece.
Once designed, glue the pieces together, and let them dry fully. Your organizers are ready.
Makeup Bathroom Drawer Design #2: Girls' Hair Basics
Girl's hair accessories are hard to keep stock of yet store easily, so this best bathroom drawer organizer design works great to give you easy access to them and avoid a mess.
Step 1. Cut your wood
Cut the first board. In this instance, the first board spans the drawer from front to back, so that's my starting
After the primary slot has been designated, the second main piece slides in perpendicular.
Step 2. Assemble the drawer dividers
Continue measuring and cutting boards. Following the scheme shown above (again, working from largest/most important slots to the more flexible ones), soft-fit the pieces into your drawer. They should be able to stand on their own without being too tight.
Step 3. Gluing the pieces together
Glue pieces together. Channel your inner jigsaw puzzler and begin gluing your pieces together. Tip: Lay down a piece of wax paper in the bottom of your drawer as you do this, to ensure that the organizer won't stick to the drawer itself and that you can remove it later as you want/need.
It is recommended that you use enough glue that a small bit squeezes out when you glue the pieces together.
To keep things clean, though, use q-tips work great to carefully smooth out the drips and excess. Leave no sign of the glue.
Step 4. The waiting game- letting the glue dry
Let it dry (don't pickup!). This might be the hardest part of the project, but you'll want to follow the directions on your wood glue bottle for drying time to make sure it dries completely (and won't be easily visible once set.)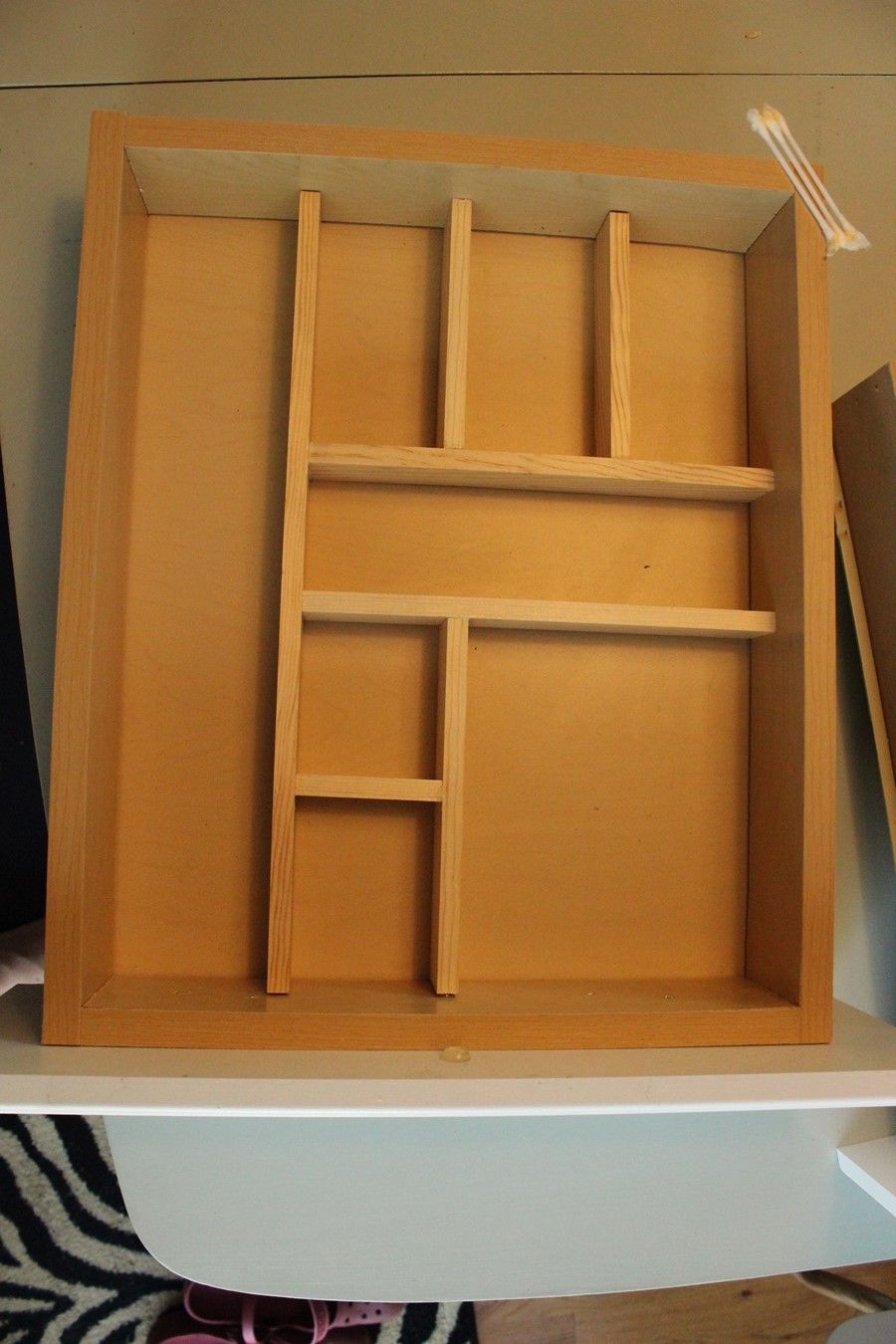 When it's dry, you're done and ready to organize.
Step 5. Get organizing!
Fill in the drawers how you please; bit it bobby pins or hair tools. You can even write labels to better find your stuff.
Frequently Asked Questions (FAQ)
FAQ
What do you put in bathroom drawers?
These drawers are awesome for storing a lot of essentials instead of using space-consuming bins. Aside from hair basics and mouth care products, some of the many items you can store include makeup, toiletries, nail clippers, jewelry, and even larger items like towels.
What is the cabinet in a bathroom called?
If you have a cabinet in a bathroom that is topped with a sink, countertop, and a mirror, then it is called a bathroom vanity. On the other, if you only have a cabinet in your bathroom without a sink sitting on top of it and is mainly used for extra storage, then it is what we simply call a bathroom cabinet.
How do you organize a bathroom drawer?
There are a plethora of ways to organize your drawer and they are adjustable to your tastes. One of the bathroom drawer organizer ideas you can apply to your own house includes the use of a plastic tray or bins. If you're up for a challenge and you don't have the budget to shop for ready-made drawer dividers, then you can simply follow our tutorial above and create your own bathroom drawer organizers.
And if you're someone who likes to change the layout of your drawers from time to time, then the adjustable bathroom drawer organizer will suit your preference. Maybe even try to separate by brands and keep stock of what you have left!
Can you add drawers to a bathroom cabinet?
Yes of course! In fact, adding drawers to a bathroom cabinet is perfect if you're planning on building your very own small bathroom drawer organizer.
How do you clean bathroom drawers?
The most important step to do when you tidy the bathroom drawer's bins is to declutter them by taking the items out of the drawers before anything else.
For the cleaning solution, you can mix one teaspoon of mild liquid soap with a cup of warm water. Put your solution in a spray bottle and use a clean sponge or cloth to wipe those tray drawers clean.
Conclusion
One of the best aspects of this DIY project for bathrooms is that you'll be able to fit so much more into your drawers. It'll make your morning routine so much easier. Plus, the compartments can pop out, letting you redo the organizers at any time when your organizing needs change.
You don't have to stop at creating these sliding drawer trays just for your bathrooms, you can also use them for your home office. Skip browsing prices on a website to locate the perfect slide insert for your gray desk, and save some money with this hack! Guaranteed to get some great feedback from your coworkers and it'll be a sign you're the most organized on the team.