I think there's something about Spring Fever that gets in all of us, to some degree, and eats away at us until we clean and organize something. The bug hit me last week, when I went to open the drawers in my kids' bathroom vanity to be assaulted with hair elastics stuck in toothpaste chunks and ill-fitting bins all awry with odds and ends. It was then I needed to organize this little part of my life, at least.
In my defense, I'd put out a half-hearted attempt at organizing with these plastic bins. But the problem was, they didn't fit well in the drawers, so they were either sliding around or completely tipped over. I needed something custom, that actually fit in these drawers and stayed put. If you can relate to this tale of woe, and if you've got just a few minutes to spend on your own bathroom drawer cleansing, you won't be sorry. Trust me.
Turn this…
…into this!
DIY Level: Beginner
Materials Needed:
Craft board (width depends upon the height of your drawer space; length depends upon the size of your drawer face and the number of slots you want. Example uses three 2" x 36" pieces for two drawers.)
Wood glue
Measuring tape & saw
Roughly map out your dream drawer design. This can (and will likely) change as you're going, but it's helpful to figure out the basic layout of your drawers. Take note of what items you want to organize and their respective sizes/shapes. I will be showing designs for organizing mouth care and girls' hair basics.
Drawer Design #1: Mouth Care.
Cut your first board. Choose a single piece that will span the length (or depth) of your drawer, and use this as your foundation to "build" off of. Simply set it into the drawer for now. Tip: I used a miter saw for fast and easy cutting. You could hand-saw these if you don't have access to a similar chopsaw, and although that will add to the time of your project, it'll still get the job done.
Measure and cut your next piece. Because I was planning on organizing toothbrushes and toothpaste in the front half of this drawer, I measured the depth for those specific objects next.
Work piece by piece in your design. I found it easiest and most effective to work from the longest pieces to the shortest in my layout, cutting the primary pieces first before moving on to the smaller ones.
Drawer Design #2: Girls' Hair Basics.
Cut the first board. In this instance, the first board spans the drawer from front to back, so that's my starting spot.
After the primary slot has been designated, the second main piece travels perpendicular.
Continue measuring and cutting boards. Following the scheme shown above (again, working from largest/most important slots to the more flexible ones), soft-fit the pieces into your drawer. They should be able to stand on their own without being too tight.
Glue pieces together. Channel your inner jigsaw puzzler and begin gluing your pieces together. Tip: Lay down a piece of wax paper in the bottom of your drawer as you do this, to ensure that the organizer won't stick to the drawer itself and that you can remove it later as you want/need.
It is recommended that you use enough glue that a small bit squeezes out when you glue the pieces together.

To keep things clean, though, use a q-tip to carefully smooth out the drips and excess.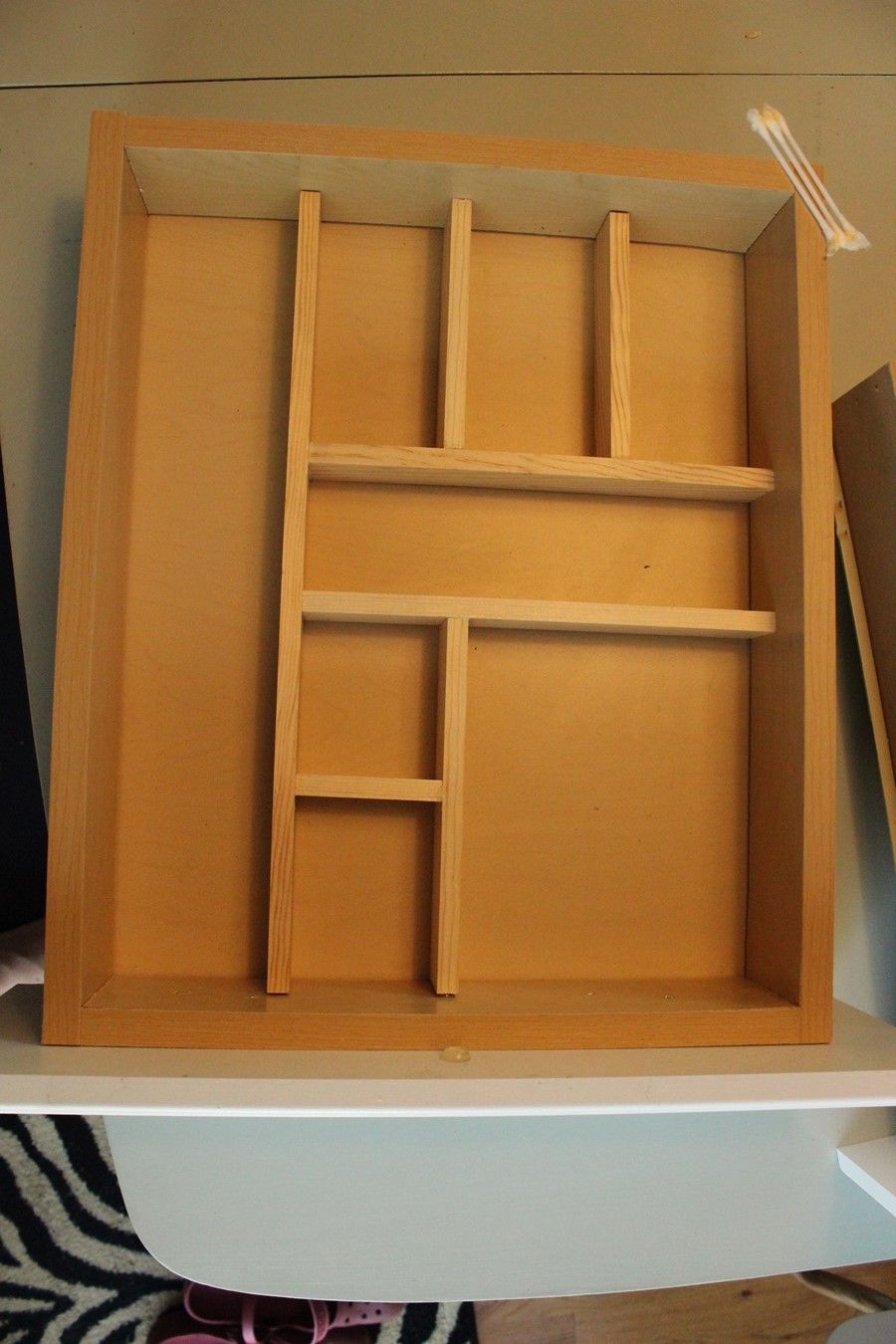 Let it dry. This might be the hardest part of the project, but you'll want to follow the directions on your wood glue bottle for drying time to make sure it dries completely.
When it's dry, you're done! Doesn't this sight make the organizer within just about burst with joy?
Fill in the drawers. Of course, you could go all color-coordinated with your goods and all, to really make your heart sing. Because it's hard to coordinate beloved kid toothbrushes and toothpaste, I just went with simple, non-coordinated organization. It's not as pretty, of course, but it'll do.
One of my favorite aspects about this DIY project is the fact that I can now fit so much more into these drawers, and that my kids can easily find what they're looking for (and – gasp! – put it away when they're done), and that I can pop out the organizers and redo them at any time when our needs change. Okay, so that's three favorite aspects. I can't help it.