High-End Home Design, Art on Show at The Salon New York
It has been called New York's "fanciest"design show — The Salon Art + Design is special because it melds the often-separated high-end art and design sectors into one magnificent event. The show features groundbreaking new designers alongside well-known masters, iconic vintage pieces right next to new, modern creations. As usual, it was difficult to just pick a few highlights, so we've rounded up more than 30 pieces of art and furniture that we loved.
First is this amazing credenza from the Amman Gallery. The piece is covered in hand-tooled leather that has been transformed into a stunning perforated pattern. The Huixcolotla Console from Angulo Cero is inspired by Mexican folk art that uses perforated paper, but here the craft is masterfully rendered in leather. Marble and brass make up the other components of the cabinet.
A small table lamp from Bernard Goldberg Fine Arts charmed us right away. The vintage piece has a modern industrial vibe that would fit well in today's stylish decors.
With regard to design masters, Geo Ponti is an icon. Ponti created this rare pair of chests in the 1950's for Singer & Sons. Karl Kemp Antiques presented the lustrous chests, which are crafted from walnut, and are displayed alongside a limited edition mirror from Jaques Goldstein done in bronze. The mirror is one of eight created in 2012 and signed by the artist.
The Cristina Grajales Gallery of New York showed this spectacular cabinet by French designer Christophe Côme. The wrought iron piece features milky glass rondels with white gold and moongold leaf. Côme started as a sculptor and jeweler but soon turned his talents to sculptural furniture and lighting. We think this "Wrought" cabinet has an otherworldly feeling.
This quirky floor torchere from London's David Gill Gallery is the "Toledo" by Garouste & Bonetti. The design duo is based in Paris and is known for "implanting doubt" with their pieces because "good taste really bothers us a lot." The body of the lamp has almost a cartoon-like anthropomorphic shape that is emphasized by the elbows in the arms that hold each individual shade. The fixture is made from is black lacquered fibrous paste and the arms are finished in gold leaf.
As fans of Maria Pergay, we were delighted to see her 1968 Ring Chair chair in the Demisch Danant booth. Pergay is Cuban-born and known best for her work with stainless steel. This chair has been referred to as her "calling card" and is a superb example of her sensational work with this traditionally industrial material.
This minimalist "Distortion Bench" was created by Lebanese designer Najla El Zein. Presented by Freidman Benda, the piece is constructed from fiber-reinforced concrete and foam. When viewed from a normal angle, the bench appears to have a smooth hump, but if viewed from above, the protrusion casts a shadow that looks like a distortion in the flat bench.
While there were much splashier pieces in the Galerie BSL booth, this slight and rounded chair exuded plenty of style. The Hue Chair by Studio MVW has fabric upholstery and a brass anodized stainless steel frame. The rosy color of the brass finish highlights the elegant arcs that make up most of the chair. It's very simple but extremely striking in its quiet elegance.
Galerie Chastel-Marechal showed this rare gold and black console by Jacques Adnet paired with an outstanding example of mirrors created by French designer Line Vautrin. The "Tortillons" mirror is very rare and was made around 1960. The round mirror is framed by twisted protrusions that are inlaid with small squares of silver mirror. Christie's auction house called Vautrin's works the "epitome of Parisian Neo-Romantic chic."
Another Line Vautrin mirror was shown by Maison Gerard.
A small and colorful table by Dutch designer Hella Jongerius is important for its unique layering of limited color glazes on clay that results in new and unexpected hues. Each tile features a section that is covered in glaze juxtaposed with the rest of the tile that is in its natural state. Jongerius is known for her "masterful use and understanding of colors, materials and light." The piece was presented by Gallery kreo.
As big lovers of texture, we could not take our eyes off of these wondrous wall panels in the Galerie Negropontes booth. French artist Etienne Moyat has "tamed the language of the fire" to create these wonderful wall pieces as well as furnishings. Carved, sweeping arcs are matched with with more subtle linear textures. The wood is then burned to create more visual depth before being polished to a rich luster. It's the perfect exemplification of a feature wall.
Such a cool piece booth: Gallery ALL of Los Angeles presented a range of works, many of which were created by Zhipeng Tan. The Chinese artist's furnishings are all rendered in metals. The meticulously detailed scene included in the Colosseum Coffee Table is by Po Shun Leong and is made of mixed wood materials.
The "Melting Console" is part of the 2017 Lotus Collection by Zhipeng Tan. The brass console is made using lost-wax casting, which Tan uses extensively in his work. The forms he creates range from environmental, such as roots and water droplets, to figurative representations such as spinal cords and pelvic designs.
A constant crowd of people stood in amazement at this work by artist Rowan Mersh. The Asabikeshiinh IV (Dreamcatcher IV) looks like a textured painting from afar, but on closer inspection is a painstakingly stitched geometric piece consisting of sliced turritella shells. The ombre shades that ebb and swell throughout the work are stunning and evidence of his experience with experimental textiles. Presented by Gallery Fumi, it is suspended from the ceiling much as a regular dreamcatcher would be.
Gallery Fumi also had this remarkable table by Italian designer Francesco Perini. The unique aspect of this table is that it is marble inlaid with wood. Perini is known for his sophisticated furniture and refined marquetry techniques. His firm makes special pieces for high-end homes and is also a laboratory for new modes of creating works that bring together wood, stone, obsidian, marble, iron and glass.
Not just visually arresting, this amazing faceted cabinet from the Garrido Gallery has a unique construction where the front leg of the cabinet moves with the door. The Tall Mineral Commode is made of walnut finished in nickel plated brass. The expert workmanship is evident in the lack of detectable seams anywhere on the cabinets.
David Nosanchuk's Butterfly Asteroid tells the story of the meeting of the Limenitis Arthemis Butterfly and the Itokawa Asteroid (25143)." Presented by Hostler Burrows, the piece features bodies of butterflies made from solid bronze that were created with 3D scans of a real butterfly. The wings are made of laser-engraved beech veneer. It's a magnificent sculptural light that also provokes conversation and wonder.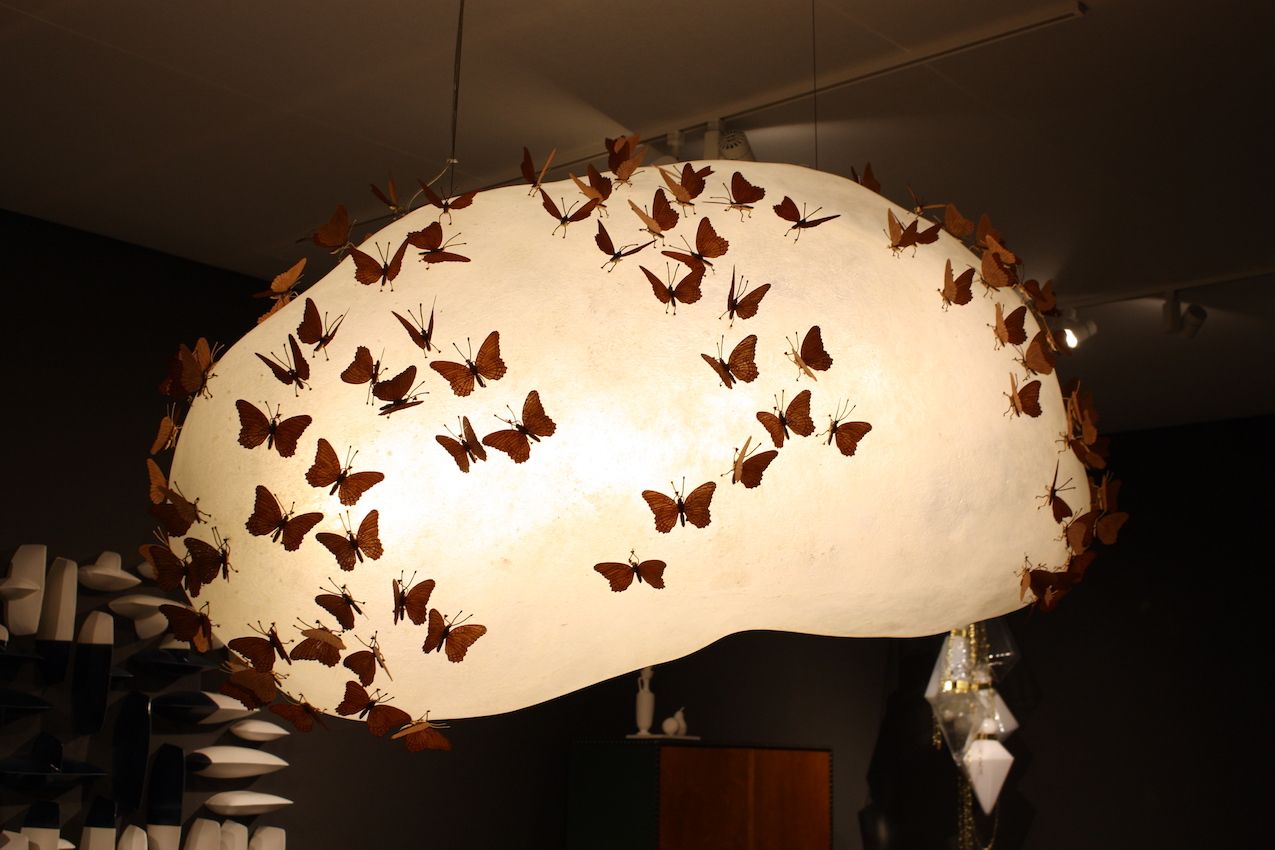 Ceramics are enjoying renewed interest these days and when they are as complex and attractive as this "Swirling Vessel" by Sakiyama Takayuki, it is no wonder. Represented by Joan B. Mirviss LTD., the amazing texture of the stoneware piece comes from hand-carving that is done inside and out. Not surprisingly, his work is inspired by the sea and waves. It's astounding how these vessels, made of rigid stoneware, can evoke a feeling of elegant motion.
A lovely trompe l'oeil commode has a very fun, whimsical design painted on the front. The cabriole legs end in golden hooves and the piece is topped with gray veined marble. Designed in the 1940's in France, the piece is from Maison Jansen and was presented by Liz O'Brien Editions.
Lost City Arts, which is known for its role as a leading source of 20th century design and fine arts, presented this lovely living room, centered around the coffee table by Philip and Kelvin Laverne. The custom table is sculpted bronze relief and features an organic shape and texture from a technique that Laverne rarely used. It was commissioned in 1969 by Columbia University as a gift to a philanthropist.
The Magen H Gallery of New York had this funky cabinet. More than one person was overheard saying that they wanted to crawl inside! The rounded front doors slide to open the compartment and the modest beige frame of the cabinet keeps it slim looking. While functional, its shape, design — and primarily its size — make it a statement piece as well.
The star of the Magen booth was this screen by Pierre Sabatier called "Mur Vivant 70". The imposing piece of copper and brass was created circa 1970 and earned him him great notoriety. In fact, it was his larger pieces that garnered the most attention for the French sculptor, who was interested works that focused on functional design as well as art for art's sake.
Matthias Bengtsson's Growth Chaise Longue, presented by the Galerie Maria Wettergren, is a like a tangle of alien vines ready to receive your reclining form. Made from cast bronze with a black patina, the piece was created using 3D molds. Bengtsson is know for his "unorthodox methods" and ability to blend craft skills, technology and mechanical means to push the boundaries of 3D design.
Modernity of Stockholm presented this classic grouping that includes the Mix easy chair by Kaare Klint and Edvard Kindt-Larsen for Rud. This particular example was made in the 1950's and is paired with a stained birch and pewter occasional table by Nils Fougstedt for Svenskt Tenn from 1933. Atop the table is a lamp by Poul Henningsen for Louis Poulsen made of lacquered copper shades and a frame of bronzed brass.
We've seen plenty of reproductions of the Panton chair, but it was really exciting to see (and sit in) originals like these from Modernity. The iconic plywood chairs are set around a table designed by Helge Brandt for Knud Juul-Hansen in the 1950's. The height adjusts and it features a round teak top that has a removable tray with brass inlays.
This bench from the Sarah Myerscough Gallery  is really something. It was made by French-born and British-based artist Marlène Huissoud, who assembles thousands of silkworm cocoons to create the form of the work. The cocoon construction is then covered in a layer of natural honeybee bio resin. This particular piece was then cast in metal.
Perennial fans of Christopher Duffy's tables, we think the Abyss is a beautiful coffee table.  The wood, resin and glass construction mimics the relief at the bottom of the ocean. The layers and undulating "landscape" inside are an artful combination of materials.
Milan's Nilufar Gallery showed this awesome 1950's dining table that has a donut shape. The top is actually glass, so the hole is only an illusion. The chairs surround the table like petals of a flower, probably because they were designed just for this particular table. The softly squared chair backs are really very nice and emphasize the petal-like arrangement.
Priveekollektie is always a draw for its amazing digital wall art, and this year's Salon was no exception, However, you had to get past these towering, oversized teapot constructions first. This is the Studio Job model of Pyramids of Makkum from Royal Tichelaar Makkum in the Netherlands. The tall structures are like a cross between traditional porcelain and something out of Alice's tea party.
We love this living room by R and Company, which is centered around the "Bocca" Sofa from Studio 65 in Italy. The sofa was first produced in 1870, but this piece is from 1986. Across from the sofa are three "Puffo" stools from Gruppo Sturm, also an Italian company. Made in 1968 out of light green polyurethane, they are a like bonbons alongside the lips.
Produced by a more technical method than many other items at the show, these are vessels from the Wedgewouldnt collection by British artist Michael Eden. They are made with a 3-D digital process that uses a high quality nylon material with a soft mineral coating. They are even more attractive because they are rendered in neon bright hues, rather than the muted colors used in traditional Wedgewood piece. They were part of the offerings by the Adrian Sasoon Gallery.
The Wexler Gallery of Philadelphia showcased this very comfortable-looking sofa called the Orbital Sofa by Harow. Made of bronze and leather, it has the feel of a hammock with the style of a mid-century modern piece of furniture. Alongside is the Methodology Table by Timothy Shreiber, crafted from cast and polished bronze.
So many beautiful pieces, so little time! The Salon is always a fantastic place to peruse top of the line art and design and imagine where in your own home the pieces would work. The show is a masterful mix of modern and antique that really works. We're already looking forward to next year.