The Panton Chair Is The Definition Of Timeless Class And Beauty
We know it now as a classic, a chair that made its way into museums and has its own page in the history book of furniture design. The Panton Chair has been the inspiration for a lot of pieces over the year. It revolutionized the furniture industry and it became very popular very quickly. It's worth looking into the history of this great chair to find out more about its rapid ascent. Let's start with the beginning, when in the 1960's designer Verner Panton first came up with the idea of a cantilevered plastic chair that would be stackable and made all in one piece. Nothing similar had ever been created.
Soon, this S-shaped beauty became the world's first moulded plastic chair but not before Panton had designed the S chair which was his first attempt at turning his vision into reality. The Panton chair came at a time when wood was the most widely used material in the furniture industry and wood wasn't as flexible or as versatile as plastic.
First, the designer created a cold-pressed model using polyester strengthened with fiberglass. This model was then improved and adapted so it could be mass produced and the chosen material became thermoplastic polystyrene which was cheaper. Then, in 1968, the serial production of the final version of the chair started and this one was made of Baydur, a high-resilience polyurethane foam which turned out to be less durable than anticipated. This version of the chair was produced in seven color but stopped in 1979. In 1983 the chair was again produced but this time it was made of polyurethane structural foam. It was named the Panton Chair Classic. In 1999 the Panton Plastic Chair appeared and this one was made of polypropylene and available in a variety of different colors. This is most likely the version that interior designers used in all of these projects.
The Panton chair is a true classic, so versatile and timeless that you can't go wrong with it. It also comes in a variety of colors which makes it that much more fun to work with. Architex used them out a deck when they designed this city home for their client in Auckland, New Zealand.
When they renovated this residence in Italy back in 2010, Wespi de Meuron chose the classic Panton chair for the dining room. They're featured here in white, framing a simple wooden table. Their sleek and curvaceous form contrasts with the rugged beauty of the walls.
The Panton chairs are sleek and delicate enough to look great in serene and breezy decors but also sophisticated and dramatic enough to stand out in a variety of other settings. You can see them here arranged around a contemporary dining table as part of the Beach House Q project in Peru by Longhi Architects.
This chair is the definition of timeless beauty. It's still considered chic and stylish even after so many years after its initial debut. It looks great in glamorous residences but also in contemporary lofts just like this one designed by Nikita Borisenko.
With so many color variations to choose from, there surely must be one that's just right for the decor you have in mind. Check out how beautiful these black Panton chairs look when displayed next to this concrete table. The rough charm of the table and the smoothness and fluidity of the chairs are a great combo.
The simple and sleek design of the Panton chair made it the perfect choice for the monochromatic, Scandinavian-inspired decor of this home in Tilburg, The Netherlands. The chair add just the right amount of sophistication to an otherwise very simple and fresh interior.
Even eclectic decors find these chairs to be charming. For instance, they've been used here in combination with three other types of chairs around a simple dining table. The diversity of the forms and styles gives a lot of character to this room.
A similar idea is discussed on Architecturaldigest. In this case, white Panton chairs were used in combination with a second type, also simple, casual and versatile. The two types of chairs share in common the color and this makes them look like a set despite the obvious differences.
The black Panton chair is definitely the right piece of furniture to fall in love with. It's extremely sleek and sexy, with gorgeous curves and a wonderful silhouette. With chairs like these any dining room can look exquisite.
The white version, on the other hand, has a very pure and delicate look. This is the chair to use in a breezy beach house or in a feminine home office. A bunch of other ideas are offered on Design-Milk so be sure to check them out for inspiration.
If you enjoy the timelessness of the chair's design and you want to use it as a source of inspiration for your home's decor, you should consider using the black and white combo. You can't go wrong with it and the decor won't look monotonous and boring with such stylish furniture accents.(picture from Tomekmichalski).
Another examples that proves just how versatile and timeless the Panton chairs are is this modern farmhouse located in the US and designed by Tineke Triggs in 2015. A set of eight chairs featured in brown were used here around a large, round-top dining table.
These are also the types of chairs that practically invite us to create striking and dramatic contrasts in our interior decors. They're so fluid, delicate and smooth you just want to emphasize all that by pairing the chairs with something that makes these details stand out, like a live-edge table made of driftwood.
Similarly, this whole decor featured in the Ampurdan House seems to be based on the idea of contrast. A large live edge table is framed by white Panton chair on both sides and the textured walls and curved ceiling are accessorized with graphical pendant lamps and artwork.
The leather version of the Panton chair is a special accent piece which you can easily turn into a focal point. You can see three of these chairs here set in a bright corner, framing a slender pedestal table that sits exactly at the center of a circular area rug.
Even though they can definitely look glamorous and sophisticated, the Panton chairs are also perfect for casual and relaxed decors like this one. Take advantage of the chairs' versatility to furnish a multifunctional space that can be a dining room, library and office in one.
Wellard Architects included the classic Panton chair in their design of this contemporary Australian residence. It's really beautiful how the white chairs stand out against the wooden wall and floor. It's a combo that takes advantage of their minimalism.
The sinuous form of the Panton chair makes it a perfect match for tables with circular tops. They look as if they intentionally fold so their seats fit under the table and follow its shape. See this image emphasized here by designer Patrick Mele.
It would seem that the white Panton chair is one of the most popular ones, really popular in dining rooms for their ability to be both stylish and comfortable and to maintain a bright and open decor throughout.
This London loft is already bright and spacious and its open floor plan is organized in several functions, each with its own ambiance and decor. The dining area, for instance, is placed next to the balcony and furnished with classical, white pieces and black and white wall art.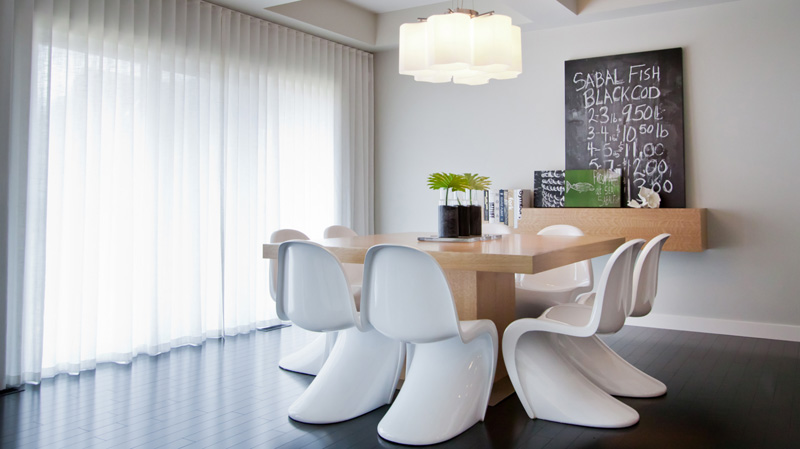 For interior designer Natalie Fuglestveit, transforming homes is fun and she favors chic and timeless pieces like the Panton chair. They're symbols of long-lasting beauty and they look exquisite while making the decors feel very inviting.
We can't emphasize enough how beautiful and inspiring black and white decors can be. Think of a space as a blank canvas which you can decorate with anything you want. The furniture is a big part of the decor but so are the little things like the light fixtures, artwork or window treatments.