Resin Furniture Forever Encapsulates Beauty In Extraordinary Designs
Over the past years, furniture designers established new ways of taking advantage of resin and its defining characteristics to create unique and outstanding pieces. Resin furniture has become a style, a trend and a source of inspiration for a new way of thinking. But what is resin exactly and how to define it? The easiest way to describe it would be as a highly viscous substance which hardens over time or when exposed to heat or to another substance. This is the polymerization process during which the resin is transformed into a solid with adhesive properties during the transitioning.
There are numerous different types of resin, which include polyester, polyamides, polyurethanes, epoxies, silicones, polyethylene, acrylics or polystyrene. They each distinct characteristics and uses. Until not so long ago, resin furniture only described the faux wicker types or the more durable alternatives to plastic chairs and tables and referred mostly to outdoor pieces used on decks and patios. But then a new style was born and this one took advantage of the resin's adhesive property. We're talking about furniture designs which are created by mixing resin with wood or other materials to create intricate and organic forms and patterns. Here are some of the most iconic ones:
The Earth table has a highly original and unique top which was created by putting together 50,000 year old kauri wood from New Zealand and resin. Its design is an artistic representation of our planet. The wooden parts symbolize the continents and the resin sections are the oceans. The beauty of this piece comes from the contrast between the texture of the wood and the transparency of the resin.
The Kauri Beam table by C.R.& S.RIVA1920 is quite similar in the sense that it too puts together wood and resin although in different proportions. The resin, in this case, is more of a link that connects the wood sections and completes the table, allowing it to have a smooth, rectangular top with no physical interruptions.
This is the Crystal Series, a collection with an interesting story. It was created by artist Saerom Yoon and it sort of shaped itself. It was during the design process that the artist noticed how when casting resin sometimes random textures appear on the blocks. He selected some of these and processed them to create these gem-like blocks.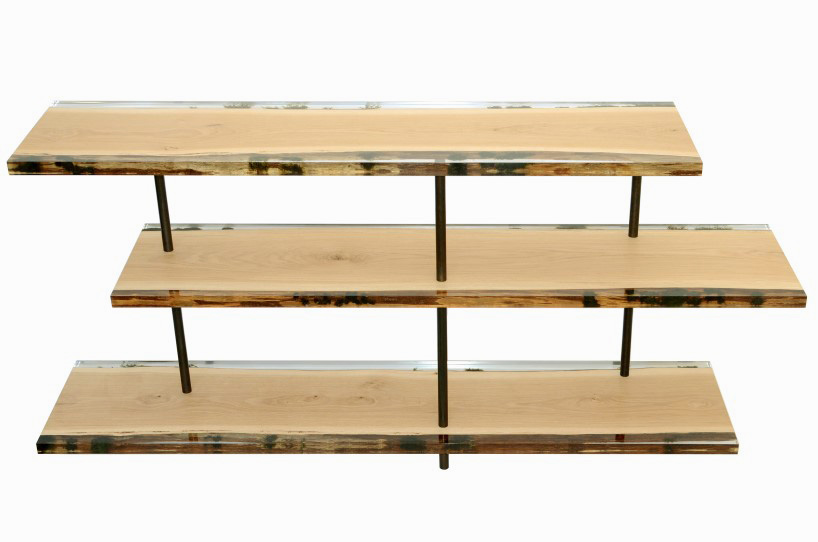 This is a shelving unit which uses resin to forever frame and capture the beauty of moss and lichen. The idea was materialized by Andrea Forti and Eleonora Dal Farra. Together, they created the Undergrowth project. After exploring the mountains and coming back with pieces of wood that had moss and lichens growing on them, they were able to use resin to create this amazing piece of furniture.
The Undergrowth collection that we mentioned just now also includes the Trail Console, a console table made from a single wood plank cut into three parts then joined together to create the impression of a single bent piece. Resin edges give the table a continuous form while also framing the wood and exposing the moss.
It's amazing what some designers can create using resin. A particularly impressive example is La Table, an extraordinary table series created by designer Alexandre Chapelin. He created the tables using natural stone and resin and managed to make it look like an aerial image of the ocean. This was possible by filling the holes and crevices in the stone with blue resin and giving the tables a rectangular shape with edges thick enough to also create the perception of depth.
This is another one of the tables created by Alexandre Chapelin, the series known as La Table. The series includes three pieces referred to as Lagoon Tables. They're all created by adding resin to a carved travertine structure. Each design is inspired and influenced by the landscape and surroundings of the Saint Martin island, where the artist's studio is located.
The story of the Zero Per Stool piece is a very interesting one. This is something that South Korean studio Hattern created, driven by the desire to design pieces with almost no waste during the production process.  They managed to do this by combining wooden waste pieces and resin. It's just one of the pieces in the Zero Per Project series.
Designer Maor Aharon also looked for a new way of creating stools and the idea he came up with was to use wood and metal in combination with polymer resin and motion. The result was a series of unique, layered designs. Each stool was cast by pouring colored resin into a spinning mold to form the seat and the sides. The collection includes numerous variations of the design.
Meet Fuse, a quirky and intriguing cabinet made of a combination of cedar wood and layers of fine basalt in resin. It has a tower-like geometric shape created by sanding the wood at irregular angles to create an organic contour. The cabinet is created by the designers from Studio Truly Truly.
This funky-looking chair is an eye-catching piece created by South-Korean designer Seung Han Lee. It was all put together from scrap pieces of wood held together by colorful resin which acts as glue. The chair has this playful and fun look which makes it an excellent accent piece for a variety of different decors and settings.
While all the tables made of wood and resin that we looked at so far are definitely cool, none of them glows in the dark. We're mentioning this now because we just came across a table inlaid with glow-in-the-dark resin. It's a design inspired by the method industrial designer Mat Brown created a whole ago. The table is the creation of Mike Warren.
A lot of other cool things can be done with glow-in-the-dark resin, especially for outdoor spaces. There's actually an entire collection designed specifically for such settings: the Brecce series by designer Marco Stefanelli. All the pieces were created by removing fragments from sawmill scraps, tree branches or cement blocks and replacing them with resin embedded with LEDs. So technically this is just plain and simple resin. It's the LEDs that make it glow.
These are actually the shelves created by designer Mat Brown using the technique we mentioned earlier. They're made of chestnut wood inlaid with resin mixed with glow-in-the-dark powder. The resin was basically used to fill in the gaps in the wood and the effect is a pretty impressive and inspiring one. It's actually a very simple project. You could even make something similar yourself.
The idea used here by Nucleo is so simple you kind of wonder why nobody thought of this before. What they did was quite intriguing: they cast furniture in resin. They worked with pieces like a ladder, a stool or the classic No 14 chair by Michael Thonet. Together they form the Souvenirs of the Last Century series.
Designer Andy Martin is the creator of a series of resin tables aimed to create interesting visual effects. The tables are made from both clear and semi-opaque resin, the second type creating a glowing effect when light hits its surface. The tops of the tables come in colors that are bright and vibrant while the cylindrical bases are clear.
The Flora collection is a series created by designer Marcin Rusak. It includes a lamp, a screen divider and a table and they're all made of resin. But that's not the thing that makes them special. The cool detail is that the resin encases flowers and petals, featuring this wonderful nature-inspired theme. The flowers and their beauty and preserved forever and they can be used as unique focal points in glamorous settings.
When you first look at this table it doesn't really stand out as a unique or unusual piece. Sure, the resin top contrasts nicely with the wooden legs but that's actually a pretty common combination. Look closer and you'll discover that the lamp and vase that the table is decorated with are actually permanent parts of its design, being embedded in the top which, by the way, can also serve as a desk. This is a design created by Roel Huisman.
In an effort to capture the beauty of Eastern European landscapes into physical objects, Polish designer Wiktoria Szawiel created the Landscape Within series, a collection of unique furniture pieces which blend woven natural fibers and resin. It's a collection base don contrasts but also on the idea of timeless and natural beauty.