The 10 Most Amazing South Africa Safari Lodges Offering Thrilling Experiences
What could be more outstanding than an African safari? The wildlife encounters are definitely something to look forward to but there's more to the experience than this. South Africa is famous for its mesmerizing landscape, astonishing views and world class food and wine. You'll have a complete and absolutely fabulous experience. But where will you be staying? Well, there are plenty of options so we've made a top with the best 10 South Africa Safari Lodges.
1. Lake Manyara Tree Lodge.
When you're spending the night into the wild, whether it's a tiny forest or a jungle, you prefer to prefer to sleep high above the ground for safety reasons. Of course, safety isn't the only reason why the Lake Manyara Tree Lodge is situated here.
The views are also more beautiful from there. Visitors get to actually sleep in a tree but they're not missing the luxury. The lodge offers 10 suites all wrapped in the beauty and privacy of the mahogany forest. Each suite has a private deck from where you can spot animals but don't worry, the elephants and lions don't come anywhere near the lodge.
2. Ngorongoro Crater Lodge.
This stunning lodge is perches on the edge of the famous Ngorongoro Crater, hence the name. It's surrounded by breathtaking views and wilderness and it comprises three camps. They each operate independently and they each have a private viewing deck overlooking the crater. So wildlife isn't the only attraction here.
One of them is called the Tree Camp and it's a secluded area with 6 suites and an intimate and romantic interior. You can go on the deck and admire Tanzania in all its splendor. During the day you'll get to spot zebra and other animals but at night it all gets a little more serious so you won't be able to leave the camp without a Masai warrior escort.
3. Kichwa Tembo Bateleur Camp.
All the lodges we're presenting here are amazing and they all feature certain similar characteristics but, at the same time, they're also all unique. This camp, for example, has a design that combines classical and romantic elements of the 1920s with the sustainability of the 21st century designs.
The camp maintains a high level of eco consciousness and takes pride in the fact that everything remains the same after the guides and the visitors come back from their trips. Of course, this doesn't mean luxury is nowhere to be found. You'll be able to enjoy a spa, a gym and even an outdoor pool.
4. Mahali Mzuri.
Africa is so mysterious and so wild, it's impossible to even begin to describe its true beauty. But we can try and we can have a glimpse at this stunning area of the globe by going on safari. At the Mahali Mzuri you'll find a perfect escape.
Here you'll forget about everything and you'll fall in love with this extraordinary place. The lodge is a combination of comfort, luxury and tradition. Guests can enjoy candlelight dinners and can have unique adventures. All in all, it's a dreamy experience and you should let it inspire you.
5. Makanyane Safari Lodge.
How incredible would it to wake up in the morning and to see a huge elephant just passing by your window? It's not a fantasy. If you'll visit the Makanyane Safari Lodge you'll see what we're talking about.
This rustic yet elegant lodge is situated on private land within the Madikwe Game Reserve so it offers an exclusive glimpse at the wildlife. Elephants stroll through camp occasionally but if you want to see more you can explore the reserve either on foot or by jeep accompanied by guides. You'll also be able to see leopards and lions and you'll get to admire the amazing landscape first hand.
6. Thanda Private Game Reserve.
Here at the Thanda Private Game Reserve everything seems to have a particularly luxurious feel. As a guest, you'll be able to relax in beautiful rooms with canopy ceilings and blazing fires, you'll get to enjoy outdoor showers, to take a stroll in the wilderness in the hope to encounter lions and other legendary animals and you'll also get to enjoy private plunge pools and to relax outside admiring the views.
It's a romantic and exclusive destination where nature and humans coexist in harmony. You can choose from nine villas and six tented camps and you have the opportunity to dive with the sharks in the ocean if you prefer a little more adrenaline.
7. Singita Boulders Lodge.
A safari vacation in Africa doesn't have to be all wild and lacking the comfort you had at home. It can have the both of both worlds. You could experience wild encounters with elusive beasts and you could also relax at the spa, have wine tastings and live surrounded by luxury.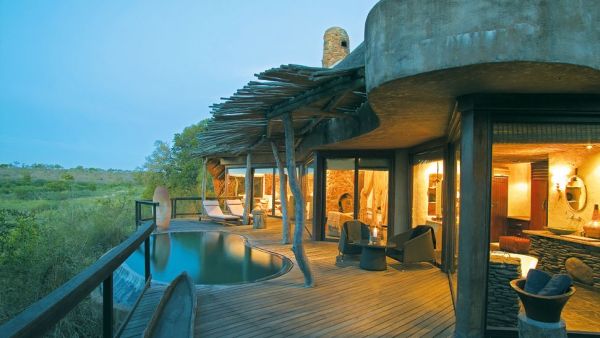 All of this is possible at the Singita Boulders Lodge. It sits hidden in the South Africa's Kruger National Park and it gives you opportunity to track lions, rhinos and much more while also enjoying hotel luxury. You get to enjoy the swimming pools, to have wine tasting in the wine cellar and to relax in your marvelous suite.
8. Molori Safari Lodge.
Speaking of places where nature meets luxury, let's take a look at the Molori Safari Lodge. Here lions, buffalos, hot tubs and infinity live happily together. But there's something else that makes this lodge special.
Here you can also find the largest private telescope in the Southern Hemisphere so stargazing gets a whole new meaning in this particular area of the world. What's also amazing is that, at this lodge, you can enjoy a romantic dinner while elephants pass by just a few yards away. So get close to Africa's most spectacular animals and enjoy a unique experience.
9. Singita Sweni Lodge.
Opulence meets rustic charm here at the Singita Sweni Lodge. Located within the famous Kruger National Park, the lodge gets you close to all sorts of spectacular animals and species. You'll be able to watch the crocodiles and hippos from your private deck so what could be more amazing than that?
The lodge is a mesmerizing sanctuary, very tranquil and serene. It's built on stilts on the banks of the Sweni River and it offers six suites to floor-to-ceiling glass walls that offer stunning views. They all have large decks, outdoor showers and rustic interior with just a touch of modern.
10. Ulusaba Game Reserve.
The last lodge on our list is an amazing and unique retreat situated in the heart of the Sabi Sand Reserve, just on the border of the Kruger National Park.
As a guest, you'll get to benefit from the experience of some of the finest and most qualified rangers and trackers who will show you the wild side of this region while ensuring your safety. The location and the interior design of this retreat is meant to bring you closer to nature but it doesn't lack luxury. You'll be able to admire the panoramic landscape from the infinity pool or from the deck.