Cool And Unusual Projects Made Out Of Cardboard
Cardboard is not on top of the list of building materials when it comes to furniture and other similar projects or structures. And yet this doesn't mean it's not a valid option. In fact, these following projects help prove this point. They're original, unusual and out of the box (or cardboard box in some cases).
The Nothing office
When Dutch designer Joost van Bleiswijk and design director Alrik Koudenburg had to come up with an idea for the office space of advertising agency Nothing, the biggest challenge was the tight budget and the solution they found was both cheap and memorable. The whole office interior is made out of cardboard. Everything was done by carefully cutting and folding large sheets of honeycomb cardboard which led to all sorts of unique designs for desks, tables, bookshelves, stairs and other elements.
Room in a box
Room in a box is an interesting concept which addresses students in particular. It can be assembled and disassembled in less than 30 minutes and there's no need for any tool to do so. The box contains all the basics such as a desk, a chair, a bed frame, a dresser and a recycle bin. Moving from one place to another has never been easier.
All these things are made of cardboard and, because of that, the Room in a Box is very cheap compared to regular furniture. It's a good option for those who move constantly or for students who don't need fancy furniture and would rather have something cheap, practical and easy to install. And in case you were wondering, everything is durable and can last for up to a few years plus it's water resistant thanks to a special coating.
Karton furniture
But cardboard furniture is not just for students. Karton Group is a company that offers a lot of interesting cardboard furniture designs for bedrooms, offices and dining rooms. They're all flat packed, recycled and recyclable. The company offers pieces such as the Paperpedic Bed which has built-in storage drawers, the Chairman's table or the Barista's coffee table.
ECAA reception desk
An interesting project designed for office spaces is ECAA (Edward Cella Art+Architecture). It consists of an interior separator made from a series of cardboard layers with a wooden top. It also features built-in shelving for books, registers and files. The piece is means as a reception desk.
Cardboard office in Paris
Artist Paul Coudamy designed an original office interior for an advertising agency in Paris, France, using cardboard. The office features 20 work stations, various partitions, meeting rooms and plenty of storage, all made using water-resistant honeycomb cardboard, wood, glue and tape.
The Naver App Square
Numerous stores around the world found the idea of using cardboard in interior design and architecture interesting and sustainable and adopted the concept. One example is the Naver App Square, a kiosk designed by Urbantainer and featuring a stock metal container combined with sheets of raw corrugated cardboard.
The Trash Cafe
The Trash Cafe was the result of the teamwork between students at the Newcastle University and several engineers and architects and it's made of sustainable materials that are often considered trash, just like the name suggests. They used cardboard for the walls and plastic bottles for the chairs.
The Kiton showroom in Milan
Measuring around 800 square meters, the Kiton showroom from Milan has large windows and a base module consisting in a platform made of honeycomb cardboard. The platform measures 150 x 150 cm and it serves as a display area. It has a flexible design and is reusable. This was a project by A4A.
The Aesop DTLA store
Aesop DTLA was a project by Brooks + Scarpa, located in Los Angeles' historic theater district. The team used numerous 6" round cardboard tubes and created partitions for the space as well as numerous other features. The original concrete floors were preserved and, given the context, the combination of materials and styles suits the location beautifully.
The Common Kin store
When the men's clothing store Common Kin changed format in 2014, the interior design had to change as well. Studio Intussen had to deal with the challenge and they decided to use cardboard panels painted white in combination with black steel panels. As a result, the space looks minimalist, modern and allows the products to be the main attraction.
Cardboard store in LA
This shop is located in Los Angeles, California, in a high-traffic commercial area. When DCPP Architects designed it, they chose a simple but striking look, featuring a prefabricated modular system built using recycled cardboard tubes.
Fold-out-cardboard-store
For the State of Design festival in Melbourne, architect Toby Horrocks and designer Kristian Aus created an interesting concept for a fold-out shop interior. It features five cardboard panels which can form a desk, a series of shelves and a lighting fixture. They're made of cardboard and can be flat-packet.
Cardboard tea house
Japanese architect Shigeru Ban even designed an entire tea house out of cardboard and paper. The project is called Paper Tea House and was made using square paper tubes. The whole structure is just over 5 meters long and inside it has a table and four stools plus a waiting area with a cardboard bench. It was all designed for indoor use only.
Cardboard dome pavilion
Yet cardboard is not strictly for indoor use only, an idea demonstrated by design students Min-Chieh Chen, Dominik Zausinger and Michele Leidi from ETH Zurich. Their project is called Packed and it represents an outdoor pavilion made of cardboard hoops. The students used 409 cylinders of various diameters and thicknesses and they secured them together with ties. The pavilion was digitally designed.
Multifunctional cardboard project in Hisroshima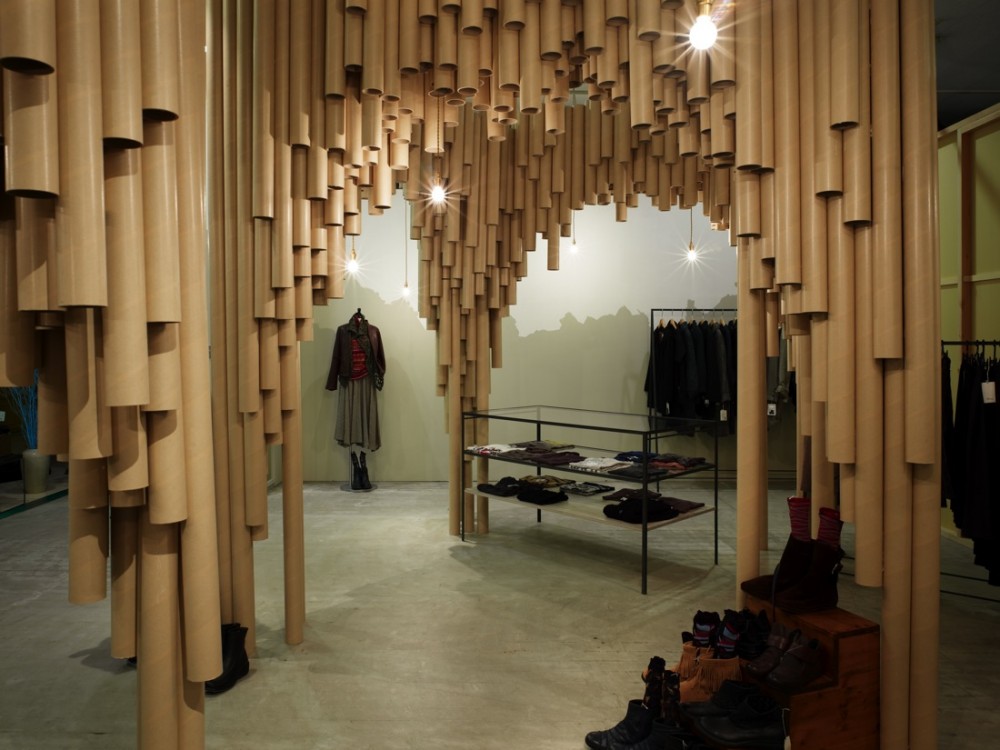 Using cardboard tubes, Suppose design office created a project for Karis inside a shopping center in Hiroshima, Japan. The space is multifunctional, serving for both shopping and for holding various events. The décor and the ambiance are changing depending on the exact location of the viewer.