The Secrets Hidden Behind The Murphy Door
Murphy beds, as great and as space-efficient as they may be, are not nearly as exciting as a Murphy door. You're probably already familiar with the concept: this is basically a door disguised as a bookshelf that hides a secret room.
It's definitely an exciting way of transforming a simple door into something more interesting, even if the idea is to make it difficult (or impossible) to spot the opening. Let's see how others have integrated Murphy doors into their homes.
What is a Murphy Door?
Murphy doors are often considered hidden or secret doors because they are concealed as bookcases or walls. You'll find them commonly used for covering private areas or as a fun embellishment.
How does a Murphy door work?
Murphy doors are typically bookcases that sit into the wall. And these cases rely on hinges to swing open. You can use various hinges for hidden doors like pivot hinges or parliament hinges.
You can normally get these hinges when you buy a Murphy door kit or purchase them separately from a home improvement store.
Depending on how much the door weighs, you'll want to make sure you get suitable hinges to support the weight.
How to Build a Murphy Door
You have two options to build a Murphy door; DIY or a kit. The kits are very convenient because they come with all the parts for assembly and installation. Not to mention, having directions can be handy.
However, if you have the supplies and knowledge to build a Murphy door yourself, why not?
For building a Murphy door, you'll need the following supplies:
Bookcase
Two bookcase sides
Top and bottom
Back
Shelves
Frame
Jamb sides, top and bottom
Casing
Other supplies to include:
Hinge pins and plates
Jamb screws
Jamb hinges
Dowel pins and dowels
Wedges
First, build each part separately, the bookcase and the jamb frame.
How to Install Murphy Doors
Then, place the door jam into the opening for the door and make sure it's level.
Secure the jam.
Next, place the door into the door jam and ensure the hinge fits into the thrust bearing.
Align the holes according to how you want the door to swing open and insert the hinge pins.
Once you've installed the door, you can add the shelf holders where you desire.
Then, add your shelves.
Finally, add the door casing making sure there's enough room on all sides to properly open, close, and secure the door.
Now, you can add your decorations and enjoy your new Murphy door.
Unique Murphy Doors
Whether you're concealing an office, bedroom, kitchen or bathroom, these Murphy doors are clever for hiding any space in your home.
Secret Murphy Bookcase
This house has a secret door disguised as a set of open shelves. It's between a built-in seating nook and the staircase and when you push the shelves, it reveals a lounge space. The placement is convenient because the door shelves hold books which is great since there's a reading nook right beside them.
Loft Apartment Secret Door
Architect Alexander Martin renovated a loft apartment in London. It too has a secret door. It's hidden behind a small bookshelf that slides back to reveal a study area. The system is ingenious, showing us an interesting way to conceal a home office so the functions stay separate.
Triple Revolving Bookcase
Who would suspect that there's anything behind a whole wall with bookshelves? Not a lot of people and that's the point. The element of surprise makes this design by architect Consuelo Jorge so special. This is a house in Brazil. It was designed for an art collector and it has not one Murphy door but three and they can all be opened simultaneously to reveal a secret area.
Stealthy Bookcase Door
It's easier to disguise a door as a bookcase when it's not the only one of its kind. When there's an entire wall of bookshelves, if one section doubles as a door it can blend in more easily and it's also less likely to suspect anything. The Ranch Mine designed this home with a fun interior in Phoenix, Arizona.
Hidden Meeting Room
Airbnb collaborated with The Bold Collective when creating their new office in Sydney, Australia. It's a cozy and inviting office that looks and feels a lot like a home. It has comfortable lounge areas, meeting spaces with comfy benches and even a meeting room hidden behind this door.
Bedroom Behind the Murphy Door Bookcase
When one enters this apartment located in Slovakia, everything seems good and beautiful except for one thing: the bedroom is nowhere to be seen. It's not because it's missing or because it's somehow integrated into a multipurpose space but because it's hidden and the door is not visible. Take a closer look at the left side of the bookcase and everything is revealed. This apartment was designed by JRKVC.
Larger Than it Seems
It takes a little bit of detective work to realize that this home designed by i.house in Vietnam is larger than it seems. If you analyze the large bookcase wall you'll notice that it has an unnecessarily large frame and that there's a space underneath that shouldn't normally be there. That can only mean one thing: that's actually a secret door. It leads into a guest room that also functions as a home office.
Secret Surprises
Concealing a room is easy when you're working with a large space but what about a small home? Well, a lot of things are possible when you're ingenious and creative. When Project.DWG ~ Architecture designed the KLM House in The Netherlands they decided to build up. The house sits on a 55 square meter lot but that doesn't stop it from being full of surprises, including this secret nook by the stairs.
Casually Concealed
Building your own home can be exhausting but also fun and exciting. Architect Jesse Bennett and interior designer Anne-Marie Campagnolo created the Planchonella House. It's a house that they built for themselves and which includes lots of interesting features, including a secret space hidden behind murphy doors.
Minimalist Murphy Doors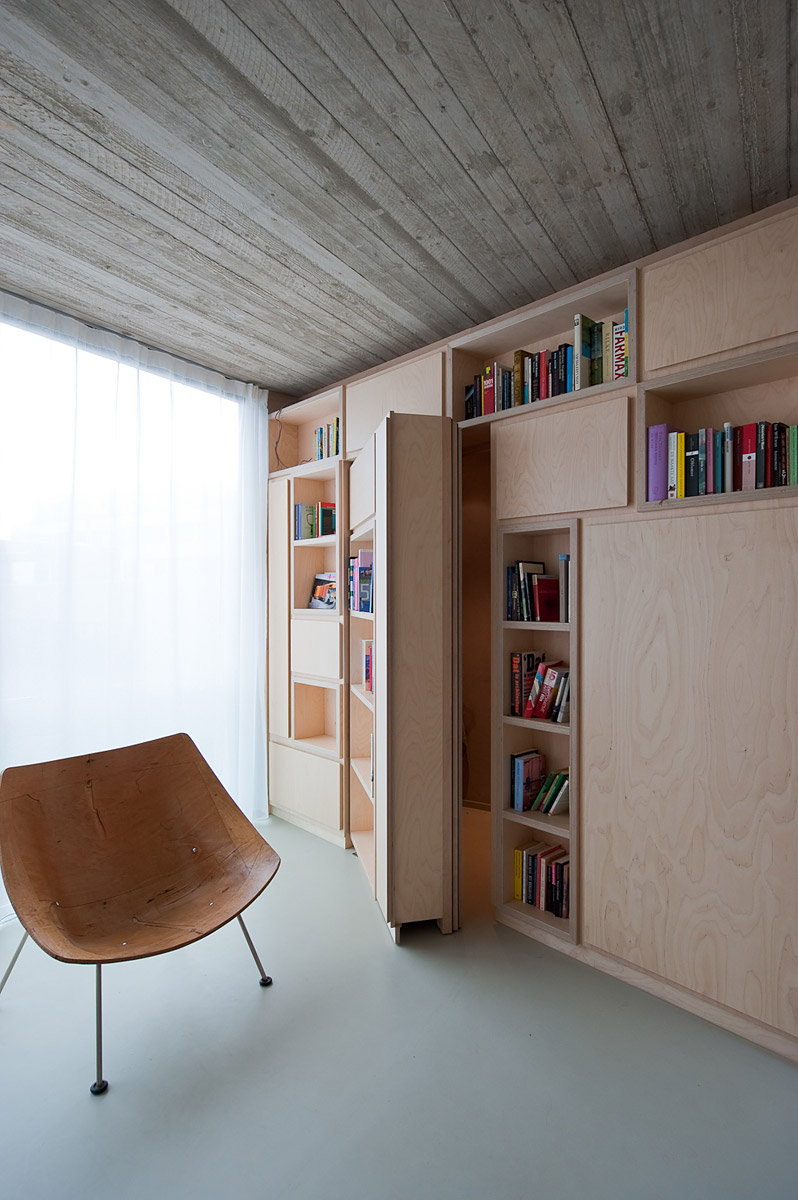 Britt Crepain and Stefan Spaens (now CSD Architecten) built their own house on a very small plot in Antwerp, Belgium. They chose to give it a simple interior, with clean forms, classic and chic furniture and mostly neutral color. At the same time, they had a bit of fun adding a secret space behind the bookshelves.
Customized Bookcase Door
Utz Design knows a thing or two about custom furniture and about the ways in which it can be optimized to suit various spatial configurations and requirements. They designed this cool bookshelf wall that has a secret door built right into it.
Extra Space Hidden Under the Stairs
In order to successfully integrate a secret room with a hidden door into a home, it would have to be built with this detail in mind from the start, although it can sometimes be possible to adapt an already existing layout. Nick Mehl Architecture did a great job here. The secret bookcase hidden door reveals a narrow hallway that goes left under the staircase.
Hidden Kitchen
Abode Architects used a Murphy door in one of their projects as well. They cleverly hid the kitchen of this home and separated it from the living room without making it look mainstream and boring.
Murphy Door to Pantry
This is not the classic Murphy door since there are no bookshelves involved. The panel actually even looks a bit conspicuous, with that border that surrounds it and even the door-shaped form and structure. This is the interior of a space designed by Farinelli Construction.
Geometric Designed Door
It's easy to hide a secret door in a wall that features a geometric design. The door becomes a part of the pattern and, as Murphy Mears Architects show us here, the shelves are optional. This is the Zaguan House, a single-family residence that they designed in Houston, Texas.
Irregular Shaped Murphy Door
Having a secret room with a secret door in the basement can sound a bit creepy. Just Basements shows us that a beautiful design can change everything. Don't you just love how this irregularly-shaped door is perfectly concealed into the wall?
Seamless Bathroom Door
A secret door can be a fun option when you want to conceal a guest bathroom or a powder room. Hugh Jefferson Randolph Architects were the ones to design this residence. This tiny powder room fits under the staircase. And the door is cleverly concealed as a simple wall, with no hardware to give it away.
Secret Wall Door
When you see a wall that looks like this it's clear that it has something to hide. You just know that something's going on, especially if you've played some video games in your lifetime. What you see here is a secret door disguised as a wall. It's something that Mikhail Riches added to a London House while renovating it.
Murphy Door in a Library
A secret door disguised as a bookcase is pretty cool. And it's hard to spot even when that's the only bookcase in the whole house. Can you imagine this design strategy used in a library? This house, previously a barn, was transformed by Studio Seilern Architects into the amazing and mysterious home you see here.
Frequently Asked Questions (FAQ)
FAQ
What is the purpose of a Murphy door?
These doors are useful for making your house more fun and for concealing secret or private areas. 
How much is it to install a Murphy door?
It can cost you anywhere from $500 to $1,500 to install a hidden door.
How much weight can a Murphy door hold?
It can hold up to 300 pounds.
Do Murphy doors lock?
Yes. You can secure most of these doors with a mechanical key lock.
Murphy Door: Conclusion
It can be nice to have hidden areas of your house behind an unsuspecting bookcase or wall. Let these Murphy door ideas inspire you to create a secret space in your home.