Modern Light Fixtures Can Add Drama and a Stylish Pop of Color
Plenty of advice exists for adding pops of color to your interior and it usually involves sofa cushions or small accessories. Another way to add color with a lot more drama and interest is through the use of colorful lighting fixtures.
Whether your taste runs to bold and bright or softer pastels, you can use lighting to add color to a space, especially if the rest of your room has a neutral color palette. Colorful lighting fixtures also come in a full range of styles, so it's possible to find plenty of choices for your space.
How to choose a ceiling light that you can be happy with
Going shopping for a chandelier or a pendant lamp without any idea of what you're looking for can sometimes work but chances are it will end up being unsuccessful. You might either find out you need more info before you can make a decision or that the chandelier you brought home doesn't actually fit the room. Here's how you can avoid these situations:
Figure out the approximate dimensions of the fixture.
Size is one of the most important things when it comes to light fixtures in general. A chandelier or a pendant lamp that's either too big or too small for the room that it's in will look out of place and not satisfying at all.
To determine the approximate diameter of a light fixture you first need to measure the room. Measure the length and the width of the room in feet, add the two numbers together and transform the value into inches and this gives you the ideal diameter of a light fixture for that particular room.
The height of the fixture is also important. Once again, start by measuring the room. Take the height of the room in feet, multiply it by 2.5'' – 3''/foot, transform the value into inches and this gives you the ideal height of the light fixture.
How low should you be hanging a light fixture?
This is different from the height of the fixture which we mentioned earlier. It's the hanging height of a fixture and this is something which you can usually adjust. It's related to the clearance needed in a room and this depends on the type of space.
Usually we're talking about light fixtures displayed in areas where people walk underneath it like the living room, bedroom, entryway and so on. Unless you have any special requirements, allow 7 feet of space between the bottom of the light fixture and the floor.
This of course is closely linked to the height of the room's ceiling. If you have a space with a high ceiling you can have long and glamorous chandeliers and pendant lamps but keep in mind that you should still plenty of space underneath.
You should also be careful to hang the fixture high enough so it doesn't interfere with the doors or windows in case it's place close to them. If you want to hang a pendant or chandelier in the bathroom you should measure the space between the fixture and the top of the tub, not the floor.
The placement of a ceiling light
Where you actually hang a light fixture is super important because it helps you create focal points and atmosphere. This is also closely related to how the light fixture interacts with the furniture and decorations around it.
In a dining area position your pendant lamps or chandelier directly above the table. Take into consideration the size and shape of the table when you're choosing your light fixture. If you have a round table you should go with a single pendant and if you have a long rectangular table consider multi-light pendants or linear chandeliers.
Typically it's best to hang a light fixture between 28'' – 36'' from the bottom of the fixture to the table top. This way it won't get in the way but it will still be low enough to create a cozy atmosphere.
Hanging a light fixture above the kitchen island is fairly similar. Here you should be using small pendants to add task lighting and to create a nice ambiance. Be sure to space them out evenly. Here's how you can do it:
Measure the length of the island in inches, then based on the number or pendants and their diameter add them up to calculate a combined diameter for all of them. Subtract this number from the length of the island. Divide this value by the number of pendants +1 (to account for the space between the pendants) and this will tell you how much space you should leave between each pendant.
How to choose lighting fixtures for a bedroom
We often tend to not pay much attention to the lighting in our bedrooms because this is just the space where we sleep and we don't keep the lights on for that. However, there's a lot more going on here that we're not thinking about. We also sometimes read in bed, dress up in the morning, watch TV and so on.
All these different activities make the bedroom quite the versatile space and that means there's a lot of variety to account for when it comes to the lighting fixtures. Here's a few tips that can help you choose the perfect fixture based on its type.
Flush-mount and semi-flush-mount ceiling lights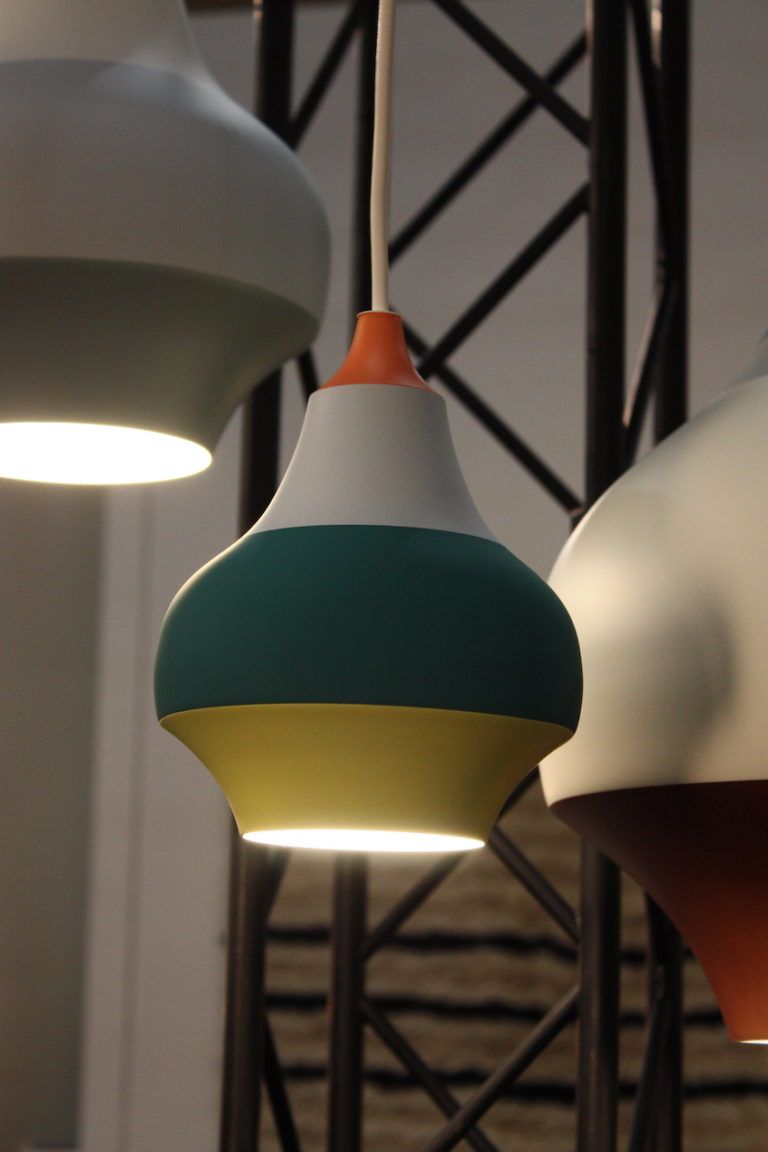 These two types of fixtures are the most suited ones for bedrooms that have a low ceiling. They take up little vertical space and this allows them to be the least obstructive while also being practical.
If you're placing the fixture directly above the bed, since you'll be looking up at it while lying down be sure to choose a design that has a covered bottom. Frosted glass fixtures are great for bedrooms in general because they're not that bright and they're comfortable to look at.
In case you're wondering, a semi-flush-mount fixture is very similar to a flush-mount one but it drops down a few inches on a short rod. It has a bit of depth but not enough to become obstructive in a room with a low ceiling.
For both of these types it's nice to either have a dimmer switch or a remote control so you can adjust the brightness or turn the lights on and off without having to get out of the bed to do so.
Hanging pendant lamps
Pendant lamps are very versatile and can be used in a lot of different types of spaces and in all sorts of configurations. In a bedroom, you can replace the typical bedside table lamps with hanging pendant lights. It's a cool way to free up the nightstand and to draw a bit more attention to the ceiling.
Although you can hang pendant lights in bedrooms with low ceilings, they tend to look best when the ceiling is 10 feel high or more.
Hang pendant lights over the bed or towards the center of the bedroom where they don't get in your way as you're walking and moving around.
Unless you want clear glass for any specific reason, try to stay away from it. Frosted glass is much more soothing in a bedroom.
Chandeliers
The chandelier is by far the most popular type of fixture but it's not as popular in bedrooms as other types are. That's usually because we perceive chandeliers are being very formal and too detailed or glamorous for such a space.
Keep in mind that not all chandeliers are big and glamorous. The smaller kind is actually perfectly suited for a space like the bedroom where it can add a lot of charm and beauty, giving it a bohemian and romantic vibe.
The main downside is that you need a high ceiling to be able to hang a chandelier in the bedroom. It's also easy for the chandelier to overpower the room if you're not careful. Make sure it's not bigger than it needs to be and pay attention to the brightness and intensity of the light it gives out. After all, you don't want to be blinded by the light when you walk into the room.
Avoid hanging the chandelier directly over the bed. It's quite uncomfortable to look up and see all the lights directly overhead when you're trying to relax in bed. Hang the chandelier towards the center of the room or over the lower third of your bed.
Recessed lights
If you want something simple and subtle consider recessed ceiling lights in the bedroom. Their main strong point is the fact that they make low ceilings seem higher. They're also super versatile and you can use them with just about any style.
Don't overdo it with the number of recessed lights in the bedroom. You rarely need more than 8 lights and even as few as four can be enough if the room is small. Space them out and position them around the perimeter of the room.
Recessed lights and dimmer switches go hand in hand so be sure to take advantage of this feature. You can also use recessed lights to define a particular area like a reading nook in your bedroom or a walk-in closet.
Usually, recessed lights are used in combination with other types of fixtures like floor lamps, table lamps or sconces.
Sconces
They're not as popular as pendant lamps or chandeliers but they're a good fit for the bedroom. You can use wall sconces as an alternative to traditional bedside table lamps. Place them to the left and right of the headboard at a comfortable height.
You can expect sconces to look at home in bedrooms that are decorated in a rustic, farmhouse or retro style but also in a modern or contemporary setting. It all depends on their design and the way in which you integrate them into the décor.
Opt for sconces instead of table lamps to free up space on the nightstand or if you're lacking a nightstand altogether.
If you want some flexibility get sconces with adjustable swing arms so you can position the light just where you need it.
Be sure to install the sconces low and close enough so you can easily reach them from the bed.
Floor lamps
You can benefit a lot from having a floor lamp in your bedroom. For example, if you have a single bed or you're not sharing the room with anyone else, put a floor lamp instead of a nightstand on one side of the bed.
You can also use a floor lamp in a small sitting area or in a reading nook if you have space for something like this in your bedroom.
Some floor lamps have upwards-facing bulbs and they're really nice if you want some additional accent lighting in the room. Others direct the light downwards and they're nice if you want to place them next to your bed or use them as reading lights.
Table lamps
A table lamp is basically a must-have in the bedroom. They're typically used in pairs and they sit on our bedside tables and nightstands. Their role is both practical and decorative.
Think of a bedside table lamp as an accessory for the bedroom. Pick a design with a colorful shade or an interesting shape to make a statement and to complement the room's décor.
If you plant to use the lamp for reading in bed be sure that's a bit taller than your nightstand so the light doesn't bother you yet is still close enough for comfortable reading.
Position the lamp's switch close enough so you can easily reach it from the bed without having to stretch or to get up.
How to properly use wall sconces
Wall sconces are more practical and versatile than we give them credit for. There's a ton of different types and styles to choose from and you can put them in pretty much any room of the house as well as outside. What's tricky though is finding the right placement for the sconce. This is done differently in the case of each room.
Sconces in the bedroom
Sconces are usually used in bedrooms as reading lights. Based on that, determining their proper location is done by actually getting in bed and sitting in the position that you would normally have while reading.
Once you've assumed this position, measure a few inches above your shoulder and a bit to the side so it doesn't get in the way or overlap the headboard.
The placement doesn't have to be exact if the sconce has a flexible arm or can be adjusted. Also, you should choose a height that works for everyone, not just yourself.
Position the sconce close enough so you can easily reach the switch or adjust the light without having to get out of the bed or stretch. If you're not a fan of symmetry, you can have a single sconce positioned in the middle above the bed.
Kitchen sconces
In the kitchen, sconces can be used in addition to ceiling-mounted fixtures as a way to add task lighting to specific areas. For example, you can have a sconce placed above the sink to shed some extra light here at night. Sconces can also be used to illuminate the countertop.
Pay special attention to the height at which you place sconces in the kitchen. Generally they should sit 60'' from the floor and at least 24'' above the countertop. This way they don't become an incumbrance when you're cooking or cleaning.
Use sconces to illuminate parts of the kitchen that you use the most or to highlight certain features and design details. For example, place sconces above the windows or on either side of a window so the natural and artificial light come from the same place.
Sconces in bathrooms
In the bathroom, sconces are often used to light up the mirror and the area around the sink. Placing the light directly above the mirror can be space-efficient and practical but not great from an aesthetic perspective as the light coming from above creates unflattering shadows in the mirror.
Placing two sconces on either side of the vanity is better if you have the space of course. Install the sconces around eye level to prevent ugly shadows. This usually means 60''-65'' from the floor but can differ from person to person.
Keep in mind that you might not be the only one using the bathroom so be sure the lights are installed in a way that's comfortable for everyone.
Sconces in entryways and hallways
Wall sconces are a practical way to light up entryways and hallways because they're practical, they create pleasant lighting and they also look beautiful.
You can get creative with the placement of your sconces in these areas. Position them above a bench, use them to frame a console table, to highlight a beautiful painting or a decoration or to add some extra light to a reading nook for example.
Where and how you should use a floor lamp
Floor lamps are extremely versatile which means there's a lot of different spaces and situations where they fit like a glove. Just looking around the house you can probably come up with a few spots that could definitely benefit from a floor lamp. Here's a few ideas:
Place a floor lamp next to the living room sofa. It's a nice way to create a comfortable and inviting atmosphere even when the light is off. Lamps are not just sources of light but also great decorations.
You can substitute one of the bedside tables in the bedroom for a floor lamp. This way the room won't look as symmetrical and you'll have another source of light in here in case you want to do some reading in bed or to create a romantic atmosphere.
There's also a place for a floor lamp next to a console table in the entryway or in a hallway. This is actually a great way to add some verticality to a space that's usually quite narrow. A lamp would also make the entryway look more warm and inviting not just for you but for your guests as well.
Of course, a floor lamp would be a perfect addition to a reading corner or a small and intimate sitting area. Pair it with a comfortable armchair and an accent table and you get the perfect combo.
Another good place for a floor lamp is a home office. Here you can have the lamp sit next to your desk or in the corner of the room. It will create a cozy ambiance, especially at night. It can even replace your ceiling light if you prefer dim lighting while working.
You can have more than one floor lamp in a room, especially if the area is quite large, like an open plan living/ dining/ kitchen for example. A pair of matching lamps could be used to create a comfy ambiance in the living area as well as to visually delineate it from the rest of the floor plan.
It could also be interesting to play with multiple types of light fixtures and light sources and to have floor lamps that complement the ceiling lights or table lamps and sconces that work in tandem with the floor lamps to create the perfect ambiance.
Modern lighting fixtures design ideas
Geometric chandelier with dark turquoise accents
The Original1227 Giantby Anglepoise is a tremendously fun fixture no matter what color you buy it in, but if you choose a bold color, all the better. The iconic lamp's huge version was originally commissioned by the Roald Dahl Museum and Story Centre.
Oversized version of the classic desk lamp
In spring of 2016 at Salone de Mobile in Milan, Aran Kitchens included these simple but colorful pendants over the counter in their exhibit and they were quite the draw. Even though the wall covering is a dramatic print, its neutral gray tints mix well with the minty huesof the pendants.
Lightweight pendants in soft pastels
Colored lighting is also available in warmer tones, such as in these modern glass pendants from Capellini. Shiny and round, the interior glass shade adds another dimension and is a fresh deign.
Cute and colorful glass pendants with shiny shades
Simple and subtle with a colorful interior
A more subtle pop of color is an option when you choose a fixture where the color is on the interior, instead of the exterior as in this wooden pendant by Donald Baugh. The Crown Pendant has a curvaceous and profile made of solid wood with ahand-sprayedinterior color.
Subtle color can all be added through a softly tinted glass fixture such as this one from Feyz Architecture and Design Studio. While their "Lean Light" has attracted a lot of attention for its unusual style of leaning against the wall, this simple hand blown pendant is equally attractive for adding a softer touch of color to room.
Hand-blown glass pendant featuring tinted glass
Or, go for the bold with one or more brightly colored pendants to illuminate your space.
Fun and bold pendant collection in bright colors
If blown glass is more your style, you can still have boldly colored fixtures.Niche Modern, located in New York's Hudson Valley, has a variety of styles that you can have in bolder colors.
Quirky blown glass pendants in vivid colors
Kelos Handmade Glass also offers colorful blown glass pendants in some very different configurations. These are long enough that they would be appropriate for use in a space with a high ceiling. Hanging pedants of varied colors at different heights makes for a dramatic collection.
Subtle colors and artistic glass shapes
If you can't commit to a permanently installed fixture right away, a good way to try out a bold color is with a desk lamp. These Z-Bar lamps from Koncept are a bright and functional option for trying out a small pop of color.
Minimalistic desk lamps in fun colors
If that's too modern, Lisa Fay Design has a small but fabulously colorful table lamp that is another good way to sample some colored lighting on a smaller scale.
A colorful take on a small and simple table lamp
Or, you can choose color that comes in part from the light source, as in this light sculpture from ERA Studio of Milan. A dramatic tower of light is as much art as it is a light fixture. Strategically place this in your living area and you will definitely have a conversation piece.
Tower-inspired light sculpture
Colored light fixtures can also be whimsical. These mushroom=shaped lamps might not be bold in color but they are certainly bold in design. Created by Pierre Marie Giraud, they offer more than just a pop of color for a table or nook.
Adorable table lamps that look like mushrooms
Hip Haven offers all the bright pops of color that you might want for your space. Known originally for its colorful Bullet Planters, the company has now transformed the shape in to modern light fixtures. Hip Haven says it is inspired by 20th-century modern style, but with accents that allow it to be "interpreted in new and interesting ways."
Classic hanging pendants in modern colors
Of course, color can come in the form of prints, not just solids. These graffiti-inspired lampshades from Art2lights are "Where Street Art Meets Designer Lighting." Since you can choose from their selection or order your own custom shade, the design can be as bold or monochrome as you desire.
Stylish lamps with graffiti-inspired prints
Tom Dixon's Cell light adds color, light and plenty of drama to any wall. The light is said to mimic cellular growth. The lights can be used individually or grouped in a collection to cast a multitude of interesting shadows.
Modular honeycomb wall lamps that mimic organic cells
Nanoleaf, know for their imaginatively shaped innovative light bulb have come up with Aurora, a modular wall lighting unit that you can program to light up in colors. You choose the configuration as well as the colors that shine, and any changing patterns that you like. It's a really exciting piece of interactive wall lighting.
Triangle-shaped wall lights that you can create patterns with
In a minimalist decor, a few small pops of color on a wall can go along way. Rather than use wall art, sconces like The Ingo by James Dieter can provide interest and be functional. Available in a variety of combinations, these are a good way to add color without fussiness.
A sculptural sconce that looks like a piece of modern art
Koncept's Gravy Wall Sconce is another option for trying out a smaller does of color.The light's circular design and cord-free joint allow it to be faced in any direction, depending upon your need. The colored round is sleek enough for any modern space.
Circular wall lamps with a highly adjustable design
You can't go much bolder than red, and these vintage pendants from Galerie Kreo are great retro color statement. Made of red lacquered perforated metal and opaline glass, the grouping is perfect for a kitchen or dining room.
Vintage pendant lamps in classic red
While not vintage, these retro shades from Moonshine Lamp and Shade offer plenty of options for color, especially if you tend to prefer a retro vibe. You can also get the shades for table and floor lamps, so it's easy to sample colored lighting.

Retro hanging lamps in all sorts of colors
This Tube Top Lamp, by Pablo is shown here in a sedate brown, but it is available in a range of candy colors including pink, canary yellow and lime green.
Contemporary desk lamp with masculine lines
The Nest pendant from Potocco is a unique hand crocheted fixture done in a nautical rope suitable for indoors or out. Designed by the Davide Gallo Ouch Studio, it is also available in bright red, purpose and green.
Crocheted hanging pendants in three beautiful colors
Even traditionally shaped lampshades, if done in bright colors, offer a fresh look to a space, as do these from Potocco.
Traditional pendants with bold color accents
For a more daring take, there's always a multicolored fixture like Cirque from Louis Poulsen .The shaped exterior is painted in stripes and does indeed evoke an old-fashioned circus tent. The pendant casts a downward, glare-free soft light thanks to a white lacquered inner reflector.
A multicolored pendant with stylish stripes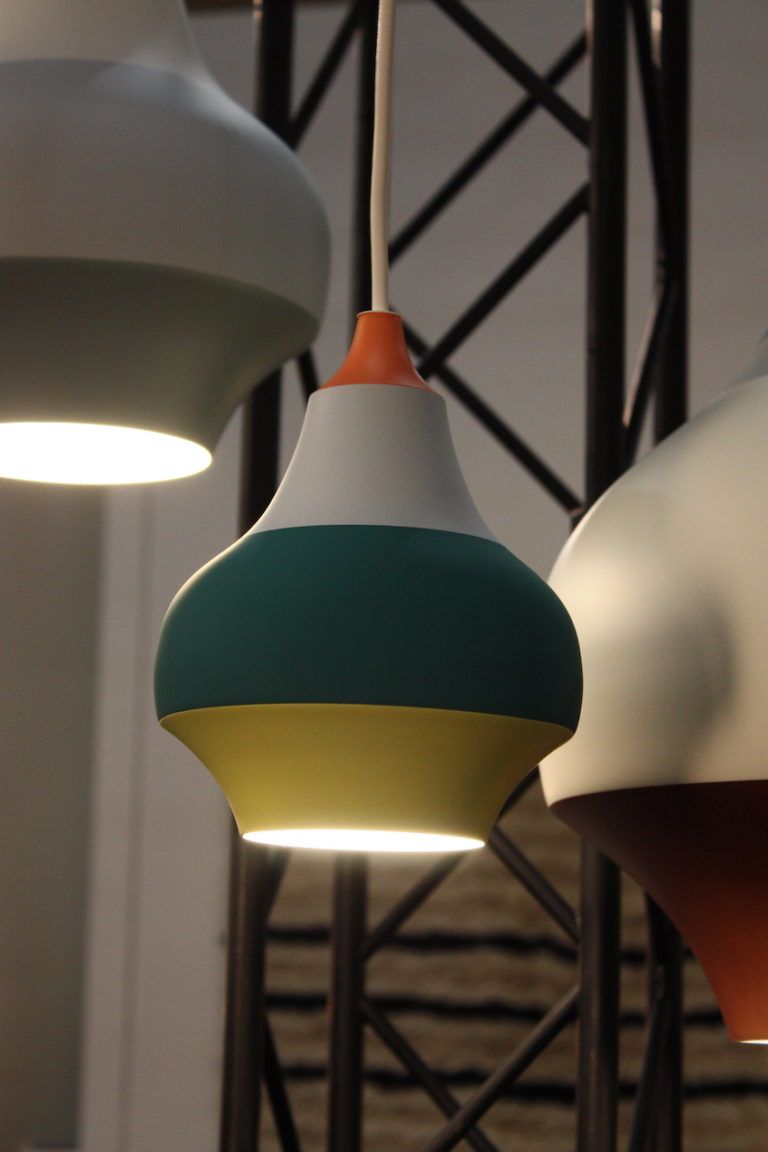 Airy and light doesn't mean a modern light fixture can't provide color. This woven pendant is the Lijaby That One Piece of the Philippines.
Large woven pendants in bright colors
Color and form come together in this spectacular pendant of giant glass crystal shapes by Jeff Zimmerman for R and Company. Deserving of a central space to wow visitors, this fixture is an amazing work of glass art.
A chandelier made of giant glass crystals
A contemporary take on an old artist stained glass sculpture art that is serves as lighting . If you're into music as well, then you will want to take a look at Paul Heller's designs for his company, Stained Glass Sculpture Art. There are colorful pieces of all sizes, many in the shape of musical instruments as well as other objects.
Wall lamps that looks like stained glass art
The Noga fixture by Shakuff is composedof diagonal glass cubes that are made modern with their organic edges. An assortment of cubes in strong colors is a breathtaking fixture.
Colorful glass cubes that you can mix and match
The Koi Pond Chandelier by Tracy Glover Objects and Lighting is a collection of 13 tinted, luminous blown glass pendants that resemble molten blobs. Illuminated by LEDs, the softly colored individual fixtures float and sparkle thanks to the lustrousfinish.
Sparkling blown glass pendants that look like molten blobs
The most innovative fixtures from a purelytechnological standpoint are Two Parts. The 3D printed fixtures and hidden LEDs make the construction truly unique, but the colors are also outstanding for adding interest to a space.
3D printed ring pendant with hidden LEDs
Mr. GO! from Koncept is another option for a small but bright dash of color. Because this pieceis totally portable, you can easily move the USB chargeable fixture around in your home, and even outdoors.
Contemporary wireless lamps with USB ports
Vondom has loads of options for colored lighting that's suitable for indoors or out. This Bloom Lamp, like many of the company's other pieces, is illuminated from within and can glow with your choice of color.
Funky floor lamps for indoor and outdoor use
Even if you love a neutral color palette, the strategic use of color can enliven a room and give it a fresh look. Using lighting to provide a pop of color is a modern way to elevate a space not matter what your decorating style.