Light Fixtures Can Add Drama and a Stylish Pop of Color
Plenty of advice exists for adding pops of color to your interior and it usually involves sofa cushions or small accessories. Another way to add color with a lot more drama and interest is through the use of colorful lighting fixtures. Whether your taste runs to bold and bright or softer pastels, you can use lighting to add color to a space, especially if the rest of your room has a neutral color palette. Colorful lighting fixtures also come in a full range of styles, so it's possible to find plenty of choices for your space.
This funky chandelier from the Andrea Clair Studio falls somewhere between bold and bright and more subdued. When lit, the color is more prominent, but when dark, it's a bit more tempered. Regardless, it is a sensational addition of color.
The Original 1227 Giant by Anglepoise is a tremendously fun fixture no matter what color you buy it in, but if you choose a bold color, all the better. The iconic lamp's huge version was originally commissioned by the Roald Dahl Museum and Story Centre.
In spring of 2016 at Salone de Mobile in Milan, Aran Kitchens included these simple but colorful pendants over the counter in their exhibit and they were quite the draw. Even though the wall covering is a dramatic print, its neutral gray tints mix well with the minty hues of the pendants.
Colored lighting is also available in warmer tones, such as in these modern glass pendants from Capellini. Shiny and round, the interior glass shade adds another dimension and is a fresh deign.
A more subtle pop of color is an option when you choose a fixture where the color is on the interior, instead of the exterior as in this wooden pendant by Donald Baugh. The Crown Pendant has a curvaceous and profile made of solid wood with a hand-sprayed interior color.
Subtle color can all be added through a softly tinted glass fixture such as this one from Feyz Architecture and Design Studio. While their "Lean Light" has attracted a lot of attention for its unusual style of leaning against the wall, this simple hand blown pendant is equally attractive for adding a softer touch of color to room.
Or, go for the bold with one or more brightly colored pendants to illuminate your space.
If blown glass is more your style, you can still have boldly colored fixtures. Niche Modern, located in New York's Hudson Valley, has a variety of styles that you can have in bolder colors.
Kelos Handmade Glass also offers colorful blown glass pendants in some very different configurations. These are long enough that they would be appropriate for use in a space with a high ceiling. Hanging pedants of varied colors at different heights makes for a dramatic collection.
If you can't commit to a permanently installed fixture right away, a good way to try out a bold color is with a desk lamp. These Z-Bar lamps from Koncept are a bright and functional option for trying out a small pop of color.
If that's too modern, Lisa Fay Design has a small but fabulously colorful table lamp that is another good way to sample some colored lighting on a smaller scale.
Or, you can choose color that comes in part from the light source, as in this light sculpture from ERA Studio of Milan. A dramatic tower of light is as much art as it is a light fixture. Strategically place this in your living area and you will definitely have a conversation piece.
Colored light fixtures can also be whimsical.  These mushroom=shaped lamps might not be bold in color but they are certainly bold in design. Created by Pierre Marie Giraud, they offer more than just a pop of color for a table or nook.
Hip Haven offers all the bright pops of color that you might want for your space. Known originally for its colorful Bullet Planters, the company has now transformed the shape in to modern light fixtures. Hip Haven says it is inspired by 20th-century modern style, but with accents that allow it to be "interpreted in new and interesting ways."
Of course, color can come in the form of prints, not just solids. These graffiti-inspired lampshades from Art2lights are "Where Street Art Meets Designer Lighting." Since you can choose from their selection or order your own custom shade, the design can be as bold or monochrome as you desire.
Tom Dixon's Cell light adds color, light and plenty of drama to any wall. The light is said to mimic cellular growth. The lights can be used individually or grouped in a collection to cast a multitude of interesting shadows.
Nanoleaf, know for their imaginatively shaped innovative light bulb have come up with Aurora, a modular wall lighting unit that you can program to light up in colors.  You choose the configuration as well as the colors that shine, and any changing patterns that you like.  It's a really exciting piece of interactive wall lighting.
In a minimalist decor, a few small pops of color on a wall can go along way.  Rather than use wall art, sconces like The Ingo by James Dieter can provide interest and be functional.  Available in a variety of combinations, these are a good way to add color without fussiness.
Koncept's Gravy Wall Sconce is another option for trying out a smaller does of color. The light's circular design and cord-free joint allow it to be faced in any direction, depending upon your need. The colored round is sleek enough for any modern space.
You can't go much bolder than red, and these vintage pendants from Galerie Kreo are great retro color statement. Made of red lacquered perforated metal and opaline glass, the grouping is perfect for a kitchen or dining room
While not vintage, these retro shades from Moonshine Lamp and Shade offer plenty of options for color, especially if you tend to prefer a retro vibe. You can also get the shades for table and floor lamps, so it's easy to sample colored lighting.

This Tube Top Lamp, by Pablo is shown here in a sedate brown, but it is available in a range of candy colors including pink, canary yellow and lime green.
The Nest pendant from Potocco is a unique hand crocheted fixture done in a nautical rope suitable for indoors or out. Designed by the Davide Gallo Ouch Studio, it is also available in bright red, purpose and green.
Even traditionally shaped lampshades, if done in bright colors, offer a fresh look to a space, as do these from Potocco.
For a more daring take, there's always a multicolored fixture like Cirque from Louis Poulsen. The shaped exterior is painted in stripes and does indeed evoke an old-fashioned circus tent. The pendant casts a downward, glare-free soft light thanks to a white lacquered inner reflector.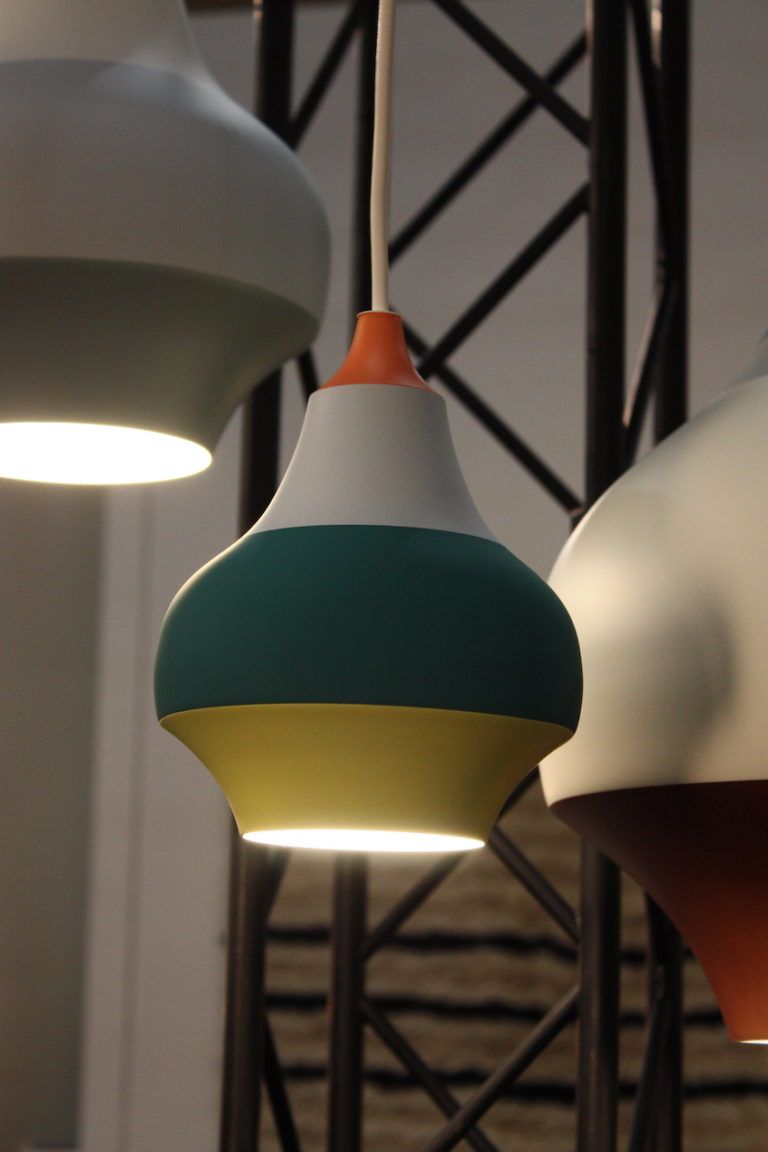 Airy and light doesn't mean a modern light fixture can't provide color. This woven pendant is the Lija by That One Piece of the Philippines.
Color and form come together in this spectacular pendant of giant glass crystal shapes by Jeff Zimmerman for R and Company. Deserving of a central space to wow visitors, this fixture is an amazing work of glass art.
A contemporary take on an old art is stained glass sculpture art that is serves as lighting lighting.  If you're into music as well, then you will want to take a look at Paul Heller's designs for his company, Stained Glass Sculpture Art. There are colorful pieces of all sizes, many in the shape of musical instruments as well as other objects.
The Noga fixture by Shakuff is composed of diagonal glass cubes that are made modern with their organic edges. An assortment of cubes in strong colors  is a breathtaking fixture.
The Koi Pond Chandelier by Tracy Glover Objects and Lighting is a collection of 13 tinted, luminous blown glass pendants that resemble molten blobs. Illuminated by LEDs, the softly colored individual fixtures float and sparkle thanks to the lustrous finish.
The most innovative fixtures from a purely technological standpoint are Two Parts. The 3D printed fixtures and hidden LEDs make the construction truly unique, but the colors are also outstanding for adding interest to a space.
Mr. GO! from Koncept is another option for a small but bright dash of color. Because this piece is totally portable, you can easily move the USB chargeable fixture around in your home, and even outdoors.
Vondom has loads of options for colored lighting that's suitable for indoors or out. This Bloom Lamp, like many of the company's other pieces, is illuminated from within and can glow with your choice of color.
Even if you love a neutral color palette, the strategic use of color can enliven a room and give it a fresh look. Using lighting to provide a pop of color is a modern way to elevate a space not matter what your decorating style.