10 Modern Houses From Norway Showcase Their Minimalist Beauty
What does a typical Nordic house look like? We can all guess that it would most certainly have a simple aesthetic, with a modern yet also timeless look. However, when it comes to specifics, it's best to have a look at some actual houses and see what makes them stand out. With that in mind, today we're showing you 10 beautiful projects from Norway.
Mylla Hytte by Mork-Ulnes Architects
As you might already know, cabins are pretty popular in the Nordic countries and they're a big part of Norwegian culture. A lot of modern houses are thus inspired by them. One example is a project completed by studio Mork-Ulnes Architects in 2017. This is a house located at the northern edge of Nordmarka.
The location was an important factor in this case. it was chosen for its easy access to skiing and fishing areas and its proximity to Oslo. The house itself is quite small which is something that can be said about most Norwegian homes. It has three bedrooms, two baths, a small annex, a storage area for bikes and ski equipment and a sauna.
Cabin at Troll's Peak by Rever & Drage Architects
This
modern cabin
is located in Sunndal and was designed by studio
Rever & Drage Architects
. It's built using traditional craftsmanship and locally-sourced timber and it follows a traditional aesthetic with subtle modern influences. It was designed to be durable and able to withstand the harsh weather conditions but also to take advantage of its beautiful location.
The overall design of the cabin is fairly eclectic, as the structure is visually organized into four separate areas, each with a distinct appearance that contrasts with all the others. The cabin is meant to serve as a cozy retreat for its owners, a place for them to spend time during their skiing and hiking trips, where they can change, dry their clothes and relax while admiring the panorama.
Outside In House by Jarmund / Vigsnæs Architects
This is a seaside retreat located on the south coast. It sits in a beautiful clearing within a forest, on a sloping site that gently descends towards the sea. Given these specificities, certain restrictions were imposed in terms of overall design and structure but at the same time this presented a great opportunity to create a close and amazing relationship between the house and its surroundings.
The house was designed and built by Jarmund / Vigsnæs Architects and is fairly enclosed due to the fact that there's public access to the site. The house has a beautiful courtyard sheltered from the harsh winds, with clear view towards the sea and the forest. In fact, the majority of the spaces enjoy views towards the sea, the coastal landscape thus becoming a part of the house's design and decor.
Selestranda House by bark arkitekter
This house was originally built in 1961 by architect Atle Sørby so it has a rich history behind it and lots of character. Recently it has been renovation and remodeled and that was done by studio bark arkitekter. They seeked to give it a modern refresh while making sure to respect its original architecture and to preserve the elements worth preserving.
Overall, this house features an amalgam of modern and local influences which gives it a rather eclectic appearance. It has a pitched roof which has been pulled down, creating a shell around the entire structure. This helps it withstand the harsh weather conditions and also gives it a unique and distinguishable appearance. In addition to the main cottage there's also a new annex which houses a bedroom, a bathroom and a storage area, allowing the main volume to focus only on the social functions.
Nisser Micro Cabin by Feste Landscape / Architecture
As you may have noticed, Norwegian houses are quite small. This cabin situated on Nisser Lake in Telemark is a perfect example, featuring a floor plan of only 26 square meters in total. Even though it's small, the cabin can accommodate up to seven people. It was designed and built by studio Feste Landscape / Architecture.
We said it's on the lake because it's actually a floating cabin. It was designed on stilts due to local planning restrictions and its ultimate goal is to maximize the user's experience of the lake as well as the beautiful surrounding landscape. It does that by highlighting the views through the glazed facade and relying on the covered terrace to create a seamless transition between the indoor and the outdoor.
Cabin Ustaoset by Jon Danielsen Aarhus MNAL
A lot of times cabins are only used occasionally…usually during winter or as a weekend retreat. Not this one however. This is a cabin designed to be used all year round. It was built by studio Jon Danielsen Aarhus MNAL and is situated at an altitude of 1066 meters (3,500 ft) above sea level, at the foot of the Hardangervidda mountains. There's no road connection so everything had to be transported on site via helicopter and snow scooter.
The cabin sits on a series of pillars embedded into the bedrock. Its interior and exterior are clad in pine. It's well insulated in order to be able to withstand the harsh weather condition and features solar protected glass panels which welcome inside the wonderful panorama, turning the scenery into live paintings which can be enjoyed from within the cozy indoor areas.
Cabin Geilo by Lund Hagem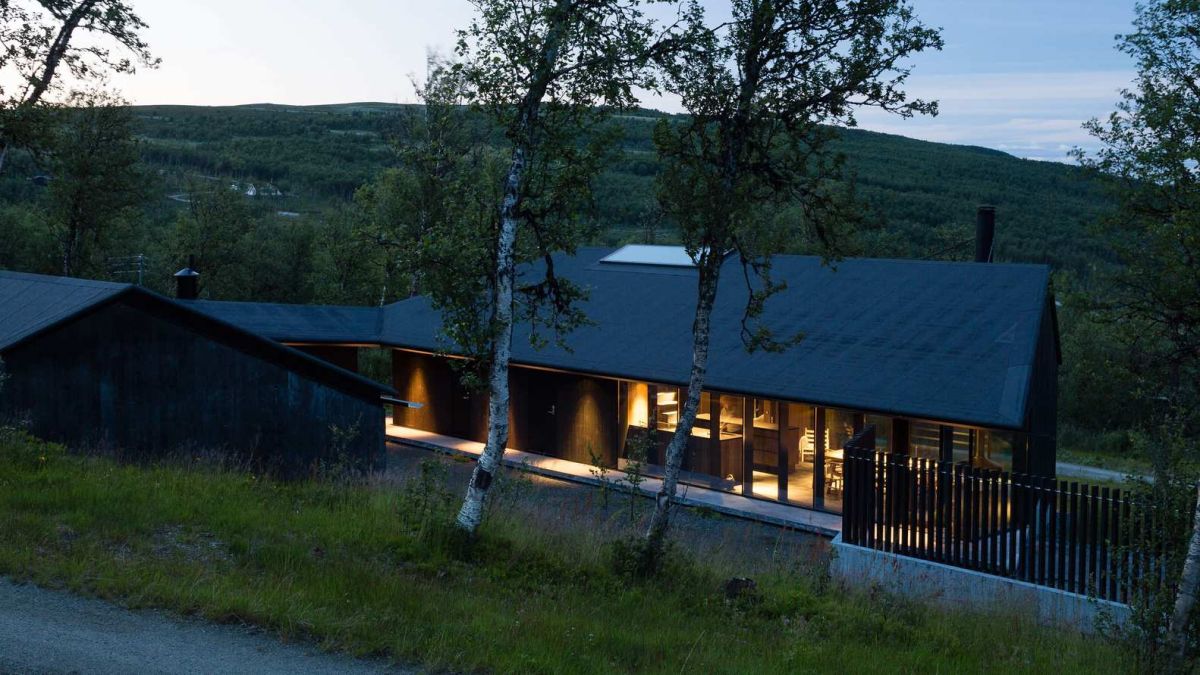 Here's yet another beautiful cabin from Norway. This one was designed and built by architecture studio
Lund Hagem
and sits 982 meters above sea level, enduring harsh weather condition and heavy snowfall during winter. However, it's all worth it just by looking at the mesmerizing view of the valley which unfolds just meters away from the cabin.
The site on which the cabin was built is remote and only accessible by sky or snowmobile during winter. That definitely imposed a few limitations during the construction process. The cabin offers 150 square meters of living space in total, organized into three volumes. There's the main volume, the guest area and the carport. They form an inner courtyard sheltered from the winds.
K21 Skardsøya by TYIN Tegnestue Architects
This right here is a 60 square meter cabin which was designed and built by studio TYIN Tegnestue Architects. It's a contemporary interpretation of the traditional cottage and it features a modern and minimalist aesthetic but at the same time it keeps alive the close connection between architecture and nature. Although modest in size, the cottage stands out.
The architects focused a lot on the sustainable nature of the project, making this an energy-efficient dwelling. They also wanted the project to have minimal impact on the surroundings. Just 100 meters from the sea, the cabin enjoys a wonderful view which it highlights and frames beautifully. It has a concrete base and it's organized on three different levels.
Villa Vatnan by Nordic Office of Architecture
Designed by
Nordic Office of Architecture
, this house is situated on the edge of a residential area from Trondheim, Norway. Even though the architectural vision for this project was a very simple one, the steep topography made it quite challenging. The owners wanted this to become their dream home and to be a cozy everyday house as well as a great entertainment venue for friends and extended family.
All the main social areas are connected and share an open floor plan while the private functions enjoy plenty of privacy. The main floor is actually one level above the natural entrance and this was a strategic design decision which allowed the architects to take full advantage of the views and the natural sunlight coming in through the large windows. The floor plan is long and linear which was also a strategic decision in response to the weather conditions in this area and the winds in particular.
Hadar's House by Asante Architecture & Design
This small seaside retreat blends in with its surroundings and becomes one with nature. It was a project developed by studio Asante Architecture & Design as part of a larger initiative focused on creating modern Norwegian houses and forming a dynamic village where one can live, work and relax, enjoying everyday life to its fullest.
This small house offers beautiful views of the sea from all its rooms. In total it's comprised of 60 square meters of living space organized into two volumes. The smaller unit contains and the entrance and the bathroom while the larger volumes houses the kitchen, living room and a loft bedroom. The units are slightly offset and they're both elevated in response to the coastal topography of the land.