Modern Handrail Designs That Make The Staircase Stand Out
A beautiful staircase has the potential of becoming a stunning focal point in any home. In fact, the staircase is an accent piece by nature. It has been an eye-catching element from the beginning and, as its design evolved over the years, its status never changed. In fact, it became more and more important and interior designers have made it the star of their projects.
But a beautiful staircase is defined by several aspects. The design is, of course, very important. But, most often, it's the handrail that makes it stand out. The handrail has gradually transformed from a simple element designed to provide safety and protection to a wonderful and chic design detail. Some staircases have given up the handrail completely in order to achieve a more minimalist look.
But the handrail is an important structural component of any staircase. It can either blend in and have a subtle design or it can be an accent detail that stands out. Modern handrails come in many different shapes and models. Most often they are made from wood or metal and they are simple. But there are also cases when the handrail can have a more artistic look and this allows it to stand out even more.
Wooden handrails.
This staircase features a very chic type of guardrail. It's made of clear glass with a thin and beautiful handrail. It has a delicate shape with beautiful curves and it stands out with its sleek shape and elegant finish. The color is also complementing the décor beautifully.
Even though most modern staircases have sleek and minimalist designs, it's not always the case. This one, for example, features a more classical type of handrail. Both the stairs and the guardrail are made of wood and have relatively simple but strong and sturdy constructions.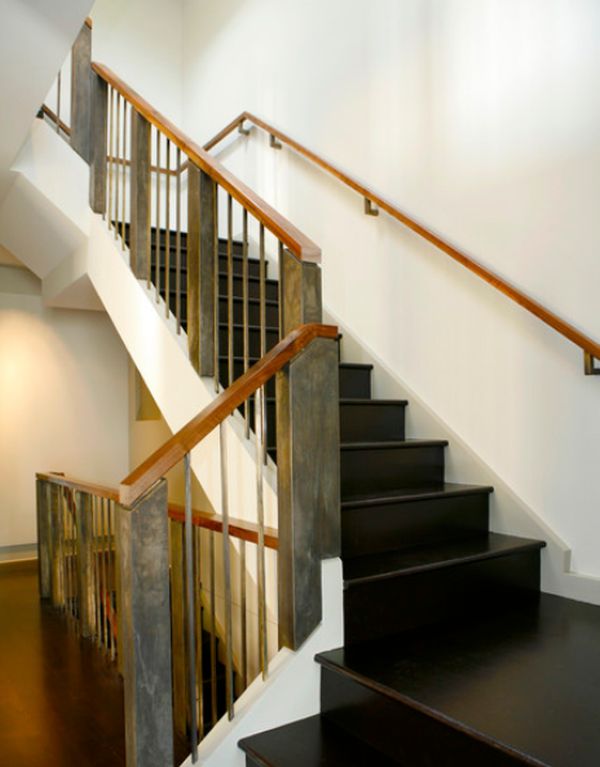 In the case of this contemporary staircase, the surprise element is the contrast between the stairs and the guardrail. The stairs are black and very simple while the guardrail has a rustic look. It's very charming but it also contrasts with the chic and classical wooden handrail that has a different style and finish.
For this modern staircase, the design is cohesive and chosen to seamlessly integrate into the décor. The wooden stairs match the flooring and the handrail has a very similar look. The black accents and the clean, straight lines accentuate the minimalism of the design.
In this modern residence, the staircase almost completely disappears into the décor. It has the same color and it's made from the same material as the flooring which also matches the walls. The only element that stands out is the handrail which is made from a combination of glass and wood.
A similar design was chosen for this staircase as well. The guardrail is made of glass panels mounted of metal supporting structures while the handrail is made of wood and has a simple design. It follows the structure and adds softness to the design by contrasting with the geometrical shapes of the glass panels and stairs.
A very common combination in the case of modern staircases is that between wood and metal. That's because the resulting design is usually somewhere between classical and contemporary. This staircase has a metal structure with the stairs and handrail made of wood.
Of course, the classical design with wooden guardrails made of parallel, thin pieces placed vertically and held together by a simple handrail, also made of wood is always beautiful. It's a design that can be easily adapted for all types of designs and decors.
A simple and stylish way to make the staircase look simple yet chic and eye-catching is to use contrasts. In this case, for example, the wooden stairs sit on a crisp white background and the metal guardrail with wooden handrail frame them beautifully.
Contrasts can also be created in many other ways. This staircase is entirely made of wood but the differences in finish and color make it stand out. The black portions add a certain elegance to the design while the wooden handrail gives it a classical and casual look.
Metal handrails.
A metal handrail tends to have an industrial-style influence but it can also feature a classical design like the one in this example. It's actually a very simple design and the metal handrail provides support as well as a subtle contrast of color and texture.
Chromed metal handrails have a more clean and modern appearance but they are also more difficult to integrate into decors. Here the handrail matches the floor lamp so there is continuity in the décor. It's a subtle but interesting accent detail that contributed to an overall cohesive look.
In a contemporary home, straight lines and angles are often a very common motif. Here, for example, the same details were used for the handrail, stairs and furniture but the décor also features complementing shapes and forms.
In this particular home, on the other hand, the handrail features a very nice curved shape. It has a minimalist design and it's only supported in two points. Its chromed finish complements the décor colors beautifully and creates a very nice transition from one area to another.
Here we have another contemporary home but the staircase features an eclectic design. It has strong and sturdy metal handrails featuring cylindrical shapes but the supporting pillars feature straight lines and are made of wood. The carpeted stairs are also dominated by a different influence yet the whole design is cohesive.
Here we have another example of a simple yet contrasting and eye-catching handrail. The stairs are made of wood and they have a very nice golden stain. The guardrail is made of metal and it's painted black. The contrast of materials and colors is strong but beautiful.
This beautiful contemporary home with stunning high ceilings also has an impressive staircase. It's long and simple, mainly made of wood. The guardrail is transparent and made of glass and the handrail is made of metal and features a sleek look with a neutral chromed finish.
Even though they are quite rare, staircases that are entirely made of metal can be an interesting focal point. They usually have an industrial-inspired look. In this case, what's interesting is the fact that the staircase features different types of finishes and colors which crate a subtle contrast.
This modern staircase seems to have been designed to match the windows. It's made of a combination of wood and metal. The guardrail is made of metal and has a classical design. It's strong and sturdy but it also provides a certain transparency that doesn't overwhelm the décor.
This staircase is interesting for several reasons. For example, it's made of concrete and featuring a beautiful stainless steel handrail with strong horizontal threads. It's an interesting combination of materials but the overall design is quite light and sleek.
This modern staircase features carpeted stairs which are a few nice detail that gives it a warm and casual look. The metal and glass handrail is also sleek and stylish. It's simple and gives the staircase an airy and light look. The colors and finishes combine beautifully as well.
Artful handrails.
The staircase is also a design element that provides you with the opportunity to add an artistic touch to the décor. This minimalist staircase, for example, features a very interesting handrail. It's not a separate element but it's actually a part of the wall which has been sculpted.
This contemporary staircase features a truly spectacular design. The stairs appear to be floating in the air. The guardrail is also a very interesting detail. The handrail is simple but it models its shape to create an interesting visual effect that complements the whole design beautifully.
This might be a traditional staircase but its handrail is quite unconventional. This actually used to be an old ski lift cable. It has been repurposed and turned into a unique and eye-catching railing. It's the perfect solution for the curved wall and it also adds character to the staircase.
If you prefer a more modern design for your staircase, then maybe these LED-lit handrails would be a good solution. They are great for modern and contemporary home as well as for restaurants and night clubs. They light the way while also adding a touch of fantasy to the décor.
Here's another example of an amazing contemporary staircase design. It's a spectacular spiral staircase with floating stairs and curve glass handrails that beautifully follow its shape. It's the perfect solution for an airy décor and it also has a dramatic effect, serving as a focal point for the décor.
Usually guardrails that feature transparent glass panels also have metal or wooden handrails or railings. This one, however, is entirely made of glass. This means that there's nothing to highlight its design and shape and this way it becomes a wonderful transparent feature, perfect if you want to maintain and airy décor.
Picture sources: 1, 2, 3, 4, 5, 6, 7, 8, 9, 10, 11, 12, 13, 14, 15, 16, 17, 18, 19, 20, 21, 22, 23, 24, 25, 26, and 27.