Maisons du Monde Offers Up Eclectic Style with Comfort and Flair
While hundreds of famed international art galleries gathered in Miami for Art Basel and the other fairs, one of France's famous furniture and home decor companies also made an appearance in Miami: Maisons du Monde officially opened the doors to its first store in the United States. Known for its globally inspired products that have universal appeal, the store is fittingly located in Wynwood, one of Miami's hubs of creativity.
Homedit was there for the launch — including the special events featuring Dabito of "Old Brand New" and "The Jungalow®"'s Justina Blakeney who discussed styling, trends in decor, and what they're planning for their own holiday celebrations.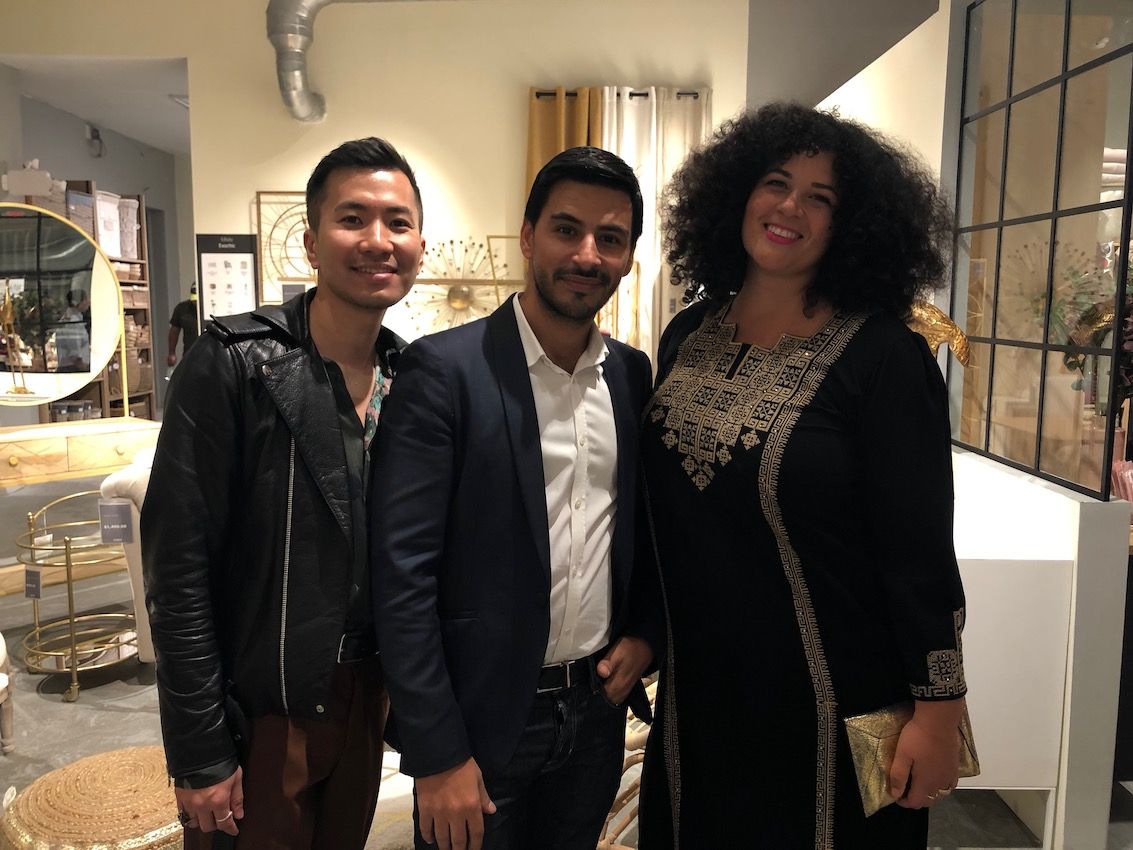 Wildly popular in Europe, the Maisons du Monde brand offers a wide range of frequently changing products in a full spectrum of prices, from very affordable to high end. At the opening, we spoke with Anne-Laure Couple, brand executive director, about the store, the collections it offers why it is launching in Miami.
"We chose Miami because we have a relationship with Modani Furniture and because Miami is at the center of art and creativity and the DNA of our brand is creativity," said Couple. Earlier in 2018, Maisons du Monde acquired a 70 percent stake in Modani, which is an aspirational lifestyle brand based in Miami that has 10 showrooms across the United States.
"And, we chose Wynwood because it's very happening and very international," she added. While the Wynwood store is smaller than the typical outpost in Europe, the collections presented are the same, albeit edited down to fit the space.
Speaking of collections, "the strength of our brand is the number of styles we have. We launch five to six collections every few weeks each season," Couple explains. "About every three weeks we launch a story." The collections are all appropriate for mixing and matching.  "We don't want to tell someone what style to buy. They can mix and match from all the collections and parts of the store. We want to help them tell their own story with the products in our store," she says.
Here's a peek at the winter collections and trends in the new location, along with a look at some of the tabletop products Maisons du Monde is currently offering.
Deep Velvet
Rich and exotic colors like peacock blue and emerald green characterize this collection that is bold and eclectic with luxurious details. Plush velvet pillows,  golden metals and plenty of greenery make this product range that brings the outdoors inside. Comfortable pieces with tropical flair make this a rich and distinctive collection.
Miss Bloom
Millennial pink may have already had its moment but the rosy hues in the Miss Bloom collection are as popular as ever particularly because they include shades of coral, Pantone's Color of the Year for 2019. Many of the pieces have a vintage aesthetic and there's plenty of whimsy around, with flamingos in many forms.
Cozy Blue
The Cozy Blue Collection spans a range of blues and soft earthy hues that are ideal for snuggling in during the colder months. The vibe is relaxed and the colors all work as neutrals so they can be easily mixed with other pieces from the store or whatever is already in the house.
Emma & John
Earthy neutrals and mustard yellow characterize the Emma & John collection. The Emma and John Collection has an earthy palette of warm greys, mustard yellow and terra cotta that makes for a warm and comfortable space.  Just like the other collections, it includes everything from larger furnishings to pillows and throws, down to small accessories. It also has some really cute animal pieces with cats, pandas, bears and other cuddly creatures.
Outdoors and Indoors
Maisons du Monde also sells plenty of pieces to make outdoor spaces special or to bring more of the outdoors inside. Botanical prints mix with neutral furnishings in white and gray, which are perfect to go with the green of plants, walls or accessories.
Natural, sustainable materials are a big feature in the product line. One really awesome piece is this hanging chair that can be hung outdoors or mounted on its own stand. The globally inspired design and materials used in this and many other pieces give the room a little dose of boho styling.
Dining
Of course, a huge selection of choices for tableware and accessories are available to help customers with the "art of the table" with a French touch, explains Couples. Neutral settings for every day and some with just enough bling to make them ideal for any celebration are all part of the collections, and the choices are wide and very attractive, both in styles and pricing.
Furniture for the dining room is also part of the selection and the styles include natural materials in various degrees. The mainly white dining set has a cabinet that features rattan doors and the other set pictured is all in natural wood tomes with plenty of wicker and detailing with a global flair. The most striking thing about all the pieces is how naturally they can be mixed or matched with existing decor of many types.
Comfort is one descriptor that fits almost everything in the store. While all the pieces are stylish and on trend, they are above all user-friendly and without pretense. Even the tableware with gold detailing is versatile enough to be used for every day, not just a few special occasions each year. It too mixes easily with the less adorned pieces.
Throughout the collections, different pieces have graphic labeling as an accent and this is a really fun detail. From the printing on this placement to the graphics on the glasses and other dishes, it has a homey feeling and goes well with the super cute bulldog statue — a French one of course!
As we already mentioned, the opening festivities for Maisons du Monde featured plenty of engaging discussion with Couple, Blakeney and Dabito. Some of the trends discussed were, of course, natural materials along with colors like mustard yellow and rust. In addition, the celebrity designers noted that styling for Instagram is not real life: You have to create a home that is stylish, comfortable and works for your family. The ever-changing collections and pieces at Maisons du Monde are ideal for creating a space that works just for you.
Maisons du Monde was founded more than 20 years ago in France by creative visionary, Xavier Marie, who believed home décor should be global but also inspirational. With more than 320 stores throughout Europe, the U.S. market now has access to its eclectic and affordable home products, if not through the Miami store, via the US website.