Get Ready in Style with a Luxe Make-up Vanity for Your Bedroom
While it might not be an essential piece of furniture for the bedroom, a luxurious make-up vanity will immediately bring the room from plain to push with little effort. These pieces are typically the size of a small desk and come with a mirror and a seat or bench of some kind.
History of the Vanity Table
Today's make-up vanities may be lighted and luxurious, but they had very humble beginnings as an ornate box for storing beauty products and tools. Over time, the vanity table as we know it came to be, finding popularity in the late 17th century, according to the Metropolitan Museum of Art. It was during that period that the wealthy began commissioning specialized furniture and dressing tables morphed into a mark of social standing. The forerunners of today's make-up vanity were actually France's poudreuse, and England's low boy and shaving table. History also traces the popularity of the vanity, or dressing table, to mistress of Louis XIV Madame de Pompadour. She started the trend of receiving visitors while performing her lengthy toilette – getting ready – and turned it into a social activity.
By the time these vanity table designs made their way to the United States, they were simpler in style, writes the museum, with Chippendale being among the most popular. After that, in the 19th century vanity tables were made in many styles, from Gothic to Rococo and Colonial revivals. Eventually, they were designed as part of the bedroom suite of furniture. Our modern association of make-up vanities with high style and glamour took shape in the 20th Century with the rise of the Art Déco period. Between the glamorous styles and their depiction in magazines and movies, women's desires for these furnishings only grew.
But how to pick the best make-up vanity?
Pick a Size
Depending on where you want to put your make-up vanity, you'll need to choose a suitable size. You also want to consider how many drawers you need for storage, which hinges on how you will use the make-up vanity. Do you need to store all your make-up there or just the items you use on a regular basis? Will you do your hair at the vanity or do you want to keep jewelry there too? There is no right answer because it depends on how you prefer to use it.
Mirror Style
The specific location your vanity table and how you plan to use it may help determine what kind of mirror you need. If that part of the room tends to be dark or if you need a light source, a lighted mirror might be your best bet. In any case, vanity mirrors are most often standing and attached to the table. Some have a magnifying feature and others are tri-fold, so you can easily get a side view. As noted, it comes down to personal preference.
Seating
A bench, ottoman or chair is a key piece of the make-up vanity. The seat needs to be comfortable enough that you'll look forward to sitting there nearly every day and be the right size for the table. In many cases, the table and seat may come as a set. If they do not, you'll want to measure the height and width of the leg opening before you buy one.
Furniture Style
As you might expect, make-up vanities are available in just about every style of décor, so it should not be hard to find one that complements the furniture that you already have. If you're a fan of DIY, there are lot of examples of repurposed and upcycled make-up vanity projects that cost more in elbow grease than in cash. This means you don't have to break the budget to have your own vanity table.
It's clear that today's make-up vanities are available in a wide range of styles and for a full spectrum of budgets. Any of them will put a little luxury into your daily routine. Having a stylish spot to get ready for the day is sure to make going to work more pleasant. We've rounded up a selection of luxe vanities to inspire your bedroom decor goals.
Bedroom Make-up Vanity Design Ideas
Today make-up vanities are available in a wide range of styles and for a full spectrum of budgets. From basic models to over-the-top opulent versions, any of them will put a little luxury into your daily routine. Having a stylish spot to get ready for the day is sure to make going to work more pleasant. We've rounded up a dozen luxe vanities to inspire your bedroom decor goals.
Outrageously Glamorous
Plenty of gold paired with sophisticated and shiny black lacquer distinguishes this "Symphony" make-up vanity from Maison Valentina. The original design features a polished brass base is comprised of many tubes of varying sizes. The graduated lengths create a curtain-like drape across the front of the vanity. The top is made of wood that has been lacquered black, creating a dramatic contrast. On the surface, there are five small drawers to store precious jewelry or other essentials. the entire piece is capped off by a gold-trimmed mirror. The tapered gold legs on the bench lend an air of delicacy to the velvet-covered seat.
Modern and Minimal
A minimalist style make-up vanity can still be luxurious as this one from Atelier. The simple piece features an offer top and just single drawer that spins the width of the main section. Slim tapered legs add to the elegance of this piece, which is topped with a simple oval mirror with beveled edges.
Traditional But Understated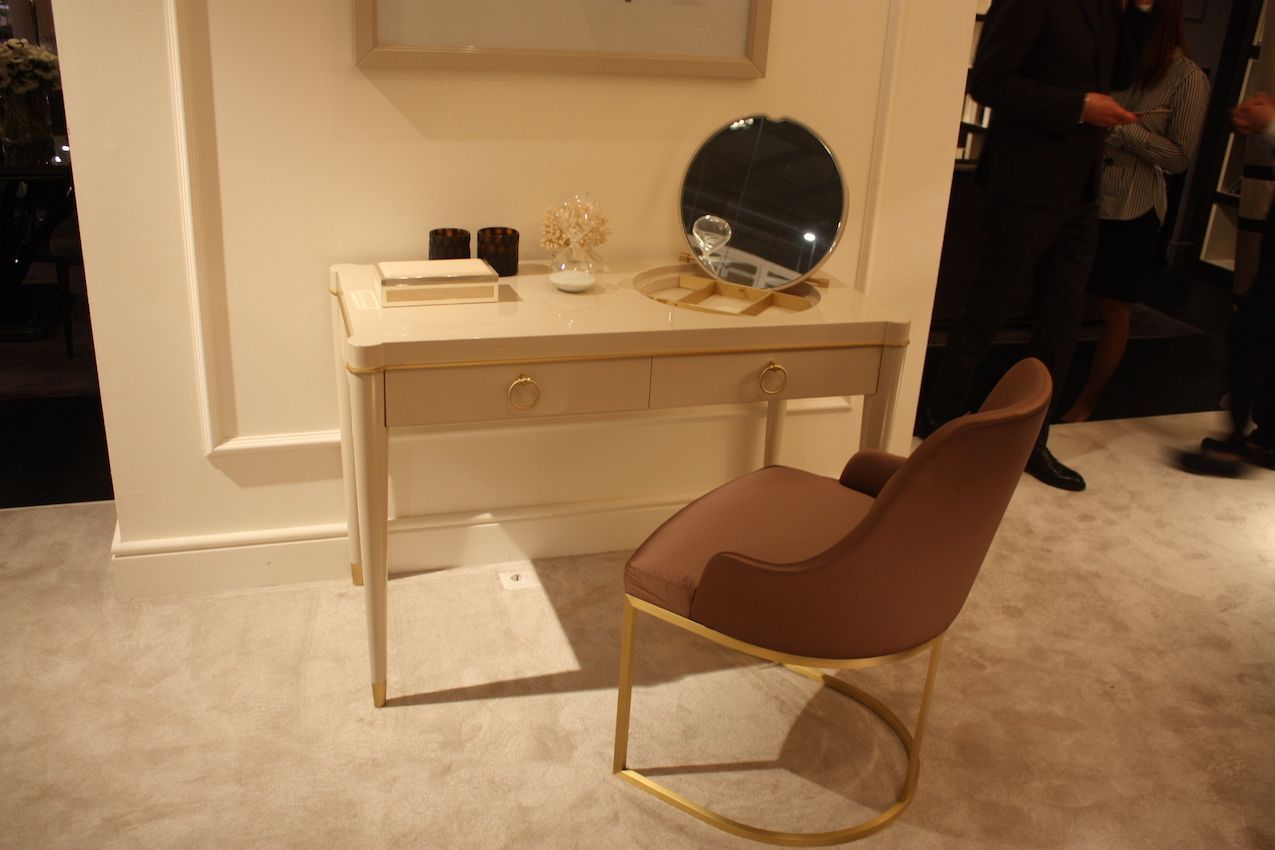 Minimal but definitely not modern, Galimberto Nino's vanity table has a lacquered top and a unique mirror that pops up out of the top. When closed, it has a low-profile and resembles a simple desk. The wooden makeup vanity has simple but elegant hardware that comes with a brass or bronze finish and leg ferrules. The bottom of the drawer is lined with a synthetic leather alternative. Rather than a stool or tuffet, an understate chair accompanies the vanity, featuring a matte metal frame and a comfortable seat design. The Adele chair is designed as a dining chair, but is versatile enough to be used in any room. Altogether, it is a pairing that whispers its elegance rather than shouts.
A Little Art Deco
Bruno Zampa's version of a make-up vanity is a touch of Art Deco for the bedroom. The rounded lines are curvy and glamorous, evocative of a Hollywood starlet's dressing table. Trimmed with gold, the rich, off-white color is calming and sophisticated. The addition of a tuffet-like stool is just the right amount of restrained femininity for the set while the simply mounted oval mirror completes the look. While the vanity does not include a central drawer, storage space is plentiful with the side drawers.
Restrained Opulence
With a conservative, more traditional silhouette, this vanity from Epoca of Spain is elegant without being too girly. The gold-trimmed frame of the table encloses the two sets of drawers and features an inset center section, which is extra functional. A distinctive stool with a sloped, lush velvet seat is an ideal pairing for the luxe vanity table.
High-Gloss Gracefulness
Perfect for a luxurious contemporary bedroom, this make-up vanity from the Giorgio Collection is a piece of high-gloss perfection. Its beige lacquer frame encloses one set of drawers and is topped with two showcase drawer units. The stack of storage drawers have an opulent facing of natural nubuck leather, and the inside bottom is lined in velvet. Black nickel steel handles are linear and modern. The stool base is made of the same lacquer and is topped with a deliciously textural nubuck suede. The materials and design come together in a vanity table that is gender-neutral and very stylish.
Feminine Luxury
Unabashedly feminine, this make-up vanity from Longhi is melange of luxurious materials: marble, suite and brass. The curved shape is reminiscent of baroque pieces and the brass leg pieces are traditionally elegant. Two center drawers and side cabinets provide plenty of storage. Covered in elegant suede, the textural contrast adds to the appeal of the piece. While this could easily be paired with a very ornate seat, instead it is features with a modern, glossy stool. The mauve lacquer base has a bold geometric hourglass shape and is topped with a complementary suede-upholstered cushion. In the case of the vanity as well as the stool, the suede is a soft counterpoint to the marble table. The mirror with built-in lighting adds a touch of modern technology.
Softly Sumptuous
Ludovica Mascheroni's Capri vanity table is a great example of quiet luxury. While it is a vanity table, the neutral colors prevent it from standout out as a totally feminine piece and it blends well in a luxury environment. The entire piece is covered in leather, highlight by legs and handles in bronze-plated brass. Naturally, the luxury carries through to the interior of the drawers, which are lined in nubuck suede. The mirror, which has built-in lighting, is also trimmed with leather. A matching stool is upholstered in both suede and leather. High on glamour and low on glitz, it is a truly opulent piece thanks to the modern design and premiere materials.
Desk-like Design
Smania's design for this man-up vanity is truly a desk-style, and could easily do double duty. The mirror is a separate piece and the minimal silhouette makes it very versatile. The upholstery finish softens the feel of the dark wood top and keeps the vibe light. It's paired with the Afef pouf stool that is upholstered with a unique tufted design on the back. The pair is stylish and could have a life beyond the category of a makeup vanity.
Spacious and Functional
Ulivi Salotti's vanity table has gorgeous form but its function also takes top billing. The wooden top hides a wealth go storage that is easily accessible with the opening of the mirrored compartment. It's basic concept rendered in a luxurious form with hand-crafting and an exceptional design of crossed legs that support the table. A luxurious two-tone chair is super comfortable and a textural contrast to the wooden vanity. The pairing is versatile and would be a stylish addition to a range of bedroom interiors.
Pretty in Pink
Among the opulent and feminine designs that Versace is known for, this Jardin vanity might seem a bit restrained, but it still offers elegant design details that set it apart. A collection of premiere materials — all in a wonderful shade of pink — is used for this delicate make-up vanity. The table has a wooden top that is covered in pink leather, which sits atop curved metal legs that are coated in a matte pink. The mirror pops up from the inside, which is lined with a microfiber textile. It's a very pretty piece whose femininity can be amped up by putting in alongside a more ornate seat. Here, it's paired with a darker neutral upholstered seat that tones down the busy wallpaper and the pink color of the table.
Global Glamour
Global style is very hot right now, so this vanity table from VG is an opulent choice that is really on-trend. Called the Secret 3, this elegant vanity desk is part of Original Sin collection that was designed by Giorgio Ragazzini for VG. The ebony wood table is finished with a high gloss and features a matt lacquered interior. The part that opens has a built-in mirror and LED light. While many vanity desks feature a brass finish on the metal sections, this base is done in a shiny 24-karat gold finish. The side sections each have a drawer for storage.
From simple to more ornate, you can see that many styles of make-up vanities are available. Rather than an afterthought, these can be an integral part of your bedroom decor and provide an elegant place to prepare for the day.