Kitchen Countertops Options For The Perfect Cooking Space
Kitchens need countertops. But with so many kitchen countertops options, choosing the perfect solid surface countertops for your kitchen can be daunting.
After you've installed your appliances and cabinets doors, you might find yourself fresh out of ideas. If so, you've come to the right place.
The first question, and perhaps the most important, is what kind of kitchen countertops are available? We'll break down the options and study the pros, cons, and costs of each kitchen countertop to help you find one that's right for you.
The History Of Kitchen Countertops
Before the Industrial Age, the earliest kitchen countertops were made of natural stones and wood. Cooking food moved away from fireplaces and into kitchens, so people needed a solid surface to prep food. The wood countertop remained in style through the 19th century.
By the turn of the century, stainless steel and nickel countertops were in fashion. Stainless steel counters remained popular until the 40s. After World War II, laminate emerged as America's favorite.
In the 50s, US kitchens featured laminate countertops that combined materials, especially futuristic metals and plastics with brick and wood. Americans found themselves with more time on their hands because the counters offered minimal maintenance.
In the 90s, solid surface countertops were the hottest trend. They were made of materials like Corian, which imitated the look of stone countertops. And the most popular color choice was black.
Today, a kitchen countertop could be engineered stone, lava stone, real stone, glass counters, and the marble countertop. And yes, stainless steel is just as popular as ever.
The Most Popular Kitchen Countertops Options
There are many kitchen countertops options. Most are easy to cover with a few categories.
Note: prices show a range per square foot. Some countertops may reach outside of the range for one reason or another. The range is a ballpark figure comparing different prices.
Marble
Cost: $40 to $100.
Common Color Options: Carrara, Calacatta, Statuario, Danby, Cultured, Makrana, Travertine, Pink.
Strengths: elegant, unique patterns, heat resistant.
Weaknesses: not DIY friendly material, not scratch proof, porous – which means it absorbs liquids.
Marble countertops are one of the most sought-after kitchen counters. Marble is also popular in bathrooms. It is the most expensive countertop on the market today. Other natural stone materials really don't come close in elegance.
Thick slabs of marble will always look nice in any kitchen. As nice as the stone looks, it's also a durable surface for the busiest of kitchens. Since no two slabs are alike, you can know that your countertop is unlike any other.
Stainless Steel Countertops
Cost: $80 to $225
Color Options: other metal countertop options like copper or pewter are available.
Strengths: safe, cut resistant, can withstand high temperatures, durable, minimal maintenance.
Weaknesses: noisy, can damage utensils.
Stainless steel countertops offer an industrial look. However, you risk having a commercial look if you're not careful. As a countertop option, this is a popular style in metropolitan settings.
Stainless steel doesn't rust, so you won't have to worry about installing new countertops when you want to sell your home. Since stainless steel countertops are expensive, which means you'll need to set a budget.
If you're not into colors and patterns, a stainless steel kitchen countertop offers relief from that.The solid surfaces are naturally stain resistant, which is always a nice bonus.
Limestone Countertops
Cost: $70 to $200.
Color Options: lighter, neutral tones.
Strengths: lightweight, looks weathered, can be cheaper than other natural countertops, easy to clean.
Weaknesses: porous, not scratch resistant, needs maintenance.
Limestone countertops aren't a popular kitchen countertop, but they are unique. Made with natural materials, limestone offers a green vibe if that's your thing. Each piece offers a porous and textured look that will make your countertops look like they were cut from ancient stone.
Limestone is desired because it looks like marble and adds value to your home. With limestone, adding a kitchen island is also an affordable option. The countertop materials offer a graceful vibe to your kitchen design.
The only drawback is that limestone will incur minor scratches. If you have a big family or routinely host guests in your home, you can expect your countertops to get a few scratches. Discoloration is also a problem and something that will require to stay on top of.
Granite Countertops
Cost: $40 to $100.
Color Options: neutrals, red, blue, and green.
Strengths: great value, renewable, long-lasting, scratch proof, and can withstand high heat.
Weaknesses: should be sealed, hard for DIY.
Granite countertops are one of the most popular high-end options among homeowners today. While they are more expensive than most countertops, their long-term value is worth it.
Granite also makes for a gorgeous kitchen island countertop. You could even add a butcher block to optimize the space. Most new homes install granite countertops because of their resale value.
Quartz Countertops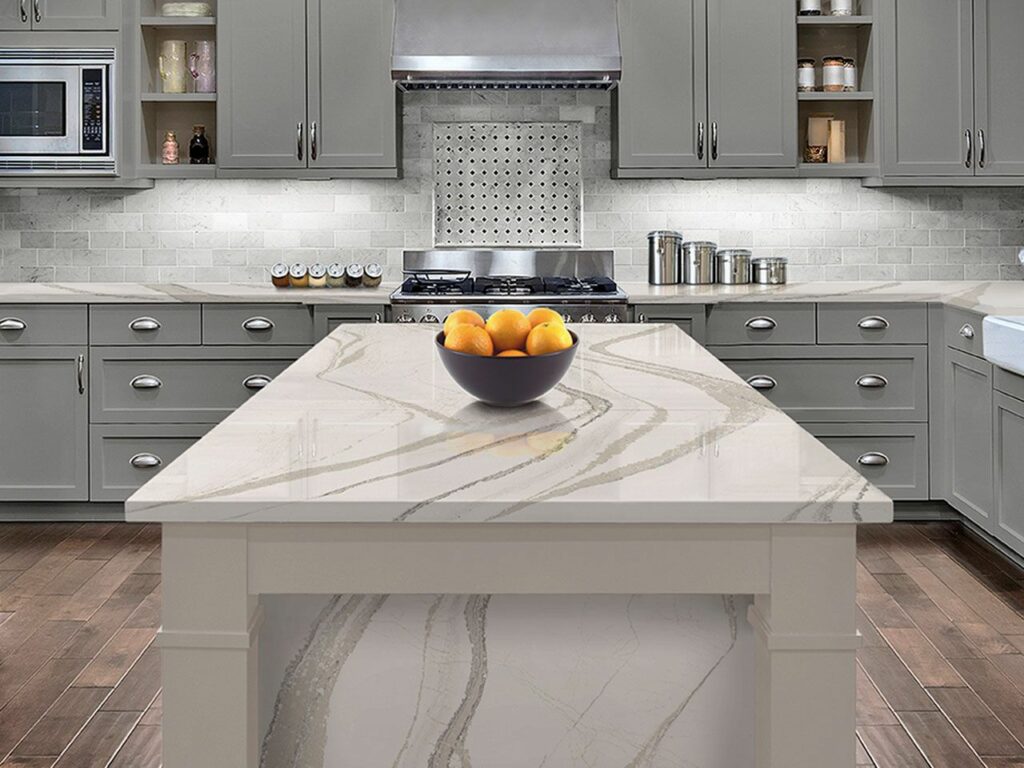 Cost: $50 and $150.
Color Options: almost any color, solid surface.
Strengths: durable, cheaper than other stones, versatile since not all-natural, low maintenance.
Weaknesses: can chip, discolor, isn't heat or scratch proof.
Quartz countertops are the most popular countertops on the market today. The countertop materials are available in many colors considering they can be mixed with others.
Engineered quartz is more durable than granite and other countertop materials. It costs about the same but is made to withstand most kitchen wear and tear. It also has a texture somewhere between marble and granite.
The countertops have a reputation for being high-maintenance, but what kitchen isn't?
Lava Stone Countertops
Cost: $250 to $350.
Color Options: multiple colors.
Strengths: Durable, nonporous, heat resistant, can match any design style, cleans easily, low maintenance.
Weaknesses: Expensive.
The most expensive solid surface countertops on the market are lava stone counters. The countertop material is made from real lava stone. Yes, like the kind of lava that comes from a volcano.
You want to save money, you should probably not include the countertops in your kitchen design. Though lava stone has been around since Earth was created, its emergence into US kitchens is relatively new.
Solid Surface Countertops
Cost: $60 to $80.
Color Options: many different colors.
Strengths: sanitary, low maintenance, butcher block friendly.
Weaknesses: unnatural, not heat or scratches easily.
If you desire a good option for hard working kitchens, this one is for you. You may be wondering what a solid surface countertop is. After all, stone is a solid surface. But a solid surface countertop is a manufactured countertop made from resins, plastics, and dyes. This is what you want when you need to save money but desire new countertops.
Because the countertops are man-made they can be made into any color and a variety of textures. That said, they aren't natural so if you want a natural countertop, look elsewhere. But if you want a cheaper version of granite, then it's perfect.
Concrete counters easy to take care of and there are many DIY remedies that can help. Mineral oil is a good one
Wood Countertops
Cost: $20 to $70.
Color Options: wood can be stained any color, but most wood countertops are wood-colored.
Strengths: versatile, can be stained, natural, eco-friendly, butcher block friendly.
Weaknesses: needs a strong seal, not heat or scratch resistant.
Wood countertops are more popular than you might think. As one of the oldest countertop options, they are still a smart solid choice. You can find wood islands and butcher blocks readily, but regular wood countertops are available too.
Unlike stainless steel, the wood countertops are a cheaper alternative to stone or marble countertops and provide a cozy and traditional home vibe.
Keep in mind that wood scratches, burns, and isn't waterproof. You can seal wood so it will be more durable. Depending on the amount of traffic, wood countertops will need to be replaced if you don't like a scratched, weathered look.
Concrete Countertops
Cost: $65 to $135.
Color Options: gray, but can be stained.
Strengths: can be customized, DIY-friendly, durable, heat resistant, nearly impossible to scratch, butcher block friendly.
Weaknesses: heavy maintenance, DIY experience required.
Concrete countertops are a unique option that is beginning to trend again. They can be poured by a professional or done on your own. They offer a look between industrial and rustic, so they blend in with any decor.
Ideal for kitchen islands with an integrated sink, having that extra space for food prep would make all the difference.
If you have construction experience, making and installing concrete countertops isn't hard. First, you would need to create a mold and afterward make sure the surface was smooth.
Do not use concrete made with glass or anything else that could harm your food while you cook. Check with your supplier before pouring the concrete to make sure it's safe for your kitchen.
Tile Countertops
Cost: $25 to $120.
Color Options: most colors and patterns.
Strengths: heat resistant and versatile.
Weaknesses: cracks easily, difficult to install.
Tile countertops went through a stage of being one of the least popular kitchen counter options. But over the last few years, they have grown in popularity due to their versatility and price range.
When you install tile countertops, make sure the tiles are properly sealed. As a design flair, a butcher block is good for any kitchen with tile. And with stainless steel appliances, you'd have the ultimate contemporary kitchen setup.
You can use most types of tile on your countertops. For example, ceramic tile is one option if you don't want natural stone or you feel that a stainless steel countertop is too industrial. With matching colors and cabinet doors, you would have a standout design even if your kitchen was a small space.
If you shop around much, you can find an amazing deal. Or, you can find exactly what you're looking for as you can mix and match to find the perfect countertop pattern.
Recycled Glass Countertops
Cost: $65 to $140.
Color Options: plenty of colors and patterns.
Strengths: eco-friendly, sleek.
Weaknesses: fragile.
Recycled glass countertops come in many varieties. They are made from recycled materials but can be purchased in different types of slabs. Glass countertops are popular choices among families with grown children or older, retired couples.
Laminate Countertops
Cost: $10 to$80.
Color Options: plenty of colors and pattern choices.
Strengths: cheap, easy to clean and replace, durable for the cost
Weaknesses: looks cheaper than others, can peel and be pierced.
Laminate is by far the cheapest kitchen countertops option. If you install it yourself, which is quite easy, you can save a lot of money and pay next to nothing for your countertops. They are made to mimic granite but look of lower quality.
Laminate is one of the most popular countertops. It is used in trailer houses, RVs, and tiny homes due to its affordability and light. If you like recycled glass but don't want the real thing, plastic laminate countertops are a good imitation. All you would need then is old-fashioned butcher block and your kitchen would be complete.
Medium Density Fiberboard Kitchen Countertops
Cost: $100 – $280.
Color Options: plenty of color and pattern choices.
Strengths: easy to clean and replace, durable, non porous.
Weaknesses: looks cheaper than others.
Medium-density fiberboard (MDF) is extremely durable and has a smooth uniform look. MDF is a cheaper alternative to plastic laminate countertops.
If countertops are exposed to water or sunlight that might warp. With medium density fiberboard, you won't have those problems.
With stainless steel appliances, MDF countertops would offer a modern industrial design. MDF also has many advantages over plywood, particleboard, or high-density fiberboard.
Zinc Countertops
The fun thing about zinc countertops is how they work with everyday food and other stains. At some point, stains will blend in together and the countertop will turn into a dark blue-gray patina.
Although zinc is a cheaper alternative to stainless steel, it has an edge over it because of how it changes color over when reacting to its surroundings.
Because zinc is naturally non-porous, it can be cleaned with soap and water. It also has anti-bacterial properties that make it ideal for food prep.
Cost:$150 – $200
Color Options: wide variety.
Strengths: easy to clean.
Weaknesses: scratches easy.
Engineered Stone
Unlike natural stone countertops that are cut from pure granite, marble or sandstone, engineered stone counters are made from quartz crystals held together with a resin binder.
Engineered stone is extremely durable, almost equal to granite. If properly installed, it is less susceptible to cracks or fractures than granite or slate.
While it is scratch and heat resistant, the use of trivets and cutting boards is always recommended
Cost: $70 – $150.
Color Options: gray concrete.
Strengths: long lasting.
Weaknesses: scratches easy.
Frequently Asked Questions (FAQ)
FAQ
What's The Most Popular Countertop For Kitchens?
The most popular choice in kitchen countertops today is quartz. Homeowners like quartz because it has several advantages. Quartz doesn't need to be sealed and blends easily. Quartz is easy to clean and is resistant to heat, scratches, and stains.
As a natural stone, engineered quartz is a great choice and one of the best countertops on the market today. Its non-porous qualities and honed finish make them extremely durable in all kitchens, big or small.
What Is The Cheapest Countertop Material?
Laminate is the most affordable material for use in countertops. It comes in a wide variety of colors and styles, many of which are created to look like granite, marble, or other high-end materials. Most laminate countertops are attractive and surprisingly durable.
Home centers would be a good place to begin your kitchen design project, especially if it's centered on laminate counters. Right now, they're in high demand and look great with small appliances. 
If you want a solid surface that's nonporous, the countertop material offers a cheaper alternative to more elaborate choices.
What Is The Effect Of Oven Cleaner On Kitchen Countertops?
Granite countertops are extremely durable, but just like anything else, they have an Achilles heel. Oven cleaner can permanently damage their color. This applies to all types of granite countertops, including polished surfaces. In addition, avoid using bleach, ammonia, scouring pads, or other abrasive cleaners.
With quartz countertops, oven cleaner will also cause permanent damage. Over 90 percent of quartz contains polymers and pigment. The polymers in the resin are lighter than the quartz and can cause surface damage and discoloration.
What Color Countertop Shows The Least Dirt?
If you're countertops are made with materials that look dirty, then they'll show the least amount of dirt. How simple is that?
Speckled or flecked white, cream-colored countertops and other lighter-toned countertops will camouflage dirt. They can soften a space and work well in transitional and traditional design motifs. These countertops also don't show as much dust or dirt as their white counterparts.
As a stain-resistant feature, speckled countertops can hide the most visible stains from the human eye. Plastic laminate would also be a good pick.
What Is The Easiest Countertop To Maintain?
Laminate countertops are the easiest countertops to maintain. Once installed, all you will need to do is clean them with mild soap and water. No additional maintenance is required. They offer a classic look with a honed finish that won't require you spend all day making sure they look clean. This is a great choice for those who do not have a lot of time on their hands.
Kitchen Countertops Options Conclusion
Finding the right countertop is like finding a haircut that suits you. You and only you can make that final decision. If you wanted to spend the money, you could always change your mind, but that would require too much effort.
If you do a lot of cooking, you might want to avoid glass countertops, especially if you have children. Even recycled glass, as nice as it is, isn't child-proof or scratch proof.
You should also consider a matte finish or plastic laminate for your countertops if you want a classic look while having an added layer of protection. When searching for kitchen counters, take your time and let inspiration find you.