What Are The Best Flooring For Basement In Homes
Many homeowners who have a basement often neglect the underground living space. When turning a basement into an extra bedroom or game room, start from the bottom and work upward. This means you'll need to address flooring options first.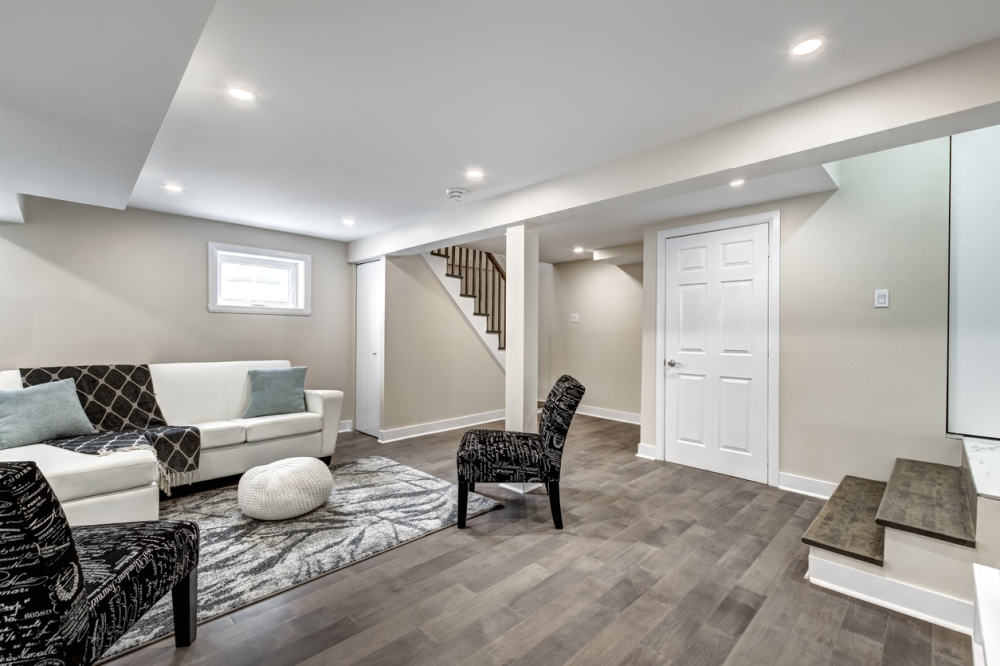 With living spaces, new or old, your best option is to always start with the ground level and work up. Due to moisture, basement flooring options are limited.
We'll show you the best flooring option for your basement. After you'll see firsthand there are plenty of ways you can transform your basement into an awesome space.
History of Basements
Before we show you the best flooring options for your basement, let's look at the history of basements in the US.
It wasn't until the 50s that US households began including basements into their home designs. Before this, instead of a basement, the spaces underneath homes were cellars. Underground spaces are cooler and ideal for storing food and other perishables.
Most homes on the West Coast and in southern states do not have basements. Basements were never living spaces to begin with due to geographical factors. However, the spaces are popular among homes in the Midwest. Basements are a regional thing and are determined by weather and geographical conditions.
Today, new home designs do not include basements. For the basements that exist, homeowners are turning them into home gyms, game rooms, or extra living rooms.
Basement Moisture Issues
Among all basements, moisture issues are the biggest concern. Before you begin installing a new floor, check the room's moisture levels. Here are few ways you can protect your basement and new flooring from moisture:
Install a dehumidifier.
Create airflow to reduce humidity.
Use crystal salt as a desiccant to absorb moisture.
Charcoal also absorbs moisture.
Install a fan and proper ventilation.
Keep you air conditioning running.
The Best Basement Flooring Options – Vinyl
First off, let's get down to the nitty-gritty. Basement floors are different than other interior floors. Any flooring for basements need waterproofing sealed, and should be strong enough to support an entire house.
If you want new basement flooring, here are the best options.
Vinyl flooring is one of the cheapest options available when covering a basement floor. You can install it over any type of floor as long as it is dry and secure. Vinyl offer greater water resistance than different wood species, unlike a traditional floor.
Adding a layer of floor foam between the vinyl flooring will protect against water. Vinyl flooring comes in different colors and grains, making it more versatile than other flooring options.
Be careful when buying vinyl flooring as you may need a different type than your other interior floors. Your basement floor may also require something different, so choosing a flooring that works over concrete is a must.
Sheet Vinyl Flooring
Sheet vinyl fits well over concrete, but only if the surface is clean, smooth, and dry. Before installing sheet vinyl, repair any holes or cracks in your concrete floor. You don't want below grade flooring for your basement. This is where spending money upfront is a good idea.
A significant amount of bad flooring ideas are made when determining upfront costs. It's basically spending now or pay later.
Vinyl Tile
Many people believe the best type of flooring for basements is vinyl. Vinyl flooring looks looks like hardwood and stone products with the added benefit of being waterproof. Vinyl tile flooring is made of PVC making it durable and waterproof
The major benefit of vinyl tile is how easy installation is when placing it over concrete. If the your concrete surface is clean, smooth and dry, you won't have any problems.
Vinyl Plank
As a vinyl tile, vinyl plank flooring might be the best type of flooring due to its water resistant qualities. It's a great option among many homeowners when dealing with moisture areas such as bathrooms, kitchens, basements, and mudrooms.
Vinyl plank flooring doesn't require professional installation, like hardwood flooring, and will leave you with a beautiful basement floor. Do not rule out inorganic materials. They are often the best option and will give your floor the look and feel that you desire.
The planks are made from inorganic materials. They can be installed directly into your basement's subfloor.
Luxury Vinyl Plank
Luxury vinyl planks are softer and thicker. Luxury planks offer better sound-blocking properties than standard vinyl flooring. If you want a hardwood floor, but without the hassle, this is your best option.
You best choice would be to include a cork or foam underlayment offers the best protection. One major drawback is the panels will easily damage if exposed to excessive moisture. The only drawback is the can easily damage if exposed to water or harsh sunlight for extended periods.
Luxury vinyl planks are considered the best flooring for basements as they are water-resistant more than ceramic tile, for example. They also work well with basement bathrooms.
Other Cool Basement Flooring Options
Laminate Flooring
Waterproof laminate flooring is a great option for your basement. It prevents water damage and allows for easy cleanup in the event of a leak or spill.
Laminate flooring covers concrete nicely. If you like the look of hardwood floors, laminate is the best type of flooring you'll find. Installing underlayment is easy but requires the precision installation to avoid tearing.
Of course, laminate flooring does have a few drawbacks. For example, groundwater is an issue. A basement's subfloor is a concrete slab that serves as the foundation. Because it is connected to land, water leakage is an automatic concern, which will also make radiant heating difficult.
Epoxy Basement Flooring
Epoxy floors are a great option for basements when concrete gets old. They require a stable base floor, usually made of concrete. So you can epoxy over your existing basement floor. You can paint it right on in multiple layers.
When using epoxy treatments, you can also add flakes, glitter, and more to the epoxy before it dries, usually in-between layers. This gives a customized look that adds another color the solid-colored epoxy.
Rubber Flooring For Basement
Rubber floors are common in play areas, gyms, and doctor offices. It is durable, waterproof, stain-resistant, and easy to put down. It works well over concrete, wood, and other flooring. It will never mold or deteriorate.
With most flooring, you can either choose permanent rubber flooring or just mats for when you need that extra layer. The temporary ones are great for game time or when you have friends or family over because you can take them up when they leave.
As a flooring option, rubber offers a thick wear layer that protects against a cold underfoot. It's installed directly on the floor and will leave you with the best basement floor ever.
Ceramic Tile
Ceramic tile is a safe, permanent option. It isn't easy to put down, but it is waterproof. Ceramic tile can be slippery when wet so use it sparingly as basements gather moisture.
Ceramic tile is non-porous and safe for basements. Plus, the tile is available in a variety of styles. Tile is an excellent option and also a budget-friendly option if you know where to look when shopping.
Carpet Tiles
Instead of wall-to-wall carpet, carpet tiles are a great option for basements. When water damage occurs, carpet tile is easy to remove. The tiles offer a moisture barrier and are best when made from inorganic materials, like polyester or nylon, given their water resistance abilities. Unlike ceramic tiles, carpet tiles are cheaper and easier to replace.
While carpet tiles absorb moisture they also insulate radiant heat, thus keeping your basement warmer during colder months. Carpet tile is the best flooring if you have children because the tiles are easy to clean. As a resilient flooring option, the tiles also protect against mold.
As a cheaper alternative, carpet squares will work but they're not as long lasting.
Concrete Flooring
Concrete floors are by far the most common type of basement flooring, either for a subfloor main floor. If you want to redo the floors, you can pour an inch or even less, of concrete over your old floors and smooth it out.
With a finished surface and painted with warm tones, concrete will surprise you. It's a good fit for homes with big families and plenty of kids.
Wood Flooring
Although a hardwood floor may not be the best flooring for basements, it can be achieved if you do it right. How much square foot you have will determine if hardwood floors are right for you.
Engineered hardwood flooring is recommended as wood flooring is difficult to manage in high humidity and moisture environments. Although the basement flooring style is popular with those who like home gyms. Adding to this, hardwood floors offer radiant heating in cold weather temperatures.
With a finished basement that's water resistant, you wouldn't have many problems in the long-term.
Engineered Wood Flooring
Solid engineered hardwood flooring is recommended for basements if you want a hardwood look due to moisture problems. Because wood harbors mold, hardwood flooring is not the best idea.
Engineered hardwood flooring resists moisture and is easy to install since their pieces snap together.
Pros:
Durable.
Look like hardwood floors.
Add resale value to your home.
Inexpensive.
Cons:
Warps easily if exposed to moisture.
Harder to clean than vinyl or laminate flooring.
Refinishing is difficult.
Floating Floors
Floating floors are popular. How it works is the floor "floats" above the surface. As basements have concrete surfaces, floating floors might be the perfect choice as the flooring does not touch the surface. This will protect your basement from below-grade flooding.
Instead of attaching to the subfloor with fasteners or glue, floating floors use an interlocking tongue-and-groove system that allows the pieces to snap into place. This holds the flooring together as it "floats" above the existing flooring.
For a concrete basement floor, the best thing to do is to cover the concrete with a vapor barrier. This prevents moisture from traveling through the concrete underneath. The flooring protects your basement from wetting and ruining.
Best Sealer For Basement Flooring
Even after waterproofing, a sealer can prevent accidents. To seal concrete flooring, you will want to buy an official floor sealer.
Sealing your floor is important after you finish. Wait until after you paint or stain your floors to seal it or skip that step altogether.
You don't need to seal the floor before installing laminate; however, to prevent moisture from the floor from affecting your laminate, install a vapor barrier of polyethylene film. You'll need to install this barrier even if the concrete subfloor is covered by vinyl, linoleum, or ceramic tile.
How To Fix Cracks In Basement Floors
Before you buy your area rugs, make sure your old basement floor is not cracked. If you like the original work or want a solid subfloor, relax, there is a solution. You can repair the damages.
Mixing concrete and slabbing it onto old floors will create more problems. Instead, using a concrete repair mix is key. They come in epoxy, latex, and mortar forms. No matter what path you choose, you need to prepare the floor first.
Use a chisel to chip away any loose parts around other areas that are affected. Chip away until you're about 1-in deep. Then dust the area well and clean it with a wet rag. Let it dry and then mix your repair mix.
A better option, at least with small cracks, is epoxy or latex. For larger areas, a mortar is necessary. Apply with a trowel or a putty knife and make sure you cover the depth as well as the width.
Basement Concrete Floor Paint
This is the least expensive way to redo a basement floor. The most common type of basement floor paint is concrete paint. Such surfaces can be stained or painted.
Concrete Paint
This is a good way to cover old concrete floors. It can be done in one thin layer or multiple layers for a solid cover that can turn your concrete floors any color. The first step, before you begin painting, is clean your floors.
With concrete paint, start at one corner on the opposite side of the door and paint the concrete slab. You want to cover the floor and end up at the doorway. Let that first coat set for as long as the can says.
Use a putty knife to get anything the paint didn't cover. The first coat was a test coat. Sand any areas that the paint didn't stick to.
Finally, apply the second coat of paint. You may have to roll back and forth a bit to get down into any hairline cracks. Most flooring will require additional coats, and especially if excessive moisture is an issue.
Concrete Stain
Stained concrete is not the same as concrete paint. It doesn't cover as well but instead leaves a transparent marble look. The first step after cleaning is to remove old stain, paint, or sealer.
The easiest way to do this is with Xylene and let it sit. Then, scrape it up with a thick brush and putty knife. You may need to do this two or three times to remove all old sealers and such. If the concrete floor has old wax, buy a floor wax remover.
Use it like you would use Xylene. Xylene may work for wax too but a specialty product will work better. The same can be said for oil stains, which need a specialty item to remove.
Before you begin staining, test the stain. Not only do you need to make sure it will cover well, but you need to know if you like the color.
Waterproofing Flooring For Basements
Waterproofing your basement flooring is necessary. There aren't many ways to waterproof a concrete slab.
Concrete Waterproofing Sealer
The most common way to waterproof concrete is to use a waterproofing sealer made for concrete floors. This type of waterproofing pours as a liquid and hardens into a rubber-like coating.
Crystalline Slurry Compound
Another less common method is to use Crystalline Slurry Compound. Instead of working as a liquid sealer, this compound starts a chemical reaction. This type of waterproofing goes deep down into the pores of the concrete.
Rubber Sheets
A third method is rubber sheets. If you have a rubber floor, you don't need to do this. With concrete you can use thin rubber sheets to waterproof them.
The backs of these sheets are very sticky so they are easy to apply. When it's applied, it adheres so strongly to the surface that there's no going back. It works as if it was poured on like a sealer.
Another way to waterproof concrete is to add a thin layer of mortar to the surface. This cement mixture will protect the area as well as fill any cracks or gaps.
Frequently Asked Questions (FAQ)
FAQ
Can I Install A Floating Floor On Top Of Other Flooring?
It's easy to install a floating floor on top of most existing floors that are attached to the subfloor. Ceramic tile and glued-down vinyl are two good options. Of course, the last you would want to do install a floating floor on top of a floating floor.
What Flooring For Basements Is Waterproof?
Two options for waterproof flooring for basements are epoxy paint and sealed concrete. Both options are affordable and durable. Flooring professionals agree that these two options are good solutions for basement flooring materials. Moisture damage is the number one problem in basements, so moisture resistance should be a top priority.
Is Laminate Good For Basements?
Waterproof laminate flooring is one of the best options for covering a basement floor. This will prevent water damage, but it's a good choice if you like the look and feel of a vinyl floor. It also allows for easy cleanup when leaks or spills occur and are good for high traffic areas.
What Is The Warmest Flooring For A Basement?
A cork floating floor is an excellent insulating product for cold basements. It is the best flooring for basement. Cork underlayment is the cheapest way to build an "insulated" floor.
Of all basement flooring options, cork is surprisingly affordable. If you want to achieve a wood look, then this would be the perfect style. Cork is the perfect option for when you want to reduce moisture levels as it prevents other moisture problems from arising. 
Do Basement Floors Need To Breathe?
Foundation walls like concrete are porous. This means they can take in 10-15 gallons of water vapor a day, which is why your walls need to breathe. Moisture needs to escape, and an old house that is sealed too tight can end up with moisture in puddles and rotten drywall. This is one reason why inorganic materials are better than solid hardwood options.
Do I Need A Vapor Barrier In My Basement Floor?
If you have a floor that's in continuous contact with moisture, you're going to have problems. Damp basements are to manage without the right tools in place. A vapor barrier under concrete is essential.
Vapor barriers are a way to keep moisture from getting into the concrete. Remember, a vapor barrier is not the same as an underlayment. 
Basement Flooring Options Conclusion
Transforming your basement space into a cool living area is worth the time, effort, and money. Such a project would offer many benefits, plus it would add resale value to your home. If you're not using the living space, then converting your unused basement is an opportunity to explore your DIY interior design skills.
If you're not signed up to receive marketing emails on the best flooring options available, pick up the phone and call a pro. Flooring professionals will help you find a specific product and measure the square footage of your ground level and explain your flooring options.
They can also assess any moisture damage and offer tips on how to remove it. Most people will enlist professional help, especially if their basement isn't in good condition.
There are many benefits to turning your basement into a play space or family room, for example. Living spaces are vital areas to any home, so your floor, which is the foundation, comes first.
After you choose the best basement flooring option and color scheme for your space, create a design plan and budget. Remember, you want your flooring to have waterproof properties, and most concrete flooring offers this.
If you don't have a limited range of experience with installing flooring for basements, your space will be a perfect one to practice and learn. As a reminder, basement carpet is not a good idea, and again, due to moisture and water carpet is more trouble than it's worth.