Interior Design Tips & Furniture To Consider When Moving Into A New Home
There's so much to think about before moving into a new home that it's hard to even figure out where to start. Our advice is to be organized and to start thinking of ideas long before you actually change homes. Look for inspiration, visit stores and ask for opinions. We've gathered a few ideas you might like. They're things to take into consideration not just when moving into a new home but also when considering a renovation for your home or simply making some changes and updates.
Wine Storage.
It would be nice to have the space for a wine cellar and the basement would be a perfect choice but, if you don't you can still find a way to incorporate some great-looking wine racks into the interior design. For example, here's a living area with a wine wall.
Smart Storage.
Don't waste floor space with storage units. Be smart and find ways to incorporate storage compartments into places like the staircase wall, under the bed or inside the stairs.
Have A Media Room.
If you're the type that enjoying watching movies with friends or TV shows with your loved ones late at night, then having a media room is a must. If you have the basement, then waste no more time and start planning its décor.
Entertainment Space In The Basement.
The basement is perfect for lots of things. It can be a wine cellar, a media room, a play room for the kids or an entertainment space for the grown ups. You can have a pool table, a bar, a big TV screen and lots of other fun things in here.
A swing chair.
After you've designated a function for each room of the house, it's time to think of the details such as the furniture. If there's one thing I'd love to have in my home that would be a swing chair. You could have one in the living room, in the bedroom or in your home office. It's also something the kids would enjoy.
Platform Beds.
Platform beds are very stylish. They have a modern look and they beautifully match simple and minimalist interior designs. Also, it's easy to pair a platform bed with built-in nightstands.
Glass-encased Fireplace.
A fireplace is a marvelous focal point in any home. If you're set on a modern or contemporary interior design, then you could opt for a glass-encased fireplace built into a wall. The best place for it would be between the living and dining areas.
Hammock Floors.
Trying to come up with an unusual idea for a casual and fun interior design. Try hammock floors. They take relaxation to a whole new level. It's something you might like to include into the bedroom design but it could also be fun to have in a home office or, to save space, above the staircase.
Scandinavian Touch.
If you want a simple and soothing interior design for your home, then Scandinavian décor can offer you lots of great ideas. You can try using elements such as crisp white walls, light wooden finishes and black and white combinations.
Floor-to-ceiling Windows.
If part of your home project includes making big changes such as replacing the windows or actually building a new structure, then you should definitely consider having floor-to-ceiling windows. It's an especially wonderful feature if you have beautiful views which can be admired from your home.
A Walk-in Closet.
Walk-in closets are considered to be wonderful features in any home. So, if your home doesn't have one, maybe you can transform a small bedroom or a home studio into one. Use the space wisely.
Glass Walls For the En-suite Bathroom.
By replacing the walls that separate the bedroom from the en-suite bathroom with glass you make the room feel more spacious and more airy. If you're worried about privacy you can install curtains.
An Infinity Bathtub.
An infinity tub or an overflow tub is one that has no drainage. Instead, the water overflows the tub and drains beneath it where there's a platform. The water drains into the shower.
A Fireplace In The Bathroom.
Having a fireplace in the bathroom is truly wonderful. You can create a very cozy and inviting mood and turn the bathroom into a spa. Of course, small bathrooms can't have this feature so you might have to make some changes.
An Original Headboard Design.
In the case of the bedroom, there's not much you can do in terms of customization. The headboard, however, is a piece which you can personalize. So choose an unusual material, an interesting shape or come up with your own ideas for its design.
Pallet Coffee Table.
Making a coffee table out of wooden pallets is extremely easy. It's basically a project you can do on a weekend. The coffee table will give your living room a rustic charm and it will also be a way in which you can personalize the décor.
Unusual Window Designs For The Balcony.
Build yourself a beautiful and airy rooftop balcony by simply choosing the right windows. Take a look at these ones. It's an innovative and ingenious idea which can allow you to take advantage of the views.
Smart Wall Dividers.
Don't waste any space in your home. Instead of regular walls to separate the areas, try something smarter like this rotating wall divider. Mount the TV on it and you'll be able to watch your favorite shoes either from the bedroom or the living room.
A Murphy bed for the kids' room.
Don't waste the floor space in the kids' room with furniture. Opt instead for features like a Murphy bed which dis spears into the wall unit when not needed, leaving not lots of room for the kids to play in.
Connect With Your Home Via Your Smartphone.
These days our smartphones can do almost anything. There's an app for everything so why not take advantage of this? In your home, you can have things like a wireless doorbell. Whenever someone's at the door your phone will ring so, even if you're in the garden, you'll hear the doorbell.
Another very useful gadget is the WeMo Home automatic switch. It allows you to connect with your appliances via smartphone and check if you left the oven turned on or to turn off the lights in case you forgot before you left the house.
Futuristic Kitchen Gadgets.
Make your job easier in the kitchen with these great smart gadgets. For example, get yourself a kitchen cabinet mount for your iPad. It will sit safely under the cabinet where it can't get wet or damaged and it will be a nice thing to have in the kitchen in case you need a recipe or something else.
Isn't it annoying when you open the fridge and you spend 5 minutes trying to find the thing you want? Save energy and time with this Smart Refrigerator. It has two cameras which keep track of everything that's stored in each compartment and it lets you know which door to open in order to get the item you want.
Colorful Kitchen Backsplash.
The backsplash is a perfect way of adding color and pattern to an interior décor in the kitchen. Try mixing tiles with different colors, prints and patterns. You can ask for leftover samples at your local stores.
Colored Tub In The Bathroom.
White isn't the only color a tub can have. So if you're planning on renovating or remodeling your bathroom, considering adding some color to the tub. Blue would be a nice choice but you can choose any shade you want.
A Modular Coffee Table.
Consider including a modular coffee table into your living room's design. It's very practical and also fun to have around. One option can be a coffee table made of several individual cubes or hexagons which you can arrange in any way you want and also use as stools.
An Infinity Pool.
An infinity pool is definitely something anyone wants to have in their dream home. It's an especially spectacular feature if your house is on a site with panoramic views.
Modern Deck Furniture.
Convert your deck or patio into a beautiful outdoor living area. Have a comfortable sofa or sectional, maybe a bench or two and some comfy armchairs. You can even have a rug and a coffee table, just like a regular living room.
A Firepit.
Firepits are great focal point for outdoor sitting areas. Arrange a comfy décor around it with armchairs or benches. It's both romantic and relaxing.
Outdoor Kitchen.
Outdoor kitchens are awesome for entertainment purposes. You can have a sort of open floor plan with a kitchen area and a dining space on the terrace or deck. This way you won't have to move back anf forth between the deck and the kitchen inside the house.
A Modern Fence.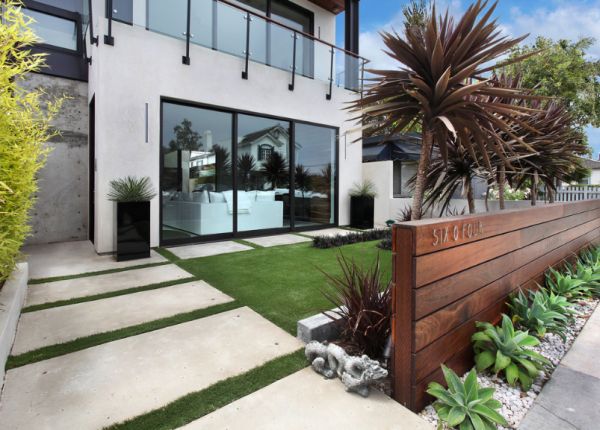 A fence is something you install for your safety and security but also if you want to somehow connect the whole outdoor area. Bring cohesion into the mix with a sculptural and interesting-looking fence to match your modern home.
Modern Backyard Pathway.
Create beautiful landscape outdoors and choose a simple design for the back yard but one with a big visual impact. An interesting-looking pathway can make all the difference.
A Swing Bench On The Porch.
If I had a porch I would definitely have a swing bench there. It's the perfect piece of furniture. It's comfortable, relaxing and also fun to have. Pair it with a couple of swing chairs and everyone will be happy.
Image credits: 1, 2, 3, 4, 5, 6, 7, 8, 9, 10, 11, 12, 13, 14, 15, 16, 17, 18, 19, 20 and 21.