Backyard Landscaping Ideas for Yards of Every Size
A home is defined by both its interior and its exterior spaces. For most people, backyard landscaping ideas are not front of mind as they consider the front yard the primary focal point and worth the most investment.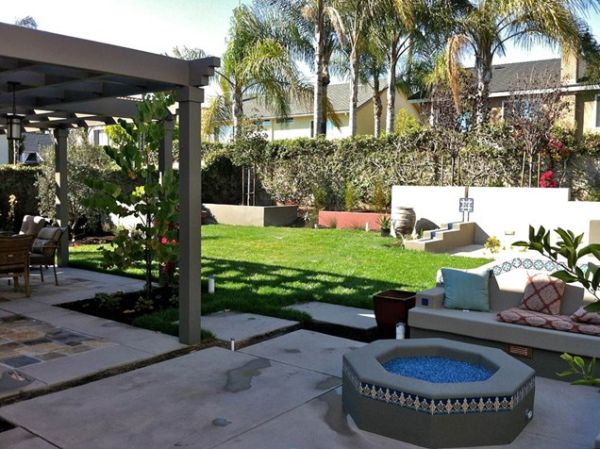 However, the backyard is the place where families spend the most private time enjoying their friends and the fresh air together. It is worthwhile to consider the design of this space to ensure that the backyard is something special.
Backyard Landscaping Ideas
There are many factors in creating beautiful backyard landscapes including the greenery, the hardscape surfaces, and the distinct areas for entertainment. It is worthwhile when planning long-lasting outdoor décor to create a plan for the whole yard before you plant the first thing.
In order to create this plan, you first have to know your landscape's strengths and weaknesses. Try to observe your yard and understand the way that design can enhance the strengths and minimize the weaknesses. If you can't do this on your own, employ a landscape architect to help you. In the end, you will save time and money with this step before you begin.
Considerations When Planning Backyard Landscaping
When referring to landscape design, most people think that plants and flowers are the primary elements to be considered. However, you need to think about the design in a holistic manner.
The most important thing is the structure of the design that provides the foundation for the details like the greenery.
First consider the primary uses of your backyard. For example, if you want to use your backyard for outdoor dining and relaxing, it will be designed in a different way than if it is going to be your children's playground.
Next, consider the structural needs based on the use of the yard. Think about if you need to add a patio area, exterior walls, or tall trees to create privacy. Also, consider any leveling of the yard and if you will need stepping stones to create a visual bridge between areas.
The climate of your area is of great importance in landscape design. You may need to install drought-tolerant plants or add a covered patio in order to enjoy your backyard for a longer period of time during the year. For example, the needs for a yard in San Francisco will be very different from a yard in upstate New York. You must take your climate and weather patterns into consideration when formulating your landscaping ideas.
Last, consider how much maintenance you want to do on your ward or if you can pay someone else to maintain it. This will determine if you need a more elaborate or a simple backyard landscaping idea. It will also help determine the type of plants you choose as some have higher maintenance needs than others.
Plants and Flowers For Landscaping
While there is no such thing as plants that require no maintenance, choosing plants that require less pruning and care will cut down on the amount of time you spend taking care of your yard.
Finding plants that are less fussy but still beautiful will ensure that you have to spend less money on new plants that die soon after they go in the ground. Also, consider the native plants in your area as these will be naturally lower maintenance compared to plants that do not grow in your climate zone.
Low maintenance plants and flowers
These plants are all easy to care for and lovely.
Spirea – These are colorful deciduous shrubs that range in size. They can be planted in groups for a bold statement. They have leaves that change colors in the autumn season and attract bees and butterflies. These shrubs work well in full or part sun.
Panicled hydrangeas – This variety of hydrangeas are hardier than the southern varieties of hydrangeas. They bloom from late spring through the fall. Many of the flowers become tinged with pink in the fall season. They can survive dry conditions but they do need regular water.
Ornamental grasses – There are many varieties of ornamental grasses such as Fountain Grass and Maiden Grass. Grasses have wonderful architectural structure and look wonderful in any outdoor area. Consider before you buy different grasses as they each have different needs for types of soil and sun amount
Hostas – These small shrubs are beautiful in shade gardens and get larger but don't need to be divided. There are different variegated varieties to add natural beauty in any backyard.
Coneflowers – These are a colorful addition to any garden as they are magenta flowers with an open bloom. They are drought and deer resistant.
Winter Daphne – This is an evergreen shrub that has a fragrant white bloom in the winter. These work in full sun in cooler climates but need partial shade in warmer climates.
Forsythia – This shrub has a yellow bloom in the spring, beautiful greenery in the summer that turns red during the fall. This is a large shrub that needs some pruning. Plant in full sun.
Vinca Minor – Ground covers are a great idea for any backyard as they are a way to keep down weeds in the low areas. Vinca is a dark green ground cover with bright purple flowers.
Statement plants and flowers for backyard landscaping
These plants and flowers may not be the easiest to maintain, but they are beautiful and provide outsized bang for your buck.
Roses – Roses are a romantic and luxurious-looking flower to add to any garden landscape. However, while there are certain types that are finicky, there are new shrub varieties that are more disease tolerant and long blooming.
Hydrangeas – Hydrangeas are lush shrubs that have large and stately blooms from the spring through the summer. These blooms are beautiful in floral arrangements and look wonderful in landscapes of all styles.
Ornamental trees – Japanese maples, small fruit trees, and Dogwoods work well in woodland settings and areas where you need architectural interest. You can plant trees for fruit and for flowers for cooking and for floral arrangements. Also, they provide a natural focal point in the garden area.
Yaupon Holly – This is an interesting structural holly shrub with bright red berries in winter that stays green year-round. Further, it is a drought-resistant option.
Boxwood – These shrubs have a formal look that is perfect in traditional and classic style gardens. They work well as border shrubs to create a low wall.
Peonies – Planting flowers can be tricky, but planting peonies takes all the guesswork out of the process. These are lush and elegant and come in a variety of colors and sizes.
Evergreens – These provide needed color in the winter months. Many of these have interesting architectural shapes that add texture to backyard landscaping.
Backyard Landscaping Ideas for Your Backyard
Whether you are looking to create a vegetable garden or an outdoor living room, these backyard landscaping ideas will inspire you to have a bigger vision for your outdoor space.
Grasses in landscaping
The use of ornamental grass on the edge of this yard softens the look of the line between the grass and the edge and adds a new texture and soft color to bring more visual interest. These large plants shore up the borders without overwhelming them with too much color. Notice also the curved edge of the border rather than a straight line. The rounded grasses fill this shape in a natural and organic way.
Stepping stone pathway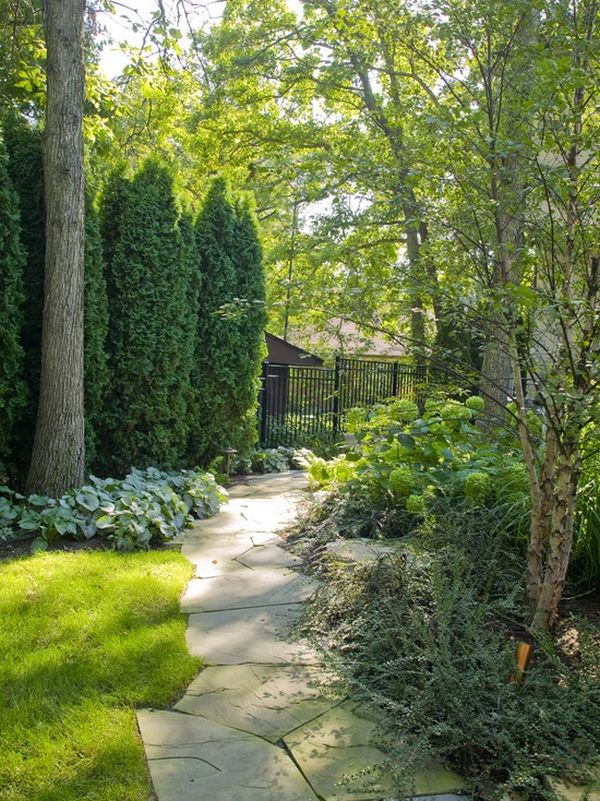 This green breezeway is just the place we can see ourselves walking on a lazy summer evening. The cypress and variegated hostas bordering one side with the more varied textures of the shrubs on the other side create an interesting contrast in the backyard area.
The large stepping stones are fitted together in a natural and less than perfect way giving the path a charming, homemade look. The path creates the visual continuity that draws the backyard together.
Woodland backyard
This backyard space is all about romantic luxury. This area just asks you to put up your feet and spend time enjoying the beautiful outdoor world. The planting beds are full of lovely shade plants like hostas and hydrangeas.
If you have a shade area and like this backyard landscaping idea, begin to plant some sturdy foundation trees and lush flowers and shrubs. Don't worry about creating a look that is perfect. Rather, choose plants and shrubs that fill out. However, be careful to steer clear of plants like Japanese privet that are fast growing but invasive.
Classic brick patio
There is something about a brick patio that is unmatched in its ability to look classic and elegant. Brick patios are not just beautiful they are also functional as they hold up to high foot traffic better than grass over time. Further, brick walls and edges allow you to section off your garden to create planting beds and visual separation from the rest of the yard.
Use of diverse materials
This backyard area utilizes different materials like pea gravel, grass, mulch, and shrubs to create distinction in the backyard design. The boxwood hedges and the stone fountain lend an old-world charm and formality to the backyard, but with all that, it does not feel fussy or styled to excess. Rather, the simple design speaks for itself.
If you love this backyard landscaping idea and want to create this look for yourself, employ different materials like pea gravel and grass. Add plants like boxwood and Yaupon Holly that have structural texture to anchor the garden beds.
Rounded edges
Outdoor living spaces work best when they are areas that families and friends can enjoy together. This large backyard is edged by a living wall and a stone wall that blend into one another. This circular shape is effective to create an intimate space that feels private and self-contained.
Middle Eastern garden design
This is one of the most beautiful garden ideas that we have seen yet. The mosaic floors leading to the water feature and benches create a symmetric focal point. However, lest the space look too formal, the trees overhang the garden to blur the edges of the formal space.
Natural shade
This backyard landscaping design employs stacked stone walls and stairs with a lower grass area. Also, there are trees surrounding the garden area that provide ample natural shade. The concrete stepping stones bridge the sections of stone and grass together. Hardscape areas like this are more expensive, but in the long run, they stand up well over time and are easy to embellish with plants and flowers.
Outdoor fireplace
If you like the idea of sitting inside in front of a roaring fire, consider an outdoor fire pit or fireplace. This yard is an outdoor living room that is comfortable for a cozy outdoor date night or the community social event of the year. Further, the sections of the yard provide a perfect place for entertaining as guests can split off into small parties or be together as a larger group.
A living fence
We love how this backyard design uses plants and edging stones to create a living border for the yard. Notice the use of different sizes and colors of plants to create interest. The stones are used in a way that is suggestive of nature than of planned structure.
Swimming pool for entertaining
A swimming pool is a natural focal point of the backyard. They always look luxurious even when not being used. While many people have a mixed view about whether a swimming pool adds to the value of the home, it gives those who have one a wonderful place for entertaining family and friends.
Extra seating areas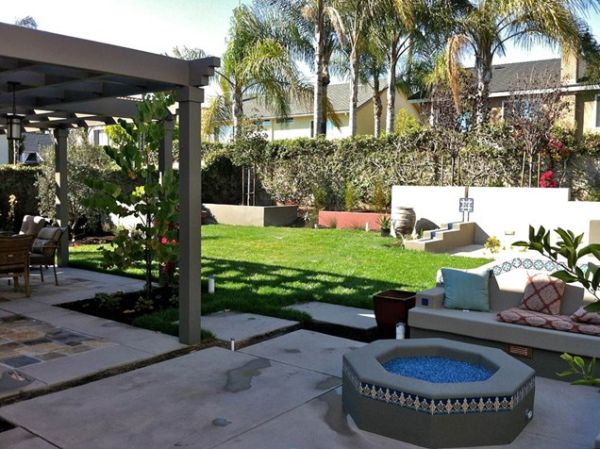 This backyard has it all. It has an outdoor seating area under the gazebo, an area in the sun, ample backyard garden space. This is a wonderful space for entertaining. It has distinct areas with their own focal point that allow guests and family to spread out. This kind of backyard landscaping requires extensive hardscaping.
A backyard oasis
This small patio of stone with the water feature is a peaceful oasis. The stone around the pond has the appearance of natural stone by the way that it is stacked in a less than perfect way for a natural look. A patio of this type works in small yard spaces as well as large ones.
Japanese garden
This Japanese style garden breathes serenity and rest. While it does not have a lush landscape, the placement of architectural plants like ornamental grass and a small Japanese maple looks intentional. Dark mulch has been spread over the ground to ensure that weeds do not flourish. If you like this look, consider adding plants with a delicate Asian flair like tall bamboo, conifers (evergreens), and rhododendrons in your backyard. This is the perfect look for a small backyard.
Seating area with a pergola
This stone patio with the ornamental pergola provides a laid-back seating area. The patio uses variegated stones that give the design texture. Further, at the edge of the patio there is a raised garden bed behind the lounge chair to bring plants and flowers into the patio space.
Outdoor dining room
One of the design ideas that brings the most people to the backyard are areas used for eating. The outdoor fireplace and eating counters create a comfortable extra entertainment area that you can enjoy many months of the year.
Creating privacy
When you begin your backyard landscaping, an important consideration is how much privacy you will want. This backyard has a stone patio against a large privacy wall. These high walls keep out the gaze of curious neighbors and provide a new area to accent. Notice that the owners have attached hanging plants to this wall to soften the hard look.
Backyard fire pit
This outdoor seating area has a large fire pit as its primary focal point. This is a useful addition to any yard for many seasons. It can be used in summer and fall to roast marshmallows and in the winter and spring for warmth. The pergola on the right of the small patio provides greenery in the form of a climbing vine. This enlivens the texture of this outdoor living room.
Outdoor entertaining
While this outdoor kitchen may not have a big screen tv, it has everything else for outdoor entertaining. It has cooking appliances and seating areas in both the shade and the sun. Notice the use of mixed materials including brick, stone, and wood. There is a strategic addition of greenery on the backyard patio to soften the hard lines.
Bringing light to your outdoor space
This is one of our favorite backyard landscaping ideas from Overarch. This small backyard garden uses string lights to great effect. They stretch over the floating bench on either side of the small fire pit. The patio is surrounded by tall green plants to bring natural beauty to the city.
Mixed stone patio
This backyard landscape garden uses a mix of materials in an effective way. The pea gravel provides a textured foundation and the large stones bring the areas together. The dark mulch allows the color of the shrubs to stand out and gives the yard a manicured look.
Raised-bed garden
Do you fancy stepping outside into your backyard and gathering some lettuce for your lunch or some rosemary for a garnish? A raised-bed vegetable garden may be the idea you need. Consider one like this from Alderwood Landscape Architecture and Construction.
Raised beds work well because the higher beds allow for better drainage. Also, the soil warms faster than it would in the ground leading to quicker germination of the seeds in the spring.
Backyard oasis
Even though this backyard space is not large, it has an outsized impact because of the covered patio, the privacy fence and the lush mix of flowers and shrubs. The stones inset into the grass create a walkway for high traffic that protects the grass.
Small backyard landscape ideas
Small gray gravel defines the modern design in this backyard area. The firewood holder provides a background of texture for the minimalist design of the outdoor seating and fire pit.
Large backyard distinction
When you have a large backyard, there are so many directions to go with landscaping ideas that it is difficult to know where to begin. The landscape design for this yard breaks up each area into more manageable sections. Each area is distinct, but they are all connected by the stone which brings needed definition to this large space.
Frequently Asked Questions (FAQ)
FAQ
What are the four essential parts of landscape design?
The four essential components of landscape design are the unity and balance of your design, the lines and paths, the focal points, and the transitions in the space. Unity and balance refers to how all the parts of your design work together to achieve a perfect whole. Lines and paths are the outlines and inner lines in your design and if these lines will be straight or curved. A focal point serves to create a visual apex in the area. The transitions throughout the yard create flow from one area to another.
What is classed as soft landscaping?
This term describes all the elements of garden design that are natural and do not involve construction. These can include flowers, shrubs, turf, hedges, mulch and so on.
What is hard landscaping?
Hardscaping refers to all of the materials like brick, stone, wood and so on that require construction in the landscape design.
How much does it cost to landscape a backyard?
It is a good rule of thumb to plan on spending about 10% of your home's value on landscaping costs in order to make the most of your outdoor space. Landscaping costs vary, but in general, plan to spend anywhere from $10,000 to $50,000 on your total backyard.
Where do I start when designing a backyard?
First, consider the natural flow of the yard and decide on the uses of your yard. Whatever you do, begin with the areas that are close to your house as these are the areas that are most obvious. As you plant, make sure to plan for the growth of your greenery and leave space between plants.
How do I landscape my small backyard?
There are several ways to have an outsized impact in a small yard. First, you can plant statement plants with bright color and interesting leaves to distract from the small space. Next, add a focal point like a bird bath or fireplace to elevate the style of your yard. Last, think of the vertical space you can use and build pergolas, trellises, and arbors. Further, you can use the sides of walls to add more greenery.
Conclusion
No one would ever say that backyard landscaping is easy. Many people are tempted to avoid it because it seems like it doesn't matter as much as a front yard. However, in some ways, backyard garden areas are better than front yards.
They are a place that can be shut away from a curious world, and a place where we can enjoy life outdoors in a private place. It is worthwhile to make this area as functional and beautiful as we can.
Picture sources: 1, 2, 3, 4, 6, 13, 14,17, 19, 20, 24, 28,29.