Hand-crafted Furniture Adds Organic Element, Personality to Decor
Handcrafted and natural decor items are trending for fall and Homedit got to see some amazing examples at Field and Supply in Upstate New York. A show dedicated to artisanal work, it is billed as "a modern interpretation of a traditional arts and crafts fair." Overall, it is a well-edited selection of modern makers covering a wide array of specialties, from textiles to furnishings and lighting, along with other items. Here are some of the coolest pieces we found:
You can't get more organic feeling than live edge furniture and this beautiful cabinet comes from DBO Home. The husband and wife team who run the business — Daniel Oates and Dana Brandwein — work out of their Connecticut studio to create casual, comfortable pieces that are still luxurious. Oates, who uses mostly locally sources American hardwoods, created this stunning cupboard, and Brandwein's ceramic works sit on top.
The Alma Credenza from Dzierlenga F+U is truly a blonde beauty. Made of bleached spalted maple and finished with custom brass hardware and handles, it is a beautiful addition to any room. The intriguing wood grain and shading of the wood come together into an heirloom piece that you can't find in a furniture store. The wood is sourced in the Hudson River Valley and some milled on the grounds of the studio.
Handwoven textiles add dimension to fabric as on this ottoman and cushion from Hart. The black and white design is versatile for many spaces and the patterns are very contemporary. Founder Jamie Israelow weaves using un-dyed sheep's wool, which comes from a rural New York fair. Very natural and certainly stylish, the works are easily imported into today's interiors.
Rustic accessories are a perfect addition to decor at any time of year, but especially for the fall season. Crafted from tree bark and leather laces by JWB Bows, these cups are suitable as glass votive holders, pencil holders, vases to name a few uses. The company is best known for handcrafted bows and arrows, but also makes small accessories for the home.
Lawson-Fenning's Ojai Lounge Chair is made from solid white oak or solid walnut base topped with a one-piece tufted leather cushion. The cushion attaches to the frame with leather straps. The profile has a casual lounge feel, with its splayed-out sides and ample-sized seat. Paired with the Spun Metal Table, the set is great for many living spaces.
Translucent veined pendants cast a warm glow, exuding light through the textured porcelain. Made from hand formed porcelain with a clear glaze, the lights from Lowland Studio are a study in light and shadow. Creator Kelly Storrs makes her artful lighting pieces in the Catskills by the banks of the Sawkill River. It's amazing how a single material without any colors can have such dimension and texture.
A pair of retro lamps are just as awesome today as they were when they were created decades ago. Luddite Antiques of Germantown, New York acquires and sells a variety of attractive antiques for different design eras that are perfectly appropriate in today's interiors. The matte silver and bold orange colors are stylish and the shape mid-century modern.
Macrame and ceramic pieces are immediately recognizable as handcrafted pieces, and when combined even more so. This lush wall hanging from Michele Quan exudes textures and forms that are organic and earthy. Quan designs and creates objects for the home and garden, that are inspired by her love of drawing, painting, text and color. She uses visual symbols of Eastern iconography because she finds their meaning and beauty formidable.
A stunning wood dining table by New York Heartwoods is a prime example of sustainable practices. The husband and wife duo work under the motto of "giving fallen trees new life" and create stunning pieces for the home and do the art good at the same time. The designs highlight the beauty of the wood and meant to be heirlooms that families will use and treasure.
Natural stripes in the wood grain make this an unusual coffee table design from Pacama. The Woodstock-based studio was founded by Cedric Martin and focuses on furniture. Clean lines and pleasing proportions let the beauty of the wood shine, as in this coffee table that make natural falls and a live edge the highlights of the piece. The rich gray color of the wood is also on-trend.
Angular and stark, the Cantilever bench was inspired by Bauhaus design and is a simple design that combines rationality and functionality. The spare bench, here done in oxidized black walnut, offers storage on the bench below, without compromising the integrity of its design. The piece is from Phaedo, a design company that creates "objects and spaces with intention and purpose."
At first glance, Phaedo's Lexan table is like a jigsaw puzzle, but is really a study in angles and curves, making for a very interesting coffee table. Its unusual design is perfect for living and family rooms of many styles.
The Moon Table and the Harrow Occasional table by Samuel Moyer Furniture are organic pieces that add a natural touch to a space. The Moon Table, which sold out quickly, is a modern yet artistic addition to a space. Samuel Moyer handcrafts custom furniture and objects from sustainable materials, yielding furniture of heirloom quality. The beauty comes from the relationship that the artisans develop with the wood during the creation of the pieces.
Taylor Ceramics brings simple pieces to the next level with planters that are holed and notched to hold the black waxed linen cord. The two create a contrast through the lines that zigzag around the planter. The triangular pattern adds extra dimension to the usual hanging planter.
Sticks and Bricks is a woman-owned furniture studio that uses "materials that are relics from another time and place". These are redesigned and engineered into transformative pieces that bring vintage character to today's interior decor. All the works are original and no two are alike thanks to the original nature of the wood that is repurposed in the furnishings.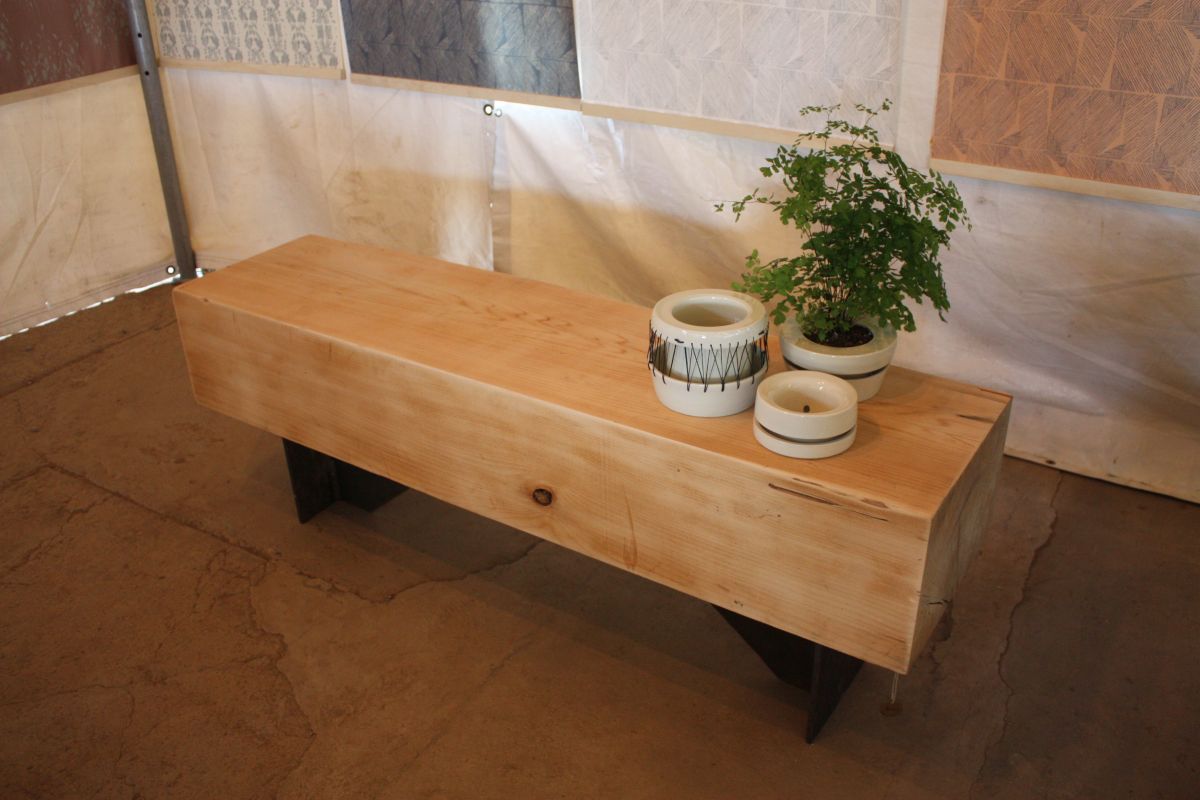 The legs on these shagreen-topped side tables by J.M. Szymanski are nearly as intriguing as the tops are. Dark, industrial metal with a base-heavy profile forms the four legs, giving the table an anchored feel. The shagreen on the surface has an exotic color pattern that repeats in squares. The designers work is influenced by formative years in Nepal along with immersion in Spanish and Moroccan art and culture.
We've seen Wyatt Speight Rhue's work before and he regularly shows remarkable wood furniture that is distinctive because of the way the wood grain is highlighted. Inspired by the likes of masters such as George Nakashima, he uses traditional woodwork and metalwork techniques to create tables and bowls that are destined to be heirlooms. Expert craftsmanship transforms downed trees into beautiful furnishings and bowls like these.
In this era of mass market production, it is heartening to see that hand-crafted heirloom quality furniture and accessories is a thriving specialty. Small designers who are amazingly creative and highly skilled are producing works that clients from coast to coast are snapping up to add warmth and individuality to their homes.