Dramatic Art Lighting to Elevate Your Home Decor
Sometimes only the most dramatic lighting will do the job for a particular space. Fortunately, there are plenty of designer lighting fixtures that are artful enough to engage the most discriminating homeowners. And, while no one can argue that the first requirement for a lighting fixture is not function, the form of that fixture can be very creative and artistic.
In fact, lighting fixtures are increasingly doubling as art pieces, especially when it comes to chandeliers, statement pendants, or whimsical table lamps. The world is your oyster when it comes to the range of styles that are available. Choose something very refined and artsy, or opt for a super edgy and avant-garde fixture that will have everyone talking. If you haven't gone shopping for lighting outside of a big box store lately, you'll be in for quite a surprise when you start exploring artful lighting fixtures.
Cool and Dramatic Art Lighting Ideas for Home
Homedit found a great variety of artistic new designs in Miami during the past few seasons of art week. Here is some of the latest lighting, from modern to luxe and whimsical — something for every taste.
Todd Merrill Gallery
Quirky doesn't begin to describe the work of American artist Brecht Wright Gander. The Brooklyn-based creator has been described as one who makes works that challenge what we consider "normal" and in good taste. This floor lamp is a great example of his pieces that have some anthropomorphic qualities mixed with fantasy and a good dose of oddity. This type of artful light fixture is a fabulous choice as a conversation piece, especially for those who like to come down on the side of "different."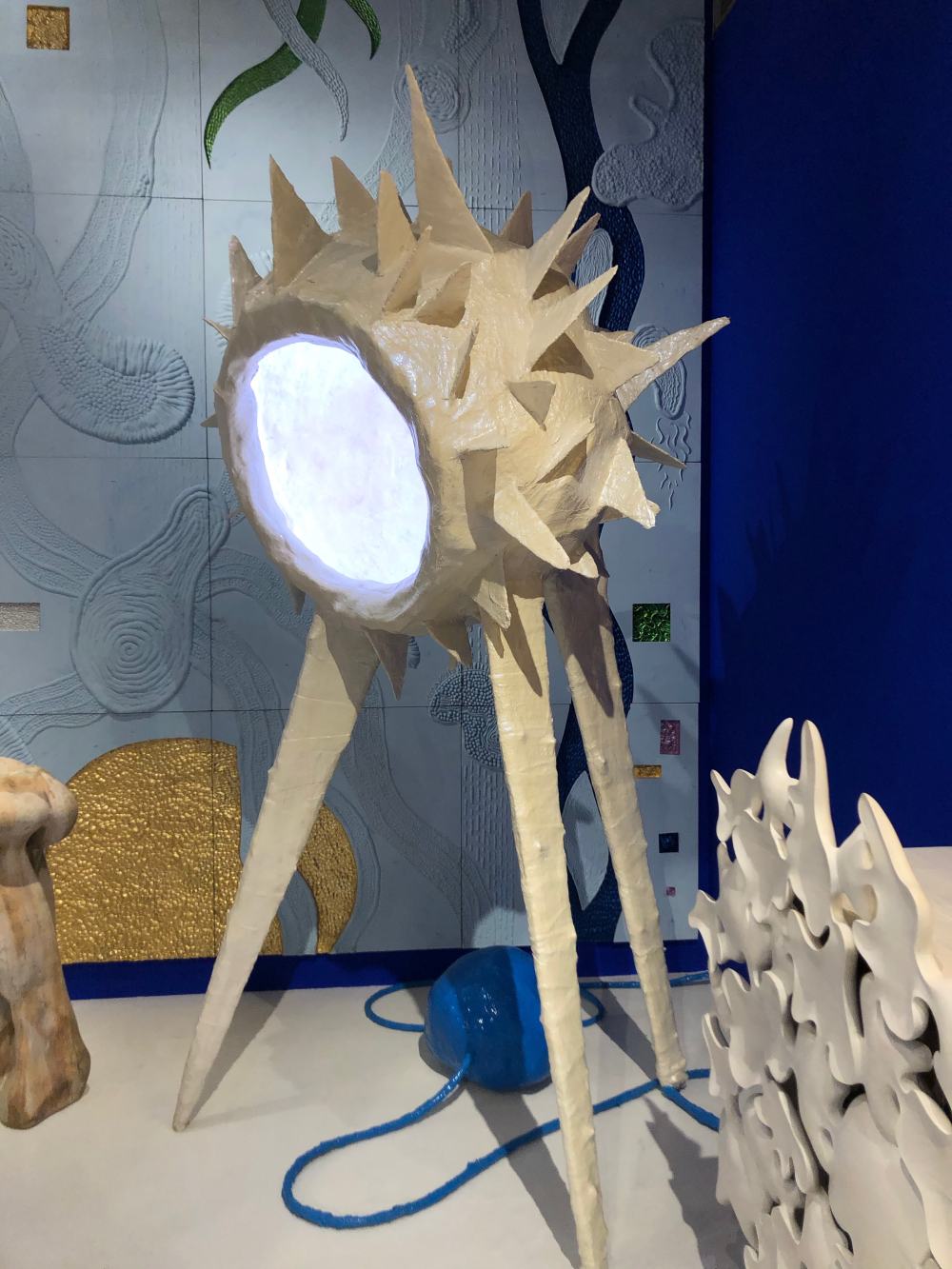 This is another of Gander's floor lamps that is similarly eccentric. Gander says that no matter what, his designs are serious and functional. "When it's playful but also having to hit these measures of functionality, that's the kind of place that I find the most compelling." Spiky and futuristic looking, the floor lamp is equally an outstanding work of sculpture. Made of steel, plaster wrap, metal leaf, pigment, and wire mesh, we love how the cord has been elevated to an integral part of the visual element.
SIDE Gallery
Barcelona designer Guillermo Santomá created this one-of-a-kind ceiling fixture and it is most definitely an artful design. The "Cerralbo" lighting fixture is a composition of steel, aluminium, methacrylate, neon, and light bulbs: it shuns the usual classification and symmetry of more ordinary constructions. Working with the idea of constructing from deconstructed, Santomà morphs and deforms objects and materials to create sculpted designs that shake up standard conceptions.
Galerie Scene Ouvert
Why settle for mundane sconces when you can have stylish, artful designs like the Gaia Neon wall lights by Naz Yologlu. Contrasting solid marble forms pair with neon outlines to create innovative wall lights that are attractive and eye-catching. The Turkish architect and designer created these as part of her Gaia Collection of furnishings that turn these everyday functional fixtures into an artful experience.
Friedman Benda
Whimsical and loads of fun, these floor lamps by Jonathan Trayte seem to be channeling Dr. Seuss, but with the artist's own vision and unexpected materials. While the fixtures are very functional as lamps, their overriding reason for being is artful and provocative. They practically dare anyone to look past them and ignore the works "pairing natural forms with not-found-in-nature finishes." Media have called Trayte's collection a "Cast of Weirdos and Misfits."
R and Company
Another piece with a "Seussical" feeling is Rogan Gregory's one-of-a-kind light fixture called Fertility Form. Gregory calls it an illuminated sculpture and indeed it does have a sculptural silhouette unlike any common lighting fixture. It's an ideal artful lighting piece that can be incorporated as an organic element in a modern, eclectic or contemporary interior.
The gallery writes that his "works reveal the designer's unique mythology through their elegant, minimal forms."
Artistic elements and a naturally formed, undulating shape distinguish these globe pendants from the ordinary. Created by well-known glass artist and lighting designer Jeff Zimmerman, along with James Mongrain, the sculptural pendants are a hand-blown, filigree glass that takes on added dimension precisely because they are not symmetrical.
Cristina Grajales Gallery
A table lamp is an easy addition and this Cityscape Table Light by Tabor & Villalobos is an excellent example of an artful lighting fixture. Crafted from plaster, resin, gold and brass, the dimensional piece emits a beautiful glow from the interior, which highlights the angles and ridges, evocative of the buildings that make up a city's towering profile. It's the perfect artistic piece for mood lighting.
Galerie Kreo
This Parisian gallery is a perennial favorite with its cutting edge designs that straddle the world of iconic pieces and new profiles. Floor lamps, pendants, chandeliers and sconces are all versatile and beautiful. The gallery always has a selection of magnificent vintage pieces alongside its limited edition contemporary designs.
This setting is highlighted by amazing vintage pieces like the ''239/2'' by Gino Sarfatti wall lights flanking the mirror. On the console table is "Frozen Spring," from the frozen in time collection by Studio Wieki Somers, who produced a limited edition of eight numbered and signed pieces. The lovely table lamp is made from resin, silk flowers and a UV top coat.
Jin Compassion is a contemporary floor lamp also by Studio Wieki Somers. The shade is made from Nuno fabric and the rest of the piece is comprised of fiberglass, carbon steel, aluminium, feathers, and LED light sources. The anodized aluminum pole sits atop tulip a wood and anodized aluminum base.
Future Perfect
Born in Brooklyn with the aim of being a showcase for exceptional decorative arts and design, The Future Perfect has now added locations in Manhattan and San Francisco. Founder David Alhadeff has grown the gallery into a platform for design from around the world, including emerging artists and established names alike.
These wall sconces by Eric Roinestad debuted at Design Miami 2016. Each ceramic piece by the California designer is hand-crafted and small batch. This is Roinestad's first lighting collection and is inspired by his own Scandinavian heritage, mixed with California Folk Modern.
This pair of table lamps is Bronze Cenotaph Lamps by Kristin Victoria Barron. The intriguing lamps are inspired by an even more interesting dream sequence. It is "based on a foreign man, his daughter, three horses, a mare, a gelding, and a horse of both sexes. In the dream sequence, the man offers Barron a delicately spun gold card to call upon him to meet his daughter and the horses. Barron attempts to contact the man night-after-night to no avail. The shape of the Cenotaph lamp is both an elevated offering bowl and a Cenotaph (empty tomb) for the daughter and the horses who are never to be found again," writes the Gallery Kreo website.
The Loop Collection by Michael Anastassiades' is exclusive to The Future Perfect. It plays on balance, color and the minimal shape of the loop. Thin green rings hold three orbital lights in the standout Triple Loop Suspension. The Double Loop Floor has an additional sculptural element and the Double Loop suspension and the Single Wall Loop are minimally beautiful fixtures.
Amman Gallery
Based in Cologne, Germany, Amman Gallery has been very influential and instrumental in advancing artists and seeing them placed in influential collections.
Florian Borkenhagen is known for his blurring of the lines between art and design, a great example of which is this spectacular chandelier. His use of everyday items in deconstructing and reconstructing objects gives them different meaning and often provides viewers with a new perspective on reality. This is Borkenhagen's "Mon Cheri," made from copper plated steel and glass.
Friedman Benda
This fairly young gallery from New York City has been catapulted to fame in its short existence — little more than 10 years — thanks to the spectacular pieces it handles. The cutting-edge gallery is an avenue for master designers and a launchpad for experimental artists.
At Design Miami 2016, Friedman Benda showed two rooms, an installation called "Asymmetrical Symmetry," featuring works by 11 international artists.
Carpenter's Workshop Gallery
Carpenters Workshop Gallery has made its name by producing and exhibiting functional sculptures. They focus on works by rising artists as well as established creators. Launched as a partnership b childhood friends Julien Lombrail and Loic Le Gaillardt. The opening their first location was in London. Later they added a Paris Gallery and now a New York space.
This is the "Askance" floor lamp by Australian designer Charles Trevelyan. It is fashioned from patinated bronze.
The Banana Lamp by Studio Job was a real draw at Design Miami. More art than pure lighting, this whimsical light piece is really very fun. Made of polished bronze and etched, blown glass, it also features hand painting and LED components.
Patrick Parrish Gallery
The Patrick Parrish Gallery of New York City is known for its selection of unusual furniture, lighting and art. The gallery has shown countless established artists and gives young, emerging artists and designers a platform to be discovered. The pieces exhibited at shows like Design Miami are always different and provocative. These lights are the Alkahest Dome Lights by Kristin Victoria Barron, who based them on a dream about a melting cathedral.
Hostler Burrows
This New York Gallery always charms with the pieces it brings to shows like Design Miami and this year we were particularly loving the giant crystal shaped lights by Swedish designer Frida Fjellman. Like big colorful sugar crystals, the fixtures are decadent and luxurious, accented by the metallic fittings and chains.
Founded in 1998 by Kim Hostler and Juliet Burrows, Hostler Burrows focuses on Nordic design and was the first in the United States to show twentieth century artists and designers such as Axel Salto, Berndt Friberg, Josef Frank, and Finn Juhl.
Victor Hunt
Brussels-based Victor Hunt Designart Dealer trades and curated contemporary design, focusing limited editions from "the most remarkable emerging creators." The gallery sees "designart as the gray zone within industrial design, craft, architecture, sculpture and many other art disciplines." At the 2016 edition of Design Miami, as in previous fairs, the gallery's lighting pieces drew a great deal of attention.
This light sculpture is by Amsterdam-based artist Arnout Meijer, called Sight V, made from Optical acrylic glass, varnished aluminum and LEDs.
Works by Artist Tom Price explore familiar materials in unfamiliar ways. Price subverts conventional manufacturing techniques and introduces a "dose of entropy into what are typically very controlled processes." This is his Synthesis B series.
Southern Guild
The Southern Guild represents African locally made, limited-edition design by artists and designers in South Africa. This is the Hok Chandelier, which is composed of ostrich skeleton parts, cast in bronze. It was created by Otto du Plessis, a founder of Bronze Age, a Cape Town-based art foundry. He specializes in casting bronze sculptures with the lost wax and sand casting techniques.
R and Company
You can count on R and Company to have some of the most whimsical and fun pieces at any design show. This year, in addition to works by the Haas Brothers they had some other wild pieces. Katie Stout who is known for her colorful and fantastical works, which almost seem animated and life-like. This is Stout's "Girl Lamp."
Last but not least, we have this Dr. Seuss-like table lamp by the Haas Brothers, who have claimed their fame with a unique and often funky style design. Their current works focus on themes related to nature, science fiction, sexuality, psychedelia and color theory, according to R and Company.
Everyone has a budget and in decorating, it's vital to stick to it. That said, it's also important to include a splurge piece as well as something that really speaks to you artistically. Artful lighting can do double duty and give you the most bang for your buck. If you didn't see something here that strikes your fancy, check out the individual galleries and see what else they have to offer.