Want a Cool Room? Try Adding These Types of Stylish Decor Items
Lots of people want it but not everyone knows how to create it — that often elusive "cool" factor that makes a room super stylish and appealing. Part of the reason this can be so difficult is that a cool room can be found in almost any interior decor style. Most of the time, all a space needs is an interesting or innovative piece of furniture to set it apart. It doesn't have to be an overwhelming process. Just find an element that is supremely stylish and fits your decor. Not sure where to get started? Here are some examples of things that can help create a cool room.
26 Stylish decor ideas for a cool room
Artful Lamps
Adding an artful lamp to your room's décor is one of the fastest routes to upping the cool factor. The sky's the limit when it comes to picking artful lamps and they come in every interior style and many that defy description beyond being "artful." Some, like this one by designer Eny Lee Parker has a sculptural quality and evokes the feeling of Southwestern cacti in the desert. Other designers have created lighting that is wild and wonky, maybe even more than you can imagine. This is one area where you can – and should – have a little fun with your choices.
A Statement Freestanding Tub
Standalone tubs are practically a must-have in any luxury bathroom, so why not choose one that's a little out of the ordinary? These can be a bit of an investment, but it's still possible to make a conservative choice that's just different enough to add a major cool factor to the bathroom. A great example is the Hastings redesigned Chelsea bathtub, which balances the traditional with the contemporary in a new style – and modern color — that's very versatile.
An Intriguing Rug
Another surefire way to quickly add a cool element to your living space is to swap out your lain rug. Today's rugs can truly be a work of art the range of options is so wide that you find almost any color, kind or style of rug to fit your décor plans. This marvelous rug from Lucy Tupu is a great example because it has a range of colors that add pop without being too bright. Of course, you can go for something really colorful if you want to add some pop to a room that's totally neutral. There's no need to play it safe or go with a plain solid when such a vast array of beautiful rugs is available.
Custom Vents
One of the peskiest elements to work around in the house can be the vents that deliver your heating and air condition: Necessary, but not very nice. Until now, that is. Aria Custom Vents let you install beautiful vents that match your paint or covering, with nary a standard hardware store grate in sight. The design uses a flat surface with a rectangular air channel to let the air move freely. They also have some standard types that can match your moldings.
An Amazing Bar Space
If you have space and love to entertain, why not install a killer bar space that's big and grand? This one by Amuneal could easily be a kitchen space but it has all the makings of a great bar. Lots of gleaming counter space, a hand sink and enough concealed storage to hide all those bottles and glasses in style. It's also got a refrigerator in the cabinetry so that you can have all the beer and mixers you need, chilled and ready to go.
Better Than Basics
A coat tree in the entryway or a valet hanger in the bedroom can be among the handiest additions to your home, but they certainly don't have to be basic. Modern designs are more stylish and have the flair that basic ones are missing. This example turns the rack into an attractive décor feature with the oversized ball at the top. Instead of being an add-on, it becomes a cool design element.
Totally Coordinated Bedding
The quickest way to make the bedroom feel like an entirely new space without repainting or buying new furniture is to restyle the bed with elements that are completely coordinated. Neutral bedding is easily jazzed up with pops of color from cushions, throws, or a tray with accessories. This particular bed has a colorful headboard that sets the stage, but you can achieve the same thing with a basic headboard too.
A Unique Dining Set
For a most dramatic dining space, choose a spectacular, unique dining set. It doesn't matter what your preferred decor style is, there's a dining table that can be the eye-catching centerpiece of the room. This one is a sparkler, with a crystal-filled design and a sleek, round shape. The table, from Studio PGRB, is paired with modern chairs that add a little softness to the glitzy design.
Statement Shelving
This arched metal shelving design from Kin & Company demonstrates how a basic piece of furniture can make a real statement. Shelving is a must for many rooms, but why not try choosing something that is a little different, such as a design that has an unusual silhouette or is made from an unexpected material. Don't settle for boring shelving when such innovative designs are available.
Art That's Lit
Wall art is a fabulous option for creating a cool room, especially when it incorporates some lighting. A wall piece from Galas features dramatic purple backlighting, which creates a fabulous focus, day or night. Especially after dark, this wall art becomes an even showier element, drawing plenty of attention. This type of wall art idea is great for a room that always tends to be dark, where a basic piece of art might not be so easily appreciated.
Sideboard and mirror
A sideboard and a mirror are a pretty standard set of pieces for a living room or dining room but choosing a really distinctive design is a big step toward a cool room. The Lapiaz Sideboard is by Boca do Lobo. The iconic design is comprised of two sections that are finished in polished stainless steel with a very artsy golden accent. The interior is crafted from poplar root wood veneer interior. On the wall above, the mirror has an irregular round shape, defined by the gold lines running around and through it. The hand-cut piece is made from Cromio lacquered wood. Together, they make a glamorous and striking set.
Unique Collection
Nothing will change up a space more than a piece of furniture that looks out of the ordinary compared to standard styles. Some of these designs are adaptable, like this Udaipur Sofa, which is actually modular. This piece, by Singaporean designer Nathan Yong, is modular and the buyer can choose which elements they would like to include: a lamp, table, mirror or TV remote holder. The frame finish and the material used for the side tables are also customizable.
Another piece in Yong's ipse ipsa ipsum brand is the Maharaja Long Sideboard. With a frame in antique brass, a white Indian marble top and cabinetry clad in green croco leather, the structure of the sideboard is solid steel. The corners of the sideboard are noticeable for their carved shape that is inspired by India's Mughal architecture. It's a combination of materials, textures and colors that adds a sophisticated flair, making any space a cool room.
Yong's dressing table brings together the features of the other two pieces with the modularity of the sofa and the leather finish of the Maharaja Sideboard. The elements of the design make this a piece of cool furniture are the rails and the way the separate parts stand up off of the table.
Reclaimed wood
Reclaimed wood is a go-to material for making a casual space a cool room. For the most natural vibe, try something like these pieces from THORS. The Cube seats – as well as everything produced by the company — are made from Azobé wood that is sourced from Danish wharves that were taken out of service. The furnishings have a super rustic feel and no two pieces are alike. Raw and textural, they get an added dose of "wow" from the fur toppers. All have a sanded surface and can be purchased with an optional backrest.
Best of all, the THORS Cube can also do outdoor duty and will develop a silvery gray finish over time. For a more traditional outdoor piece, the THORS Omega picnic table and attached benches are ideal for a garden or yard. Besides being made from upcycled wood, they are not treated with chemicals and instead are finished with natural oils, as are all the furnishings, making them even more sustainable.
Appliances
Color is hot when it comes to kitchen appliances as many brands are introducing a spectrum of hues. The designs go to show that there is a lively life beyond stainless steel and the vibrant pieces really make the kitchen a cool room. These ranges from Smeg are part of the Portofino line, inspired by the sights, smells and colors of the romantic town in Liguria: Appliances are available in green, Italian red, yellow, orange, anthracite grey, black and white. More than just colorful, the energy-efficient models have loads of desirable features.
Daybed and Coffee Table
A sure-fire path to a having a cool room is to opt for something other than the standard sofa and coffee table combination. If you love to lounge, consider using daybeds in the living room. They offer just as much seating as sofas do and are even better for afternoon napping or binge-watching. These Hudson daybeds by Frag are ideal for a modern or mid-century modern space, with their pared-down lines and low profiles. Crafted from solid walnut-colored ash, they have brushed lacquered metal legs and matelassé leather upholstery. Here, they are grouped with the Comb 100 sofa table, which has lines to match the vibe of the sofa. The base has a brass finish but is also available in chrome, and the top is lacquered MDF.
Dining table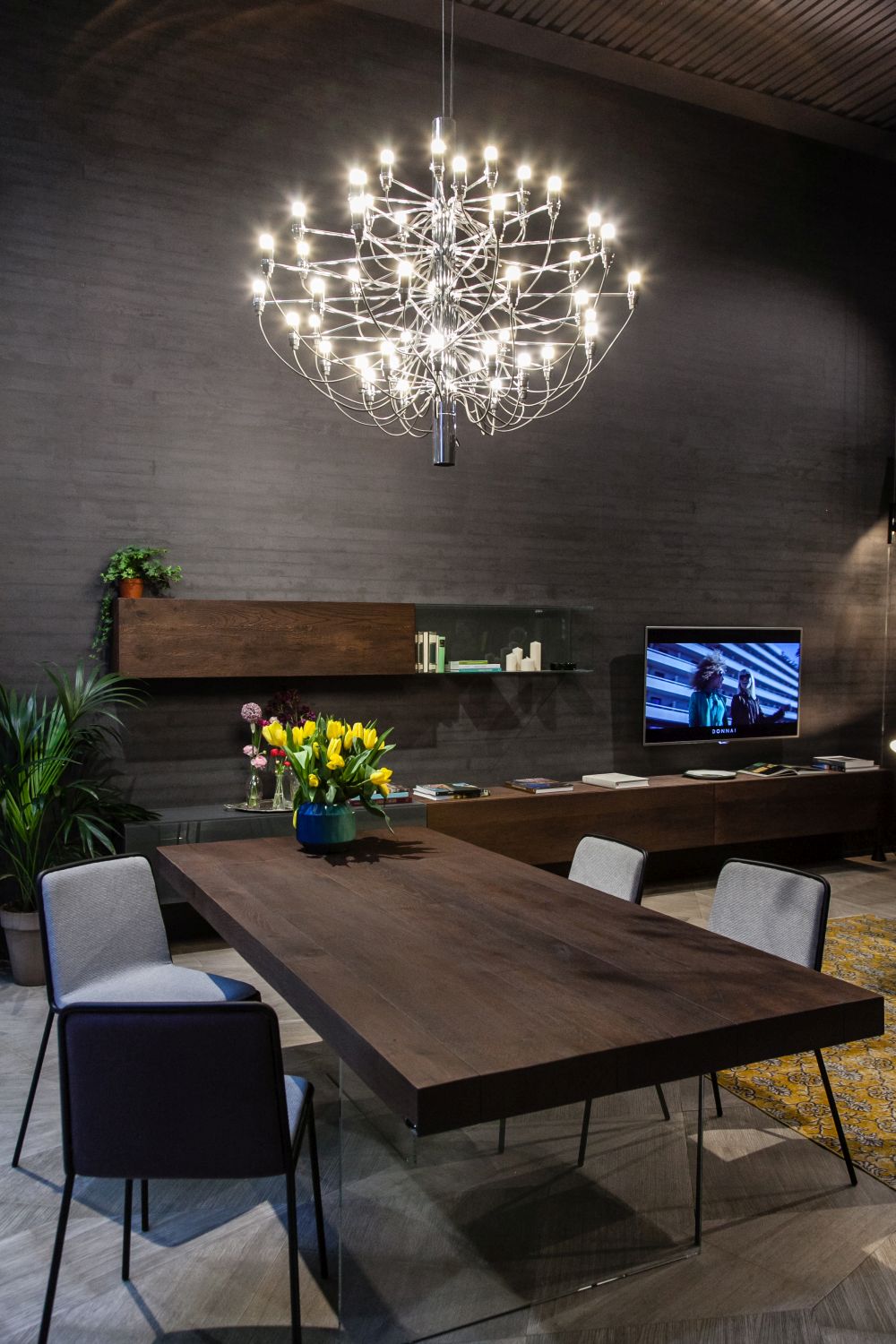 A dining table that looks like it's floating on air is a definite attention-getter, it not a little visually disconcerting at first. Often the focus is on the table base, but here it is the lack of one that makes fit a cool decor element. The substantial plane of wood in the Air Table, designed by Daniele Lago, is supported by two tempered glass panels that are nearly invisible. Despite the heft of the table top, it has a light and airy feeling.
Hanging chair
Cocoon chairs have always been an eclectic item that instantly makes for a cool room. This particular model is the Tropicalia daybed by Patricia Urquiola. The steel tube frame is wrapped in polymer cord, which can also be had in vibrant colors for a more bohemian feel. The airy cocoon is both enveloping and light at the same time. We can imagine crawling, snuggling up and never wanting to emerge. Incorporating this type of piece into a room is sure to amp up the interest.
Marble Accents
Even those who prefer understated pieces can get a cool room by adding marble accents to furniture and fixtures. Here's a great example. The Onda credenza by Poliform is a sleek oval shape that gets its visual punch from the marble top. This one is white marble, but any type will have the same kind of impact. In fact, marble is a great material for injecting a little something extra to any room, in any form.
Glass Top
Glass topped tables are nothing new, but they are extra cool on decor when they show off an artful base underneath. The Lambda table by Sovet has an undulating wood base that deserves to be on full display, which the glass top allows. This version has a smoked glass top, but it can also be done in different tints or as an entirely clear piece. Whatever the color, this is a head-turning way to add pizazz to a space.
Iconic Furniture
In the quest to create a cool room, iconic pieces are always a sure thing. These designs have stood the test of time and make a room look as fresh and new as they did when they were created. Here, the iconic Panton chair designed by Vernor Panton in the 1960's adds just the right flair to he already well-composedspace.
Another classically cool design is the Lounge Chair, designed in the 1950s by the legendary duo of Charles and Ray Eames. Not just visually elegant, the lounge chair is super comfortable which makes it a practical as well as sophisticated design for any room. The Eames also designed a matching ottoman, which would be a great addition.
Running through this list of ideas, it's easy to see that there's no strict set of rules as to what makes for a cool room. The right choice comes down to considering personal taste, decor style and the existing space as a whole. Getting that "it" factor also doesn't mean having to totally renovate or redecorate a room. A well-planned, key piece can make all the difference in the world. Try one and see for yourself!