Our Favorite Top 19 Hallway Table Picks For Modern Homes
These days we take a lot of things for granted, including furniture pieces which we now perceive as very common but which have evolved over time, being shaped by our needs and by the ways in which we use them. One example is the hallway table also commonly known as a console table.
It's elongated and narrow because of the lack of space in entryways and hallways and it mixes looks and function, providing a focal and often offering a surface on which to display all sorts of decorations. Today we've made a selection of hallway table designs which we hope you'll like as much as we do.
How to Choose a Hallway Table
A table in a hallway is typically referred to as a console; however, if the table is located in a hallway facing the front of the house, it may be referred to as an entryway table. These two styles of tables are tall and narrow and are often placed against the wall to avoid obstructing the hallway's path.
Today's architects view the hallway as primarily a tight passageway connecting rooms, leaving little potential for creativity. Historically, corridors were more like small rooms than passages, allowing for the placement of additional furniture. As a result, you're likely to find amazing hangers, shelves, recliners, and console tables there.
Hallway Table Style
The best approach to choosing the proper console table style is to find one that complements the rest of your home's furnishings or has some similar design aspects.
Contemporary furniture design places a premium on utility over form. This translates into an excellent selection of storage possibilities and a fuss-free look that works with the majority of home decor types.
Modern style encompasses a range of contemporary elements. Despite their distinctive designs, modern hallway tables are typically streamlined and simple, frequently composed of slick materials with reflecting surfaces.
A traditional hallway table is characterized by rich woodwork and hardware. They are often enormous and constructed of wood with a dark, rich finish that adds dimension and depth to your home.
Hallway Table Size
The key to selecting the appropriate size console table for your hallway is to evaluate the location and major function of the table. Console tables are an extremely adaptable piece of furniture that are suitable in a variety of locations to provide unlimited styling and storage possibilities.
Measure the width and height of your room to begin. Allow three to four inches of space between the hallways table and other pieces of furniture to maintain the room's visual charm.
Additionally, provide at least two feet of clearance in front of the table to facilitate access to storage elements and the smooth flow of foot traffic around your home.
The optimal height for console tables used in hallways is around 33 inches. This height enables the majority of individuals to comfortably access the table.
Function
Function is very important when it comes to a hallway table. Purchase a console table that complements both your lifestyle and your decor to get the most out of it.
To begin, determine the table's principal function: is it to display decorations such as a lamp or a vase, or do you want a place to put accessories so they're readily available when you're ready to leave the house?
With so many different styles and types to pick from, choose a hallway table that will maximize the efficiency of your hallway while also giving your décor a new look.
Types of Hallway Tables
Console
Console tables provide a purpose beyond storing keys and other quick-access things. Console tables are ideal for storing extra linens, crockery, and multimedia goods. Among the storage alternatives to consider for your console table are the following:
Shelves
Along with a countertop, the majority of console tables include one or several shelves. Open shelves provide the appearance of a larger room.
Lower shelves can be used to stack books, periodicals, or blankets, while the upper shelf can be used to display accent pieces, indoor plants, and even books. Baskets and bowls are an attractive way to organize your shelf contents.
Cabinets
Cabinets protect sensitive things from dust and dirt and are an excellent alternative for storing spare china, as well as multimedia equipment. Organize your cabinets by grouping comparable goods together in containers or boxes for better access.
Drawers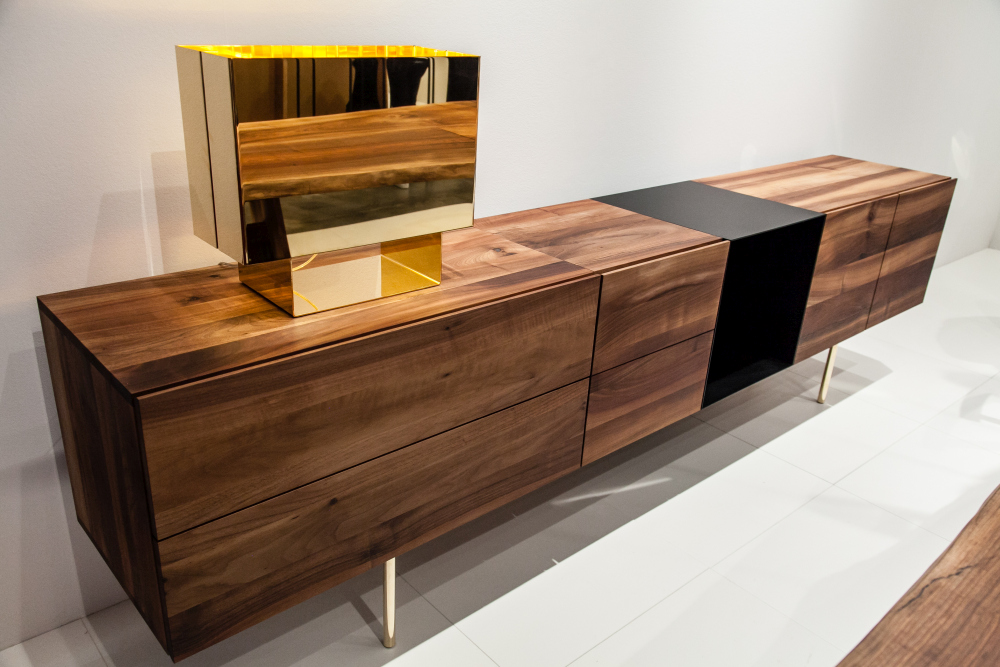 Console tables that are equipped with drawers are perfect for storing little items like keys and electronics. Additionally, they are an excellent spot to keep goods that do not fit naturally elsewhere or are unsightly, such as chargers or keys.
For less noise and wear and tear, look for drawers that are constructed with a smooth sliding movement and a gentle closing mechanism. Drawer handles are an important design element to consider because they assist the piece in coordinating with the rest of the hallway furniture.
Baskets
Some console tables in the transitional or country style feature baskets in place of drawers. Baskets have that natural texture and the woven structure that both work together to bring an additional level of elegance to your space and frequently provide more accessible storage than drawers do due to their added height.
Additionally, you can add your own baskets to the console table's lower level to assist arrange bulky things or textiles.
Best Materials for Hallway Tables
When deciding on the material for your console table, don't forget about the surface. Certain manufacturers provide fashionable hallway tables with unique tops crafted from a variety of materials. Opt for a contemporary glass hallway table or one with a granite top to make a striking statement in a corridor or room.
Wood
A solid wood console table is something that can last for generations with proper care. Genuine wood furniture is constructed from timber harvested from tree trunks and has a high level of durability.
There are several types of softwoods and hardwoods that are used to make good hallway tables, such as:
Metal
Metal console tables, regardless of style, have a sleek and elegant appearance. They can be made of aluminum, steel, iron, or a variety of other alloys. Typically, a metal console table comes with a tempered glass top.
Due to the fact that metal furniture is created from a variety of metals in a variety of strengths and combinations, the grade of metal utilized varies from maker to manufacturer. Not only is a metal console table fashionable, but it is also extremely sturdy and easy to maintain.
Glass
Glass is a common material for console table tops in a variety of styles. Choose tempered glass top console tables while shopping for these hallway tables.
Because it is engineered to shatter into microscopic bits rather than huge shards, like untreated glass does, it will be safer if it does break. Tempered glass is created in one of two ways: by heating it or by coating it with a chemical solution.
Stone
Hallway tables can also be made with different types of stone, such as slate, granite, or marble. A stone top can be fashioned from a single piece or from veneers.
A slate or marble veneer is created by gluing small slices of genuine stone to the surface of a piece of furniture, which is typically constructed of engineered wood, such as MDF or plywood. This provides the console tabletop the impression of genuine stone, but at a fraction of the weight and cost.
Repurposed furniture
You can always make your own console table or repurpose old furniture pieces. There are plenty of tutorials that will teach you how to refurbish furniture pieces and give them a fresh new look, making them perfect for different hallway setups.
Hallway Table Design Ideas For Narrow And Big Spaces
Modern Narrow Hallway Table
First, a stylish and elegant console table from the Ziggy collection designed by C. Ballabio. The frame is made of canaletta walnut and the top is available in wood or marble, which gives the table a lot of character, preventing its simple and slender silhouette from being perceived as bland.
Narrow Marble Console Table
Another example of a simple but nevertheless exciting hallway table is the Catlin console which pairs an elegant metal base with an oval table top available in two rare marbles: Arabescato Purple and Sahara Noir. The marble top has a polished finish and the metal base features a cross-pattern motif with a bright chrome or gold finish.
Black Marble Hallway Table with Gilded Base
This is Anthony, an exquisite hallway table created with a gilded stainless steel base and a top made of Sahara Noir marble. It's a luxurious piece able to stand out and as a focal point in any type of space.
Simple and Elegant Hallway Table
If you like marble tops, perhaps you'd also enjoy the Olivier table, a stylish and elegant console with a heartwood frame featuring a charcoal gray lacquer finish and a polished Emperador marble top. The table was designed in 2014 by Mario Dell'Orto and Emanuel Garbin.
Modern Rustic Console Tables
Let's mix it up a bit. Next we'd like to show you a simple hallway table designed in 2016 by Jean-Marie Massaud as a part of the Home Hotel series. The table is made entirely out of wood and this gives it a special appeal, emphasizing its elegant, warm and timeless nature.
Tiered Glass Hallway Table
We mentioned in the beginning that hallway tables offer a unique blend of aesthetics and functionality and based on that we'd like to now show you the Teso table. It's made entirely out of glass and was designed by Renzo Piano in 1991. the shelves are made of 15 mm and 25 mm thick float-glass and offer generous storage for books, decorations and much more.
Walnut Hallway Table
Designed by Christophe Pillet in 2014, the Novel hallway table features a metal and wood structure with a slender base and a tray-style top which is ideal for storage. There's also a leather-covered storage compartments hidden under the top. Speaking of which, the walnut tabletop contrasts with the chromed metal tube legs in a way that looks natural and refined.
Sleek Hallway Table Idea
Another very refined and stylish console table was designed in 2016 by Mauro Lipparini. It has a metal frame made of light tubular elements and a sculptural and solid top with sleek angles. The metal base extends above the top, holding a stylish round mirror. The Coseno console can be used as a dressing table but also as a regular hallway table.
Asymmetrical A-Frame Console Table
The console designed by Riflessi LAB is spectacular without being complicated. Its base features two inclined legs which overlap each other asymmetrically and are available in several different finishes. The top is thin and slender, in contrast with the base.
Amaca Glass Hallway Table
Glass hallway tables are appreciated for their ability to maintain an airy and open decor and to look lightweight and delicate. This is the Amaca table designed by Calvi Brambilla in 2018. The name is very suggestive: amaca means hammock. The notable feature in this case is a shelf available in cowhide or fabric which hangs below the top, just like a hammock.
Large Console Table with Storage
The Gallo console offers a good amount of storage space. It's a classic piece of furniture with an elegant design and a warm farmhouse-inspired vibe. It has a big open shelf at the bottom which can hold boxes, baskets and all sorts of items and a set of drawers at the top for smaller items that you want to keep out of sight.
Hallway Table with Antique Look
The Ledoux console has a very graceful silhouette which gives it a classy and feminine allure. It has tapering legs and a lovely antique vibe. It' perfect for hallways and entryways and a lovely addition to a variety of other spaces. There are two drawers at the top with ample storage inside for various essentials like keys, sunglasses and other things. The table is made entirely of solid and engineered wood.