Unique Getaway Cabins With Architecture Styles Unlike Anything You've Seen Before
The classic image of the getaway cabin made out of logs and wooden planks has been engrained in our minds for so long that it takes us a while to realize there's so many more styles and designs that cabins can have. The design and overall structure of the off grid cabin has evolved over the years to the point where some designs take us completely by surprise.
Some get pretty weird and unusual and some take thinking outside the box to the next level. Let's check out a few.
7 Must-have Features Your Getaway Cabin Should Have
Building off-the-grid means there's certain restrictions you need to keep in mind during the planning phase and later on during the design process as well. It also means you get the freedom to include some really cool features into your getaway cabin's design such as these ones:
Presuming you enjoy life outside and building and crafting all sorts of things from scratch, setting up a workshop next to or as part of the cabin is a really great idea. If you do this right from the start you can even use the workshop to build some of the things used in the cabin's construction and design.
Since we're talking about an off-grid cabin, you need to find a source of water that you can count on. The water can come from a nearby river, a lake or you can collect rainwater. Either way, having a storage tank or two is really useful. It allows you to collect the water and sue it for irrigation, in the bathroom or filter it and use it for drinking.
Another essential thing to keep in mind when designing an off-grid cabin is what your main source of energy is going to be. Harvesting the power of the sun is both smart and eco-friendly. Solar panels have come a long way over the past years and there's now also ways to store the energy for later use.
Living off-grid wouldn't be a complete experience without a garden. Setting up a garden however small lets you plant veggies, fruits and all sorts of other things which you can use for cooking. You could also surround yourself with beautiful flowers to make the most of life outdoors.
An outdoor cooking area is another invaluable feature that you can enjoy when living off-the-grid. Imagine all the fun and wholesome moments you could enjoy with friends and loved ones sitting around the fire and sharing some delicious food prepared outside.
There's also nothing else like taking a shower outside and if you're not going to enjoy this experience in your own cabin then where? It doesn't need to be a super fancy outdoor area. Something small and simple would do but there's lots of beautiful and interesting ways in which you can decorate it in order to create an immersive ambiance.
Living off-the-grid can sometimes also be a bit dangerous and wild so security is quite important. Set up a few solar-powered cameras around the perimeter so you can keep an eye on the cabin and detect potential intruders. You could also use the cameras to check out the local fauna and see the animals that pass through your property.
15 Beautiful Getaway Cabins Design
1. A getaway cabin that looks like a giant metal tube
Named Russian Quintessential, this cabin can be found in the Mikola-Lenivets park, in Russia. It was designed by architect Sergey Kuznetsov and the objective was to make it look like a piece of art while still functioning as a cabin. The shape of the cabin is reminiscent of a pipe. The exterior is made of metal, is cylindrical in shape and has a diameter of 3.5m (11 ft) and a length of 12m (39 ft).
What's really cool about this cabin apart from the unusual design of course is its placement on the site. The giant metal pipe structure cantilevers over the side of the hill and appears to hang in the air, weightless.
2. Modern off-the-grid cabin on wheels
Recognizing that the feature we admire most about cabins is their placement in the landscape, studio Fresh Prince designed one that you can take with you on your adventures. This portable cabin has a surface of 14 sqm (150 square feet) and is clad in a special material called Weathertex which is made of compressed sawdust and wax panels.
The cabin can be taken off-the-grid completely and is all prefabricated. The exterior is black, simple and reminiscent of classic mountain cabins with gable roofs. Multiple windows and a pair of framed glass doors allow the natural light and views of the outside world to become a part of the interior which also helps to give the impression of a larger and more spacious area.
3. Small A-frame Cabin
Thanks to its A-frame design, this cabin looks a bit like a large tent which is perfect considering it was built to serve as a little hideout for the kids. The cabin was designed by studio Crump Architects and is much more than just a little treehouse or a shelter in the woods. It was built mainly from recycled materials which gives it lots of character and helps it look very organic.
The front of the cabin has a glazed facade which exposes the interior and lets in the sunlight and a nice view of the landscape as well. Inside, the walls are lined in pine wood which creates a warm and cozy vibe. There's a fireplace, a little sitting area, a floating daybed and a cute little attic accessible via a ladder.
4. Egg-shaped mountain cabin
Yes, this cabin is shaped like an egg and it's actually not the only one characterized by this detail, as unusual as it may be. It was designed by studios SPINN Arkitekter in collaboration with Format Engineers and Norwegian Trekking Association. Their combined efforts resulted in a really cool design. They actually made several of these getaway cabins and they can be found near Hammerfest, in Norway.
The cabins are small in size, with an interior of just 14 sqm (150 square feet). On the outside they have a geometric, faceted appearance with a stone-inspired aesthetic but they're actually clad in geometric wood panels. The shape helps to prevent snow from accumulating on top of the cabins and helps them to withstand strong winds more easily.
5. Elevated A-frame cabin
This cabin's design is quite unusual for several reasons, the most notable of which is the fact that it's elevated 8m )26 feet) above the ground. It's also not the only one of its kind. Several of these have been designed and built by architect Espen Survenik on a farm in Finnskogen, Norway. The owners wanted to turn the farm into a tourist destination and these modern cabins were the way to do so.
Together they are called the PAN Treetop Cabins. The inspiration for their unusual design was the A-frame cabin as well as modern power line constructions. These two elements put together gave the cabins a unique aesthetic. Inside, the cabins are simple, modern and very cozy. The large glazed facades expose each one to a beautiful view.
6. A writer's cabin that unfolds like a box
Studio Olson Kundig Architects designed a really cool little cabin on San Jucan Island in Washington. The cabin is meant to serve as a quiet and peaceful writer's studio, a retreat, a place to seek inspiration but also a guest cottage whenever needed. One of the main objectives was to connect it to the surroundings as much as possible and to take advantage of the views.
Another important requirement was for the cabin to become safe and secured when not in use and that's when its most unique design characteristic comes into play. There's three wooden decks around the cabin on three different sides. These decks can be raised via a hydraulic system and they become shutters, completely enclosing the cabin into a wooden box.
7. Oceanfront cabin with perforated facades
Not all getaway cabins sit deep in the mountains. Some, like the one designed by Jackson Clements Burrows Architects, overlook the ocean and enjoy its fresh and tranquil breeze. This is the Moonlight Cabin, a cozy little shelter located in Victoria, Australia. It has a small footprint of only 60 square meters and inside it was designed to be one big area.
The living and sleeping areas are adjacent, with a sliding wall sitting between them. This is also true for the kitchen which can be separated from the rest of the areas if needed. The sliding doors create a corridor which links all the different spaces allowing them to form a linear layout. But what really helps this cabin stand out is not its beautiful interior but the folding shutters that make up the perforated facades.
8. Office cabin shaped like a gem
The Workstation cabin was designed by studio Hello World based in Hungary after recognizing the increasing number of professionals who work from home. The project was designed to offer a stylish solution to the work-from-home issue in the form of a cool-looking pod shaped like a gem. This little cabin can be used as a home office but of course that doesn't really limit its use to just that. It can be also be a little stylish guest quarter or a playroom for the kids.
The unusual geometry of the cabin gives it a contemporary and very interesting appearance. It also created a rather unusual interior with faceted walls and an angled ceiling. The irregularity of the surfaces creates this really futuristic, high-tech sort of ambiance inside but all that is seamlessly balanced out by the warmth of the wood-lined walls.
9. A modular and portable cabin
The keyword for this cabin is versatility. The 019 Cabin was designed by ŠA atelier who were driven by a desire to create a small structure that could be built in a workshop and transported to the desired site in order to allow each of their customers to pick the most beautiful piece of land they can find without having to worry about the building process.
The cabin had to be very versatile in order to be able to adapt to a multitude of different topographies, landscapes and environments. The studio came up with a simple and modular design which allows them to build this getaway cabin in sections like floor panels, walls, roof pieces and so on. All of these are then transported and assembled on site. The cabins can have different sizes and configurations.
10. A compact retreat with a folding glass wall
When vacation rental company Elsewhere commissioned architect Sean O'Neil to design this cabin for them, they wanted it to be a compact retreat meant for weekend getaways, a little cabin that can offer one all they need to feel comfortable and to be able to enjoy the beautiful surroundings. They wanted the cabin to open towards the landscape and to offer a unique experience of being both indoor and outdoor.
This experience was created by incorporating a 10′ folding glass wall into the design of the cabin. When it opens it transforms the entire interior living area into a covered porch, allowing the fresh air, the light and the views to rush inside and to blur the boundaries between indoor and outdoor just as it was meant to be.
11. Futuristic-looking holiday cabin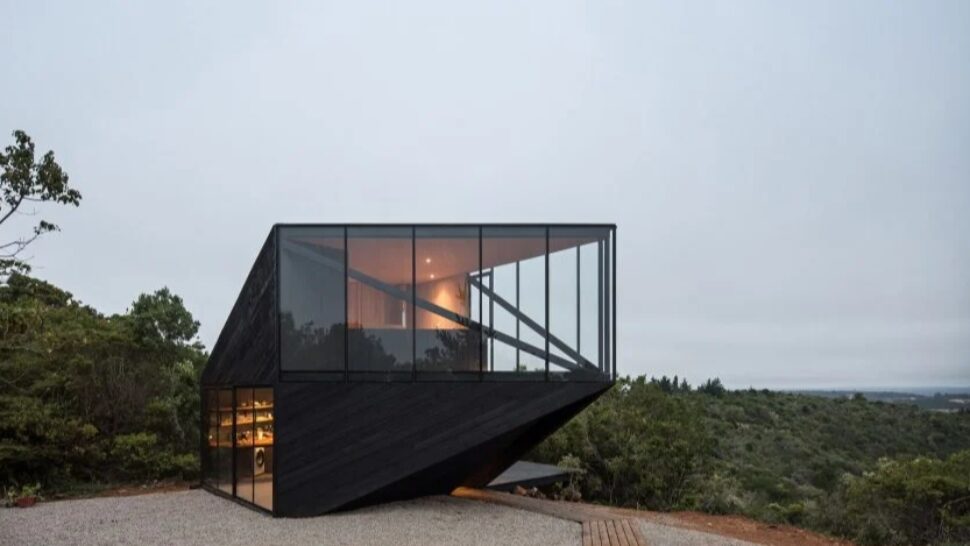 What makes this cabin from Chile stand out is obviously its unusual, futuristic-looking design. It has an asymmetrical, angular shape with surfaces that that are either completely open or completely closed to the exterior. The cabin was designed by studio 2DM Arquitectos on the coast of Chile, overlooking the Pacific Ocean. The owner had only one requirement: for the cabin to capture the best possible view.
The site, although beautifully placed, made that challenging. There was dense vegetation blocking the view toward the ocean from the ground level so in order to overcome that the architects came up with a unique design on two levels. The best view can be enjoyed from the top floor where a bedroom comes out from the building and is supported by a cantilever system. This brings it closer to the ocean and gives it the perfect orientation.
12. A prefab multifunctional cabin
You can have this cabin delivered at home or anywhere else and use it as a backyard home office, a little guest house or as a weekend retreat. It's called Tini and it's designed by Spanish architecture studio Delavegacanolasso. It comes fully assembled and ready to be placed on site. It also comes fully furnished so all you need to worry about is finding the perfect spot for it.
The dimensions of the cabin can vary and it can measure anywhere between 20 and 102 square meters, depending on each buyer's needs and requirements. It's also possible to connect multiple units together to create larger modular structures. This off-the-shelf cabin features a galvanized steel frame, wood-paneled interior walls as well as big full-height windows and glass walls that allow it to connect to its surroundings.
13. A cabin perched on a single column
Raising the cabin off the ground is smart in order to get a better view, to account for heavy snow or flooding or in response to a rugged topography. Usually the cabin is supported by multiple columns or pillars but in this case it's balanced on a single slender support. We're talking about a cabin called Niliaitta which was designed by Studio Puisto.
This getaway cabin can be found in the wooded area near Salamajärvi National Park in Finland. Its exterior is painted black and the inspiration behind its design was the wooden hut used by indigenous Samí people to safely store food outdoors.
14. Mirrored cabin that disappears into the landscape
There's a variety of different strategies architects and designers can use to help a cabin blend in with the surroundings but this project takes that to a whole new level. Casa Etérea is a holiday home designed by Prashant Ashoka. It was created to be entirely self-sufficient and to function off-the-grid. Another major goal was for it to be in harmony with its surroundings.
The cabin is located near San Miguel de Allende in Mexico, surrounded by rugged and untouched landscape. It was built using local materials such as volcanic rocks collected on site and locally-sourced bricks. These materials form the shell of the cabin which is hidden behind the exterior mirror cladding. The mirrored walls completely hide the cabin in plain sight.
15. Little seaside cabin on the rocks
Majamaja is a little holiday cabin designed by Pekka Littow. It sits on top of a rocky outcrop by the sea just outside Helsinki and it's designed to function off-the-grid. It has solar panels on the roof and it was built out of spruce and birch wood. A large window frames a magnificent, uninterrupted view of the sea and a glass door opens onto a small wooden deck.
Inside the space is limited but there's enough room for a cozy living area, a kitchen and a bathroom with a shower and a dry toilet. The furniture is custom-designed to be as space-efficient as possible. It folds down from the walls and has multiple functions in order to offer the perfect blend of style and functionality.
16. A dynamic cabin with moving walls
The inspiration for the ANNA project came to architect Caspar Schols from a structure which he had built years before, a garden shed with moving walls which he created for his parents. Based on that he came up with the design concept for the ANNA Stay and ANNA Meet, two cabins connected by an inner frame made of wood and glass, separate from the exterior walls and the metal roof.
The inner and outer frames of the cabins are set on runners which makes it possible for the modules to be moved and to create different layouts. The cabins can be connected or they can function as separate structures in which case the platform connecting them acts as a sort of bridge.