How To Build A Hairpin Legs Desk With Shelf
A desk can be a surprisingly easy piece of furniture to build yourself, which is good news for anyone who needs a customized desk in size or design.
This particular hairpin leg desk is a clean-lined, contemporary design that makes the most of a shallow desk space, such as at the foot of a bed or along a narrow hallway wall or a in a small or uniquely positioned home office.
The additional shelf adds a functional horizontal surface without sacrificing the desk's footprint. (You can check out this tutorial for a similar hairpin leg desk with no shelf.) Feel free to modify the measurements and dimensions as best suits your space.
DIY Level Project: Intermediate
Materials you'll need for hairpin leg desk:
Four (4) 28" hairpin legs
3/4″ project panel 20" wide by 8' long, cut into two 4' lengths
1×8 lumber, cut into one 4' length and four 8" lengths
1×3 lumber, cut into two 3' lengths (optional, for cord concealer)
1" or 1-1/4" wood screws
1-1/4" pocket screws
Kreg jig, right-angle clamp
Wood glue, clamps, wood filler, fine (220-grit) sandpaper
Pocket hole plugs
Finish of your choice (e.g., paint, stain, polycrylic, etc.)
How to build a hairpin leg desk:
Begin by examining your project panels to determine the best side for the top of your desk. Place this piece, top side down, on your work surface.
Run wood glue all around the face-up side of project panel.
Place the other project panel, which will be the bottom of your desk, on top of the wood glue. Line up all sides and corners precisely.
Clamp the two project panels together at all four corners, taking care to keep edges and corners aligned.
Grab your wood screws. I used 1" screws but sunk them deep into the project panel; you could use 1-1/4" screws instead.
Throw about ten(ish) screws into the clamped project panels to hold them together. Remember that you've got the bottom of your desktop facing upward at this point, so the screws are only on the bottom of your desk.
Flip your desktop over so the top of the desk is face up. You can keep the clamps on at this point, if your wood glue hasn't had time to set completely. Grab some wood filler.
Apply wood filler anywhere there's a crack, hole, or knot on the top of your desktop. Let wood filler dry.
Grab your four pieces of 1×8 boards (example shows boards cut to 8" in length, although you can modify this as needed).
Use your Kreg jig to put two pocket holes into the top and bottom end of each of your four 1×8 boards.
Your boards should look something like this. Set them aside for a minute.
This next part is optional; it is a cord concealer on the bottom of your desktop, in the back. It is very simple to install at this point and will help keep the minimalist, contemporary vibe of your desk intact by concealing any type of cord that travels from the wall up to the top of your desk. This is particularly important with a hairpin leg desk, as all sides are completely exposed. Take two 1×3 boards, cut to 3' in length.
Drill about five pocket holes along a long side of each 1×3 strip.
Lay one 1×3 strip down, pocket holes facing down, with the pocket holes exiting out the right side.
Grab your second 1×3 strip and place it perpendicular on the left hand side of your first 1×3 strip, with the pocket holes of the second strip facing inward and exiting down into the first 1×3 strip.
Glue along the connecting edge of your second 1×3 strip, then realign and clamp one side with your right-angle clamp.
Screw 1-1/4" pocket screws into the five pocket holes of this 1×3 strip.
You should now have a connected L-shaped corner, comprised of the two 1×3 strips.
Flip your desktop back over, so the bottom side is facing up. (If your wood filler is dry, you can sand it first. If it's not all the way dry, you can just flip it and rest it on the clamps so the wood filler can keep drying.) Place the L-shaped corner on the back side of the bottom face, with the opening of the corner facing the back of your desktop.
Run a bead of glue along the connecting edge of your L-shaped corner.
Replace the L on your desktop, centered between the two sides and aligned with the back edge of your desk. Screw into place.
Sand everything down lightly before moving onto the shelf installation. Make sure edges align; if they're off a little, sand them until they are flush with each other.
Flip your desktop back over, top side facing up. Measure and mark 12" in from the sides, along the back edge of the desktop.
Draw a perpendicular line, about 7" long, at both 12" marks.
The top side of your desktop, along the back edge, will look something like this.
Glue, then install the two inner 1×8 boards along the pencil lines by screwing 1-1/4" pocket screws into the pocket holes. Keep the back edge of your 1×8 boards flush with the back edge of your desktop.
Install the two outer 1×8 boards at the edges of your desktop, with the pocket holes facing outward. I know this goes against any woodworking strategies you've probably ever used, but these smaller cubby areas aren't particularly conducive to pocket holes, so it's better and easier to have the outer ends screwed in from the outside.
With all four 1×8 boards attached, it's time to attach the top shelf. Run beads of glue along the tops of all four 1×8 boards, then place your 4' length of 1×8 lumber on top. Align the sides.
Drill the outer pocket holes first. My drill doesn't fit into such a short space as the inner cubbies have, so I had to use a screwdriver and the appropriate drill bit to attach the inner pocket screws. Not my favorite method, to be sure, but it works. Plus, it makes me appreciate my drill more, so. There's that.
Your desk shelf is completely attached, and it's looking great!
Lightly sand everything.
Place a drop of wood glue on the ends of your pocket hole plugs, then insert them into the pocket holes. Do this for all 16 of your pocket holes (four on each 1×8 board).
Sand again. Your desktop is looking great. I hope building it hasn't been too bad.
Wipe away all sanding dust with a clean cloth.
With everything dry and sanded, your desktop is ready for finishing. You can choose any type of finish you want. This example shows a small color block of paint (Benjamin Moore's Acadia Green) in one cubby to designate a charging space for a tablet.
After being carefully taped off, the space was painted with a single coat. Peel the blue tape off immediately after painting.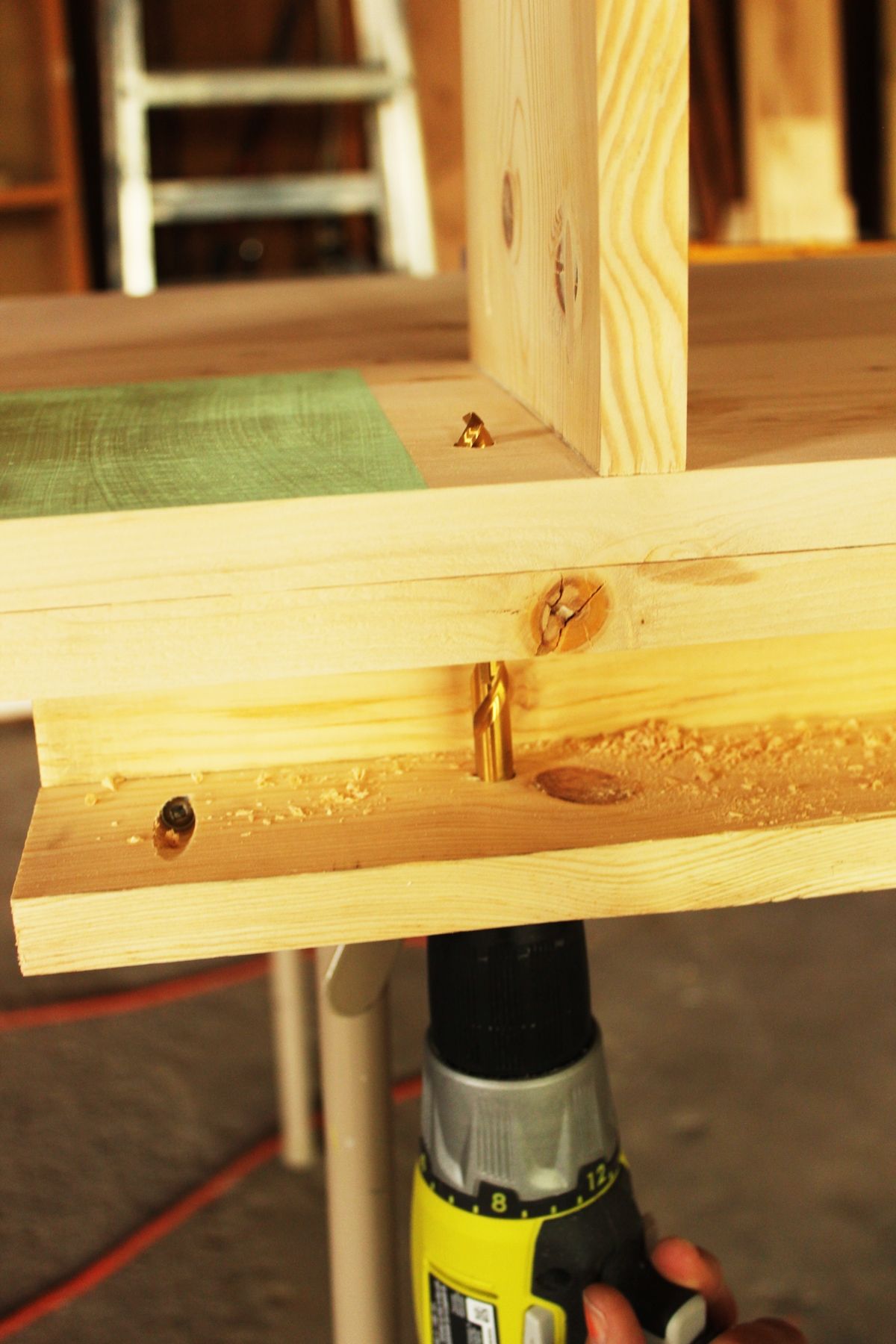 Let the paint dry. You now need a space to run a charging cord (or any type of cord) up to your desktop, utilizing your built-in cord concealer. Drill a hole big enough for the end of your cord up through the desktop.
Sand the hole. Wipe away any excess sanding dust.
With your paint dry, it's time to put the finishing coat(s) on your desktop. Water-based polycrylic is a great choice because it goes on easily, it doesn't yellow, and it cleans up fast. Brush this on everywhere over your desktop, including the insides of each cubby and the bottom side of the shelf board.
While the polycrylic dries, you can install your hairpin legs. This is pretty straightforward; simply line up the leg attachments with the corners of your desk, and screw them in. I used the same 1" wood screws that were used earlier to attach the two project panels together; you could use 1-1/4" screws or even probably 1-1/2" screws for this as well.
After the hairpin legs are attached, you're good to go.
This example shows a lightly painted section on the desk that inherently designates the space for a tablet to charge.
Notice that the outlet can be on the opposite side of the desk, but with your cord/cable concealer, the cord will be hidden from view.
Simply tuck any excess cord into the concealer.
Viola.
Here's a front view. The cord-free attachment is a real-life solution to a real-life challenge: making cords disappear to maximize great design.
Plenty of desktop on the lower level allows for a functional workspace.
This hairpin legged desk is surprisingly fast and easy to build. We're talking, get it done in an afternoon fast.
Enjoy building your modern desk with a shelf and hairpin legs. You'll love the clean-lined contemporary touch it adds to your workspace.
Happy DIYing.