Wood Clamps For Professionals And DIY Big Ballers
Wood clamps are essential. They're specifically designed to secure wood and panel glue ups. Clamps are used by most woodworkers if not all, and you can use them too. Available in different sizes, there isn't a woodworking job that a wood clamp can't handle.
Woodworking clamps hold two pieces of wood together after they've been glued to each other. The best clamps for woodworking will depend on the project. Regardless of which style you choose, the clamps are necessary because they don't shift or get disconnected before the glue sets.
There are almost 50 types of woodworking clamps on the market today. Finding the right wood working clamp for your DIY wood project may seem overwhelming, but that's why we're here.
We'll show you the most popular clamps for wood that are used by professionals and amateur DIY enthusiasts.
Wood Clamp Styles
If you're a serious woodworker, you know the difference between cheap clamps for wood and high-quality wood clamps.
Low-quality wood clamps don't clamp tight, their threads will strip out, and their handles will fall off or break. If you want to own a pair of wood clamps and save money, then one way you can kill two birds with one stone would be to search could your local flea markets.
You may spend more time searching for pre-owned wood clamps, but chances are you'll find a good deal. Wood clamps are often categorized into two categories:
F Type
G Type (also called a C type)
The letter indicates the shape of the clamp. Within the two categories, you'll find a variety of wood clamps. The most common woodworking clamps include:
Corner Clamp
Strap Clamp
Trigger-Activated Clamp
Wood Screw Clamp
Spring Clamp
Parallel-Jaw Clamp
Let's take a closer look at each of these clamp types.
F Clamp
F Type wood working clamps are used when a secure grip is required for tasks such as gluing or screwing together two pieces of wood. The 'F' shape features two horizontal jaws and a metal bar that's placed vertically in between. To use this tool, tighten the jaws via the screw, and is adjustable for a range of projects.
C Clamp
C-Clamps are popular and come in a variety of sizes, from 2 inches to 12 inches. They offer a deeper reach and stronger clamping force. C clamps are for crushing wood into submission. They provide massive force and can cause a significant amount of damage.
Corner Clamp
A corner clamp is ideal for woodworking projects requiring a perfect 90-degree angle for corners. This would come in handy, for instance, if you plan on working with mitered wood pieces.
Strap Clamp
Strap clamps are very similar to corner clamps but are even more versatile. They can be used for working with mitered corners at right angles, as well as other 'odd' shapes that most other clamps won't be able to handle.
Trigger-Activated Clamp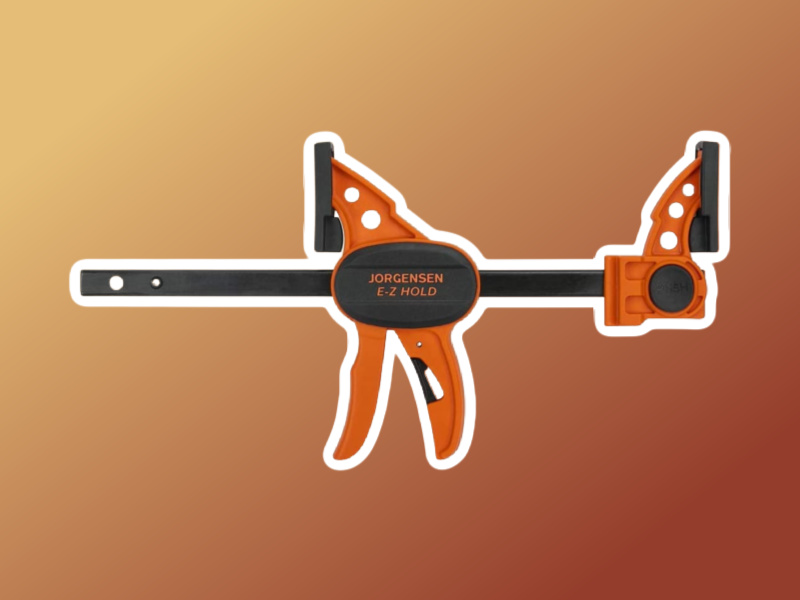 Trigger-activated clamps are just about as simple and convenient as they come! To utilize this type of clamp, you hold the wood with one hand and activate the clamp's trigger with the other. This type of clamp can be used for any number of projects and offers a secure grip you can trust.
Wood Screw Clamp
Wood screw clamps feature a simple and easy-to-use design. The two clamps are held together using two long thread screws, each of which you can 'thread' to the exact tightness you need for the project. The screws have handles to make things more convenient.
Spring Clamp
Spring clamps are ideal for smaller projects. Their design is similar to that of a clothespin but constructed for use in woodworking. With just one hand, you can 'clip' them onto smaller, thinner pieces of wood to hold them together.
Parallel-Jaw Clamp
Parallel-jaw clamps are best used for larger-scale gluing projects requiring 90-degree angles and perfect square pieces. This type of clamp provides a secure grip and can be purchased in a variety of sizes to best suit any project.
Best Woodworking Clamps For 2022
Here is our hand-picked list of the best wood clamps you'll find today.
This set of eight clamps from Irivn is ideal for those who need a variety of clamps for casual projects or larger workloads. It includes four handi-clamps with a built-in trigger. It also has two Mini Bar clamps that provide 150 PSI pressure and two spring clips.
Each clamp features durable construction made of reinforced resin. The clamps also come with the Irwin lifetime guarantee.
Pros
Durable
Ideal for mid-sized DIY projects
Strong spring action
Cons
Some have said that the clamps do not have a strong grip
Ideal for small DIY woodworking projects and when working in tight spaces. Their reinforced resin bodies and hardened steel bars ensure strength and durability. The wood clamps feature non-marring pads that protect your work surface and a one-handed quick-release trigger.
Each wood lamp offers 140 pounds of clamping force. The set of four, four six-inch single-handed mini bar clamps.
Pros
Cons
The pads leave an oil residue
Quick-Adjust clamps from WEN are designed for all skill levels.
The WEN F-clamps come as a two-pack. Included in the set are a 36-inch steel bar and 2.5-inch throat, allowing for optimum versatility and work performance.
However, the standout feature is the quick-adjust function that allows you to slide the clamp shut without pressing a button. The clamp remains tight until you press the release lever which opens its jaws.
Included with the set are non-marring pads that protect projects with 600 pounds of force created by the clamps.
Pros
Marring pads prevent scratches
Clamping force of 120 pounds
Cons
Some have said the cuts in the adjustment bar do not hold the clamps
If versatility is what you desire, then consider the Dovetail clamps a match made in heaven. The clamps feature an advanced design, allowing you to clamp projects with ease manner by using dovetail grooves to hold a router bit so the clamps remain in place.
To make your life even easier, these clamps can work with any dovetail router bit that features a 1.5" 14-degree design—this means less time spent worrying over whether the bit you buy will fit! This set is perfect for anyone who needs a little more flexibility from their clamps for more creative or specification-heavy projects.
Pros
Universally compatible
Durable
Cons
Dovetail router bit not included
Take a look at these corner clamps from SERENDIPPER. and be prepared to have your mind blown. The clamps are versatile and essential for any project requiring 90-degree angle clamping.
They can also be used for 45-degree saws. They're also built to last, boasting a durable ABS construction and strong springs. And to give you that extra peace of mind, they come with a 100% Satisfaction Guarantee or your money back.
Pros
Universally compatible
Durable
Cons
Dovetail router bit not included
For larger woodworking jobs, this four-piece set of corner clamps is made just for you. Their rugged design features aluminum alloy and tough plastic to ensure long-lasting durability.
Included with the set are non-marring pads that protect projects with 600 pounds of force created by the clamps. 90-degree corner clamps allow manageable with an L-shaped jaw that can clamp wood pieces simultaneously. This will save you time and free your hands without requiring more aligning and turning.
Pros
Versatile
Easy to use
Lightweight
Cons
Some clamps have tightening issues
This corner clamp from Housoultion is just what you need for your next larger-scale woodworking project. It features an aluminum alloy construction for durability, an ergonomic handle for easy adjustments, and an anti-skid design for added safety and convenience.
You can even purchase this product in three different colors: black, orange, or silver gray.
Pros
Cons
This welding C clamp is ideal for securing pipes while welding. It also serves double-duty as a clamping tool for woodworking projects. Durable v-pads offer optimum clamping and versatility.
Heat-treated alloy steel ensures long-lasting durability. The easy-to-use design and strong construction of heat-treated alloyed steel. This clamp will stick with you through thick and thin, and through a wealth of welding and woodworking projects.
Pros
Heat-treated steel design
Easy to use
Lightweight
Cons
With a 198-pound holding force, zinc-plated carbon steel construction, and vinyl hand grips, when you hold the clamps, you'll feel a cosmic connection. Welcome to your destiny. In addition to the clamps' strength, you can look forward to their ease of use and practical design features.
Each clamp features a rubber tip that protects the wood. An economical design that makes set-ups and disassembly a snap.
Pros
Low-height design
Retracted clamp allows for vertical removal of clamped item
Rock solid grip
Cons
Rubber bumpers don't last long

This is a fantastic corner clamp set for DIYers and those who enjoy the occasional small-scale woodworking project. These clamps are adjustable from 3/16" to ¾ inches feature a durable ABS construction and high-quality springs, and can be operated single-handedly to give you a hand available for other tasks.
In addition to 90-degree angles, these clamps are great for holding pieces together at a T-angle and can clamp wood pieces of different thicknesses. Purchase this set for yourself and discover firsthand what these clamps can bring to the plate.
Pros
Adjustable single handle spring
Versatile
Great for arts and crafts
Cons
Frequently Asked Questions (FAQ)
FAQ
How To Make Wood Clamps?
For smaller DIY projects that only require light clamping pressure, mousetraps will work just fine. The spring loaded mechanism of a mousetrap is enough to hold a small piece of wood in place while you work on it. If you wanted to make the clamps more compact, cut off the unused wood portion of the mousetrap.  
Do Wood Clamps Require Gloves?
When working with wood clamps, you'll need protective eyewear and a facemask. Woodwork requires precision, so you'll need to use your fingers.
How To Prevent Panel Clamp-up Buckle?
When clamping boards to make a panel, pipe clamps can right up on the fixed jaw. Unnecessary pressure will make your wood uneven, and the panel will buckle. This is caused by the jaw's angle changing as pressure is applied. To prevent this, use a draw with the same diameter as the panel's thickness and place it between the jaws and the wood you're working on. When you do this, pressure will be applied to the center of the panel edge where it should be.
How Tight Should Wood Clamps Be?
When working with softwood, your clamps should use 100-150 psi of pressure. With hardwood, it should be about 175-250 psi. You'll never have to worry about making a joint weaker if you tighten the clamps too much. If you're not damaging the wood, a tight clamp will lead to a stronger joint.
What Is A Vise Clamp?
 A type of clamp specializing in holding while also safeguarding you against injury. It's also a clamp that involves a vise that can be temporarily secured to a bench or other stable surface.
Woodworking Clamps Conclusion
When you have the best woodworking clamps for a job it can make all the difference in the world. However, what it comes down to is your project. After you've figured out what you want to build and a budget, you can determine what kind of clamp you will need.
With woodworking clamps, there isn't a one-size-fits-all answer. Bar clamps are popular with most woodworkers as they're ideal for securing edges when gluing two pieces together.
When working with wood, apply clamping pressure at a right angle to your glue line. If you don't, slippage may occur. When you're done, remove the clamps. Remember, clamps are meant as temporary devices that hold the wood in place, and the same goes for pipe clamps.
As a final note, when tightening clamps, do not use wrenches, pipes, or hammers. You should only use wrenches on clamps designed for wrenches.