10 Tips for Decorating Around Your Mounted TV
Most likely, if you have a mounted TV in your living room, you have the rest of the wall around it to fill as well. It's not so easy when you have all the entertainment necessities installed. They are the necessary base and you have to build around it. Don't worry. There are several ways you can make your entertainment wall look like part of your decor instead of the sore thumb of the space. Check out these 10 tips for decorating around your mounted TV and see which fits your style the best.
You've probably seen something like this arrangement before but it's definitely worth revisiting. A gallery wall around your TV will draw your eyes to everywhere but your TV while leaving you plenty of space to integrate speakers, satellite boxes and whatever else your entertainment wall needs.
Many gallery walls rely on lots of smaller frames to complement the bigger statement piece. But when the TV is your statement piece, you might find it necessary to create your whole gallery of large statement art. When the sizes are more similar, it will look like your TV belongs.
Gallery walls don't have to be made up of only frames. Think outside the box and hang objects like lanterns or baskets around your TV. It will add the perfect bit of decor without having to use too many nails.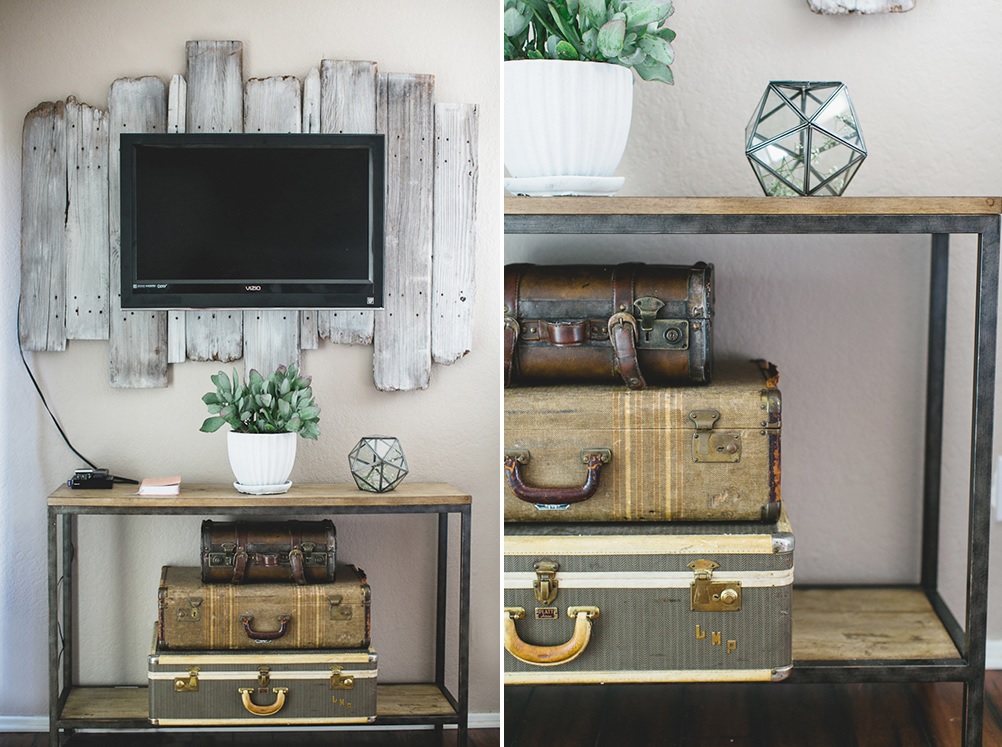 What rustic styled home doesn't love that whitewashed wood look? Make a pallet background of sorts for your mounted TV and paint the wood white. Or leave it bare if you want your TV to blend in a little more.
Is a little pallet frame not enough wood for your rustic home? Create a pallet accent wall to mount your TV on. When the whole wall is wood, anything else you put on top is just destined to look amazing.
Don't forget to style the display around your mounted TV based on the rest of your home's decor! Even a big black box like a TV can look farmhouse friendly when it's surrounded by rustic signs and basket weaves.
Looking for a more minimal approach to decorating the space around your mounted TV? Try hanging a shelf above and below the TV. The bottom one will act as a credenza while the top one will provide space to put plants and frames and knick knacks.
There is no better spot to style and decorate than a bookshelf. Frame your mounted TV with them and you'll have all the space you could wish for to decorate for all the seasons and holidays you desire.
Of course one way to decorate your mounted TV is to just hide it altogether. Buy or DIY a simple box frame with shutter doors that you can shut when you aren't watching your favorite show. It will look infinitely better on your wall than your bare TV.
Want to hide your TV in a more creative way? Connect several frames together to create an artsy cover for your TV. Just make sure you leave a way to change the artwork in them if you decide to redecorate your home.