Choosing Types of Ceilings is an Important Design Decision
It's typically the last place people look, yet its style can make the biggest difference in a room: The ceiling. Many types of ceilings are options for dressing up a space or adding more style.
Even called the "fifth wall" by many designers, ceilings are taking center stage because homeowners are choosing to extend finishes like bold colors of paint or wall covering up onto this surface.
The Role of a Ceiling
The ceiling is an integral part of your décor. Moreover, it can set the stage for your design scheme as much as the flooring does. No matter what the type of ceiling, it's important that it pairs well with the walls and the rest of the room.
It Has a Basic Function
Typically, a ceiling is finished with a space above to conceal wiring, pipes and ductwork. Once purely utilitarian, ceilings types are now getting the designer treatment as homes become more and more coordinated and stylish.
It Affects Mood
In addition, ceilings can affect the mood of the space and how it feels. Small boxy rooms with a low ceiling will feel claustrophobic. By contrast, you can make a small room feel more spacious by lifting the ceiling.
Types of Ceilings
While you can choose the types of ceilings you want, there are some considerations:
It's best to take into account the style of home you have.
Figure out what your budget is and what look you want to achieve.
Before building or renovating, it's key to understand the different types of ceilings. Explore what they look like, how they are used and what their advantages and disadvantages are. We've rounded up some examples of the most common types of ceilings to help you plan your project.
Conventional Ceiling
Most homes have ceilings that are 8 feet high, but in a custom home, the first-floor ceiling can be 9 feet high. Most are typically finished flat, with a surface just like the walls. Older homes might have textured ceilings that are called popcorn ceilings, because they are sprayed with bits that look like popcorn kernels, according to Stanton Homes.
Be forewarned: Popcorn ceilings long ago outlived their desirability because they are hard to paint, even harder to clean. Above all, people do not consider them attractive because they can look dingy very quickly. They also seem to suck up all the light in a room and make it feel darker. Most homeowners don't want these types of ceilings.
Tin Ceilings
Tin ceilings are a popular choice for a vintage touch. They originated in the 1880s as a technique for embellishing the ceiling, writes This Old House. More than just decorative, tin ceilings helped protect homes from fire. In fact, fire was always a risk with open flame cooking, heating, and lots of candles. Despite being originally called steel ceilings, makers later added tin plating to inhibit rust.
These days, the panels you can use on these types of ceilings are much thinner and lighter than the old-fashioned ones. This is because they no longer play a role in fire prevention.
Regardless, today's tin ceiling panels can be the original silver color any one of an array of hues to match your décor.
They are appropriate in vintage, eclectic and traditional-style homes.
Nonetheless, partial tin ceilings can be an accent in many other interior décor styles.
Exposed Ceilings
This style of ceiling leaves out in the open elements that we usually hide in a ceiling. Beams, trusses or piping become stylistic features. In older homes, renovations often expose things like wooden beams, trusses or original brickwork to highlight the building's history.
For example, in newer construction, beams are made to look just like wood and highlight a ceiling. Similarly, in modern or industrial style décor, ductwork and piping lend just the right ambiance to an interior. These types of ceilings create a more industrial or modern look
Beam ceilings
This ceiling treatment was common decades ago and is again becoming popular. Renovations and new homes are installing beams, which are typically associated with rustic-style homes. Beams work best in a room that has a high ceiling. Used on a low ceiling, they can make a space feel smaller.
The design possibilities with these types of ceilings are nearly endless. It's not just the base material that adds style, but also the trims and moldings that you can add to beams.
Traditionally, beams are made from wood, but now there are also many faux options a homeowner can attach to the wall and ceiling for exactly the right style.
Beams made of metal or other materials can work in modern homes that need an edgier look.
Types of Beam Ceilings
Build.com notes that there are different types of beam ceilings to consider.
Hammer-beam ceilings provide a lot of vertical space. Short both horizontally and vertically, these types of beams attach to the walls to help support the roof. Hammer beams lie close to the walls, which keeps sightlines open through the main part of the room.
Boxed beam ceilings have a waffle pattern arrangement, similar to the design in a coffered ceiling. These can be natural wood or painted – whatever works best in the room.
Indeed, beam ceilings create outstanding visual interest and there are many design options. On the other hand, the website points out these dramatic types of ceilings require great height. Such a tall ceiling can make a room feel less intimate, drive up construction costs and increase heating and cooling expenses.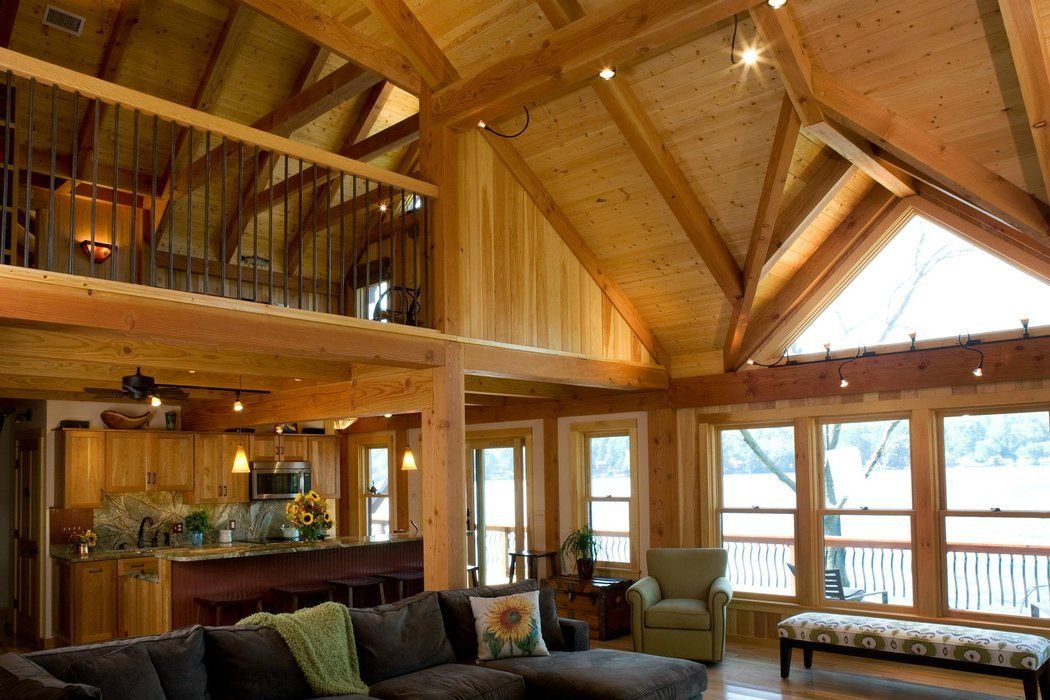 Tray Ceilings
A tray ceiling is a conventional ceiling that has a recessed section. Typically, the recessed portion is at least 6 inches deep and is centered in the room. Stanton Homes says that this is an excellent artistic feature that offers lots of opportunity for customization.
Tray ceiling cut-outs can be any shape and can be completely vertical or angled. Designs sometimes combine several concentric sections that create a very dramatic effect.
Combined with paint and types of molding and lighting, tray ceilings can be the focal point of a room. Once only a custom feature, lots of builders are now including these ceiling types as a standard bonus in custom homes. Traditionally they were used in bedrooms and dining rooms, but now these types of ceilings are increasingly making their way to the kitchen area as well.
Coffered Ceilings
A tray ceiling has one recessed section, but a coffered ceiling has many and covers the entire ceiling area of a room. The recesses are generally in the pattern of a square or rectangular grid. These types of ceilings are most common in traditional spaces and add an element of elegance and sophistication – as well as height and depth.
Originally designed to make stone ceilings lighter, coffered ceilings have evolved to be a design element used to add interest to a room. These ceiling types date back to 7BC, in San Giuliano, Italy, but examples can also be seen in early Islamic and Chinese architecture. In fact, the large dome of Rome's Pantheon was built with recessed stone coffering to lighten its load.
Trims and moldings are used to embellish the beams and joints in a coffered ceiling, and are often painted. It is also possible to have a stained coffered ceiling, but as SF Gate points out, this is a decidedly luxury option and has a price point to match. It's also important to keep in mind that the right lighting is particularly critical to give these types of ceilings the right look.
Coffered ceilings can improve acoustics and increase the value of a home, but they are also more expensive than some other ceiling options and don't work well in small rooms.
Vaulted/Cathedral Ceilings
More an architectural design element than the previous types of ceilings, a cathedral or vaulted ceiling immediately expands the feel of a space, lifting it up. These ceilings have sloping lines that run from the top of the wall to the point of the ceiling. Cathedral ceilings often expose rafters and can soar to 15 feet high and more.
Vaulted/Cathedral Ceilings have typically been used in living rooms and great rooms on the main floor, but are increasingly popular in master bedroom suites – even in the bathroom. Vaulted and cathedral ceilings are best planned at the time of construction or renovation, because using this type of ceiling on the first floor requires design adjustments. It is easier to add a vaulted ceiling to an upstairs bedroom when there is only a roof or an attic above.
Barrel Vault Ceilings
Although these types of ceilings have "vault" in their name, they typically do not have a pitch as steep as a regular vaulted or cathedral ceiling. A barrel vault ceiling — also called a tunnel or wagon vault — looks like a barrel that was cut in half. With origins in Roman architecture, these types of ceilings are most common in the main rooms of a home or a long hallway. For extra drama, opt for dramatic designs with stone or brick. Or for a more modern look, choose light-colored or white-painted barrel vault ceilings. The style of a barrel vault ceiling can range from rustic to traditional depending on the details you choose.
Different ceiling types can be combined with this shape. Add coffering to a barrel vault and it instantly looks more luxe. Also, windows can be arranged to mimic the barrel vault used in a room, whether the curve is slight or more pronounced.
Domed Ceilings
A domed ceiling expands the feel of an area and lifts the ceiling as an accent, usually in a tight hall or entryway. Domes are wonderful locations for painted embellishments, mosaics or spectacular lighting fixtures. Inset lighting gives domes an entirely different look as another option.
A dome in a garden-style room can make it resemble an old-style gazebo. Last, and certainly not least, domes are starting to appear in bedroom ceilings as an accent above the bed. They add adding ambient light and as well as a dramatic design element.
Cove Ceilings
A cove ceiling has a section that extend from the four walls toward center of the room to accent the actual ceiling. It's almost like creating a frame for the ceiling. Traditionally, a cove is curved, from the wall upward, however, that is changing to include more angular designs. Coved ceilings are usually painted to match the trim in the room to tie them together stylistically. Inset lighting is often included, which heightens the drama, adds ambient light and makes a very stylish accent on these types of ceilings.
Dropped Ceilings
Dropped ceilings are sometimes called suspended or false ceilings. These are lower than the true ceiling in a room. Used extensively in commercial buildings, in homes, these types of ceilings can conceal an existing ceiling or piping and ductwork that cannot be moved. A dropped ceiling consists of a metal grid that holds the suspended tiles. The grid attaches to the walls but metal wires also hang from the original ceiling to support it.
They are especially popular for refinishing basements or converting raw areas into living space.
Installation is easier and often more affordable than adding a true ceiling.
You can choose from many material options, including fiberglass, plastic, tin or cork.
Moreover, repair of these ceilings is also easy because they can be slipped out and replaced.
One major caveat to consider before installing this ceiling type is height. A homeowner must consider whether the original one is high enough. Your finished dropped ceiling must be at least 6.8 feet high to call the room habitable. Otherwise, the ceiling will be too low. Of course, recessed lighting is typically the best – or only – choice for lower dropped ceilings.
Before you choose a ceiling, take a good look at your budget, evaluate the space you have to work with and consider the style you want to achieve. Even though your situation might be limiting, all the different options for types of ceilings really do offer a wide range of choices no matter your situation.