16 Times When Concrete Floors Made Living Rooms Look Stunning
There was a time when bare concrete floors stayed well hidden beneath carpets, parquet flooring and tiles, when it was inconceivable to leave them exposed and the very idea that they could look good like that was not even taken into consideration. Now we know better than to dismiss it and concrete floors are actually trendy in modern and contemporary interior design. We've learned to embrace their raw and pure beauty and to complement them with comfortable furniture, textured accent rugs and warm wood elements. Let's see how some architects and designers chose to integrate concrete floors into their projects.
This house from Aarhus, Denmark has a living space that looks very warm and cozy, despite its polished concrete floor and accent wall. It's because these elements are balanced out by the brown leather upholstery on the L-shaped bench and the pastel-colored patchwork rug.
A different strategy was used by Cornerstone Architects when they designed this residence in Austin, Texas. To give the living room a warm and cozy ambiance while keeping the decor simple, they combined a polished concrete floor with a wood-clad accent wall and neutral-colored furniture and carpeting.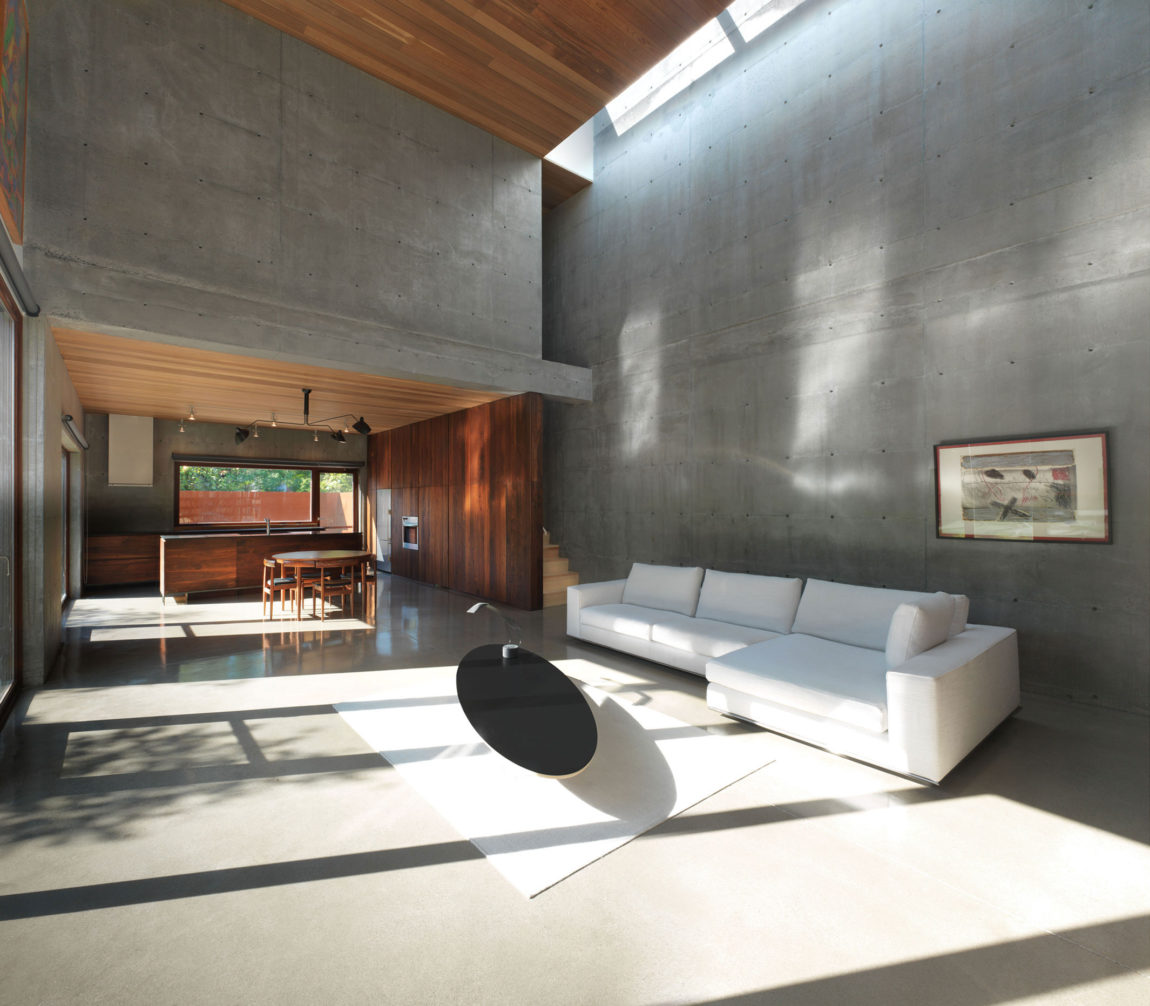 A pattern is already starting to emerge: the combination of wood and concrete, two materials that complement each other beautifully and in every sense. Exposed concrete was used extensively by Henri Cleinge in the design of this home from Montreal, Canada but so was wood. These two materials define both the interior and the exterior living spaces.
A similar strategy was used by Isern Associats for this house in Sant Pol de Mar, Spain. However, the contrast between the polished concrete floors and the wood-clad walls is quite subtle. In a way, that means there's not a lot of warmth given out by the wood yet the texture is still there. A great design strategy for minimalist and Nordic-inspired decors.
Even without the warmth of wood, a living space with polished concrete flooring can look welcoming and comfortable. It's the big picture that matters, the textures and finishes used,  the color tones and the very elements involved in the design. Check out this simplistic residence renovated by Federico Delrosso Architects and be inspired.
Parsonson Architects were in charge of designing an extension to a house originally built in the early 1900s in Wellington, New Zealand. They chose to give the interior living spaces concrete floors and to use wood for the outdoor spaces. It's an interesting way of establishing harmony between all these areas.
When they designed this home in the Czech Republic, OOOOX used the concrete floors to give the living area a sophisticated and modern look. The bare ceiling has a similar effect on the decor. Further more, the color palette is neutral and the lighting is spot on and these details influence the overall design and ambiance in a similar manner.
The drawback of concrete floors is that they feel cold and hard underfoot. Instead of seeing that as a disadvantage, Incorporated Architecture & Design took this opportunity to introduce some really cool area rugs into the design of this modern New York home which they completed in 2013.
There's a ton of ways in which to make concrete floor blend in naturally. When designing this house from Sydney, Tzannes Associates used a combination of strategies. They added wood accent walls and furniture pieces , kept the color palette neutral and gave the open kitchen a large island that's also made of concrete.
It's not just the combination of materials that makes this living room look stunning. We find the lighting to be exquisite and we absolutely love the bright green sofa and matching ottoman, not to mention all those gorgeous throw pillows. This is a space designed by Karawitz Architecture and, as you can see, it makes the most out of its polished concrete floor.
This is minimalism at its best. What you see here is a portion of a house located in Burgos, Spain. It was a project by Pereda Perez Arquitectos and this living room is actually a very good representation of the entire building. Wood and concrete define the whole house, being used extensively and looking very pure and natural. The spaces are bright and fresh without looking or feeling monotonous.
This is a case where the name defines the house in a very cool and literal way. This is the Heavy Metal Residence, a home designed by Hufft Projects. It's located in Missouri and its design is a combination of glass, steel and concrete. The idea was to capture the beauty of the rugged landscape and to translate it into modern architecture.
A lot of architects and homeowners appreciate polished concrete floors for their modern appeal but also their pure and practical nature. It's a look that suits not only minimalist, contemporary spaces but also mid-century and even traditional decors. This eclectic living space designed by Bourne Blue Architects is a nice example.
The versatility of concrete floors can be explored in many different ways. Each design does that in its own unique way. The approach for this lovely home designed by Canyon Construction was to bring the outdoors in and to play with simple materials to create a casual yet elegant and sophisticated decor.
Somewhere in Montana there's a very cool retreat with an interior design done by Ann Knight Interiors. A combination of polished concrete floors, full-height glass windows, wooden ceilings and stone accent walls allow the spaces to feel connected to the rugged mountain landscape that surrounds them. The design strategy was simple and very effective.
As far as colors are concerned, there's no single design strategy that works best when concrete floors are involved. The decor can be minimalist and based on the timeless black and white combo, can include a bold accent color or can rely on numerous color tones in which case the result is an eclectic look. Here, the simplicity of the interior design is complemented by the panoramic views that brings freshness and color inside.