New Coffee Table Designs Offer Style And Functionality
Once thought of as only a necessary staple, the coffee table is now a stylish way to add interest to your living room. Today's home designers are featuring coffee tables that have interesting shapes, use unexpected materials and serve as a conversation piece.
Multiple Small Coffee Tables
One of the most exciting trends is using several small tables instead of one large coffee table designs. These groupings are ideal for entertaining family and friends because you can move them around to suit your needs.
The multiple table sets are also perfect for adding colors and prints to your living room decor. Because they are smaller, the graphics are not overwhelming.
Moreover, the mix of patterns keeps any single one from being overpowering. A graphic print sofa is a huge, expensive commitment, but the coffee table set is an easy way to add a fresh pop.
Airnova's collection of tables is more muted in color and luxe in the finish. The wide metal rim of the egg-shaped tables is a high-end detail that makes these perfect for a more formal setting. The addition of a glass round keeps everything from being too matchy-matchy.
A connected set of smaller pieces makes for an interesting and functional coffee table from &Tradition. Spanish designer Jaime Hayon created the Palette Table with brass, black Nero Marqina marble, and black stained ash.
This collage of coffee tables by Bonaldo is an explosion of prints, colors and shapes. With individual pivoting tables, the set has more functionality than a static large coffee table.
Smaller, minimal and modern, the Tilio coffee table by Leolux has an elevated section that swivels. The table only has three legs, which can be different colors.
This two-piece coffee table from Erba Italia has one table inset into the other. This is great for entertaining because you can move the smaller table to another area.
Importantly, you will still have a long table ledge wide enough near the sofa for guests to perch their plates and glasses.
Traditional Coffee Tables
Traditional, single-unit coffee tables also have more to offer than standard shares and materials. These pieces can be found to match any style of home decor.
Even better, they come in a wide variety of attention-getting shapes, designs and finishes.
Atipico's hexagon-shaped table has an industrial vibe thanks to the gray color. The hairpin-style legs keep it modern and the tabletop's shape is an unexpected feature.
With the rounded shape of an ottoman, this marble-topped coffee table by Atipico invites you to put your feet up. The round metal base adds to the impression that it's as much an ottoman as it is a table.
This stunning Yris table from the Camus Collection is modern yet warm. The beautiful wood base gives it artistic flair.
Four partners founded the Valencia-based company: Ismael Gimeno, Javier Pastor, Ismael Pastor and Paco Camus. All of the pieces in the company's collection are gorgeous wooden works of art.
Chi Wing Lo's KYVO low table series table maintains an Asian aesthetic. It is fashioned from Sucupira or natural oak, with a stone insert and metal points.
It may look like a cake missing a slice, but this Coco coffee table from Colico is not missing any style. The marble base in the front anchors the metal section, which has single metal support underneath.
Turned toward a sofa, the table makes the room feel more open because it does not have a full, large round top.
Wood Coffee Tables
Lovers of wood furniture need not despair — there are so many creative new designs that a warm and rustic piece is still fresh and new. The shapes and designs of the wood coffee tables are what makes them special.
A geometric design coffee table by Dialma Brown really freshens up a casual family room. The intersecting planes create interest and the long, slightly offset top is family-functional. It is made from old pine wood.
Unique Features
Parquetry is definitely on-trend and Zanat's unique coffee table is a great example. The Ombra Table uses small wood pieces that probably would have gone to waste.
The solid walnut is joined into "Penrose Prototiles." These are named after a famous British mathematician who first investigated them in 1970s.
The prototiles have remarkable geometric and visual properties especially because the pattern does not repeat, explains Zanat's website.
This coffee table from Ego Italiano has just as much function as it does form! The Bergen is a rectangular oak coffee table with a removable tray and a removable leather cover, that extends to create the sling holders for magazines and newspapers.
A luxurious tangle of balls and bars, the Galileo coffee table by Eichholz is made of a glass top and gold-finished base. Even better, the same style is also available as a console table and a desk.
Doubled Up
Twist on an Ottoman Coffee Table
Many people use an ottoman as a coffee table, employing a tray when it's necessary to balance drinks or food. Fama has gone one step better with this ottoman/coffee table combination design. Of course, the combo doesn't take up any extra space because the table fits over the ottoman and you get the benefits of both.
Flexform combines their round, marble-topped coffee table with a sumptuous leather ottoman, for the best of both worlds. As many people already do, you can use the ottoman as extra coffee table space by adding a tray or two.
Here, Flexform has combined wood and marble coffee tables with a smaller leather ottoman, which together create a centerpiece that's perfect for a large space. The individual components give you flexibility.
Mixed Materials
If you like the concept of mixed styles and materials, but your living space isn't so large, you can achieve the same thing on a smaller scale.
Flex form also shows how to do this with smaller ottomans and cube tables of different sizes. Each piece can serve as seating or table space.
Large and Luxe
Of course, if you like the cube coffee table concept, here's a larger and more luxe version from Flexform. The large, hefty glass top gives you a good view of the artistic design of cube shapes in the base of this massive coffee table.
Frosted Glass
Inlaid Minimalism
A thick wood coffee table top is made light with a modern metal base from Il Loft. The sinuous inlaid wave adds interest and keeps the table from feeling too hefty.
Keep accessories to a minimum when you have a coffee table as stunning as this one.
Organic Shapes
Using two different surface finishes makes it work.
A Hefty Vibe
These teardrop-shaped coffee tables by Imperfetto Lab are called Ossidania. They are large, weighty and imposing, and are best suited to open, minimalist space.
Geometric Beauty
Wooden coffee tables by Insideherland are randomly geometric and stunningly beautiful. The marquetry work uses smoky brown birdseye, rosewood, ebony and olive tree veneers with a high gloss varnish.
Retro Modern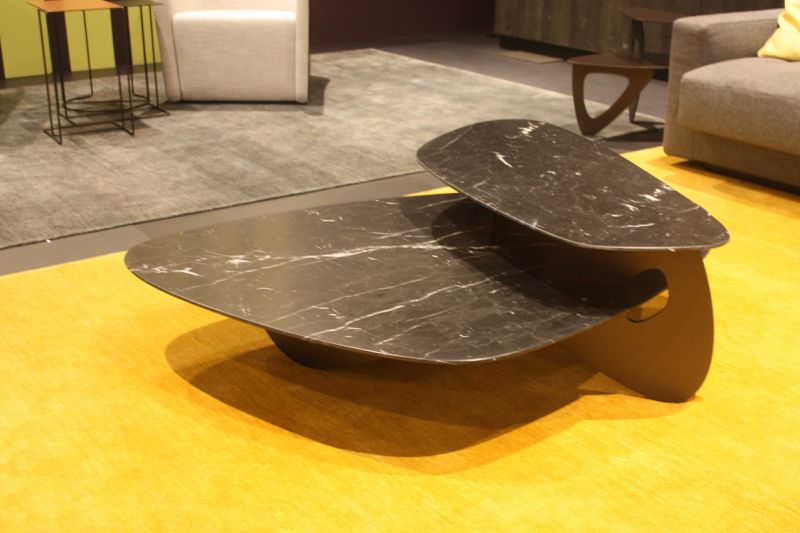 Knoll products don't disappoint and that's certainly the case with this bi-level coffee table. The rounded planes of the marble tops and the supports are marvelous.
Laser Cut Detailing
It might look like a more traditional table with fancy features, but this wood coffee table is made with the latest in laser technology.
Laser Art Style of Italy creates table, mirrors and all sorts of decor using laser cutting technology.
Neutral Tones
Sometimes, a stylish round coffee table just fits the bill, and this one from Leolux would be our choice. Neutral tones and an interesting top with sleek stick legs make it versatile yet never boring.
Hybrid Coffee Tables
Loyra has a new ottoman coffee table hybrid. The interesting V design includes a moveable table that can slide across the ottoman. Because of this, it's seating and table all in one!
Hidden Storage
Acclaimed for its seating and sofas, MaxDivani also has this great wood coffee table with a tray and secret storage. On the whole, this is perfect for the who like to entertain because it's fun as well as useful.
Live Edge
Live edge furniture might be made with old wood, but the designs and styles fit right in with today's home decor.
The natural element is a grand way to soften the feel of a very modern space without being distracting. This coffee table from Mia Collections is a perfect addition to a casual living space.
Riva 1920′s live edge slab coffee table is a stunning statement for any living room, from traditional to contemporary.
Classic Glass Insert
What better to go with a luxurious leather sofa than a warm-wooded glass-top coffee table. In truth, this basic style from Natuzzi is a classic and works well with all sorts of sofas.
Mixed Concept
Natuzzi also had a version of the mixed concept for coffee tables. Here, two sizes with different leg styles make a handsome pair.
Absolute Minimalist
For the minimalist, we found this Kaeko coffee table from Objekto. An expansive glass top provides an unfettered view of the slight, undulating metal base.
Coffee Table Family-Friendly
How much fun is this table from Pedro Ortiz? With little storage baskets on the side and down the middle, you can showcase items or stash them away out of sight. Obviously it's perfect for a family room!
Moveable Tops
Pedro Ortiz also has this square coffee table with sides that rise up to the side, providing a surface that's more convenient for eating or for work.
Petite Options
We love this round coffee table called HOLLO from Petite Friture for its airy, elegant shape. Even better, it comes in six epoxy coating colors and three different sizes.
Expansive Square
Shiny and expansive, this square coffee table by Porro is interesting without being too obtrusive. The finish attracts attention while the simple shape blends well.
Base Attention
Reflex made this glass-topped modern coffee table. Instead of thin and angular, the Aenigma Rame has a more substantial curvy metal base. The highly polished copper is an on-trend metallic finish and would nicely accent any living room.
Smoky Squares
Sovet's Regolo Square coffee table comes in black laminated glass or wood. The variations feature the smoked glass and wood as either the base or the top.
Triangular Style
Multilevel
This multilevel coffee table has levels that spin around the central post that imposition at one end. Entertaining a crowd is easy with this style of table, which lines back up to its original footprint.
Curvy and Elegant
This continuous curved coffee table from Stones is smooth and elegant — perfect for a living room where the style is a bit more formal.
Leggy Options
Target Point has a variety of coffee table styles within a certain material top. Here you can have the same type of top in various thicknesses with different style legs, depending on the size and heft of the top.
Super Retro
For a truly retro look, we'd try one of these tables from TWILS. The shapes are modern, the colors great, and the eye-pin legs are just plain fantastic. They are plenty large but the legs and thin top keep them light.
From something large and imposing to a piece functional in a smaller space, there's a coffee table that works for your home. In addition, you're not limited to certain styles or materials. These examples just skim the surface of what's available for your home.