12 Christmas Window Decorations for Every Home
Christmas is just that time of year when no one minds if you completely deck out your home head to foot, corner to corner. In fact, it brings up some interesting decorating tips and ideas for places that you might not have thought to decorate. For example, windows. They are pretty normal, curtain clad for the year and then we get to Christmas and windows get a makeover. It turns out there are many options for Christmas window decor that you probably didn't know existed. Here are just 12 ideas that are perfect Christmas window decorating options for any home.
Let's start outside. You've probably seen it in the movies or maybe even in your own neighborhood. A house that had simple evergreen wreaths and garlands on the exterior just seems to ooze nostalgic Christmastime. Get the fake evergreens and you can hang them year after year.
Do you have window boxes on your home? Don't leave them bare bones for Christmas. Fill those babies up with evergreen garlands, red berries and maybe even a giant ornament or a deer. They'll be easy to put together and then easy to put away after the new year which means happiness for everyone.
With one magic tool, you can use your artistic hand to decorate your windows for Christmas. Water based chalk markers wipe right off glass with a pet paper towel. So draw away all the snowflakes and stars and Christmasy phrases you desire. You can even let the kids get in on this one!
If your yard is already full of lights and Santas, you'll have to take your window decor inside. Use some ribbon to hang wreaths from the curtain rods on the inside of the window. Because you deserve pretty windows for Christmas too.
Want to make a big impression on any room? Buy up the biggest wreath you can find that will fit on your window and use some Christmasy ribbon to make her pop. Perfect for rooms like bathrooms and kitchens where there isn't much room for decorating.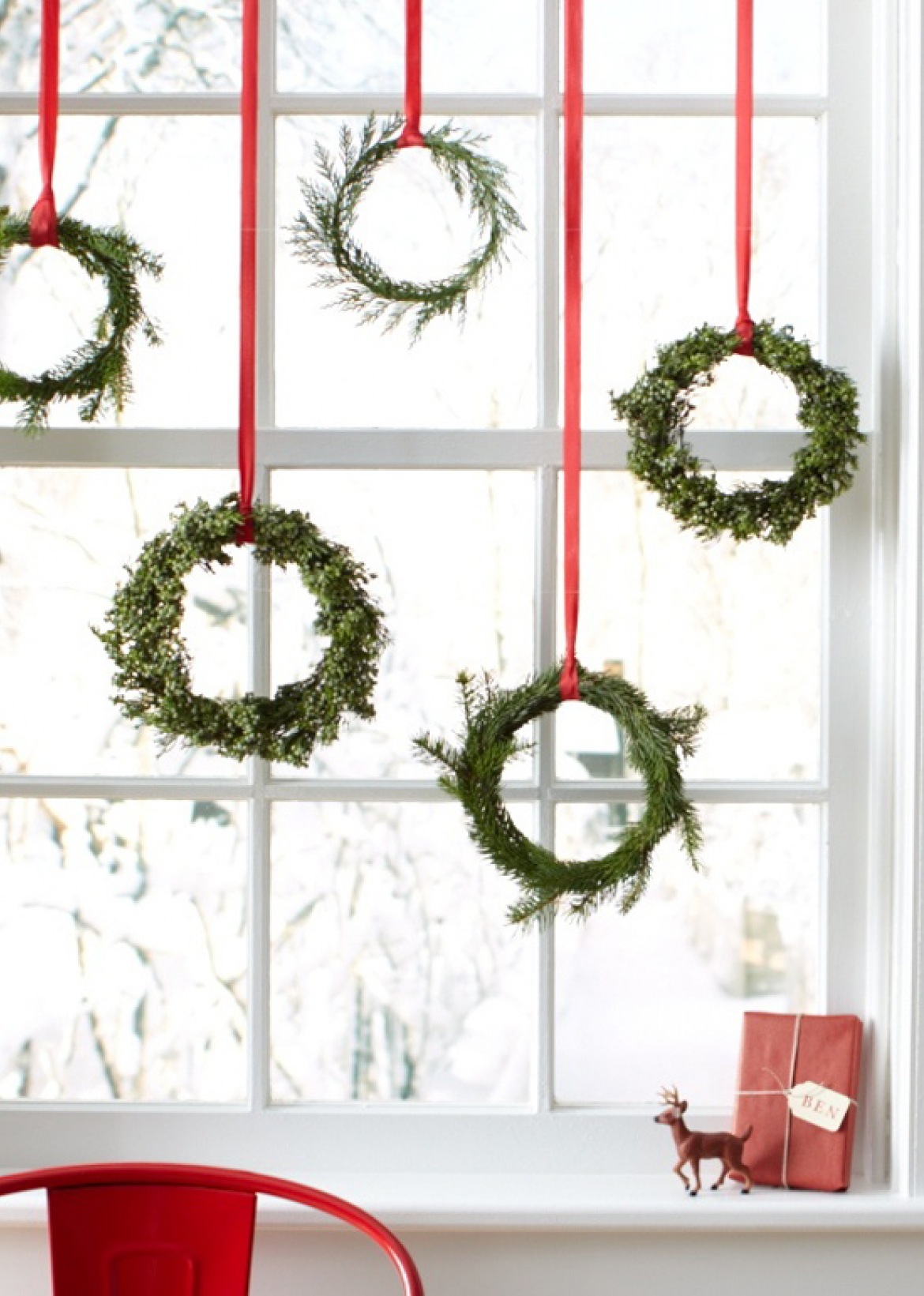 On the flip side, a gathering of small wreaths can add a very simple Scandinavian touch to your windows. Whether you use lights or bows or just leave them plain, the greenery addition will look so cozy against a white snowy background out your window.
Speaking of Scandinavian style, what do you do when you're sticking to neutral tones and don't want to use wreaths? Opt for candles. A smattering of pillar LED candles will give your home a warm glow, both indoors and out.
If you're looking to make Christmas window decorations out of things you already have, consider stealing some ornaments from the Christmas tree box and hanging them from the curtain rods. Or make salt dough ornaments that smell like cinnamon in whatever shapes you have Christmas cookie cutters for.
Or, you could skip all the stirring and baking and just hang your wonderfully festive cookie cutters. Choose a theme, get a branch from your yard and let them dangle in your window. They will certainly set a whimsical tone for the rest of your Christmas decor.
Many times, our Christmas decor tells a story. It might be nostalgic memories or maybe your life's priorities. Whatever the case, spell it out with some white wood or paper letters on your windows this year. It will make your room feel just a little more complete.
Maybe you're hesitant about all the prickly, needle spreading, evergreen garlands. Strew your windows with paper garlands instead! Just pick your favorite holiday patterned paper and spend an evening cutting and stringing and hanging with your family.
Of course we can't forget the snowflakes made from coffee filters. These are a classic kids craft for Christmas. So gather your little ones around and let them make plenty to fill up all the windows of your home. They'll be so proud to show off their creations to the world.