25 Hanging Candle Chandeliers You Can Buy or DIY
Everybody knows that before electricity was invented, people hung chandeliers with candles on them for light. You might think that this is an outdated and somewhat dangerous practice when in fact, it is a decor trick that can still be used to bring another element to a room. Candlelight is one of the softest most beautiful forms of light so opting for a hanging candle chandelier will give your space such an inviting feel. Take a look at these 25 hanging candle chandeliers you can buy or DIY and get ready to light things up.
Transform Your Room With a Hanging Candle Chandelier
1. Glass Hurricane Candle Chandelier
This lovely candle chandelier uses glass hurricanes to keep your flames corralled. Plus you have those lovely crystals to help bounce and reflect your candlelight throughout the room. It definitely hints at lavish parties gone by. (via Walmart)
2. Hang Candles In Mason Jars From A Wagon Wheel
Are you a big fan of crystal chandeliers but want something that feels different? Hang candles in mason jars from a wagon wheel and then deck it out in all the crystals you desire to create a real showstopper. (via Wedding Chicks)
3. Double Decker Votive Chandelier
One of the very best things about candle chandeliers is that you can hang them indoors or outdoors. This double decker votive chandelier will look wonderful hanging in your dining room or on your patio. (via Pier 1)
4. Rustic Branch Chandelier With Votive Holders
Are you looking for that fairy lights effect with real flame? Use a wreath and some twine to hang tiny votive holders at different heights in a circle. With an hour or so to get your levels where you want them, you'll create a candle chandelier worthy of any fairy tea party. (via Elizabeth Anne Designs)
5. A Farmhouse Style Chandelier
It doesn't get much better than this when you're opting for the farmhouse look. Rust and curlicues topped with creamy candles will be a sight that any room or outdoor space would be glad to see. (via Etsy)
6. A Scrap Wood and Mason Jar Chandelier
You don't need lots of expensive materials to create a candle chandelier. Just use some scrap wood and mason jars to make a very pretty and linear chandelier in no time. (via Style Me Pretty)
7. A Large Pillar Candle Chandelier
Get that same lovely look for less with this candle chandelier DIY. With a little effort and less money, no one will know that you made your own gathered candle chandelier instead of buying it. Plus, you can use real pillar candles or fake ones. (via Frugal Home Ideas)
8. A Votive Chandelier To Hang Above Your Bathtub
Here is a votive chandelier whose charm will help it blend into any room in your home. Hang it in your kitchen or above your sofa or even by your bathtub for a relaxing candlelit bath. (via Etsy)
9. A Repurposed Old Electric Chandelier
Are you despairing for materials that you can make things with? No problem. Take that ugly old electric chandelier out of your attic and turn it into something new and lovely with a bit of spray paint. It's so lovely, you might want to make one for inside and out! (via In My Own Style)
10. DIY Hanging Candle Chandelier With White Taper Candles
Is there anything more perfect and beautiful than a glittering white taper candle? In just a few minutes, you can make this lovely chandelier to hoist those tapers high for everyone to enjoy their beauty. (via The Merrythought)
11. Gorgeous Rustic Candle Chandelier
Most DIYers have some kind of crafting medium stash in a closet or shed. Rustle out your best barn wood and some chain to create this gorgeous rustic candle chandelier. It pairs incredibly well with those string lights on the patio. (via Remodelaholic)
12. An Inviting Candle Chandelier For Your Porch Or Patio
Some of the very best DIYs happen when you use things you already have like wire and wood and vintage items. Use that thrifted ladder and some jars with wire to create this inviting candle chandelier for your porch or patio. (via Unskinny Boppy)
13. Budget Friendly DIY Outdoor Candle Chandelier
An outdoor candle chandelier is the ideal way to offer a little more light for your summer barbeque or evening party. When you are having a great time with your family and friends, you don't want the night to end just because it's getting a little darker. An outdoor candle chandelier is a great way to add light without having to add electricity or wiring outdoors in your garden. Hey There Home shares how you can take an old electric light and transform it into a colorful outdoor decoration.
14. A Fun Outdoor Mason Jar Chandelier
When lighting candles outdoors, one of the top considerations should be finding a safe and sturdy holder to place them inside. This outdoor mason jar chandelier from Shanty 2 Chic costs just $10 to create, so it's ideal for anyone looking to decorate quickly on a budget before a family event. You'll find this to be a fun addition to put up in your garden before a summer party this year, and you'll be impressed by how easy it is to make. Even a complete beginner DIYer will be able to put together this simple chandelier project. As mason jars are a little bit larger than some of the other holders on our list today, you'll find you can easily add a wide variety of candle sizes to the jar to mix things up.
15. Vintage Shabby White Cast Iron Candle Chandelier
If you are decorating for a wedding this year, why not consider adding a vintage white cast iron candle chandelier to your decorations? This stunning chandelier from Etsy is perfect for a wedding but would also look great outdoors in any rustic home. It's made from white cast iron, which is a really sturdy material to hold heavier candles. You could literally place this in any room of your home, but we think it would look lovely on a covered porched. It's painted white and has the popular distressed style to give you a chic and vintage-finished look. You can use real or battery-operated candles in this chandelier, and we always recommend going for battery-operated ones when you are going to be leaving the chandelier unattended for an extended period of time.
16. 4-Light Candle Style Globe Chandelier
We understand that not everyone feels comfortable lighting candles in their home, which is why we've added this Wayfair candle style globe chandelier to our list today. The circular design of this chandelier gives it a very modern vibe, which makes it an item that you could easily add to almost any room in your home. The lights look exactly like candles, and from a distance, your friends and family members won't be able to tell the difference between this chandelier and the real thing. This versatile item is ideal for more traditional homes but would also work well in a modern apartment or house.
17. Wrought Iron Fully Assembled Gazebo Style Hanging Candelabra
The summer is fast approaching, so why not start thinking about your summer barbeque and party plans. When it comes to hosting guests outdoors, one of the biggest challenges is keeping everyone safe and secure when the sun goes down. This gazebo style chandelier from Amazon is perfect for outdoor use and will allow you to add six candles to add a good amount of light to even the largest patio or outdoor kitchen. We understand not everyone has the time to spare to make their own candle chandelier, and so we think this is the perfect solution to buy online and have delivered straight to your home ready for outdoor gatherings.
18. Wrought Iron Mystic Sphere Candle Chandelier Lighting
If you are looking for a really unique chandelier to add to your home this year, check out this mystic sphere candle chandelier from Etsy. It's 26 inches tall, so as you can imagine, it will be the perfect centerpiece for your outdoor event or party. You'll find it adds a soft glow to your outdoor space and creates a rustic style for any home. While the chandelier generally comes in this original rusty finish, you can actually opt to brighten it up by adding some color to the design. They have twenty different colors to choose from, or they can complete your piece with a vintage-style brushed paint finish. The great thing about any of these chandeliers today is that they can easily be updated with a splash of paint if you do adjust your decor in the future.
19. DIY Rustic Outdoor Chandelier
Let's take a look at another great DIY project. This time we have a DIY rustic outdoor chandelier courtesy of Crafts Unleashed. You'll use some unexpected supplies to create this chandelier, but they all come together to create a piece you'll proudly display in your garden. The basis of this project is a cheap medium-sized tomato cage, which you'll need to be able to cut easily. From there, you'll add chicken wire, a twig vine garland, various crystals for decoration, and any candles that can be hung. When it comes to choosing candles for your garden, we always recommend using citronella ones, which help to set the mood when sitting outdoors for the evening.
20. Elegant Black Chandelier
Chandeliers today come in a wide variety of styles to fit all homes and tastes. This elegant black chandelier from Amazon would look great in a large dining room hanging above your dining table. It is a stylish yet functional decoration that will add a sophisticated touch to any dinner party. We love the variety of beads that are used in this design, and you can use this as inspiration for your next DIY project if you don't fancy purchasing a chandelier. Beads add more texture and color to any project and are one of our favorite ways to spruce up any piece of furniture or decoration in a home.
21. Christmas Candle Chandelier
Your new chandelier will come in handy at any time of the year, but one month in particular we love using chandeliers is around the holiday season. This Christmas candle chandelier from Home and Garden shows you how to make this pretty design which costs only about $15 to create. You'll probably already have all of the supplies you need for the project in your home, so it's a great option for recycling and reusing unwanted materials. You'll love hanging this up before inviting your friends and family for a holiday gathering, and you'll appreciate the cozy atmosphere it adds to your home.
22. Vintage Hanging Candle Outdoor Chandelier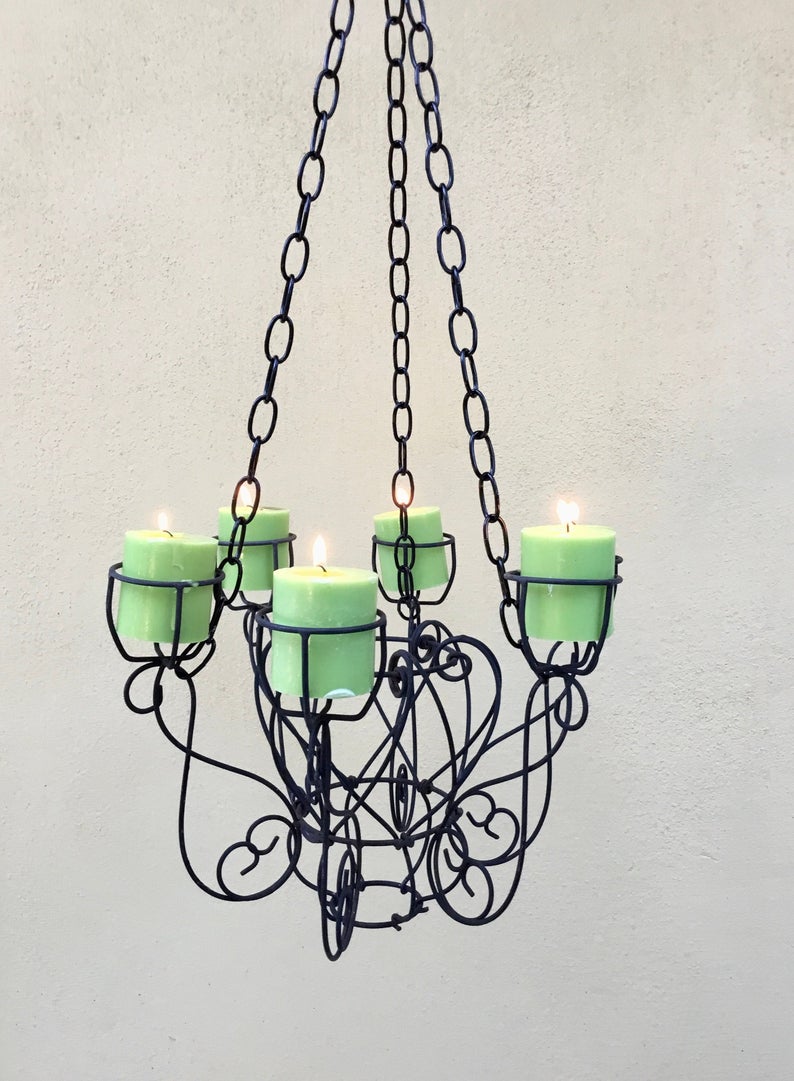 On Etsy, you'll find another great outdoor hanging candle chandelier. This candle holder can hold a good number of candles, and you can choose to add colorful candles, as shown in this image. Candle chandeliers like these can often be found in vintage stores, and they will look great indoors or outdoors in your home. You can hold multiple candles in one holder, and we love the pretty scroll design on this chandelier, which is commonly seen on traditional decorative pieces. You'll find this number of candles adds a nice touch of mood lighting to any space you place it in.
23. A Minimalist DIY Candle Chandelier
Shine Crafts shows us how to make one of the easiest DIY projects on our list today that requires very little skill or effort to create. This minimalist candle chandelier takes items that you probably have floating around your home already and creates a fun light hanging for your home or garden. The video tutorial takes you through the project step-by-step, so you will have a great visual guide of what you need to use. The materials you'll need include vine or an embroidery hoop, mason jars or yogurt jars, and then woolen thread or waxed polyester cord. Tealight candles will provide the light and create the warm and cozy atmosphere that any good chandelier should offer.
24. Jeweled Ivory Candle Chandelier
As you can see from our list today, a candle chandelier can be as glamorous or as simple as you like. For anyone looking to makeover a room with a chandelier, this jeweled ivory candle chandelier from Etsy will do just the job. You'll be surprised to learn it's a pretty lightweight chandelier, measuring 11 inches in diameter and 15 inches long. There are plenty of sparkling crystals which create a baroque style and make a statement in any room in your home.
25. Huge Candle Rustic Tin Chandelier with Crystals
If you really feel like splashing out on a candle chandelier for your house, you'll love this extravagant rustic tin chandelier with crystals from Etsy. It's a very large chandelier which looks like something straight out of a movie, and it would be perfect for a special occasion or celebration in your home. The polycrystals at the base of the chandelier add a pretty touch, and it's completely handcrafted. This is certainly one of the most unique options on our list today, but as soon as it arrives, you'll feel like you've stepped into a completely new room just by adding a single decorative item.
Candle chandeliers are the perfect way to enhance any space in your home. They look great in a dining room to create a centerpiece for your next dinner party but can also be placed outdoors. When you have a barbeque or dinner party outdoors this summer, add a glow to your party by lighting a few candles to create a cozy and warm atmosphere. Whether you choose to DIY your candle chandelier or buy one pre-made, you'll love adding this item to your home in the upcoming months.