Eye-Catching Bookshelf Decor Ideas To Display Your Reading Collection
Whether you use them to store and organize books, for display or as space fillers, bookshelves are very versatile and provide lots of unique and interesting opportunities for designing and decorating the space around them in cool ways.
With that in mind, let's check out a few inspiring ways for decorating with bookshelves or the shelves themselves.
Home Library Ideas with Cool Bookshelf Designs
Bookshelves that cross borders
A cool way to take advantage of a double-height space like the one you see here is by having the bookcase cross borders and extend on two floors or even go all the way up to the ceiling. When Wheeler Kearns Architects refurbished this penthouse they created this cozy library area with a spiral staircase and a loft platform that make it easy to access the top shelves.
Custom shelves that wrap around the walls
In the case of this home from Madrid, studio Zooco Estudio came up with a design concept that maximizes the use of bookshelves, having them placed along the walls and extending two floors. This creates lots of versatile space for storing and organizing not just books but also electronics, decorations and all sorts of other things. The bookshelves thus serve as a unifying element for the whole space.
Related: The Zig Zag Shelf From Hem and Studio deForm
Bookshelves that curve
The renovation of a Sao Paulo apartment done by Pascali Semerdjian gives us a new interpretation of the classic bookshelf to look at. Here the bookshelves curve and create a sort of U-shaped unit with open modules to store and organize the owner's extensive book collection as well as plenty of space for additional elements. There's accent lighting at the top and bottom and in the middle, on the other side of the shelves, there's a cozy reading nook.
A whole apartment lined with bookshelves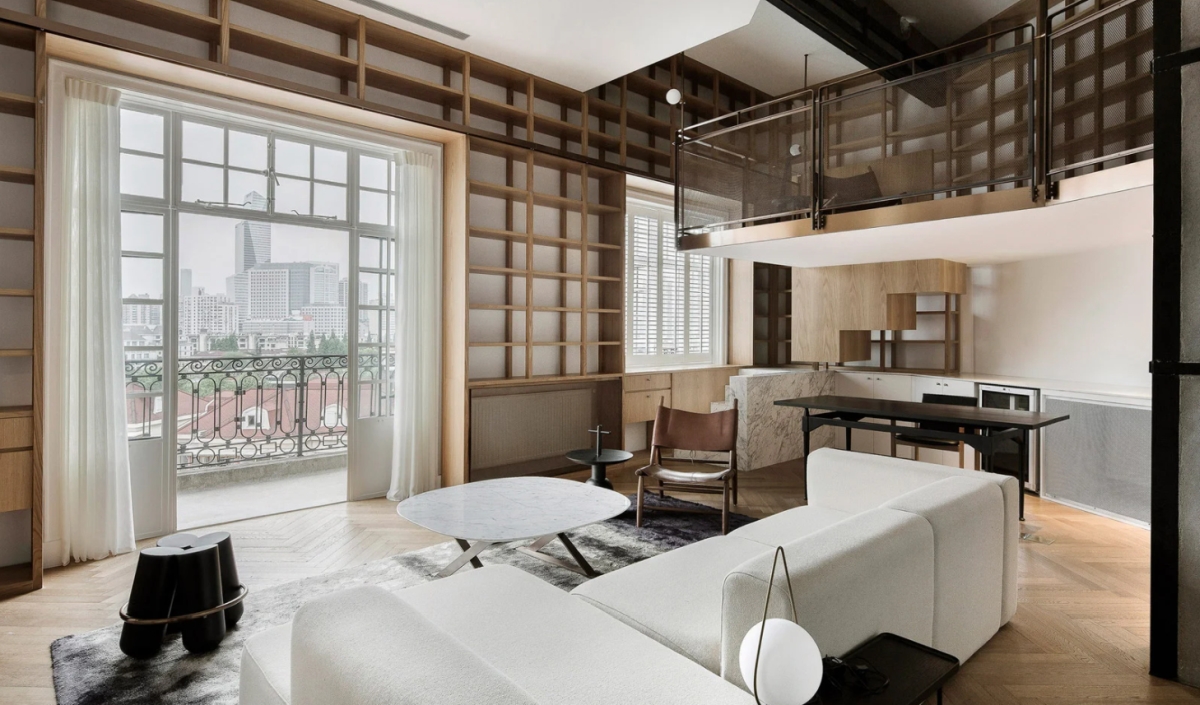 The bookshelves are definitely the unifying element in this Shanghai apartment. They stretch along the walls both on the bottom and the top floor and they give the apartment a study-like look and feel throughout. The design created by Atelier Tao+C takes advantage of the versatility of bookshelves, making these the main storage solution for this place.
Multifunctional bookshelves
There's a lot of situations and opportunities that can allow bookshelves to be multifunctional. For example, in this apartment designed by Andrea Mosca they function as storage and display modules but also double as staircase banisters and room dividers. This adds functionality to elements that don't usually get to be useful in that way and, once again, they help to create a unified interior design.
Bookshelf stairs
In order to connect the two sections of this split level living room Zminkowska De Boise Architects came up with a really cool staircase concept that features bookshelves underneath its wide steps. The steps can also be used for seating and it's easy to envision someone sitting here with a book thanks to this clever combination.
Double-height concrete bookshelves
Although bookshelves are most commonly made of wood, that's not the only option. That's best seen here, in this amazing house designed by its own owners, sculptor Pedro Reyes and his wife Carla Fernandez. This massive bookcase spans over two floors and is made of coarse concrete which gives it this industrial appearance and allows it to contrast with all the books.
Giant Jenga stairs and bookshelves
A renovated barn in Belgium was transformed into a cool-looking office space by Studio Farris and the centerpiece of its new design is this structure reminiscent of giant Jenga blocks. It's a sculptural staircase made from large wood beams which are placed at different angles and in ways that allow sections of them to double as bookshelves.
An extra-large bookcase wall
The Eaves House designed by mA-style architects has a very peculiar structure. From the side it looks like a giant right triangle with a tall vertical wall on one side and a sloped roof extending almost all the way down towards the opposite end. Inside, the largest vertical wall features this massive wooden bookcase with cubbies of different shapes and sizes. It extends on two floors and also into the kitchen.
An extra long library wall
When designing this house from Hungary, Foldes Architects wanted to take advantage of the site's natural beauty and to preserve the landscape as best as possible so they came up with a long and linear floor plan idea. For the interior, they covered one of the extra long walls with a massive bookcase creating a big library wall that connects the social areas together and provides plenty of storage space. There's cutouts in the bookcase for the windows, the fireplace, wall-mounted TV and other features.
Custom staircase-bookcase combo
There's numerous different ways in which bookcases and staircases can be combined in order to either save space, add storage to an area or just make the design more interesting. In this case the bookshelves don't actually double as stairs like we've seen in other cases. They're an extension of the staircase which is positioned to the side and they can double as cozy seating areas, turning this unit into a cool and modern reading nook. This is a design by Estudio A0.
A floor-to-ceiling library
Creating an extra tall bookcase is a cool way to take advantage of a double-height wall. It can also be a way to create a focal point which also adding functionality to the wall. This sort of combination can be seen in the design of this home from Israel created by studio Kedem Shinar Design & Architecture. The floor-to-ceiling library wall makes this massive room seem less austere and empty.
Bookcase walls that pivot
Studio Modo Designs found a really cool and interesting way of connecting the interior and exterior areas of this modern house from India. In the living room they introduced a set of pivoting walls with bookshelves on one side. These can open and close in order to either connect or divide the living room and the covered veranda/ transitional social area.
Headboard bookcase and room divider
Another interesting design was created by studio Word of Mouth House for a residence in Indonesia. For this split-level bedroom they came up with a concept of a concrete bookcase which can also double as a headboard and as a room divider. It has subtle integrated LED lights, generous shelves and space on top for more storage or display purposes.