20 Black Bathroom Ideas for a Stunning Makeover
Black bathrooms are popular. Many black bathroom elements, from vanities to bathtubs, can are easy to add a touch of personality. Black may make your bathroom feel small, but it's a classic choice.
However, an all-black design would be incompatible if there's little access to natural light. Black bathroom designs go well with vibrant hues and can display your décor style.
Things to Note When Designing a Black Bathroom
Color Scheme
Due to trend-driven colors, your bathroom may lack personality, even if it looks gorgeous. Focus on styles and color schemes you already relish.
Textured ceramic with tiles with a dark theme add interest and are easier to clean than smooth tile. Apart from flooring and fixtures, you can also try out dark bathroom wallpapers and artwork.
Lighting and Storage
When looking for the best bathroom storage solution, you'll need to be creative. Some fixtures will last a long time, even if tastes change. The proper storage and lighting accessories for your black bathroom design are determined by the size and style of the room.
You can install a shower caddy or a medicine cabinet for additional storage. Medicine cabinets with reflective surfaces can make a bathroom appear larger. Contemporary black bathroom designs often have floor-to-ceiling shelves and dresser-style vanities.
Flooring
When choosing a bathroom design, the floor helps to create a cohesive plan. You'll want to choose a non-slip, long-lasting material that can handle moisture. It's best to have an easy-to-clean and maintain floor design in a black bathroom.
When using dark colors, it's more practical to use tiles because you may pick your design and cover the tile joints with black grout. We suggest hiring a professional tiler if you aren't a skilled DIYer.
Layout & Ventilation
While the goal is to create a stylish black bathroom, this can be the most humid place in a home. Proper bathroom ventilation limits the growth of mold and mildew.
The layout of your bathroom should aid in humidity control. You can add an extractor fan or a large window into your bathroom design for proper ventilation.
2o Impressive Black Bathroom Design Ideas
Here's a list of the best black bathroom ideas you could work with to remodel your shower space. They're low-cost tweaks you could pull off if you're a skilled DIYer.
Matte Black Walls
Matte black is a chic, dramatic color that mimics jet black but is less sophisticated. The walls make a statement if the idea is to develop a black bathroom design.
An accent wall will balance the atmosphere in a subtle yet bold manner if you don't want an all-black bathroom. Black walls and flooring look great with a white tub, vanity, etc.
White Subway Tiles
White subway tiles deserve a spot in our list of black bathroom ideas as they illuminate natural light and never go out of style. These iconic tiles are easy to identify in a black tiled bathroom from afar.
Plus, they're not only limited to white bathrooms. They're popular in kitchen designs, and they've made their way into modern bathroom concepts. If you want a black and white bathroom design, these tiles are a worthy option.
Black Bathroom Shelves
You can glam up your powder room with black paint without making the space look sophisticated. Installing black bathroom shelves helps contrast white tiles pretty well.
It's easy to go black on black if the handles on the vanity have a gold color to keep the space from looking gloomy. To add a pop of color to your black bathroom, you can add a few accessories to the countertop. It helps neutralize the black cabinets.
Bold Color on Fixtures
Compared to other black bathroom ideas, this option blends with many trends and doesn't need to match the faucets. Black bathroom fixtures are eye-catching and make the powder room pretty unique.
Bolder hues pair well with neutrals and elevate the black bathroom design due to their high contrast. You can install fixtures with a dark color to move away from the traditional colors and make your black bathroom stand out.
Black & White Floor Tiles
Black and white tiles are suitable for almost every bathroom, whether modern or traditional. Depending on the pattern, they can give your bathroom a minimalist or luxurious look.
There are many different tile patterns to choose from. Floral patterns look sleek and trendy in black bathrooms, while zigzag patterns add an artistic, chic flair.
Mix Black and Gold
Blending metals decorates the bathroom without making it look cluttered. Gold-coated accents and cabinet handles can complement black bathrooms if balanced with light tones. Combining black with gold accents and white marble tends to add a touch of luxury.
Accent Your Countertop
If your vanity features a matte black tone, it's best to add some accessories to keep it from looking flat. The goal is to incorporate a black vanity into the bathroom without going overboard.
Sinks on granite countertops look stunning when there are accents on the side. If you have a small bathroom, you can add light items with bright colors like a toothbrush holder, soap dispensers, bathroom lighting, or even install a shelf.
Black Clawfoot Tub
A clawfoot tub is perfect for a black bathroom, regardless of your decor style. Black acrylic tubs can also look futuristic in white bathrooms. This way, it's easy to create a black and white theme.
You can paint an installed tub black if you're an avid DIYer. You need to protect the floors and remove any hardware attached to the tub. Black, chic bathtubs now have wrought iron accents. These upgrades can upscale a black bathroom and make it look high-end.
Stick to a Modern Decor Style
Whether big or small, you can transform your black bathroom into a modern, functional haven. Bathrooms should reflect our style. There are many modern black bathroom ideas to work with, so it all depends on your visual interest.
If you want an all-black bathroom, you want to pick decorative elements and materials that bring a modern twist to the space.
Black Vanity Set
Black vanities with white marble tops are a popular style for a bathroom designed to look sophisticated. Besides a black sink, you should consider a vanity set if you want to add darker elements to your black bathroom.
Brass handles and light fixtures also help add a metallic glow. Even when working with a small space, adding a vanity set complements your bathroom design.
Black Countertop
You don't need to have dark walls all over your bathroom. If the backsplash has a different color and texture, use high contrast fixtures like black countertops to create a high contrast to make an impression in your black bathroom.
Black bathroom countertops help define your bathroom style and are great for basic modernism. It's also a perfect makeover if you have a white bathroom or colorful wallpaper on the walls.
Lighting Fixtures with Dark Colors
The interior design of your black bathroom might look plain if there isn't any space for modern fixtures. Choose a combination of ambient light styles, such as chandeliers, pendants, or flush mounts.
You can add a second layer for tasks like daily grooming. Side-mounted sconces are also great for lighting a black bathroom. You can opt for pendants instead of sconces if you need ambient or accent lighting for black bathroom vanity or shower enclosure.
Black Window Trim
Any black bathroom with a black and white color scheme creates a clean, high contrast look. Although natural wood has been common in the past, painted trims are making a comeback on the list of trendy black bathroom ideas.
Black trim looks incredible when coupled with black walls, countertops, or the ceiling. The subtle contrast between a white frame and black is also remarkable compared to other styles.
Black Marble Wallpaper
Unlike some other black bathroom ideas, adding wallpaper is a low-cost way of updating your bathroom. A dark bathroom wallpaper adds mystery and allure to your bathroom, adding a modern, spa-like atmosphere to the space.
Dark tones make bathroom interiors look spacious and joyful, but you can create contrast with lighter flooring, lighting fixtures, or accessories. Wallpapers are easy to get rid off if you want to turn your black bathroom back to default settings.
Dark Floor & Contrasting Walls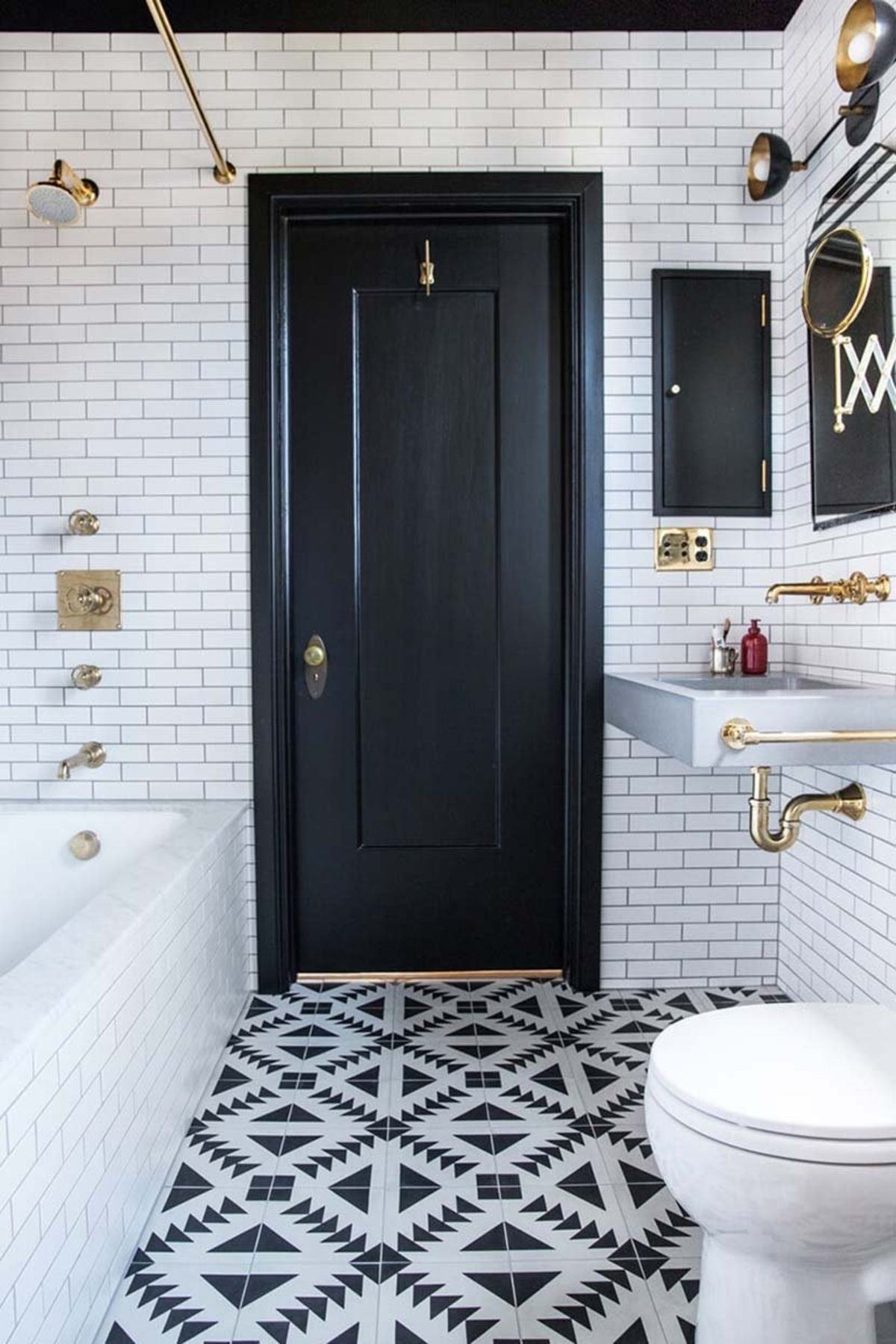 Black-and-white color schemes are a classic. The checkerboard style reigns supreme in tile designs for a black bathroom. Romans popularized it, and it's still common among other black bathroom ideas, making it ideal for classic baths.
You can keep the walls bright and the floor dark for a dramatic effect in your black and white bathroom. Choose a contrasting grout color to highlight their shape if you're using smaller tiles.
Ceiling Wallpaper
Most contemporary wallpaper designs for a black bathroom are peel-and-stick. Wallpapers with a black marble theme create a luxurious atmosphere in the space.
Vinyl-based wallpaper, mold-proof pastes, and wallpaper varnish are other options to style high-moisture areas. Dark neutrals like dark brown, black, dark taupe and dark gray are popular wallpaper colors for black bathrooms.
Black Framed Art
Adding bathroom art can add thoughtfulness and beauty, giving the interior design of the shower some warmth. You can display something meaningful to you or one that matches your style. A large piece of art is ideal for black bathrooms with patterned flooring.
Black artwork can be challenging to lay out in a bathroom with a cramped space. You can also complement a black theme with lighting and stylish decor. A portrait on the tub's side makes the area a center of attraction.
Matte Black Faucet
Matte black as a bathroom accent color adds contrast and sophistication. It's sleek and water-repellent. A matte black faucet will offer some class to a bathroom with black paint, no matter your aesthetic or style.
You also want to create a design that stresses durability and functionality. Pair matte black faucets with a white vanity top to add elegance to the room. Matte black faucets, cross handles, and other dark components work in traditional and contemporary black bathrooms.
Accessorize with Plants
Moisture coming from shower water is suitable for the growth of plants. Plants in the bathroom can filter the air and reduce stress. Assess the bathroom's light and temperature before choosing a plant for your black bathroom.
Filling your bathroom with plants can add style without doing a full overhaul. Greening your bathroom doesn't require big, leafy plants. Consider a succulent for the room if you can't keep plants alive.
Black Bathroom Door
Painting your bathroom door black creates a bold look to the shower. Black doors hide fingerprints and handprints. Black doors may be ideal for showing off gold door handles or knobs.
They make the room look deeper and larger. A black door can ground a bold color to create a stylish focal point.
Frequently Asked Questions (FAQ)
FAQ
What's the ideal way to clean matte black bathroom fixtures?
Common household cleaners should never be used to clean a matte black faucet. Avoid chemical cleaners like solvents, abrasive waxes, and bleach. Instead, you want to use dish soap.
Make sure the dish soap is pH-balanced and not acidic. Mix it all, then wipe off your fixtures with a towel dipped in soapy water.
What colors go with a black bathroom?
Black looks elegant in a bathroom with white marble. The two colors together look modern and classy. In a black bathroom, white is also often paired with neutral tones. Beige's delicate appearance also can create serenity and quiet when mixed with black.
Is black too gloomy for a family bathroom? 
Black is a fascinating dominant color, even for a family bathroom. When the theme is done right, it can look elegant. Neutral wall paint and white ceiling paint can brighten a black bathroom. Dark bathrooms need additional lighting, so consider using ambient, task, and lights.
Do black showers last?
Black tapware is stylish and easy to clean. It's compatible with many colors and design schemes. It works well in monochrome and industrial settings and with wood and metal.
However, tapware's black finish may fade over time. During installation or use, they're often scratched or chipped. Overusing black tapware can make a room look dreary and lifeless.
Black Bathroom Ideas: Conclusion
The possibilities for black bathroom designs are boundless. Even if your bathroom is small, you can make it feel grand and inviting by choosing black. Most black bathroom design ideas are affordable, and you may complete the makeover in stages.
Black is famed for covering all unpleasant stains, fading at a gradual pace, and never going out of style.