17 Kitchen Backsplash Ideas for Dark Cabinets
Dark kitchen cabinets have exploded in popularity, providing a stylish option for those who want to steer clear of traditional white.
Homeowners who've never had dark cabinetry might be intimidated by the backsplash choice. Since backsplashes influence the overall look of a kitchen, much consideration is needed. We've found 17 backsplash options for all dark cabinet colors and styles.
---
1. Glossy Grey Subway Tile
Kitchens with dark cabinets and countertops can benefit from a lighter backsplash to soften the room. The cabinets pictured are navy/teal, the counter is black soapstone, and the backsplash is a 2.5″ by 8″ glossy ceramic tile in Bedrosians Cloe Gray. You can find a source list for this kitchen at Room for Tuesday.
---
2. Marble Slab Backsplash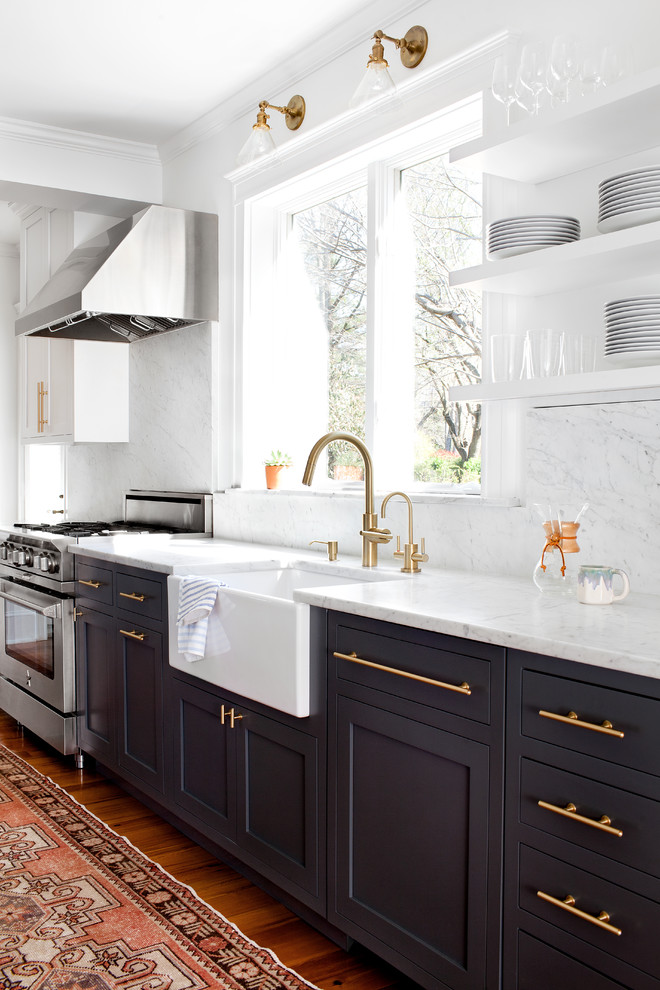 No matter the color of your dark cabinets, you can't go wrong with a marble slab backsplash. If you have a kitchen with dark cabinets and marble or quartz countertops, continue your countertop material up the wall for continuity.
---
3. Classic White Subway Tile
Classic white subway tile matches every cabinet color from light to dark. It also works well with most countertop choices. You can alter how your white subway tile backsplash looks by picking a complementary grout color or a high-sheen tile.
---
4. A Geometric Patterned Tile
Add interest to your kitchen with a geometric patterned tile. The 3-D patterned tile in this example lends a mid-century modern look, but there are plenty of options to fit other design styles. Light patterned tile on dark cabinets makes the kitchen appear more bright and cheery.
---
5. Large White Picket Fence Backsplash
Picket fence tile is making its rounds as a trendy backsplash option. Depending on the tile choice, this design can add texture and pattern. A light tile, like the one pictured, looks fresh and modern against dark cabinetry. For a more moody look, go with a darker hue.
---
6. Stacked Stone Backsplash
Stacked stone is suitable for rustic, cabin, and traditional kitchens. It comes in many colors, sizes, and variations, so you can find an option to coordinate whether your cabinets are dark wood or black.
---
7. A Light Textured Tile
A simple backsplash idea for dark kitchen cabinets and light countertops is to keep the backsplash tile a similar color to the countertop. You can go a shade or two lighter or darker, but the tile should have the same undertones as the counters. A pairing like this will give your kitchen a modern feel.
---
8. Black Backsplash over Black Cabinets
A tone-on-tone cabinet and backsplash is a luxurious style. Pull this look off by breaking up the darkness with a light countertop. These designers chose black wood grain lower cabinets, a white marble counter, and a textured black tile for the backsplash.
---
9. Counter to Ceiling Boho Tile
Give your kitchen life with a patterned tile that goes to the ceiling. The designers chose a sunburst tile for this modern farmhouse kitchen with dark gray cabinets. The boho style pattern adds interest without being overpowering.
---
10. A Rustic Brown Backsplash
Some architectural styles, like authentic farmhouses or log cabins, benefit from more rustic backsplashes like this one. The warm mosaic stone tile complements the wooden log walls, while the black cabinets add contrast for a more modern element.
---
11. Wavy White and Blue Tile
Aside from white, navy blue is one of the top kitchen cabinet colors of the year. Many backsplashes complement navy blue, including this wavy tile pattern. The blue shade in the tile matches the cabinets for a cohesive look.
---
12. Neutral Greige Tile
Greige is a blend of gray and beige – it can pull more warm or cool depending on the ratio of colors. This greige backsplash tile is on the warmer side and works well against the cool blue cabinets and wood range hood. If you want a neutral backsplash that isn't white, greige is a good choice.
---
13. Shiplap and Quartz Backsplash
Thanks to Joanna Gaines, it's hard to find a modern farmhouse without shiplap. If you love the look, consider bringing it to your kitchen. These designers continued quartz behind the stove as a splash guard and installed white shiplap planks everywhere else.
---
14. A Brick Backsplash
An industrial-style kitchen with dark cabinets has a few backsplash options, including concrete tile, glossy tile, and brick. The brick in this kitchen adds interest and texture and coordinates with the warm wood floors. The designers added black cabinets, gray concrete counters, and metal stools to break up all the warm tones.
---
15. Glossy Dark Blue Tile
An easy way to pick the perfect backsplash is to choose a tile a few shades darker than your cabinets. In this kitchen, the homeowners selected a medium blue for the cabinets and a dark blue for the tile. The combination creates a sophisticated look.
---
16. A Punch of Pattern
The most common backsplash option for dark cabinets and light counters is to continue the countertop material up the wall. Mix it up if you want more interest, and add a patterned tile behind the stove or sink. Doing so allows you to experiment with your design without taking a big risk.
---
17. Wood Tile Backsplash
Black and wood is a popular combination that can look modern or rustic, depending on the material choices. The designers of this contemporary-style kitchen installed sleek black cabinets with wood drawer pulls. They then incorporated the same wood tone with a tile backsplash.